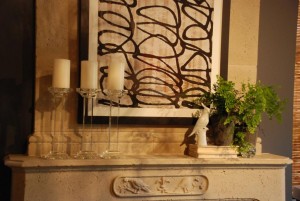 Celebrate summer by giving your mantel a 15-minute summer makeover. Your mantel display is the eye-catching focal point of the room, so trick it up for the season. But don't spend much time. Light and breezy–and super simple–is the name of the game when it comes to summer decorating. That way, you can get outside and enjoy the sun! Here are three simple but stunning mantel displays the Nell Hill's visual team created to inspire you this summer: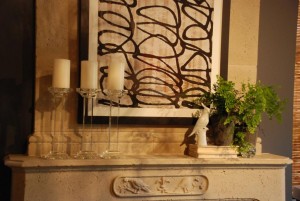 Soft and serene, this asymmetrical display is intriguing yet delightfully simple. We started by creating a strong visual element on the left side. These pillar candlesticks were the perfect pick. They bring in arresting height, yet, because they are clear glass, they don't overwhelm. Together, the three of them make a statement.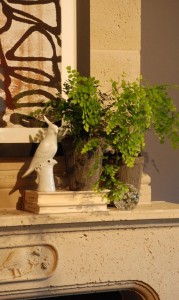 We love to decorate in layers at Nell Hill's, and the right side of this mantel shows how you can use a collection of visually diverse elements to create a lovely tapestry. To give our display some movement, we needed a riser to prop up a few accents. So we took two books from our bookcase, turning them backwards so only the yummy vanilla pages showed. We echoed the clear glass and white color palette established by our candlesticks through the first two accents in our montage: a white figurine and a clear glass paperweight. I love a pop of color to shake things up in these monochromatic displays, and boy did we get it with these maidenhair ferns.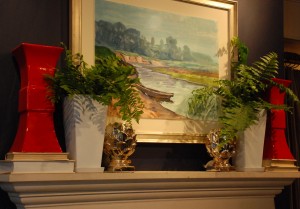 You don't have to read my blog for long to know I'm over the moon about white and brightly colored pottery right now. These pieces are a decorator's dream because they are bold and beautiful structural elements that work in just about any style home. They give you a chance to inject the season's hottest colors into displays. And, they are so inexpensive you can get several to tuck into displays throughout your home. Decorating tools that pack this kind of punch don't come along very often!
Since red is so hot this season, we built this display around these twin red vases. You can't put anything wimpy next to these strong sentinels, so the other elements in the display needed to be just as powerful.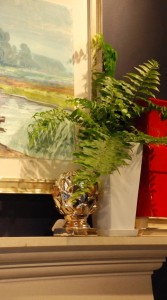 Each side of this symmetrical mantel display is the mirror image of the other. Once again, we started by making risers out of a short stack of books, turned backwards. The red vases stand guard on each side, made even bolder by the added boost they got from the books. We wanted the display to descend, creating a V, so we followed with slightly shorter white pottery vases, each holding live ferns. We could have stopped there for a simple, clean look. But we couldn't resist the opportunity to add in something shiny, so we tucked in these mercury glass artichokes. Love them!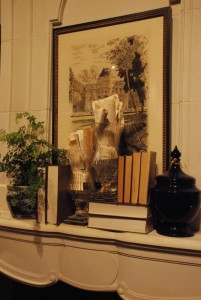 Of our three looks, this one is the most intricate and layered up. Still, when you deconstruct the design, you'll see it's easy to recreate. We wanted a look that pulled together contrasts – strong graphic lines and soft curves. We gathered a passel of books that we used functionally as risers and structurally, to create a nice repetitive pattern of vertical lines. On the last mantel, we formed a V shape with the decorative elements. This time, we reversed the line, gathering our accents into a triangle shape. We bookended the display with two similarly shaped but visually different pottery pieces. I love blue and white cachepots and use them all the time in my own home. The lidded black pot on the right side of the mantel is a bit surprising, isn't it? That's why we picked it – it's fun to catch people off guard by twisting in a decorative element that is unexpected.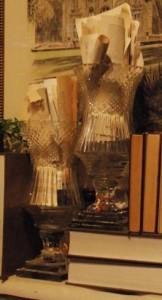 I had to include a close up of this cool technique we've been using a lot at Nell Hill's this year: rolling up pages of weathered old books and tucking them into different holders, like cachepots, footbaths, vases and wooden dough bowls. If you feel that old books are sacred, than this technique is not for you, because it involves removing pages. We took old books we got for a song at flea markets and tag sales, then gently cut out the pages, rolled them up and inserted several into a vase together. They offer lots of soft texture to a display and can be a fun conversation piece.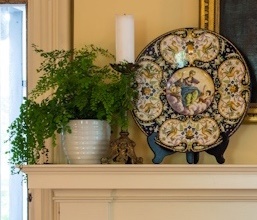 You don't have to clear your mantel and start new when you decorate it for summer. You can just tuck a few seasonal elements into your existing display. That's what I do in my home. I have a few pieces I keep on my mantel year round, like a pair of antique candlesticks. But they're a bit heavy for summer. So I lighten things up by mixing in ferns inserted into white, simple pottery cachepots.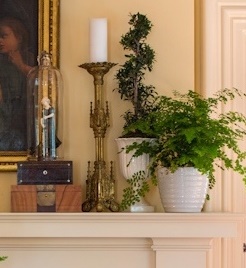 The right side of my mantel features a few of my other perennial favorites: wooden boxes from my collection and a figurine given to me by a dear friend. I lightened the look again with two plants – a fun twisting topiary and a fluffy fern. Snap, I was done. Now for the hard part: remembering to water the plants!
Next Week … Get out your sunglasses, because bright red is blazing hot this summer. Next week I'll show you how to work this arresting color into your décor.