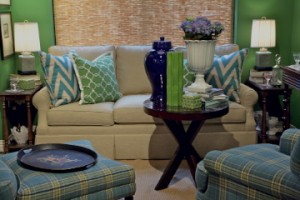 Today, I get to play matchmaker, and I can't wait! During our popular Special Order Upholstered Furnishings Sale, which goes until July 15 at Nell Hill's Briarcliff, I get to see that giddy, love-struck look in my customers' eyes as they fall head over heels for a custom sofa, chair or ottoman we designed just for them.
I know that all furniture love stories don't have happy endings like these. So before you give your heart to a piece of upholstered furniture, make sure it's the real deal by asking yourself these four key questions: 
1. What kind of relationship are you looking for?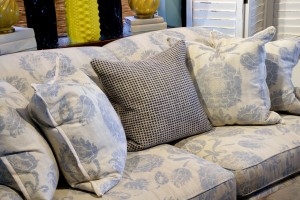 The first step toward a happy match is to set some expectations for your relationship with your new furniture. Realistically, how long are the two you going to be together? How you answer will determine what kind of frame you pick to go under all that lovely upholstery fabric. I know relationships can be complicated, but when it comes to saying "I do" to a piece of furniture, you really only have two options: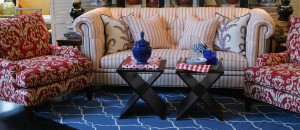 Do you want a sofa or chair that will stand by you in the good times and bad, never sagging or swaying, going lumpy or limp? Then pick a high quality frame. That means one that's kiln-dried with eight-way, hand-tied coil springs. If you're looking at a sofa on a showroom floor, quiz the sales associate about how the piece is made. If they don't know, that's a bad sign.
Try this test: Pick up a corner of the sofa and see what the body does. If it stays really stiff and straight, with no twisting or sagging, it's a quality frame.
Another test: See if the legs and arms of the sofa are made from the same piece of wood. It the legs screw into the base, that's a sure sign of a lower quality sofa or chair.
One more test: See if the pattern on the upholstery fabric lines up where the cushions rest against the back of the sofa. If it's a stripe, for example, the stripe should run straight from the pillow up the back of the sofa without jogging out of alignment.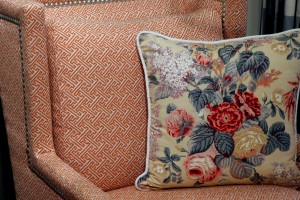 While top quality frames aren't cheap, they are a good investment. You can reupholster them time and again, saving you lots of money in the long run. A quick note on furniture reupholstering: I hear folks say that it costs just as much to have a piece recovered as it does to buy a one new. I have not found that to be the case. With an affordable upholsterer and a mid-range fabric, you can easily recover a sofa for less than you'd buy a new one.
No everyone wants to spend decades with the same sofa. I can totally understand that. It may be a matter of changing tastes and styles. On the plus side, you'll pay considerably less for a lower quality sofa–$1,000 or more—because of the time, skill and materials necessary to craft better furnishings. If you decide to go with a less expensive piece, I'd recommend against having it reupholstered when the fabric starts to wear out. Most likely, the frame will be falling apart too.
2. How will the furniture be used in your home?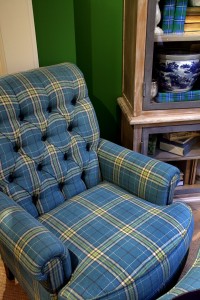 Where your furniture will be placed and how it will be used are huge considerations when deciding what type of piece to get and what kind of fabric you want to cover it with. Is this the place where you will watch TV every night, or will the furniture be more for show in a rarely used room? Are pets, kids or messy husbands going to be sitting in it? Where will the furniture be placed – by a sunny window?
Your answers to these questions will determine how durable of a fabric you'll need. If the piece won't get a lot of use, the sky is the limit on fabrics—you can pick the weight, pattern and texture you like best. But the more it's used, the more durable, and camouflaging, the fabric has to be.  Unfortunately, your choices begin to narrow a bit as you go up the durability scale.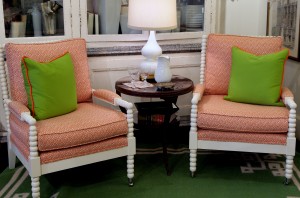 Right now at Nell Hill's, we are crazy about outdoor fabrics and are using them on lots of upholstered pieces. You can find them in a wide array of colors and patterns, and the texture doesn't feel scratchy and stiff like it used to back in the day. It's an ideal option for seats where people will be eating or pets will be sleeping. I also recommend linen for people who want a fairly durable fabric. I had two printed linen chairs (which doubled as the dog's bed) in my home for 12 years and finally replaced the fabric because I had grown tired of it, not because it looked bad.
One word of caution: Don't assume that because a fabric you pick is more expensive that it is more durable. Some upholstery fabrics are higher cost because they have a bigger pattern with a large repeat, so more of the fabric is used in crafting the piece.
Another tip: remember that solids can show spills more than patterns. If you spill a few drops of wine or juice on a solid color sofa, it can leave a ring.
3. What kind of fabric fans your flame?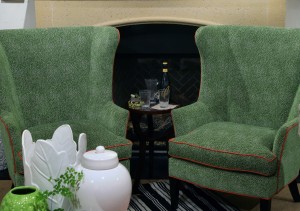 The color and style of your upholstery fabric is a very personal decision. Right now at Nell Hill's, our customers are loving solid fabrics, from trendy brights to timeless classics like cream and navy. We're also selling lots and lots of geometric prints and stripes. Another fun trend I'm seeing are traditional patterns, like a Williamsburg, reinvented using wild, bright colors, making them fresh and new, not stuck in the past.  Floral fabric is back too, but today's florals are color saturated with cleaner graphic elements.
If you are upholstering a big investment piece like a sofa, avoid a pattern you will grow tired of quickly. I recommend a solid or muted pattern in a classic color. Then, bring in color and pattern through your accent pillows. I get a bit more daring on occasional chairs, maybe picking a graphic pattern, floral or plaid. For an upholstered ottoman, walk on the wild side and indulge in a bold, statement fabric. These pieces are the perfect place to experiment because they are inexpensive to recover if you ever grow tired of the look.
4. Do you want to trick up your furniture with trim?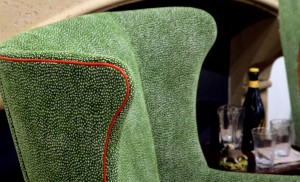 People always forget about the role trim can play in taking furniture from ordinary to extraordinary. When you go with custom furniture, the sky is the limit. On the funky chairs above, we celebrated the out-of-the-box silhouette of this remade classic by trimming it in poppy coral cord. I also love to do a mini flat flange trim in a high contrast fabric when I am going for head-turning drama.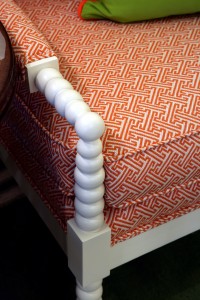 A classic look is to trim your furniture in the same fabric used on the cushion. It looks clean and simple, and is always a safe choice.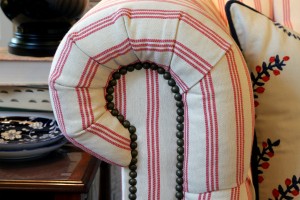 Right now, nail head trim in big. It's a great way to add some sizzle to a piece of furniture.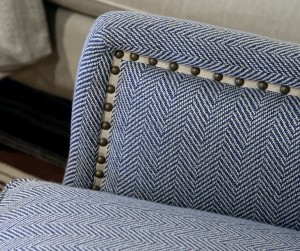 Here's a fun look: This nail head trim really stands out on the contrasting cream colored tape.
Next Week … Got 15 minutes? Remake your fireplace mantel for summer. I'll have three great looks to inspire you.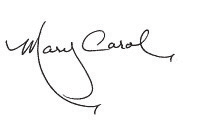 P.S. Ready to get a new piece of upholstered furniture? Stop by or make an appointment today at Nell Hill's Briarcliff and our designers will help you create the furniture of your dreams. During our Special Order Upholstered Furnishings Sale, now through July 15, all our upholstered furniture is 20% off!