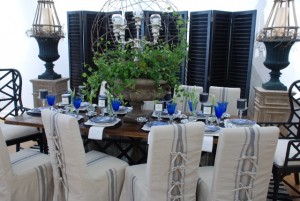 To embrace the blissful, mellow season of summer, I sweep through my home, gathering up winter's rich, intricate layers and replacing them with light and breezy accents that let my rooms breathe. Giving your home a summer makeover can be as simple as weaving in a few key pieces of seasonal decor. Here are my three favorites: 
Live Plants Lend Energy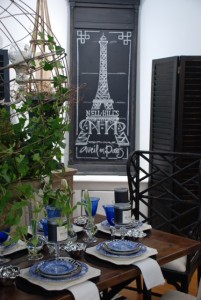 I love what live houseplants do for my home in the summer. They refresh each room, bringing in new energy. And talk about easy! All you need to do when decorating with houseplants is add them to an existing display or create a simple summer arrangement that combines a plant with a few summer accents. You'll be amazed by how poking in a plant will amp up the impact of a display. Check out the photo above. A few pots of ivy took this lovely tablescape to the next level. And, it was extremely easy to create.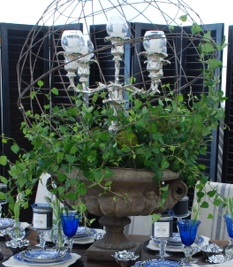 Here's how we did it: We placed a silver candelabra in the center of a miniature concrete birdbath and rested a wire globe over it. With the structure of the centerpiece in place, we just filled in the perimeter with pots of ivy. With its winding and twisting vines reaching out in all directions, the ivy made the centerpiece more exotic.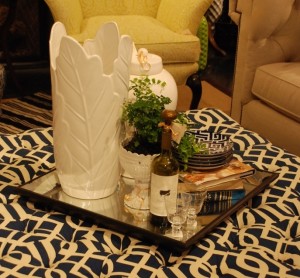 Maidenhair ferns are my favorite ferns to work with when decorating for summer. I'm smitten by their lacy, romantic fronds, a great contrast to the sleek, modern styling of the white pottery we use in lots of our summer displays at Nell Hill's. How about this simple but stylish coffee table display?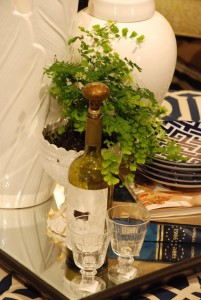 Here's how to recreate it: Start with a base, like this light, bright mirrored tray we use over and over again at Nell Hill's. Bring in dramatic height using a few taller pieces, like this inexpensive but fetching pottery. Tuck a potted plant in the middle ground. Then, finish with a few interesting details, like a stack of books, plates and beverage service.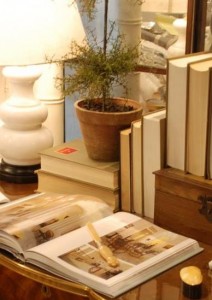 I go wild in the summer, tucking plants into likely and unlikely spots throughout my home. I always have something live on my windowsills, like the line of three small African violets in cute cachepots that are there right now. I often place palms on the center table in my living room and on a pedestal next to the stairway in my entry. In addition to putting a Boston fern on the marble top table in my dining room, I featured a phalanx of potted succulents at the center of my dining table. All these plants will look fresh and fun … until I forget to water them!
Pretty Pillows Perk up Upholstered Furnishings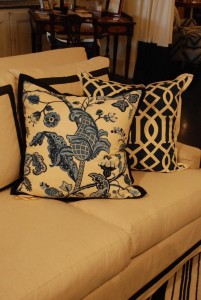 Dan once asked me: Where do all our pillows go to die? While I confess that I have more accent pillows in my home than the average person, I actually have fewer than it appears. Here's my secret to getting twice the mileage from my pillows: I have two sets of pillow covers made – one for the warm months, one for the cold months. When the seasons change, I unzip the pillow covers and replace them with the other set. Presto! My living room looks as if it was redecorated for the season just by changing out the accent pillows. You won't believe what a difference just swapping out your pillows will make in your living areas.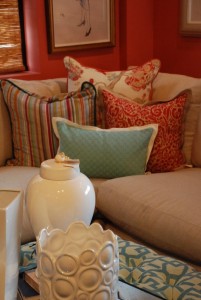 What's your favorite color palette for summer? You can bring it to life with your accent pillows. Do you crave high-voltage colors that are full of energy? Then mix up pillows covered in tangerine, lemon yellow, apple green and hot pink.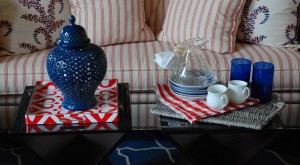 Some people love patriotic color in the summer, a nod to Independence Day. Mix up patterns that weave in these perennial favorites, like blue ticking trimmed in a red flange. Others like to float away on a summer dream, picking washed linens and the softest cottons in a delicate bouquet of creamy pastels. It's all good and, right now, it's all in.
Wicker and Bamboo Bring in the Beauty of Nature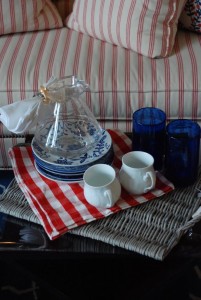 When I'm reworking my décor for summer, I like to replace my formal serving pieces, like silver trays, with informal pieces made from natural materials, like wicker and bamboo. I like how the irregular, organic textures and lines bring the unpredictable beauty of nature into my home.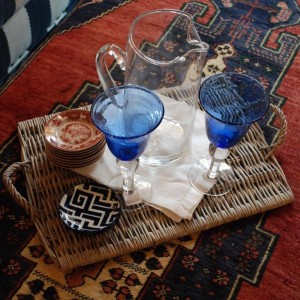 For a quick summer remake, lighten up an existing display by tucking in something that celebrates nature. Maybe it's setting your table with wicker chargers.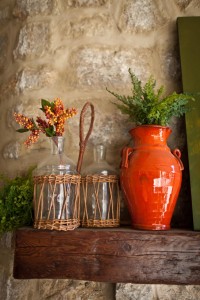 When decorating your mantel for summer, weave in a few natural pieces, like this adorable holder. I can picture these vintage looking bottles filled with messy bouquets snipped fresh from the garden.
Add Interesting Touches with New Summer Accents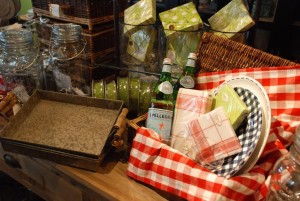 This snapshot of a summer display at Nell Hill's features a few of our popular accents. These rustic metal trays add a charming county feel to summer decor. You could use them to showcase pots of fern, a cluster of vases filled with hydrangeas or a hurricane displaying seashells from your vacation. Nothing says summer like an old fashioned picnic basket packed with bright summer dishes. It's great to have summer ribbon on hand to hang a wreath on your door or suspend glass votive holders from trees and bushes in your garden. Old fashioned Mason jars look adorable holding treasures like river rocks from your family rafting trip. Get creative as you enjoy a fresher, cleaner look in your home this summer.
Next Week ... As we kick off our Special Order Upholstered Furnishings sale June 15 at Nell Hill's (all special order upholstery will be 20% off through July 15), I'll be asking customers four key questions to help them pick the perfect upholstery fabric for their sofas, ottomans and chairs. I'll share them  with you next week.