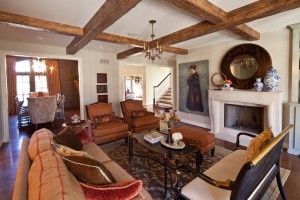 I love all the hardwood floors in my historic home. But without area rugs to break up the great expanses of wood, the rooms would feel cold and empty. And, it would give our dog one more reason to avoid sleeping on the floor, where she is supposed to sleep, and hop up on the sofa, where she is not supposed to sleep. Area rugs don't just lie around on the floor, collecting cat hair (maybe that's only in my house?). They are a decorating essential that enables you to finish a room with finesse, elevating it to a new level of style. Here are five ways you can put area rugs to work to add to your home's ambiance: 
1. Use a Rug to Ground Furniture Groupings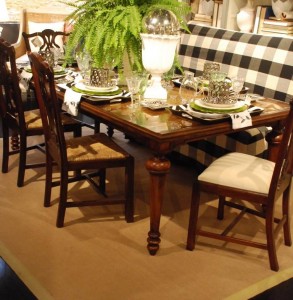 Area rugs provide a stage for your furnishings, giving them a visual home in a room. I think placing an area rug under a dining table is a must because it reinforces the table's position as the focal point of the room. Rugs also protect the floor from the wear and tear of sliding dining chairs.
If your living room furniture is arranged in the center of the room, not against the walls, put a rug under the grouping to visually bring it together so the pieces don't feel like they are spinning out in space.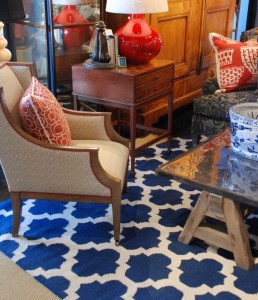 When determining the size of your area rug, I recommend one of two approaches. You can size the rug so that it covers the entire floor, leaving a foot between the rug and the wall so some of the floor shows. Or pick a size that just contains your furniture grouping. Some decorators believe all the legs of your furniture should be on the rug. Others say all the legs should be off the rug. I'm a fan of putting just the front legs of the furniture on the rug, leaving the back off. This happy medium approach leaves plenty of your hardwood floor exposed but gives your furniture something to grip onto so it doesn't slip and slide when you sit down.
2. Let the Rug Bring Color and Pattern to a Space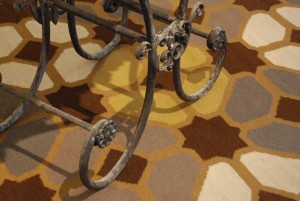 Do you want your area rug to be a vibrant focal point in your room or a less showy member of the supporting cast? If your furnishings are neutral, you can pick a rug with lots of color and pattern. There are so many amazing patterns out there now, you are going to have a blast picking one that brings your room to life.
There is nothing to equal a handmade rug, whether it's new, antique or vintage. But, honestly, these classics have gotten so expensive, I'm beginning to steer my customers who are more budget conscious toward flat weave rugs, which give you all the visual wow at a fraction of the price.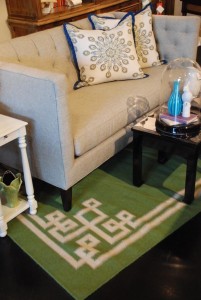 I'm crazy about the array of looks you can achieve using affordable flat weave rugs, so we're carrying a wide assortment at Nell Hill's right now. You can find them in just about every color and style imaginable, but my favorites are those that redefine traditional patterns. While a fine handmade rug will last you a lifetime, you can expect to get about 10 to 12 years out of a flat weave rug. Because you aren't marrying the rug for life, you have a little more freedom to pick something trendy. By the time you are tired of it, it will have reached the end of its lifespan.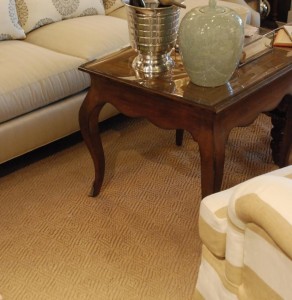 If you want a rug that will give you lots and lots of interesting texture and a touch of subtle color, but not fight with your furnishings for attention, I recommend a natural fiber rug, like a sisal or jute. I'm sold on these unassuming weaves because they are not trying to be anything other than what they are: a relaxed, low-maintenance floor covering that will wear like iron. Yet, somehow they look fabulous in about every style of home, from traditional to contemporary. If you have a large floor to cover, natural fiber rugs are a great option because they are affordable and can be custom ordered to fit your space perfectly.
3. Warm up Cold Floors with Area Rugs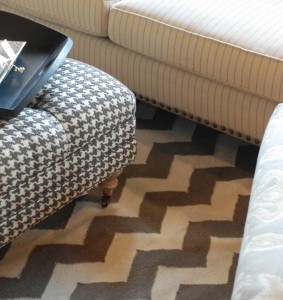 My old home is drafty. So when I pop out of bed on cold winter mornings, I want my toes to hit a warm rug, not the freezing hardwood floor. In my bedroom, I have a big sisal rug that reaches almost to the wall, giving me warm footing all the way to the closet and bathroom.
I consider area rugs an essential for any room where you go barefoot, like your living room or family room. They are also great at providing sound absorption in noisy rooms, like the kids' playroom.
4. Layer Rugs to Add Interest to a Room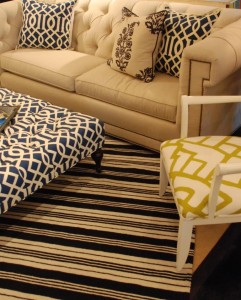 Here is one of my favorite looks for flooring right now: Cover the majority of the space with a big natural fiber rug. Then, layer a smaller Persian or flat weave rug on top. With their contrast in size, color and texture, the layered rugs really add to the visual interest in a room. Plus, this little trick will allow you to save valuable decorating dollars. Covering the majority of the floor with a sisal or jute rug is dramatically less expensive than covering the same space with a handmade wool rug. When you purchase the rug that will layer on top of the natural fiber rug, you can get a much smaller size than you would if the rug was standing alone. For the top rug, I suggest one just big enough to fit inside the perimeter of your furniture grouping. You can also turn the top rug on the diagonal so it looks larger, giving you still more bang for the buck.
5. Let Rugs Define Spaces in a Larger Room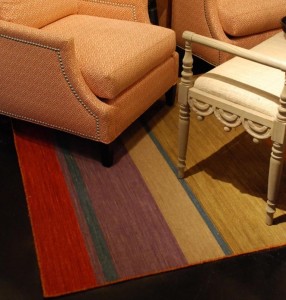 If you have a larger room that you want to visually break into several smaller sections, area rugs will help you do the trick. My living room is a long, lumbering room that doesn't lend itself to intimate conversation areas. So I've visually split it into three separate spaces, using area rugs to ground and define each spot. I used the opportunity to bring in different colors and patterns to give each grouping its own unique feel.
Tips for Taking Care of Your Investment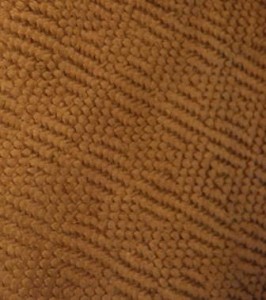 Area rugs are a big investment, so it's essential to care for them properly in order to keep them looking lovely for years. Be sure to follow the manufacturer's care tips. Here are a few additional pointers we pass on to our customers at Nell Hill's:
1. Vacuum with care.
Improper vacuuming can be the death of a beautiful rug. High powered vacuums with beater brushes can pull threads out of the back of the rug, cause the rug to fuzz up, make the serging on the edge of the rug come loose and deteriorate, and destroy the fringes on the ends of rugs. So, when you vacuum your rug, turn off the beater brush and use the "floor" setting. Use the hand attachment for the serging and fringe, holding the nozzle in place, then lifting it to move to the next place instead of running it back and forth.
2. Protect your rug from sun damage.
Sun will make the colors in your rug fade. Try to keep your area rug out of direct sunlight. If you can't, draw the drapes during the time of day when the sun hits your rug.
3. Even out wear and tear.
If your rug is in a high traffic spot, rotate it every three to six months so it wears evenly.
4. Use care when cleaning spots.
If you spill something on your rug, clean it up immediately. Once a stain is set, it's a lot harder to remove. Never rub the spill because that forces the liquid deeper into the rug. Instead, blot with a clean, white cloth. If you have a wool rug, use lukewarm water and a special carpet cleaner to remove the stain residual. If the rug is made from synthetic material, use a spot remover or an all-purpose cleaner to break down grease. To remove stains from natural fiber rugs, just use lukewarm water. Clean up the residue with clean water and dry, absorbent towels.
Next Week … Lighten and brighten your décor for summer. I'll have a few tips to inspire you to celebrate summer in your home interior.