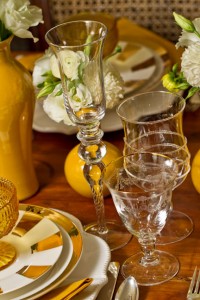 Chances are if your kids came home and told you they forgot to mention that they signed you up to bring cookies for the school party tomorrow, you will have the ingredients in your pantry to whip up a batch. But do you have the basic entertaining pieces you need to throw an impromptu party with friends or a spur-of-the-moment dinner gathering? Just as you keep your pantry stocked with basics like flour, sugar and oil, here are six ingredients you need on hand to throw a great party in a pinch:  
1. Vases for a Centerpiece in a Snap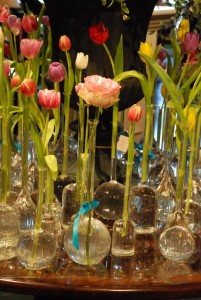 When you entertain, it's always about the table. So it's key to have a few vases on hand you can pull out to create a killer centerpiece in seconds. You can't beat thin-mouthed vases for their ability to deliver a high-impact look with minimal effort. Arranging a bouquet in a normal vase requires lots of flowers and some flower arranging skills (which I do not possess). But when you use vases that only hold one or two flowers, you just stick in a bloom and you are done – no skill required. They have saved my hide on many occasions.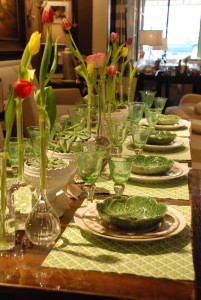 When you are at the market getting food for the party, pick up a cash and carry bouquet. Then stick one or two into three, five or seven vases in a variety of shapes and sizes, then march them down the center of the table. High impact look, done!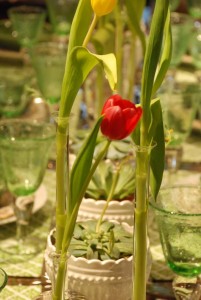 Another great instant centerpiece tool is a set of small pedestal bowls. At Nell Hill's we have some that are about 5-inches in diameter, the perfect size to hold a little succulent or potted fern.  Aren't they adorable? Your simple centerpiece could be a line of succulent filled bowls going down your table's center, or you could mix them with little vases, like we did here.
2. Interesting Chargers to Set the Stage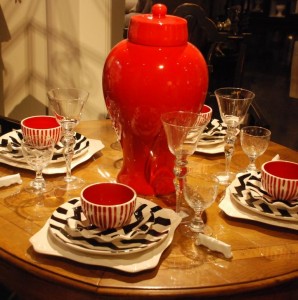 The key to creating place settings that wow is to build them up from the bottom, beautiful layer by beautiful layer. It sounds complicated but it's super simple to do. Start with a charger to ground the pyramid of dishes. I have three styles of chargers I keep in my home to pull out in a pinch: apple green with a ruffled edge, plain white and wicker.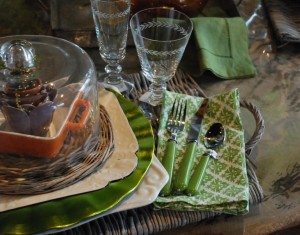 I picked these three very different kinds of chargers so I could achieve a variety of looks on my table, depending upon which dishes and linens I use with them. I also opted for chargers that were simple in design so they would go with just about anything.
3. Linens to Add Luxury to the Table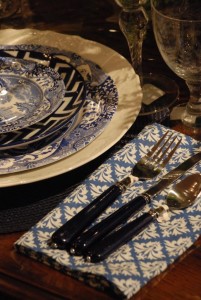 Some things I will scrimp on when I set my table for company. But not the napkins. You won't find paper napkins on my tables because I feel like cloth napkins do so much to make a table feel more luxurious and layered. I have four sets of napkins I keep at the ready for entertaining – each set offering me the opportunity to take my table in a completely different direction. One set is white linen and features our monogram. The other three feature cute prints in blue and white, green and white, and yellow and white –three color treatments I use a lot on my table.
I also like to use 53" square table cloths turned on the diagonal at the center of my rectangular dining table. Gigantic table cloths can be expensive and a pain to launder and iron. But these little cheater pieces can be created in a jiff out of a yard of fabric. Pick a pattern that complements your napkins and dishes. Another favorite? Bright place mats!
4. Versatile White Dishes Save the Day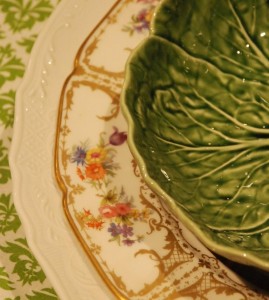 I'm a dishahaulic and would fill cupboard after cupboard with different patterns if I had the storage room. Thankfully, my old home is short on spots to stash dishware, so my penchant for excess is kept in check. If I was stranded on a desert island and could only have one set of dishes, I would pick plain white because these babies give and give and give. They work with absolutely every color, style and season.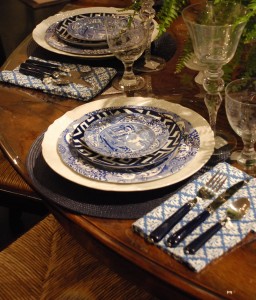 If you want a bright, clean look on your table, stick with your white dishes and use your table linens and floral centerpiece to bring in a pop of color. Or, mix the white dishes in with other dish patterns. Top a white dinner plate with a majolica salad plate shaped like a leaf. Or sandwich a white salad plate between a blue and white transferware dinner plate and bread plate.
5. Goblets Take Dinner Drinks to the Next Level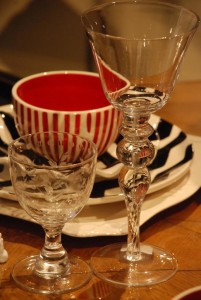 Presentation over preparation is my mantra when it comes to entertaining. You can serve your guests chilled tap water and it will feel luxurious if you put it in lovely glass goblets. If you're limited on storage, like I am, and can only fit one set of glassware in your cabinet, opt for clear glass. It goes with everything and looks so elegant. If you have space for one more set, pick a color that mixes well with your dishes.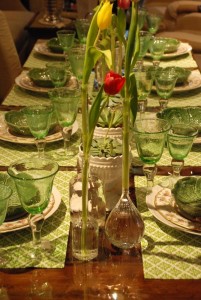 Have fun mixing up the glassware on your table, pairing your clear and colored goblets. I use blue wine glasses with my clear water goblets all the time. Don't have a set big enough for all your guests? Use different patterns for the sides and the ends of the table.
6. Flatware Finishes a Place Setting in Style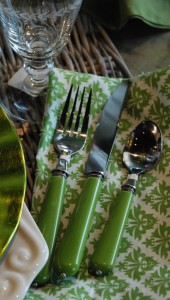 Once you decide on the direction you want to go with your table, your flatware can play a key role in helping you get there. Are you pulling together a formal occasion in a flash? Reach for the tried-and-true silver or silver plate. You can't beat it for sophisticated style. If your table is going to be awash with color, pick flatware that joins in the fun. At Nell Hill's we're selling the cutest flatware with navy, red or apple green handles. I also really like flatware with pearl or bamboo handles. These arresting patterns are unusual enough that they get some attention, yet don't steal the show.
Next Week … What's on your floors? I'll show you how to use today's coolest area rugs to make your room more stylish.