Here's how I wake up every morning: I pour myself a big cup of coffee then settle into my favorite chair with my feet propped up on an ottoman. As the caffeine works its magic, I go over the day's activities until I'm fully awake and ready to get at it. I think of that ottoman as my daily launching pad, proof that these relatively small pieces of furniture can play a big role in your home décor – and life. Here are five of my favorite places to use ottomans to add beauty – and function – to interior spaces: 
1. As a Coffee Table
My all-time favorite way to use an ottoman is as a coffee table, operating as a very stylish hub of a living room or family room.  Since ottomans come in just about every shape, size and style, the sky is the limit. Right now at Nell Hill's, we're placing lots of large, square ottomans at the center of conversation areas, which could include a sectional sofa and chairs, two sofas, or a cluster of chairs. These big beauties really become a focal point in a room and look great topped with a display grounded on a tray, or with nothing on them at all. Our most popular size is 53 inches, but I just did a whopping 71 inch square ottoman for a customer who has a huge, lofty room. She put the oversized ottoman in the center of a grouping of three sofas that faced a big fireplace. It was amazing how this little constellation of upholstered pieces worked together to instantly warm up the cavernous space.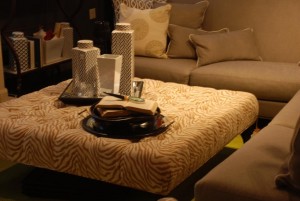 Coffee table ottomans are an ideal place to experiment with bolder fabrics, like large-scaled patterns and strong colors – statement textiles you might not want on a piece as large as a sofa or chair. We're putting lots and lots of contemporary and transitional fabrics on ottomans right now for folks who want to freshen up a room without the cost of buying a new sofa or chair. Then, if you get tired of the fabric, no problem. It only takes a few yards to reupholster an ottoman. Or, try this trick: Have two slip covers made for your ottoman that you switch out seasonally, one that is bright and light and summery, the other richer and heavier for winter.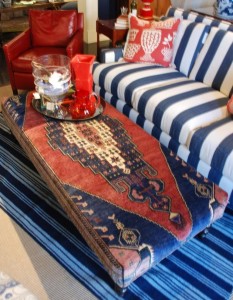 A few years ago I discovered these absolutely amazing ottomans that are upholstered with antique and vintage rugs. I love, love, love them!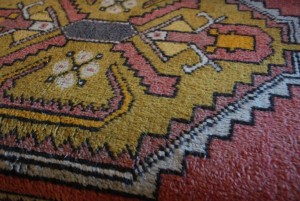 No two are alike, and all have their unique history, some with a worn place here, others with a snag there. To me, their imperfections add to their charm, like they have a story to tell. Plus, since they are made out of rugs, they are durable and forgiving, an idea pick for those who want to put their feet up without worry.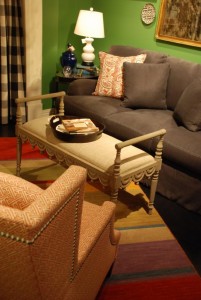 I often use benches and ottomans interchangeably because they really serve the same purpose. How about this adorable bench as a coffee table? In a jiff, it could be used as extra seating. Benches are also great in front of fireplaces, in entryways, pulled up to vanities or tucked under tables. They add another layer and give you instant seating when you're in a pinch. Like ottomans, they are easy to reupholster, so you can have some fun with them.
2. Under a Piano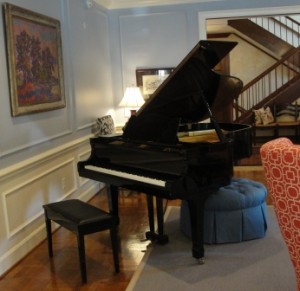 If you are lucky enough to have a grand piano, try this: Tuck a round, skirted, tufted ottoman into the curve of the piano. It melds with the sensuous lines of the piano and balances the piano's hard, gleaming surface. The photo above is of a sorority house that we redecorated. When the girls entertain, they need all the seating they can get, so this little ottoman is put to good use. The rest of the time? It's gorgeous eye candy that offers one more rich layer to the room.
3. Under a Table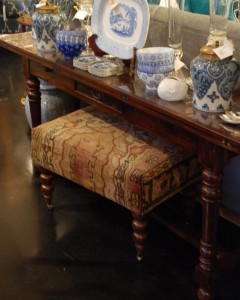 Yesterday I worked with a customer to design a custom ottoman that will tuck up under a table in her foyer. It gave her a chance to add some color and pattern to the room, plus a little spot for guests to sit on to remove wet shoes. It's a great place to toss a purse or the day's mail, too.
I really like to place a few cube ottomans under sofa tables to fill in the empty space between their long, thin legs. We layer up the top of these unique tables with lamps and accessories, but if there is nothing underneath them, they can appear top heavy and out of balance. When you entertain, pull out the cubes and use them as extra seating.
4. At the End of the Bed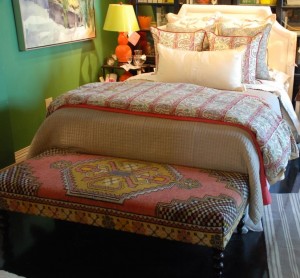 Placing an ottoman at the end of a bed is a lovely way to provides a nice, graduated finish to the foot of your bed design. If your bed is covered in pillows, like mine is, you can pile the pillows on the ottoman at night. In the morning, use this little seat when you slip on your shoes.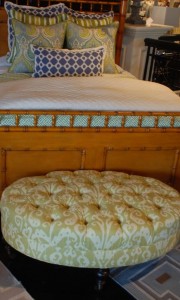 When you pick out an ottoman for the end of your bed, or for a seat for a bedroom vanity, get one that is tall enough to use as an extra chair when you entertain. When I'm hosting a big dinner party, I commandeer the ottomans and benches from all over my house so guests have a spot to sit while they dine.
5. With a Chair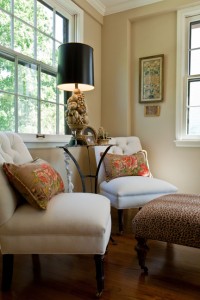 Maybe I'm stating the obvious here, since the original intent of the ottoman was to nestle up at the end of a chair and hold your tired, aching feet. But since I use ottomans in so many unconventional ways, I have to remind myself to use them as a footstool. I'm a fan of ottomans that match the style and upholstery fabric of the chair they accompany, and of those that look completely different from their partner chair. I like them nestled up next to the chair, and centered between two chairs so you can use one with a buddy.  I also like them sitting next to a chair when they are not in use, acting as a side table. It's all good, so experiment until you get a look you love.
Next Week … The secret to being able to pull together a great dinner party in a pinch is to have a few key entertaining tools on hand. Find out what they are!