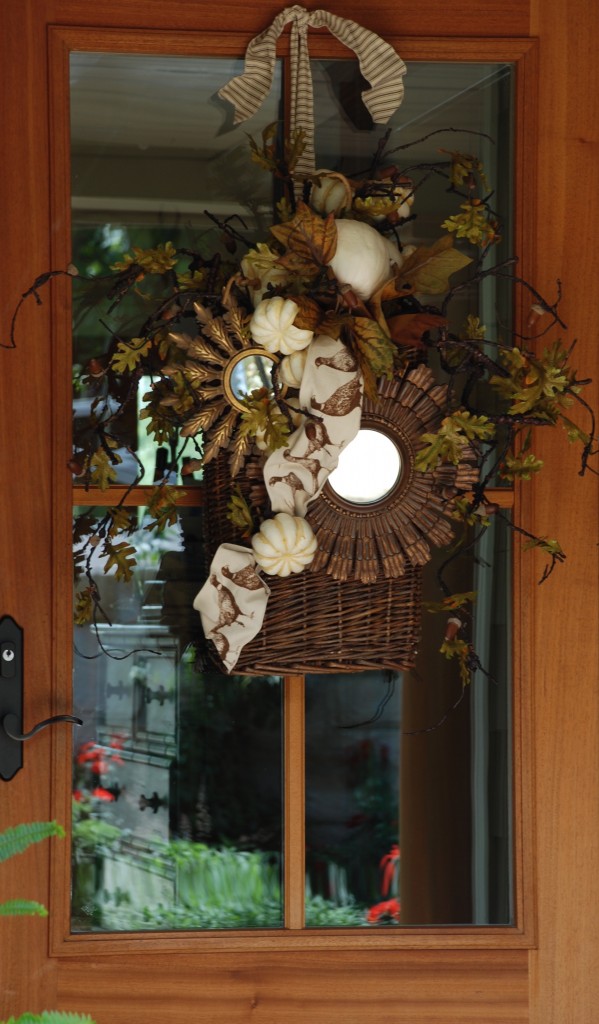 When I begin decorating my house for fall, coming up with an inventive display for my front door is at the top of my list. Front doors are the place where you wave hello to all the people who pass by your home every day and where you give your guests a glimpse of what's waiting for them inside. At the Nell Hill's Fall Open House on Sept. 11-12, we'll have lots and lots of ideas for decorating your door – and your entire house—for autumn. If you're itching to get going on your door now, here are the three steps we follow at Nell Hill's when we design fall doors: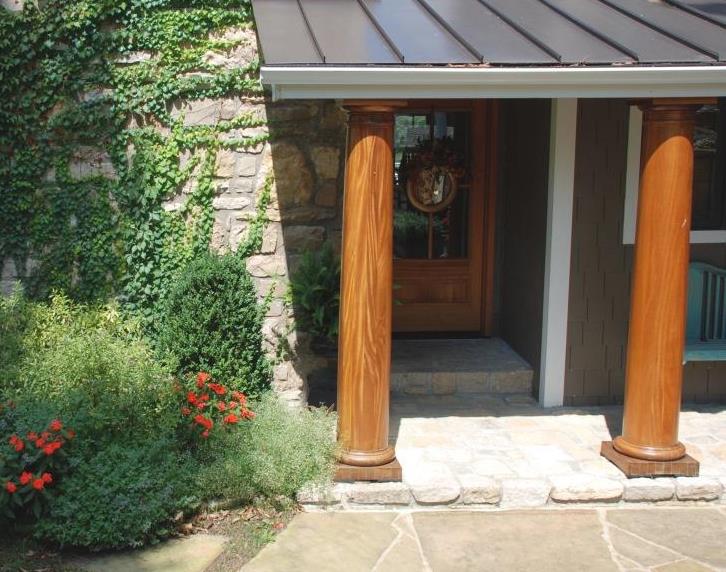 1. Start with an Interesting Base
Your door display needs an interesting base that will set the theme for the door display and serve as an anchor for the other elements. I have used all sorts of things as the base for my door displays, from a simple wreath to an oil painting.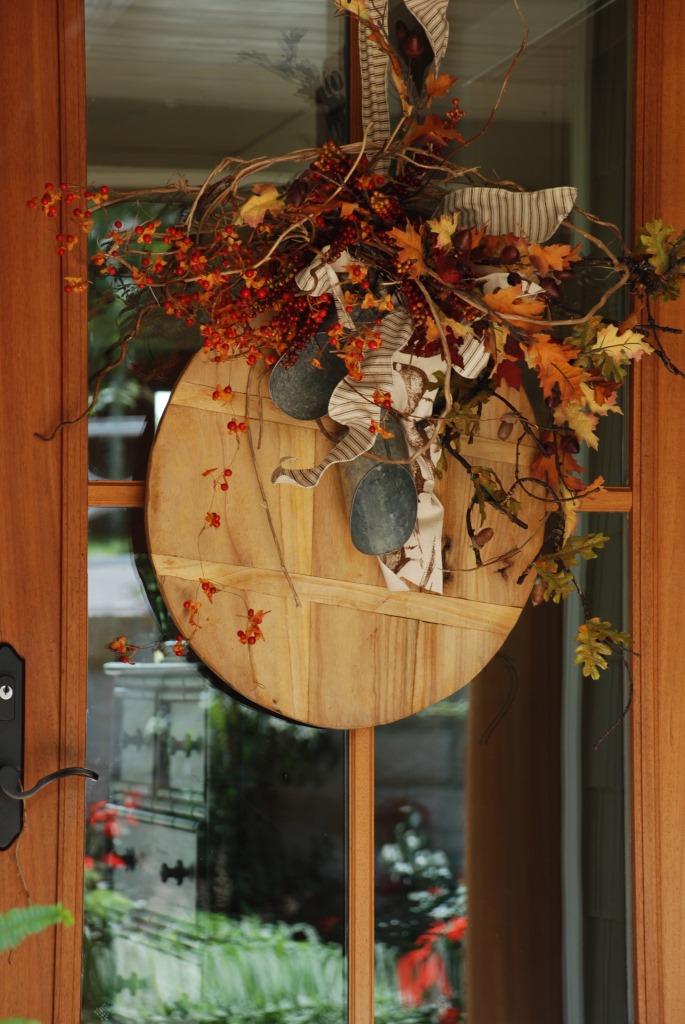 For this inspiration door, we started with a wood chopping block as our base. I'm in love with these blocks and we've been using them in lots of inventive ways all over the store. My favorites so far: chargers on fall tables and trays under fall displays.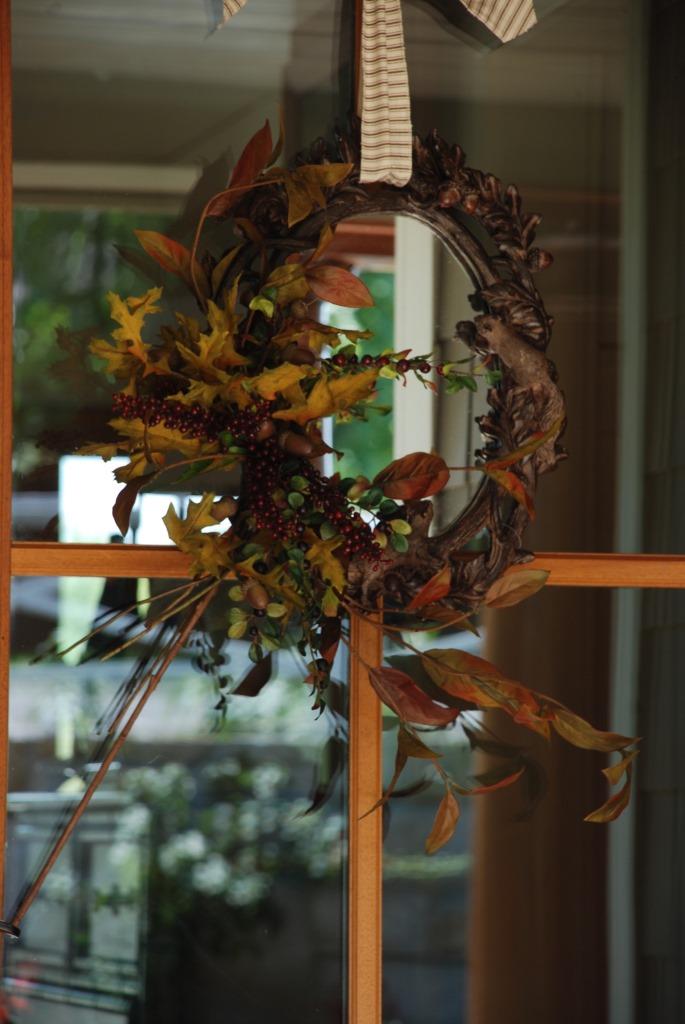 Using artwork as the base of a fall door display is lots of fun. We use mirrors a lot on front doors because they are usually inexpensive, lightweight and do a brilliant job of brightening a display. This mirror, simple and understated with its fall themed detailing, is a perfect pick. Plus, it's thin enough to fit between an exterior door and a storm door. If you use artwork on your door, make sure it's well secured and made of materials that won't be ruined by rain.
2. Festoon with Fall Foliage
As you'll see from all these photos, we love to use faux foliage on our front door displays. In the fall, nature gives us the most amazing decorating tools, from brilliantly colored leaves to strands of berries and colorful gourds. If you have the real deal, like grasses, vines, nuts or small branches, by all means, use them. We just opt for the fakes because they won't get too crunchy or mooshy and you can easily fluff them into the shape you want.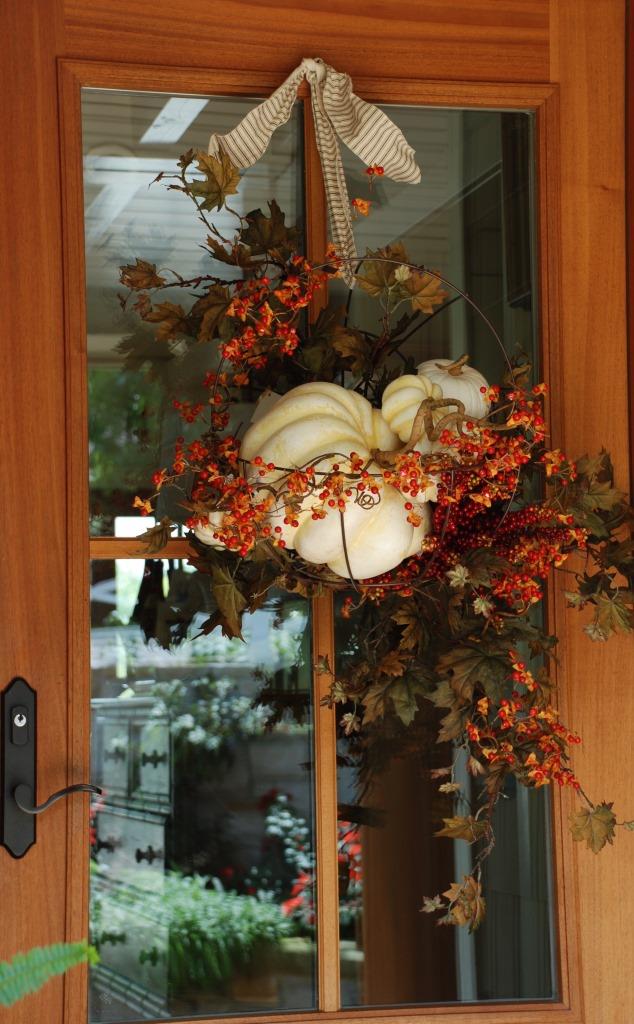 On this happy door, the foliage and gourds are the main event. The wire basket that serves as the base for the display just melts into the background, keeping the spotlight on the arrangement of berries, vines, leaves and gourds.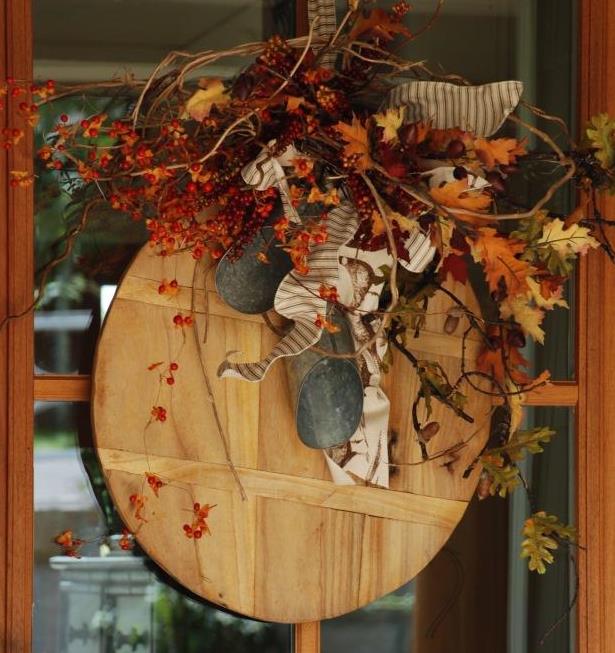 We used a variety of greenery on our chopping block display, mixing together different colors and textures and shapes that all share the same fall palette, to keep the display interesting but harmonious.
3. Weave in a Ribbon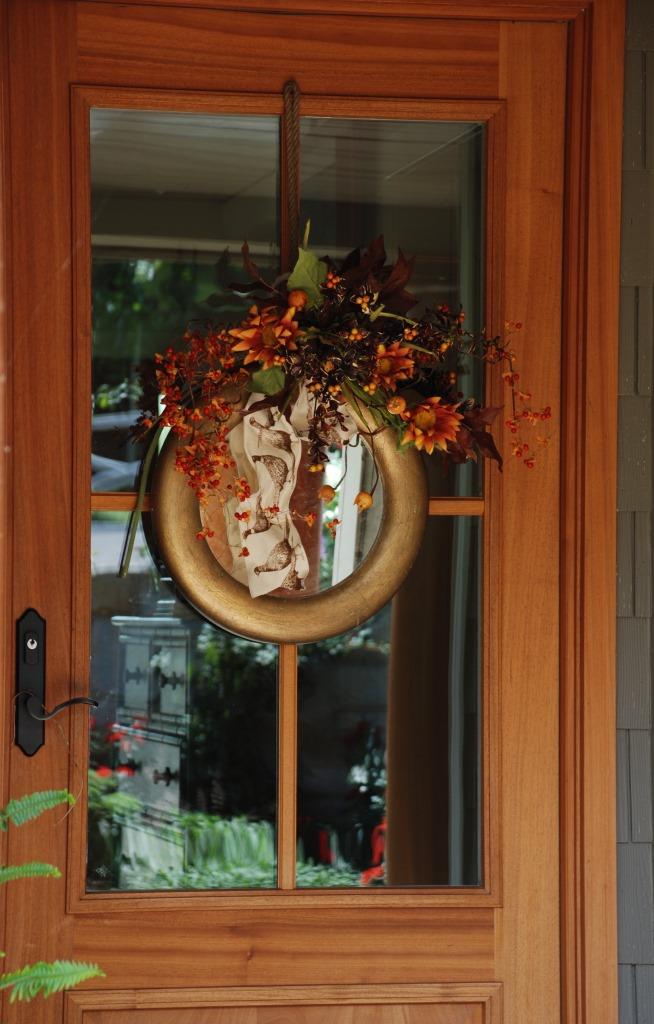 Fall ribbons are one of my favorite tricks for adding a splash of the season to a display in seconds. We always have a large selection of ribbons at Nell Hill's so you can mix and match colors and textures and patterns. This quail pattern is one of my favorites right now. The quiet color palette makes it a great pick for any display, whether you're weaving ribbons into foliage on your mantel or topping a lantern with a bow. The round mirror, with its warm gold luster, is a lovely base for this bouquet of fall flowers bound up in this plucky ribbon.
Extra Credit: Add Something Unexpected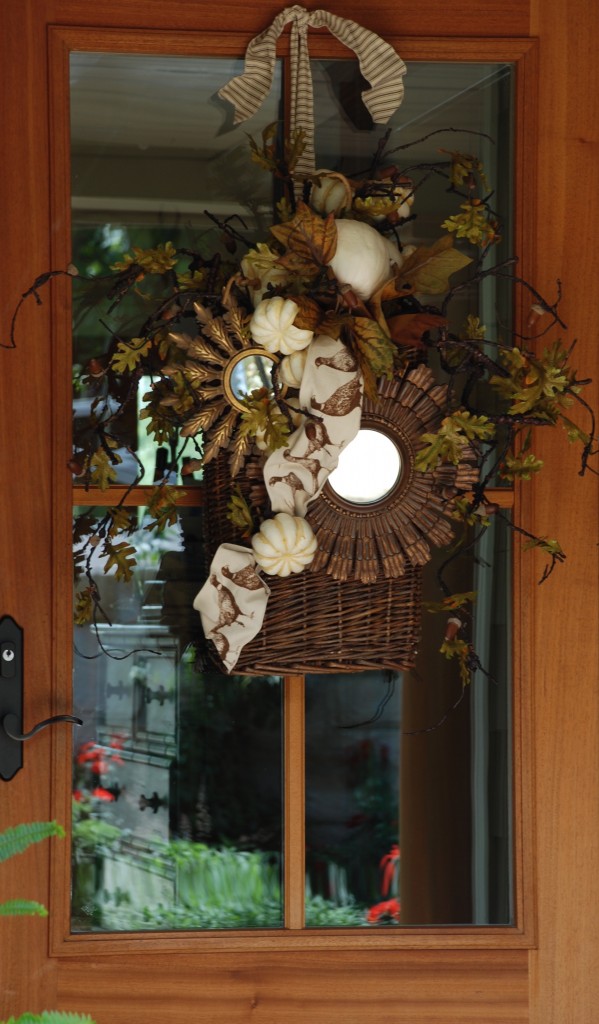 Depending upon how much time you have, how creative you're feeling, or how lush or edited you like your displays, you can keep your door super simple or take it up a notch, like we did here. The basket filled with fall foliage, tied up with the quail ribbon, looked lovely, and we could have stopped there. But after a few cups of coffee, we were ready to go for it. The sunburst mirrors secured to the basket knocked this treatment out of the park!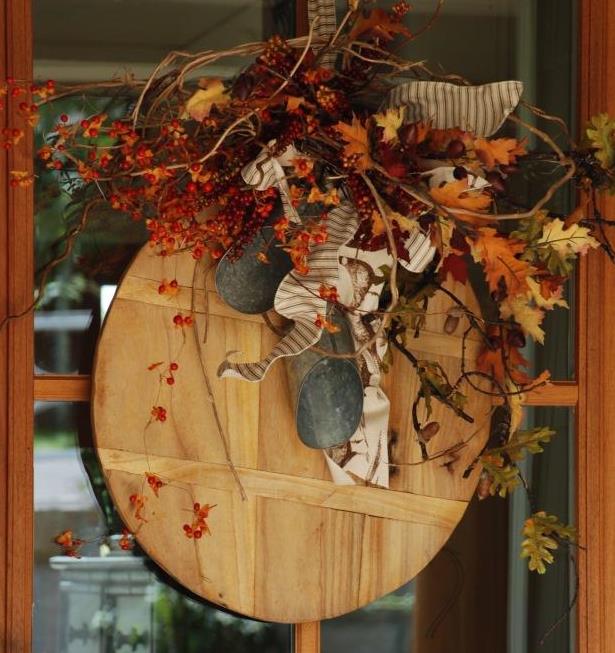 To give this door extra personality, we secured metal scoops to the vines and ribbons, adding to the rustic feel of the display and bringing in a different texture and tone. The display would have been lovely without it, but this extra little touch made it sensational.
Next Week … I want to welcome you back to Innisfree, my cottage by the lake. Be my guest at a candlelight dinner under the stars!