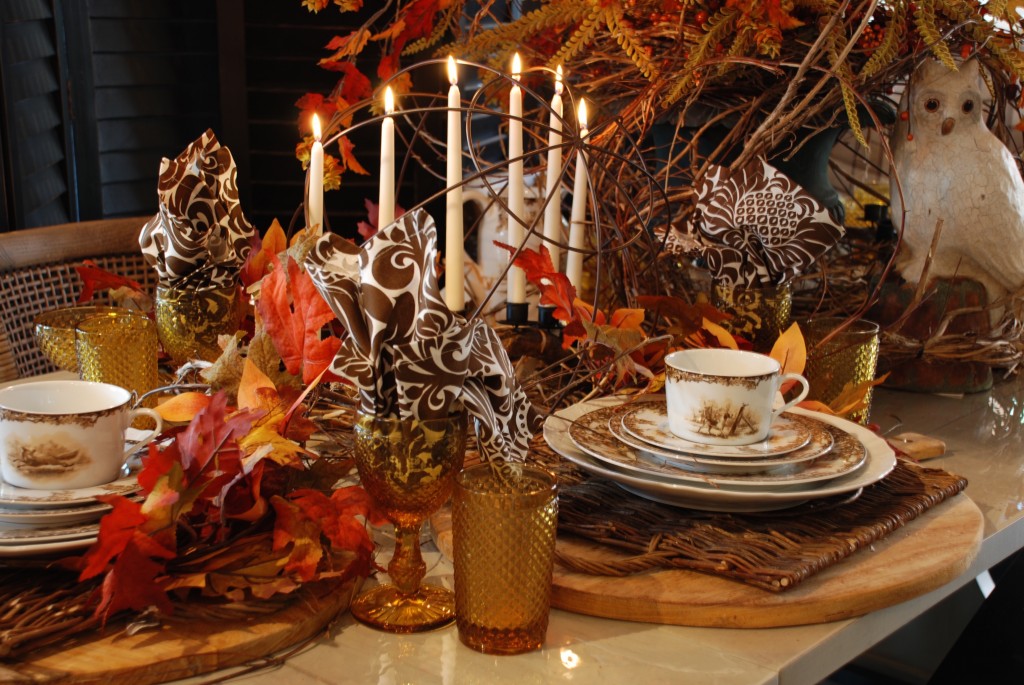 I get all goosey when I think of fall, with its dazzling display of colors, exhilarating cool days and, of course, fabulous food, from apple pie to turkey dinner. One of my favorite times to entertain is in the fall, maybe because it gives me an excuse to dress my dining table in the beauty of the season. Whether you like your tabletops simple and understated, or over the top, here are four ingredients that will help you give a standing ovation to autumn: 
Rustic, Organic Materials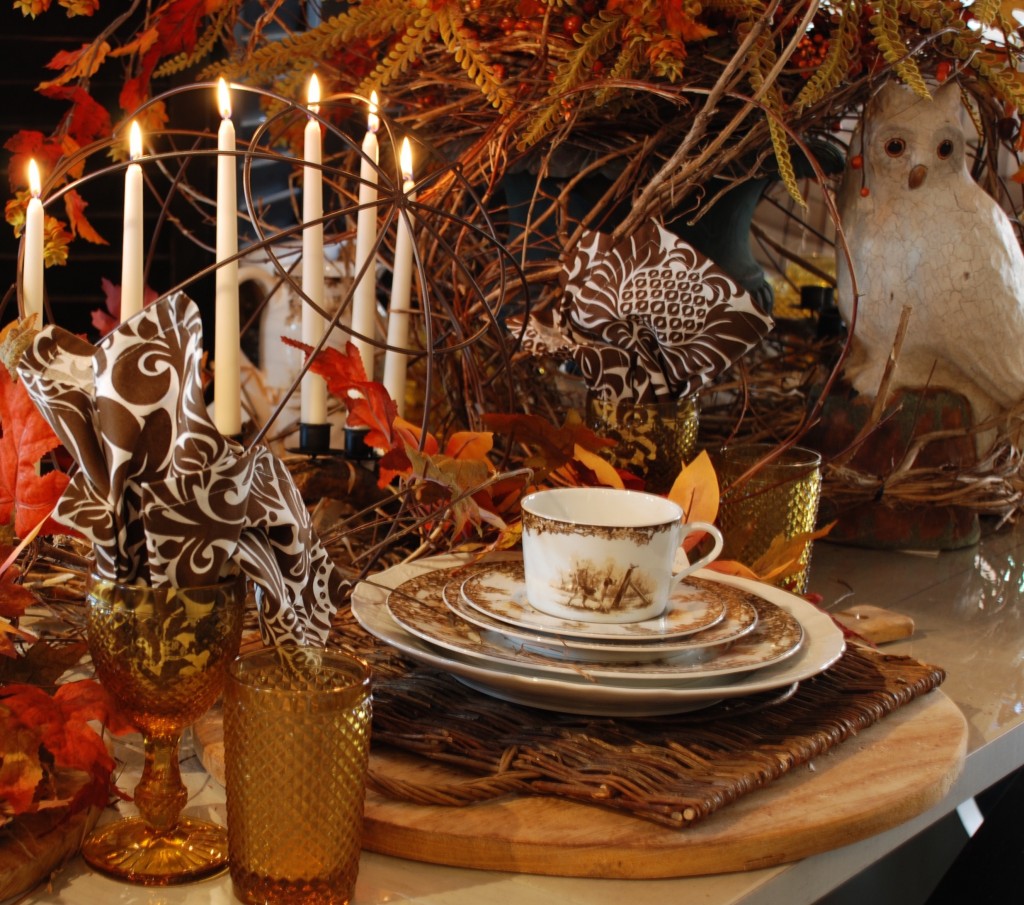 One of the hallmarks of the Nell Hill's style is mixing the rustic with the refined, the precious with the everyday. We love the juxtaposition of pairing natural, gritty curiosities, like aged garden statues or found objects like birds' nests, with the most fussy things in your china cabinet – crystal, silver and china. There's no more perfect place to put this technique into practice than in a tablescape. All you need do is offset your table settings with organic elements, like we did here. The showy centerpiece starts with a cast iron garden urn as a vase for a wild assortment of fall branches and leaves. We wove honeysuckle vine around the bouquet, a nod to the bare branches of late autumn.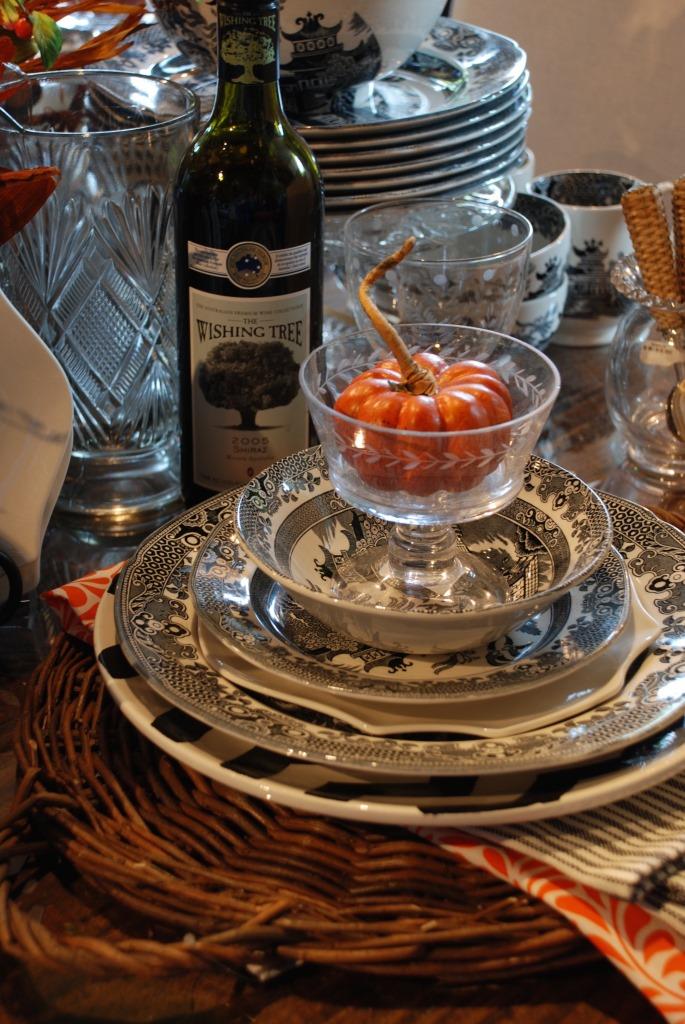 If dramatic centerpieces aren't your thing, you can still pull organic elements into your tablescape, like we did here with our wicker chargers. As you can tell from all these photos, we're over the moon about these simple, versatile and super-affordable chargers. We've used them for years on our tables, and my love light just keeps burning brighter.
Dishes in the Colors of Fall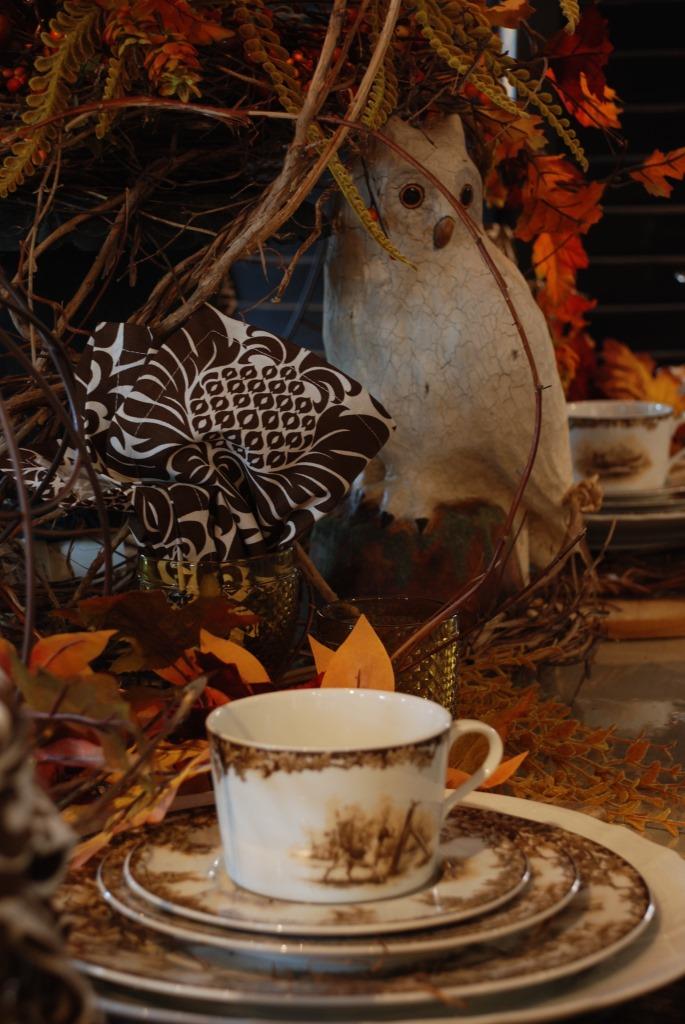 If your dishes are white or feature any colors of autumn, from brown to red to sage, it's easy to give them a quick makeover so they scream fall. I featured these sensational dishes in this month's blog on dogs, but I couldn't resist highlighting them again because they are perfect for a fall table. We added amber glassware, brown and white linens and wicker chargers to finish off the fall scene.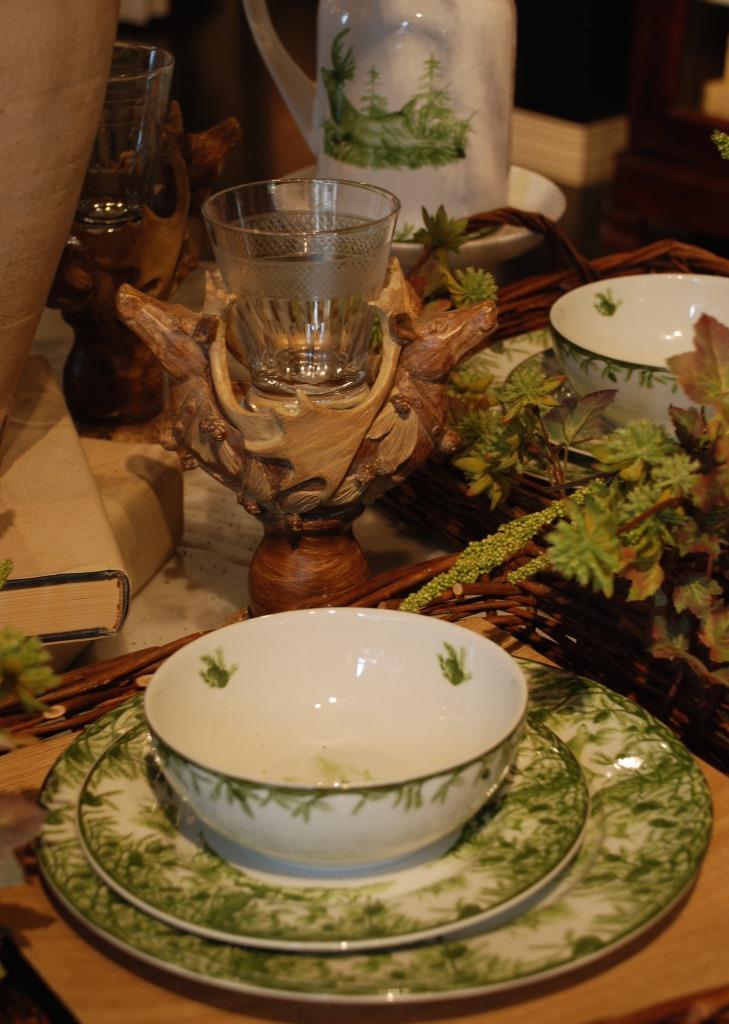 Deeper, smokier shades of green are also fab on a fall table. These sweet transferware dishes are so versatile you could transform them for every season simply by pairing them with different accent colors: red for the holidays, blue for spring, orange for summer. For this fall table, we brought in shades of browns through the deer candleholder, the olive oil jar vase and the soft cream of the old books used as risers.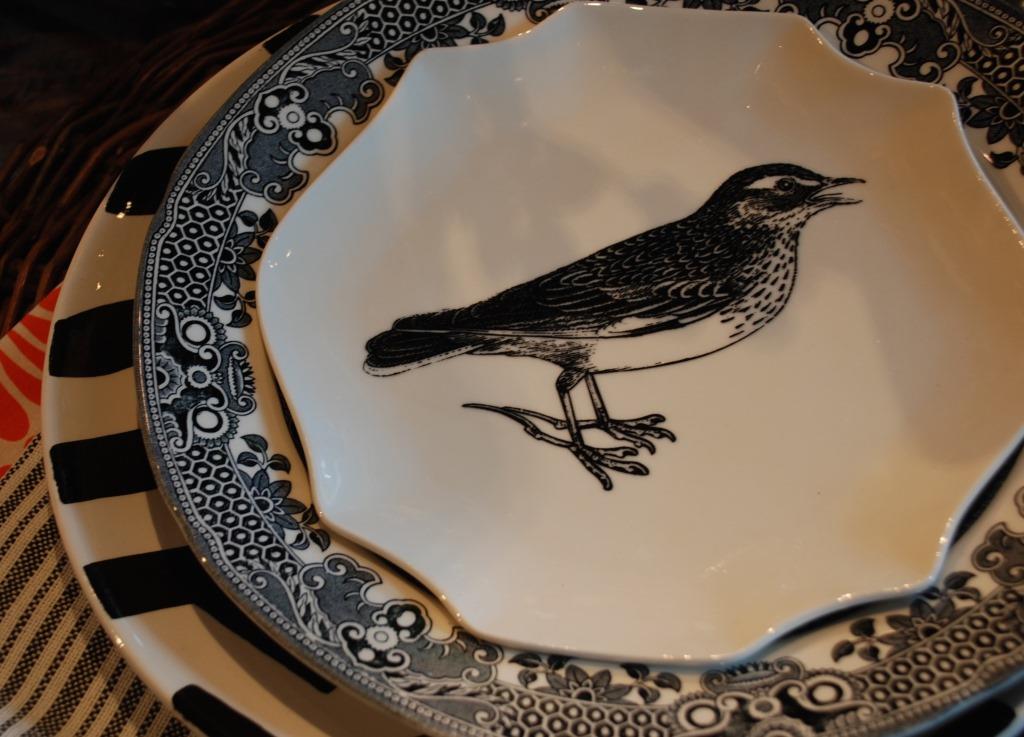 If you know me, you know I am crazy about black and cream and use this dynamic duo in my year-round decorating. We took this very traditional transferware pattern and make it a little more fun and funky by pairing it with a chevron stripe dinner plate and a bird-themed salad plate. At Nell Hill's, we really enjoy layering several china patterns.
Curious Critters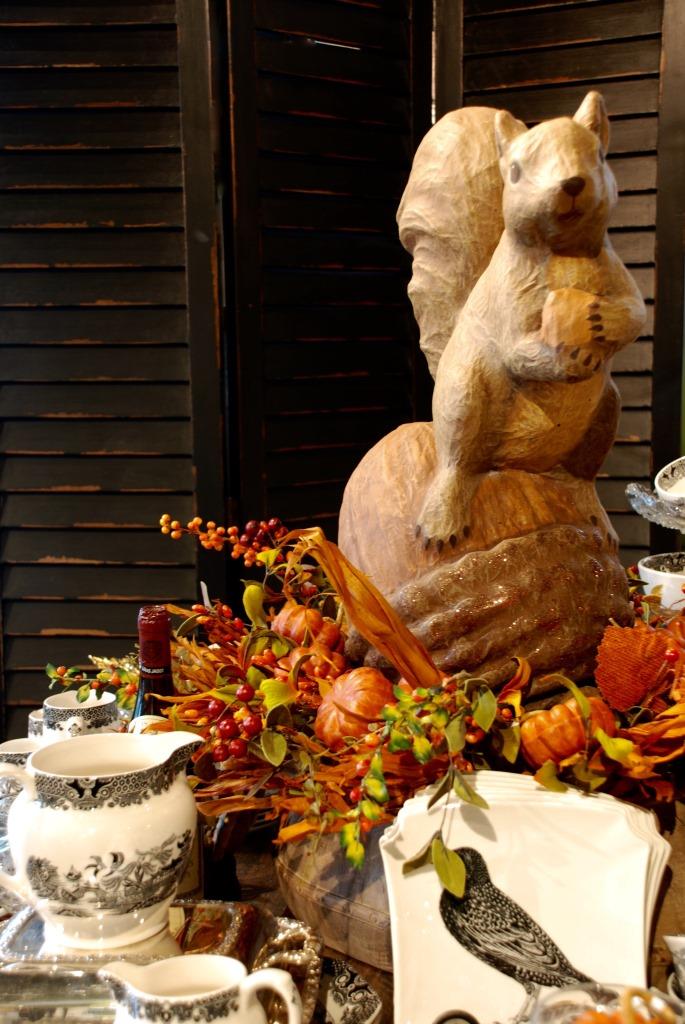 I'm a huge fan of displays that don't take themselves too seriously. That's why we frequently add a bit of whimsy to the tables at Nell Hill's. Fanciful figurines of animals have become one of my favorite smile-inducing tools. This playful squirrel is the ideal focal point for a fall display, whether it's on your table or buffet, or even your kitchen island. Just surround him with some striking foliage and you're done, presto.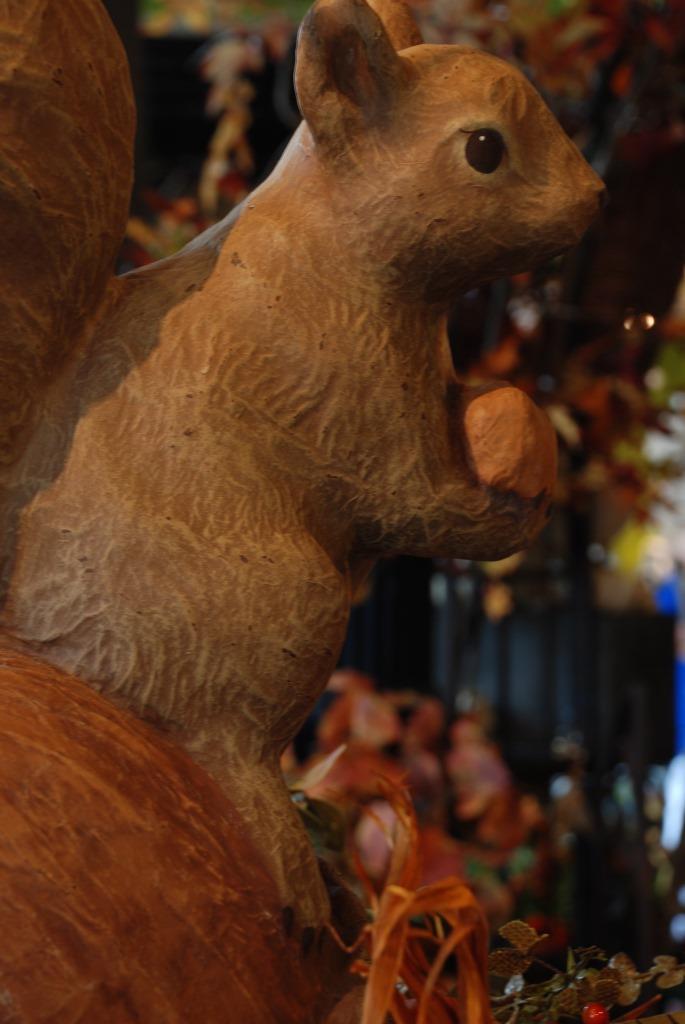 These characters are made from lightweight material so they won't put undue weight on your table and are easy to tote to and from your storage spot. Can I confess to you that I once broke my dining room table by decorating it with cement garden statues? I've learned my lesson!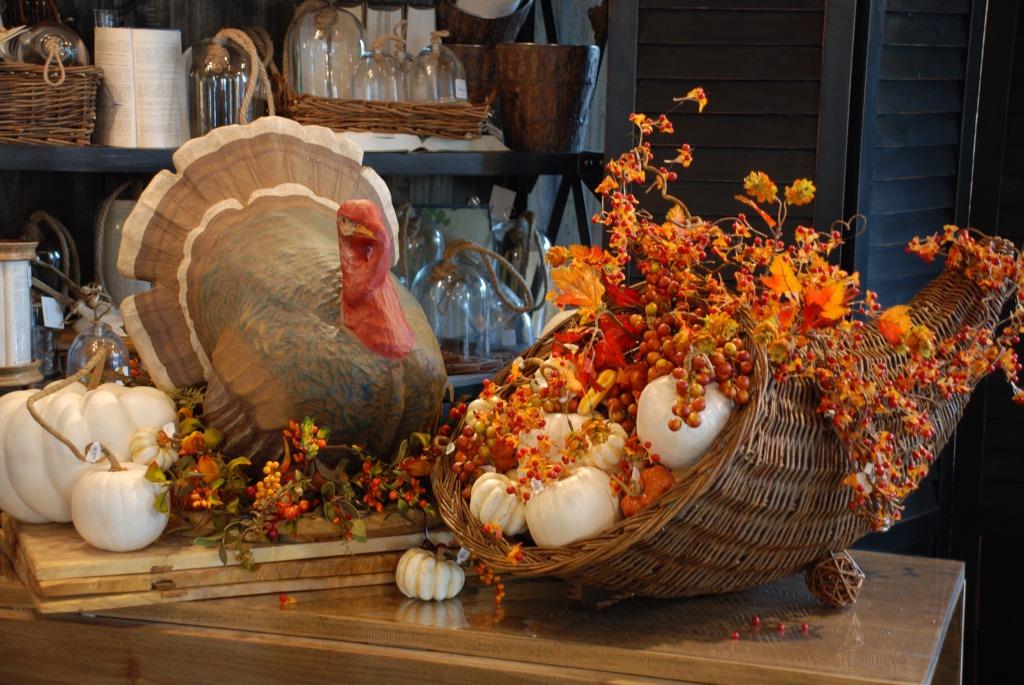 Tom Turkey is the star of Thanksgiving dinner, so why not let him get some show time leading up to the big feast? We styled him with another beloved Thanksgiving icon: the cornucopia overflowing with goodness.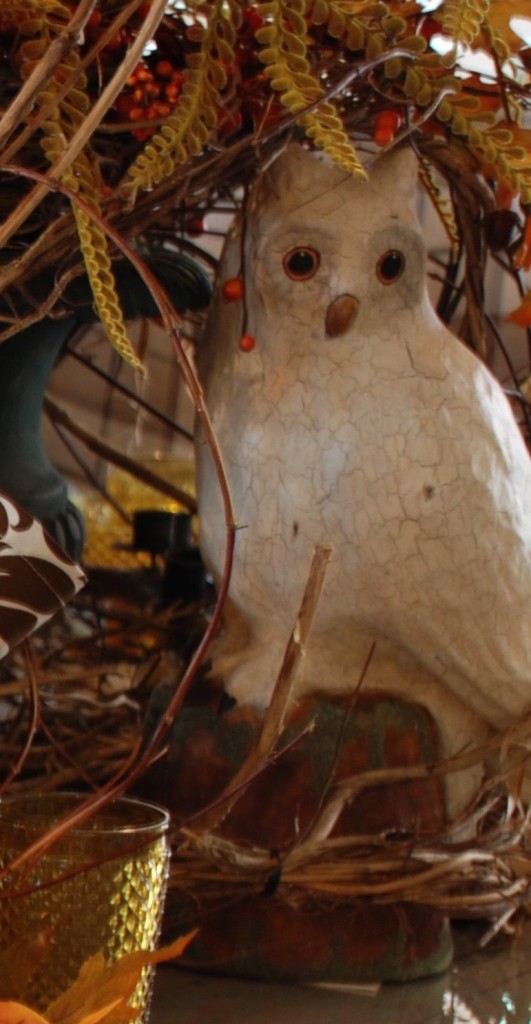 You might have noticed this adorable owl peeking out from the branches of the centerpiece in the other photos of this beautiful fall table. This cutie would also be sensational on your fall mantel or tucked into a display on a side table or bookcase.
Foliage and Gourds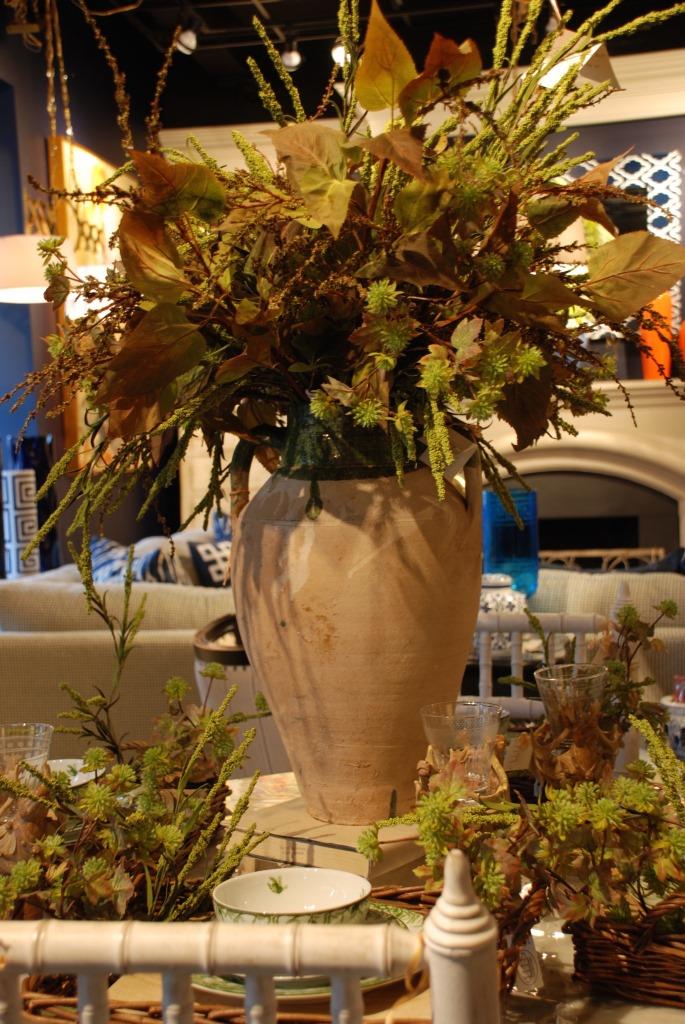 Great greens are the base of any seasonal display. In autumn, Mother Nature gives us the most amazing materials to work with, like grasses, leaves, berries, vines, nuts and gourds. We use faux materials in our displays at the stores, but you could easily use fresh or dried items from your yard or the nearest natural area. This centerpiece looks showy, but it's really very simple. We started with a killer vase – an earthy olive oil jar. Then tossed in a jumble of fall greens. Done!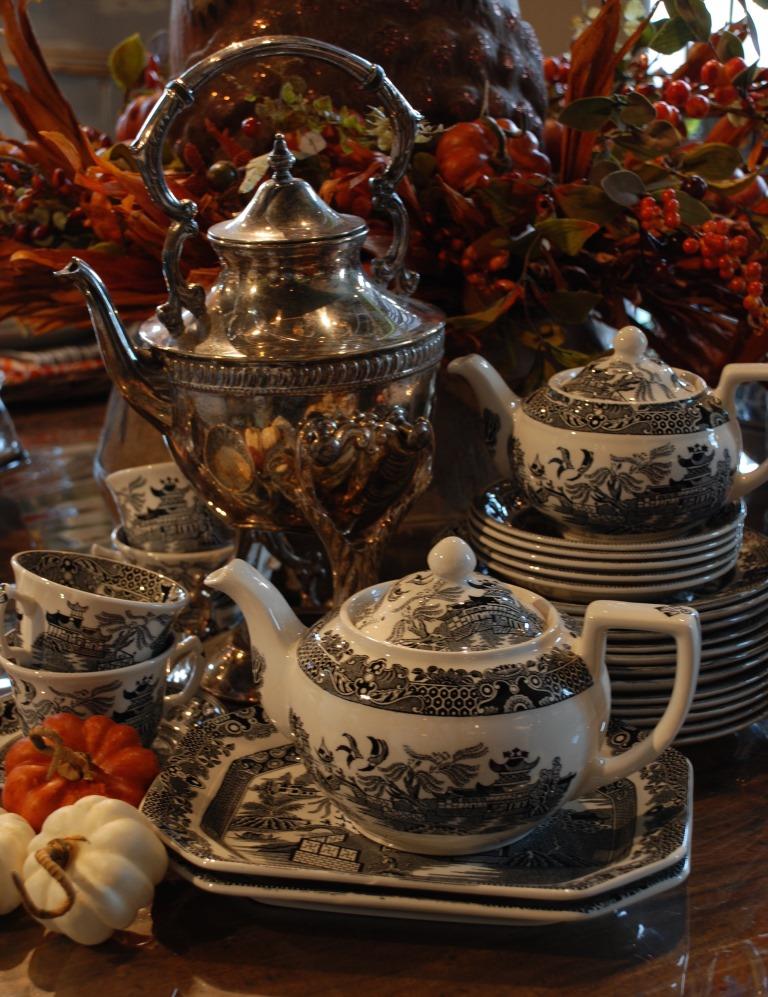 We always carry these cute little pumpkin-like gourds at Nell Hill's because they are the ideal seasonal decorating tool. Tuck one or two into an existing display for the feel of fall in a flash. Throw several into an apothecary jar or hurricane or big transferware bowl, and you have a centerpiece.
Next Week … Ramp up your home's curb appeal with an attention grabbing fall door treatment.