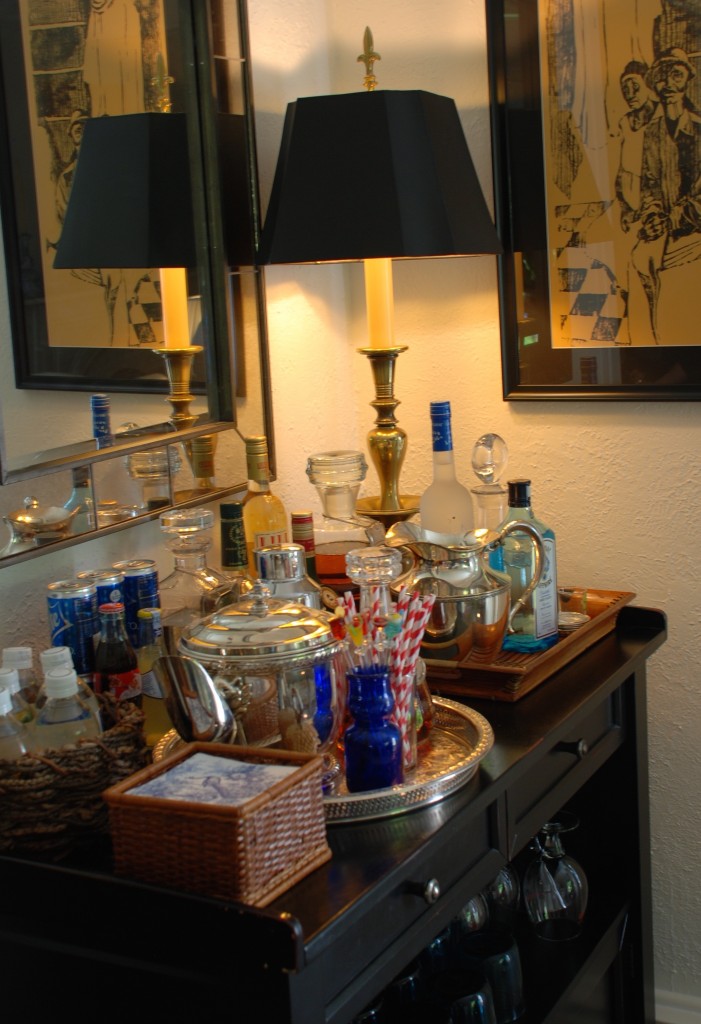 My mother Mary Lou, sage philosopher that she is, used to say, "The only difference between a good dinner party and a bad one is three cocktails!" Thankfully, Mom is a good cook (a gene she did not pass down to me), so no one needed a gin and tonic just to get through her dinner parties. While I won't deny that I love a good cocktail at a party, I am even more drawn in by my hosts' beautifully styled bars. Here are a few tips on making your drink service inviting: 
Make them Attractive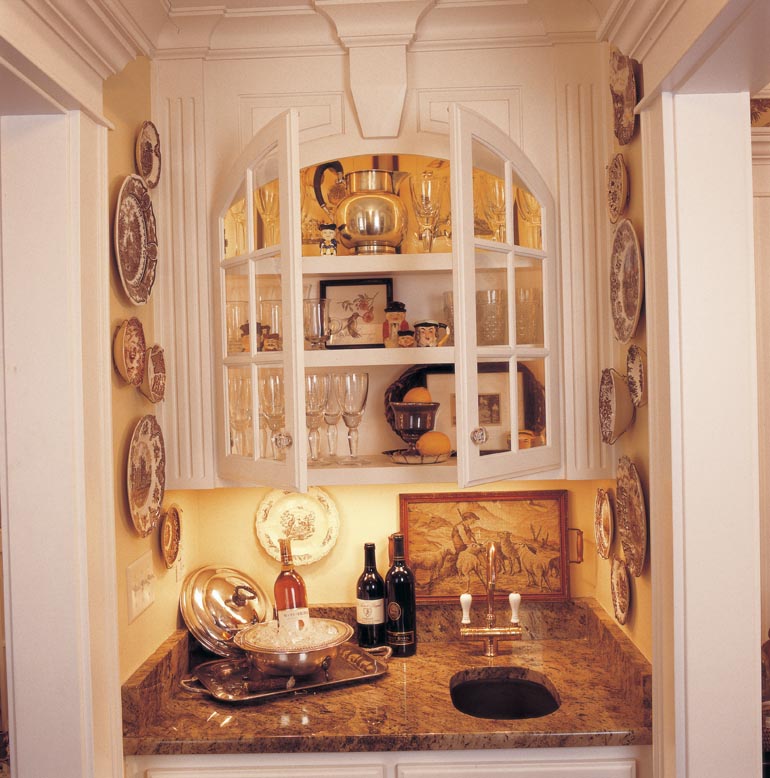 Approach styling your bar as you would any other display in your home, with an eye for details and drama. In the little bar off her dining room, my friend Lisa used one of her vintage silver servers as a unique ice bucket to chill the wine. The cupboards above are lovely to look at yet give guests easy access to glassware.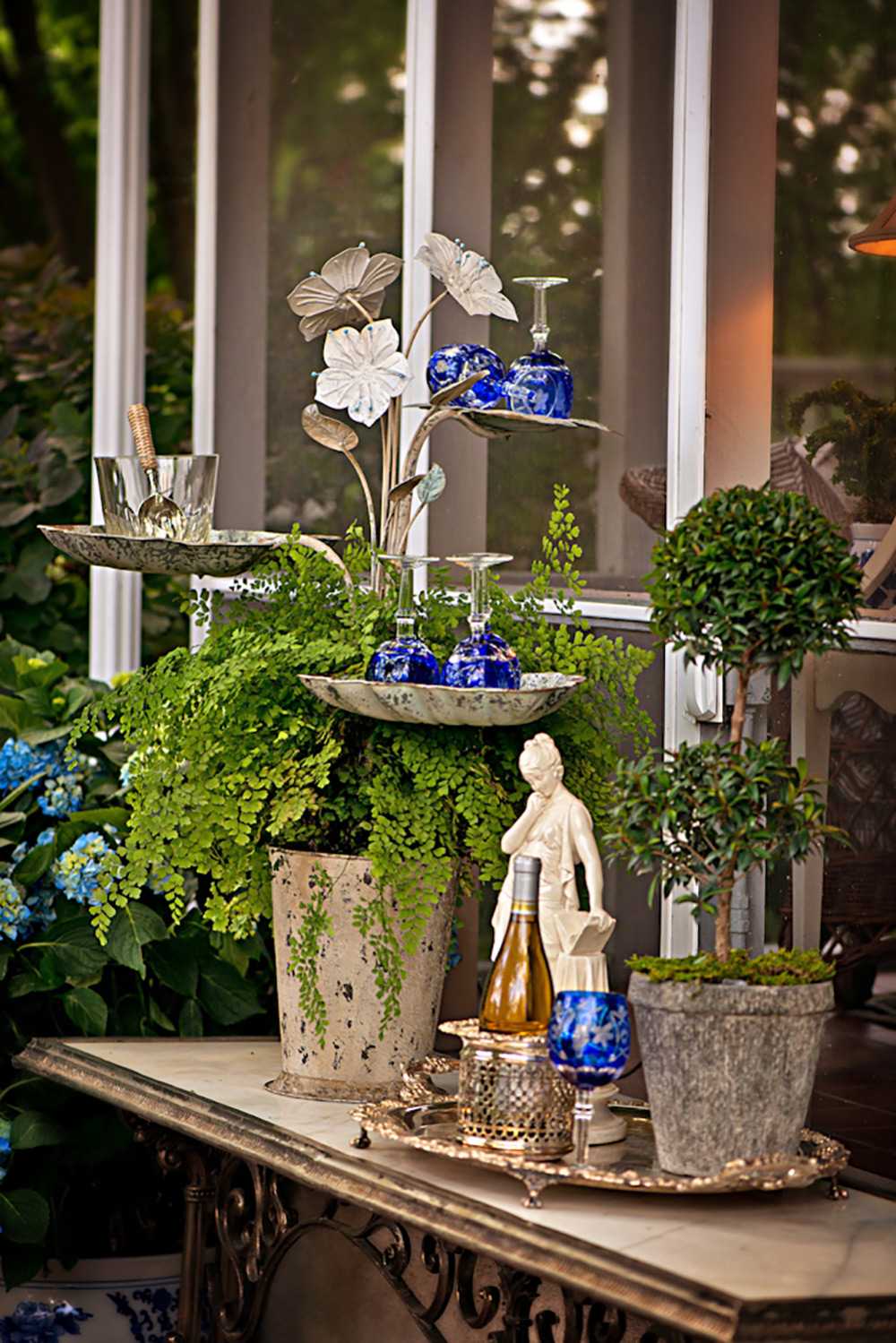 We created this fun display on the patio of my home in Atchison one year for my spring open house. We requisitioned garden pieces to give the wine service a bit of charm.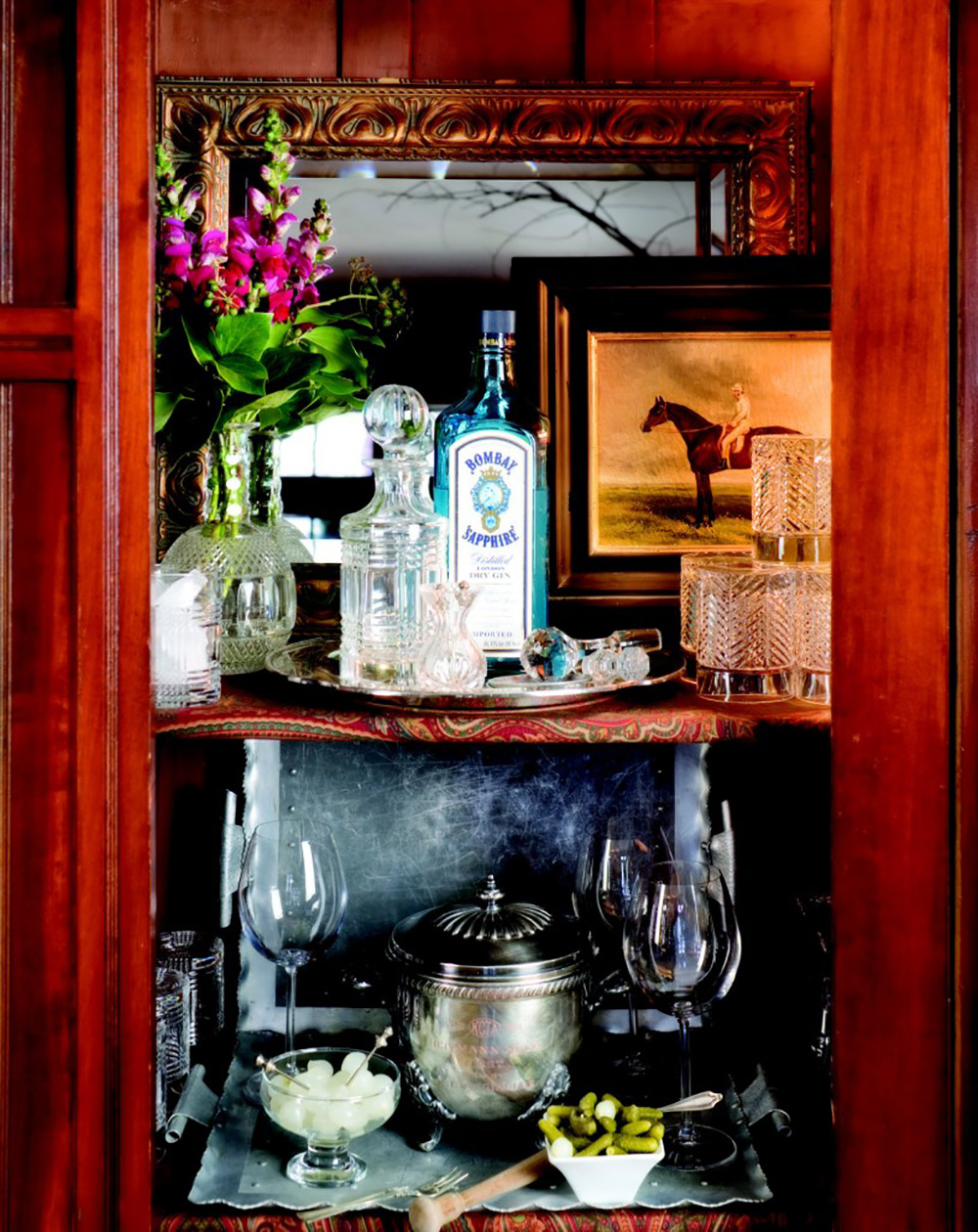 This bar is absolutely beautiful and a great illustration of how you can turn any old space, even a few shelves in a bookcase, into a little bar. My friend Nancy created this cozy drinks nook in her home using a few family heirlooms. The ice bucket is really a commemorative trophy, won by a family member in the 1950s. Notice how she stacked artwork and trays behind the bar to give the display lots of lush layers.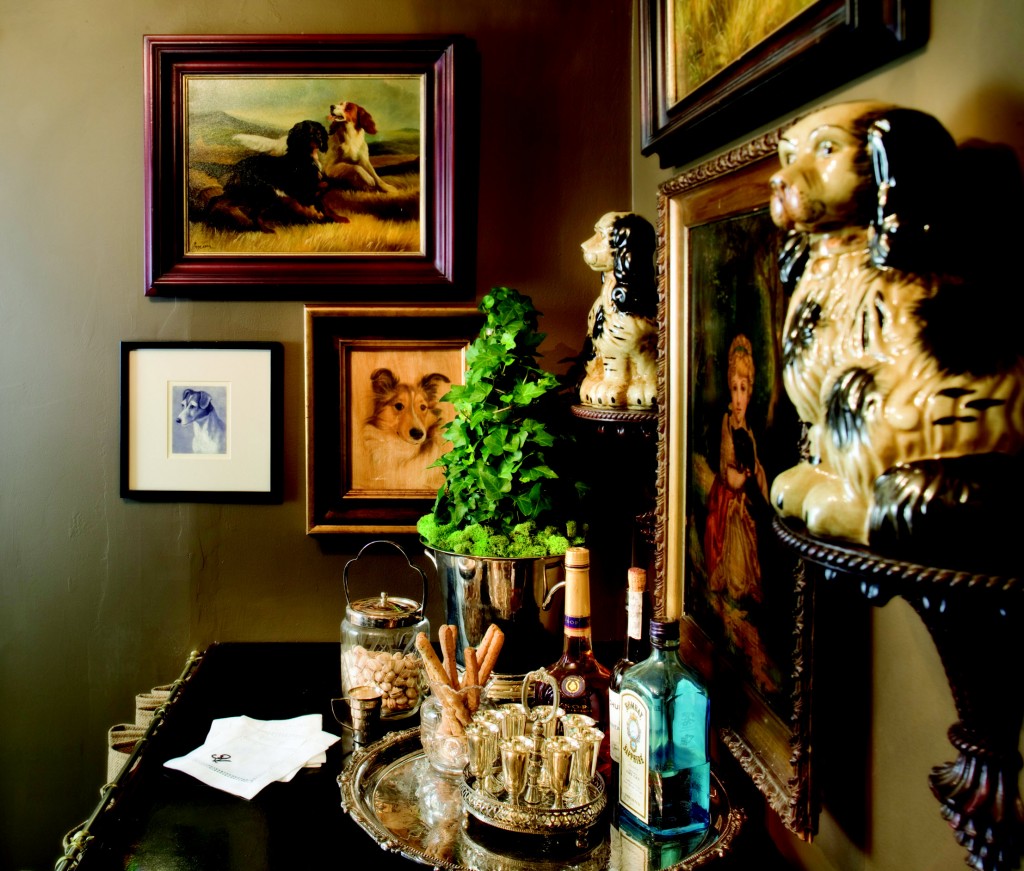 My friend Cynthia, one of my biggest inspirations when it comes to creative decorating, figured out how to make the most of the small spaces in her Atchison cottage. She turned her laundry nook into a luxurious bar. Here's how: She topped the washer and dryer with a piece of varnished wood and concealed the front with a curtain. She loves dogs, so she filled the walls with dog-themed artwork. The drinks service is so elegant, you'd never know that right below it, the washer and dryer are chugging away on the week's laundry!
Make them Accessible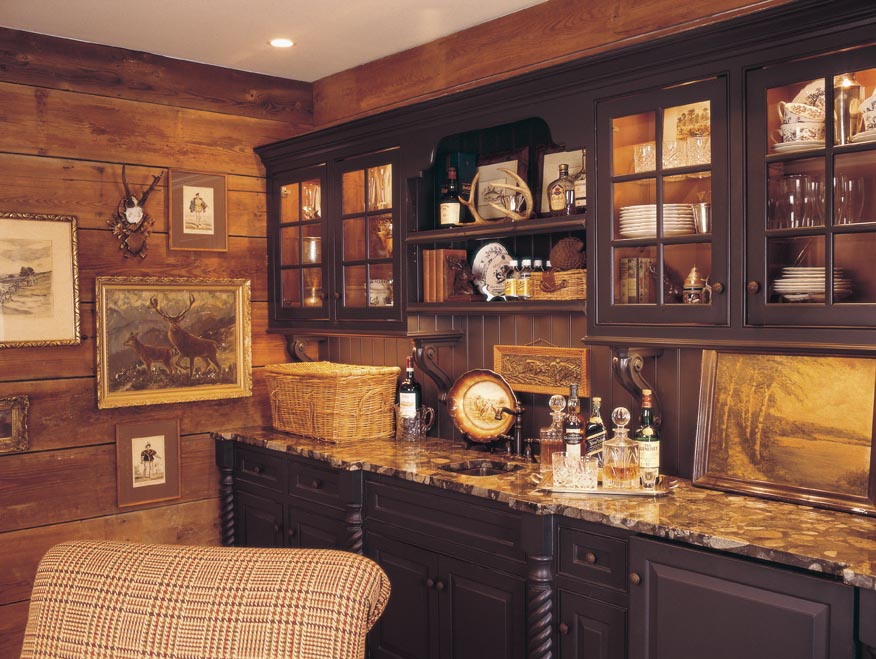 Little tabletop bars that sit out in the open allow guests to serve themselves. Often, Dan will fix the first drink for guests at our home, then invite them to help themselves from there on. I think that's the most comfortable, and relaxed, way to tend bar: Every man for himself! This great basement bar in my friend Lisa's home has all the fixings gathered together, simply, on a lovely silver tray. Again, the barware is up above in the cabinets, for guests to grab.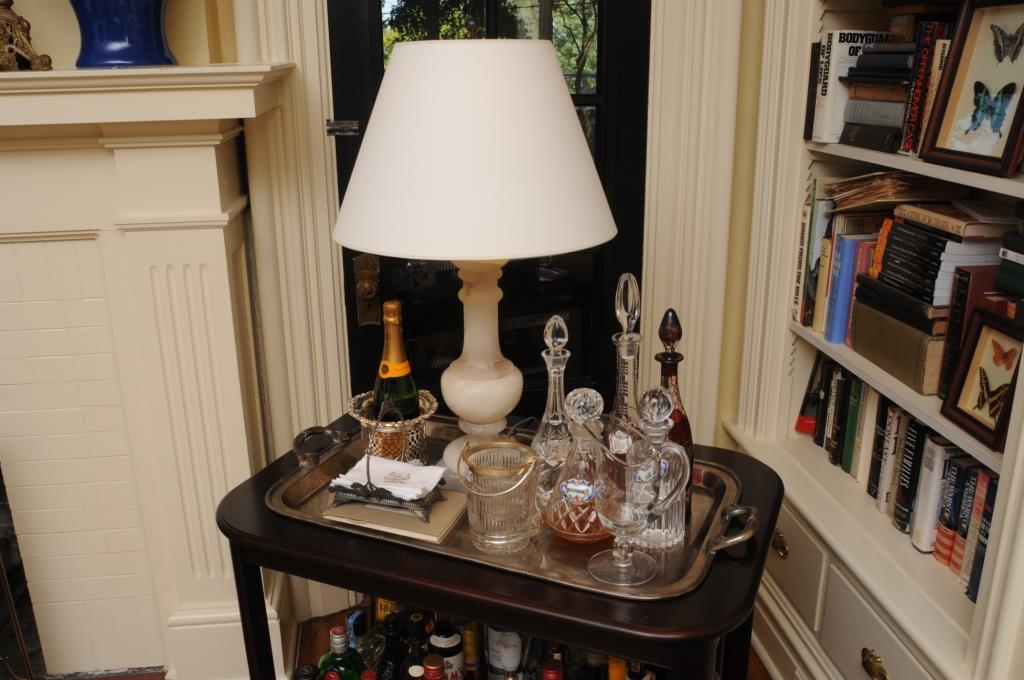 Talk about basic! This was my bar in my Atchison home. We had a great little cart snuggled up in the corner of our living room, next to the fireplace. The bottom held bottles of spirits and the top was a forest of pretty decanters, the stars of the show. I found a sweet vintage basket to hold the cocktail napkins.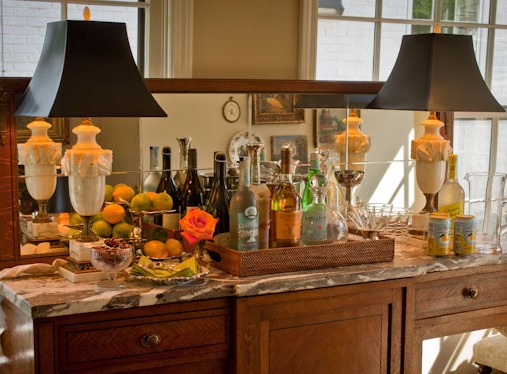 My friend Marsee has an adorable cottage in one of Kansas City's historic neighborhoods. At some point, the side porch was converted into a snug sun room. Marsee thought it was the perfect place for this antique buffet, which she tops with her drinks service when she entertains. The nice thing about using a buffet for your bar is you have plenty of room to include additional drinks and snacks. Marsee collected the bottles on this fun wicker tray, then used a dessert server to hold the lemons and limes, giving the display some height.
Make them Functional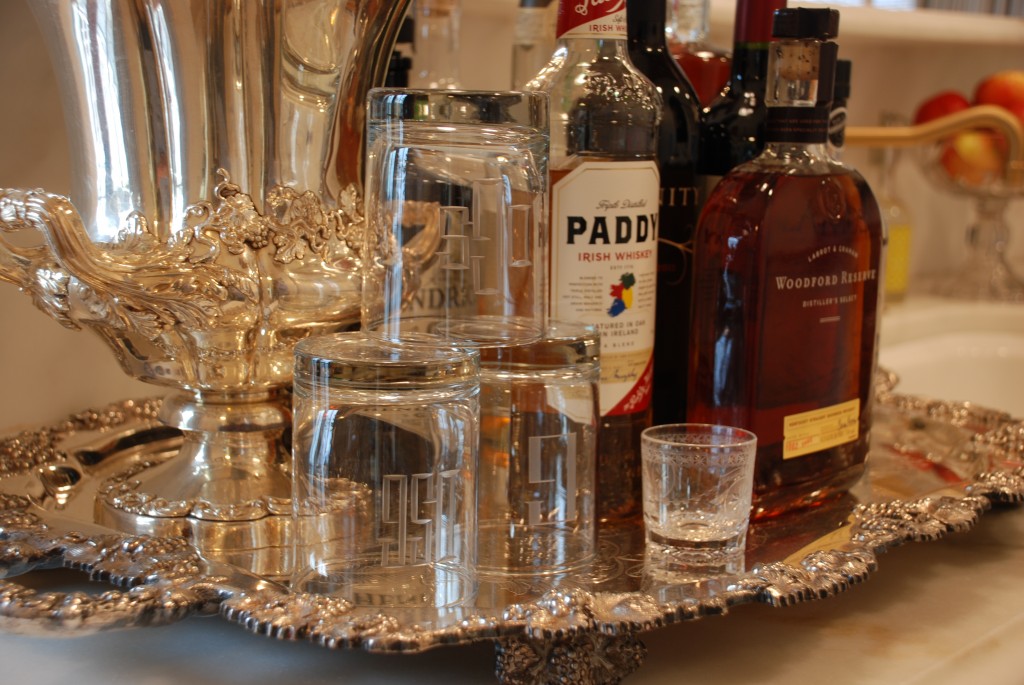 Your bar needs to not only be beautiful, it also needs to functional. Make sure you include all the appropriate bar tools. You will find lots and lots of references in books and on line about what gismos you need for a well-outfitted bar, from a martini shaker to a corkscrew to a muddler. This is a photo of the bar I keep set up on my kitchen island (since I never cook, I don't need this space for food prep!). I always include a hand towel in my bars so guests can clean up little messes.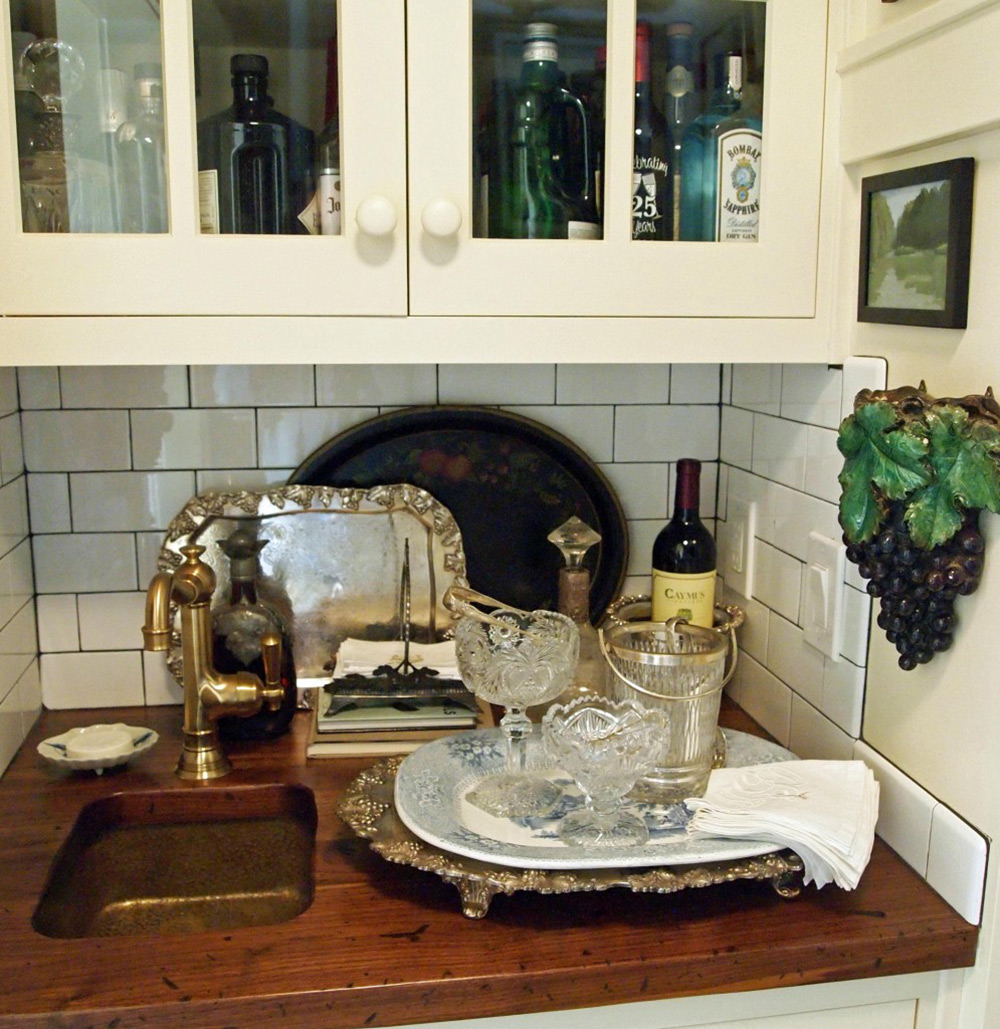 I also keep drink supplies by this sink and storage area off my kitchen. Here is my standard set up, kept just like this so it's all ready when I want to entertain.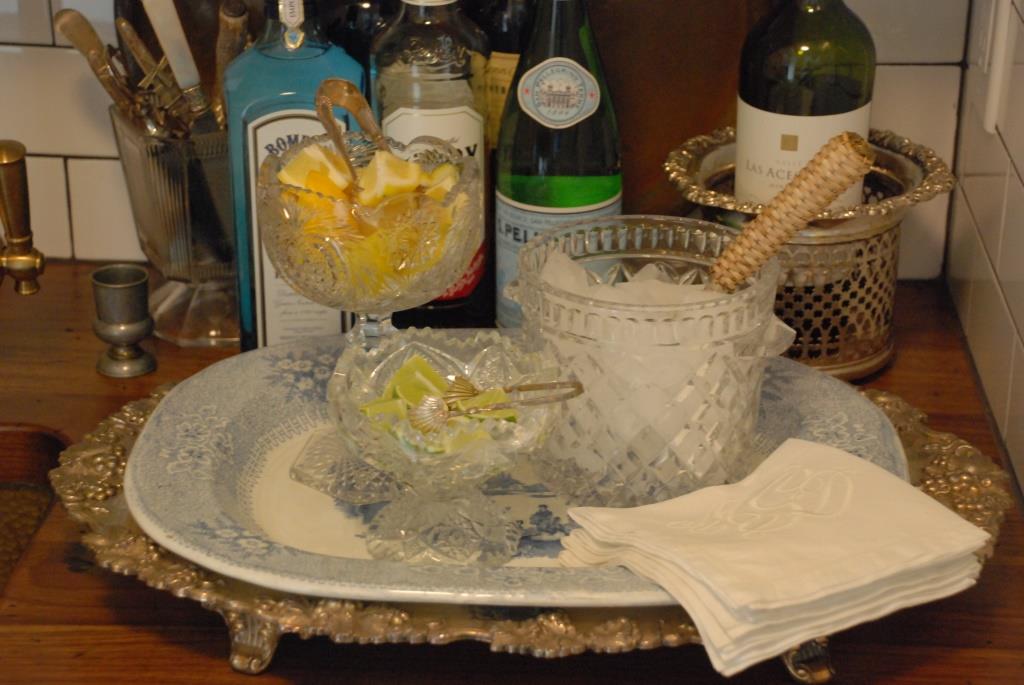 Now here is this little bar, stocked with ice, lemons and limes. The glassware is in the cabinet above.
Make them Fun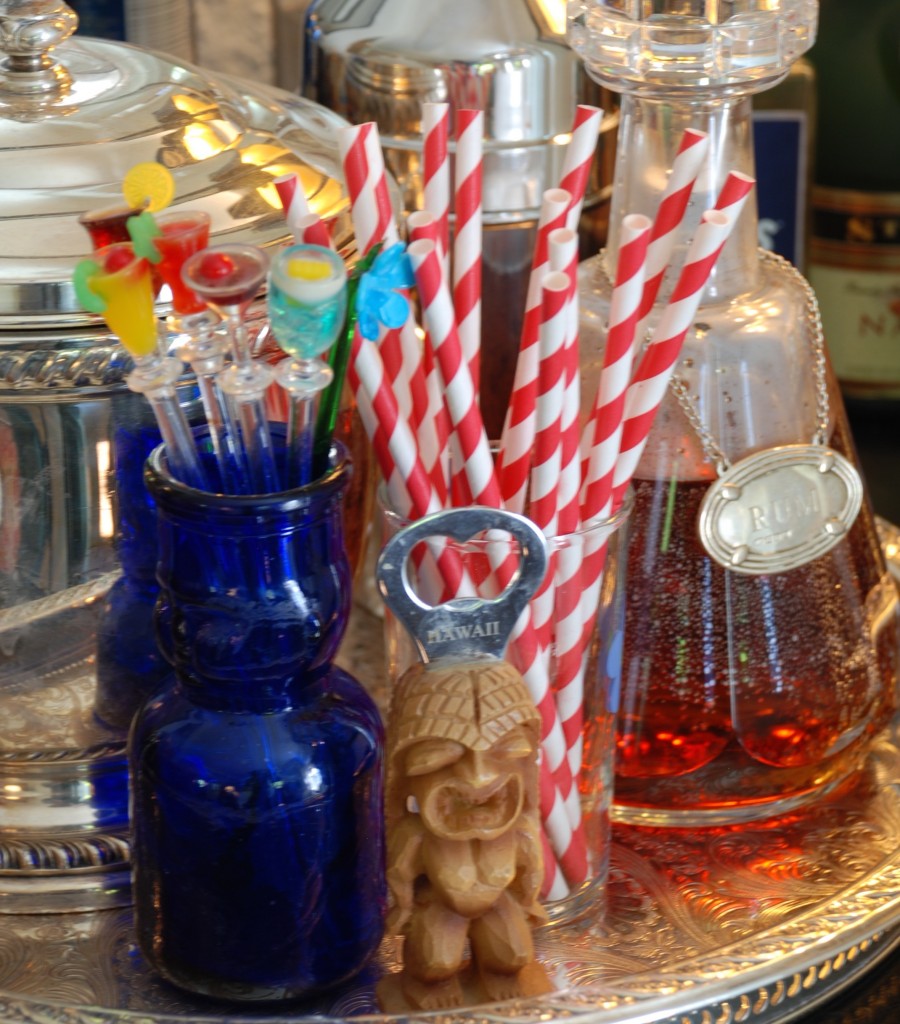 The whole point of serving drinks is to liven things up a bit at your party, right? So why not set up a bar that doesn't take itself too seriously? Here, my friend Ann zips up the bar in her living room with playful swizzle sticks, candy cane straws and a kitschy Hawaiian bottle opener.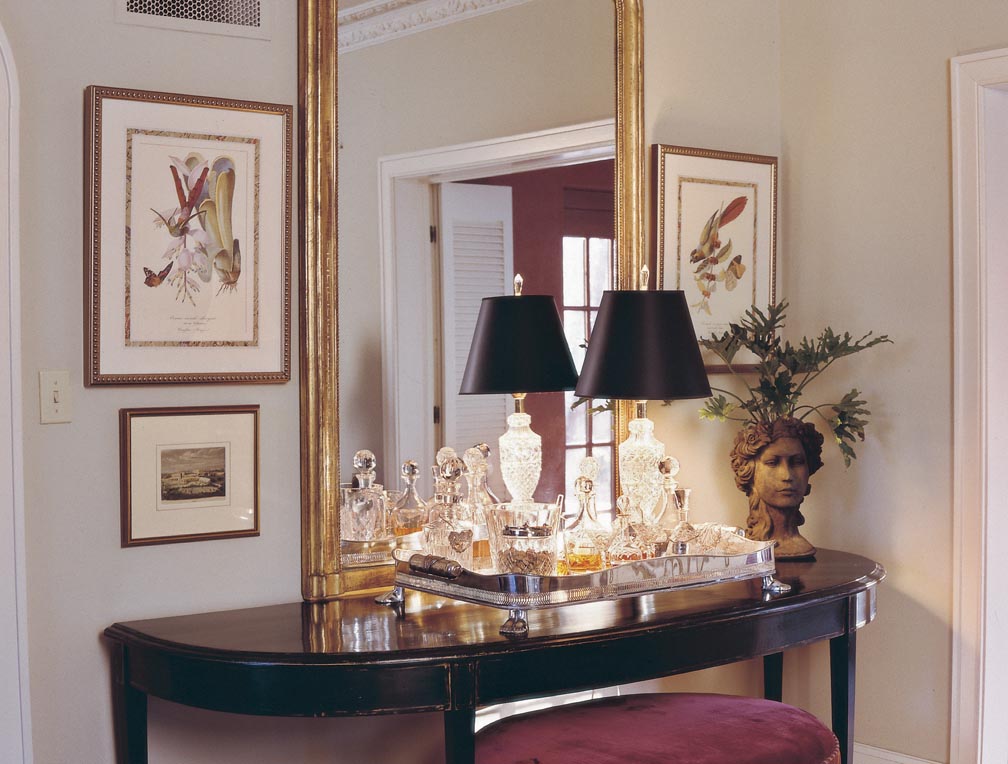 The bar set up in the grand living room of my friend Cynthia's historic home looks very posh. The beautiful crystal lamp is the perfect choice, sending out light that bounces off the decanters and the mirror. It all seems buttoned up, until you take a closer look …
The tray holding the decanters stands on feet. Human feet!
Next Week … One of my favorite things about autumn is entertaining, and the excuse that gives me to set a lovely fall table.