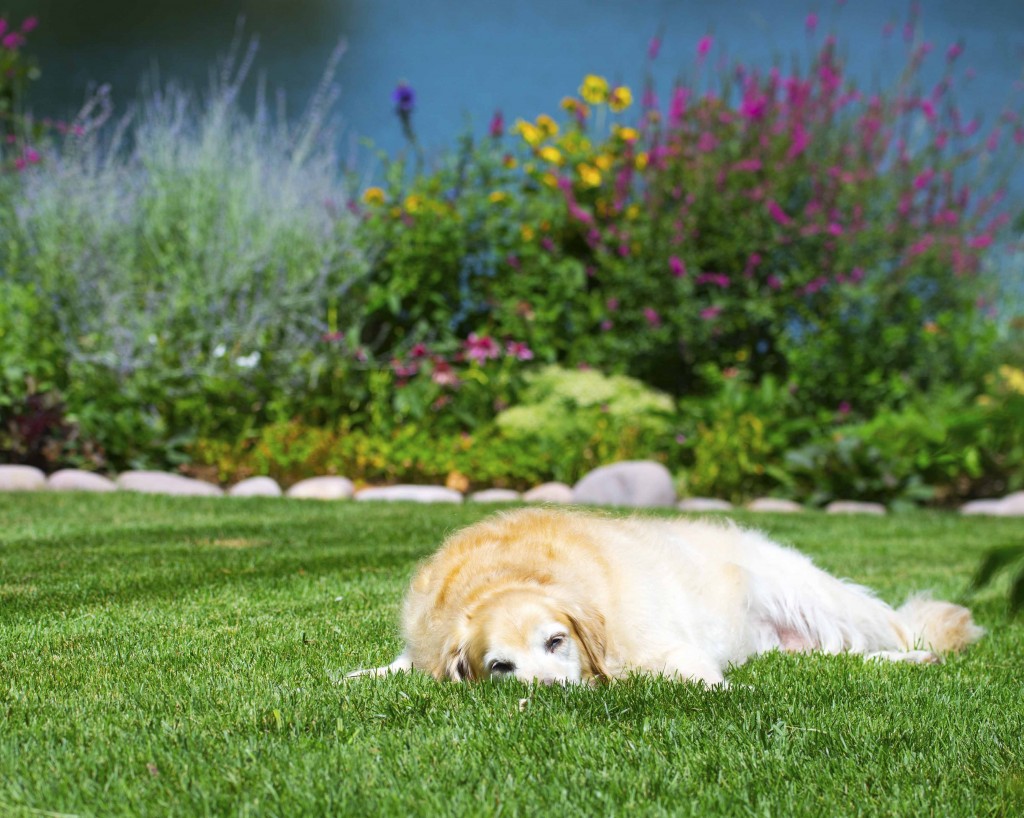 According to the calendar, we are in the Dog Days of Summer, those sizzling hot weeks when summer gives us her last, and best, punch. But at Nell Hill's, we're so crazy about dogs that it's kind of Dog Days here all year round. Most of us who work at Nell Hill's have dogs of our own that we spoil rotten, but I'd wager none is more spoiled than Lyric, our Golden.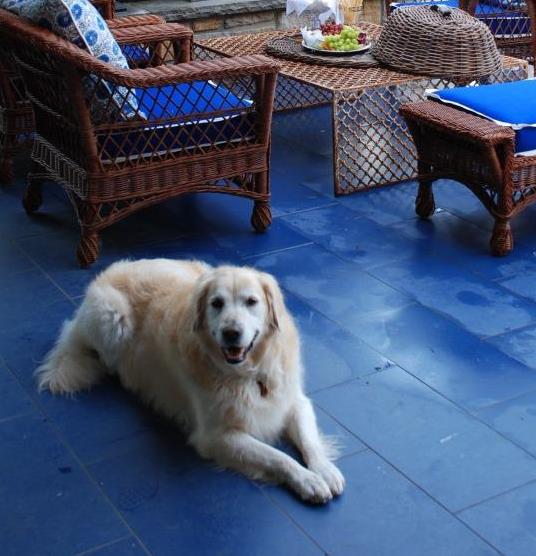 Lyric is head over paws in love with Dan, and he with her. She is velcroed to his side and goes with him everywhere. When he heads to work at the Nell Hill's home office in Atchison, she rides shotgun and expects to be petted the entire way. The hair-covered passenger seat is living proof that she gets her way!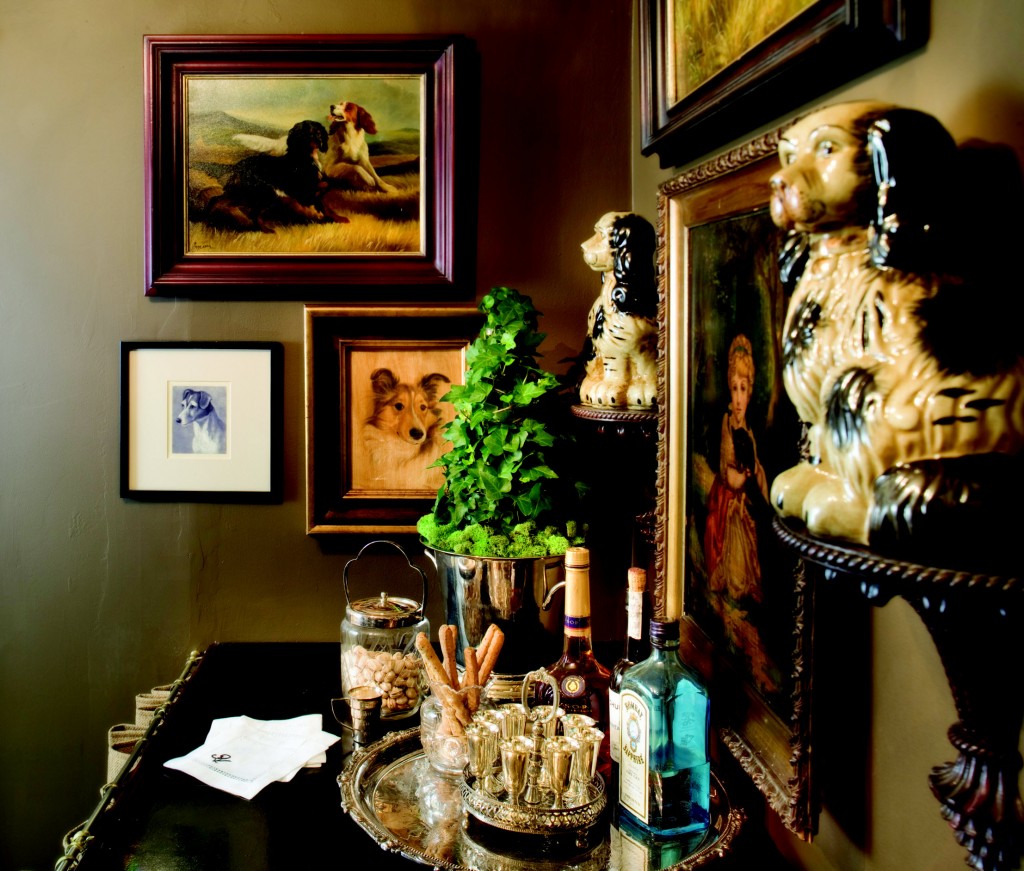 If you share your home and heart with pets, why not celebrate your furry friends in your décor? It's one of the ways we create singular spaces that reflect our lives and pay tribute to the things we hold dear.  Here are a few ways you can add a dash of puppy love to your home:
Add a Dog Themed Piece of Art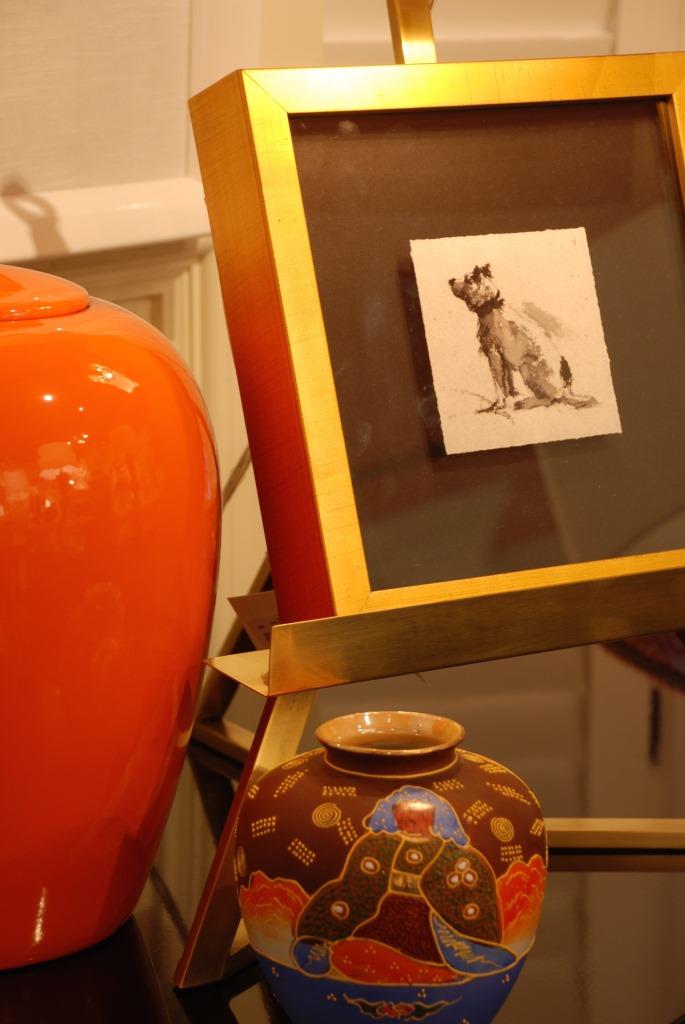 Since the beginning of time, artists have featured dogs in their works. At market, I am always on the lookout for interesting artwork that depicts the many personalities of dogs. The walls of both stores are filled with pieces that range from traditional hunting scenes to whimsical portraits. Scan your walls. Do you have a spot where you could add in a piece of art that spotlights your favorite breed, or one that captures the magical relationship between humans and their canine companions? Or, prop a small piece on an easel and feature it on a side table or in a bookcase, like did here at Nell Hill's.
Dot a Display with a Dog Accent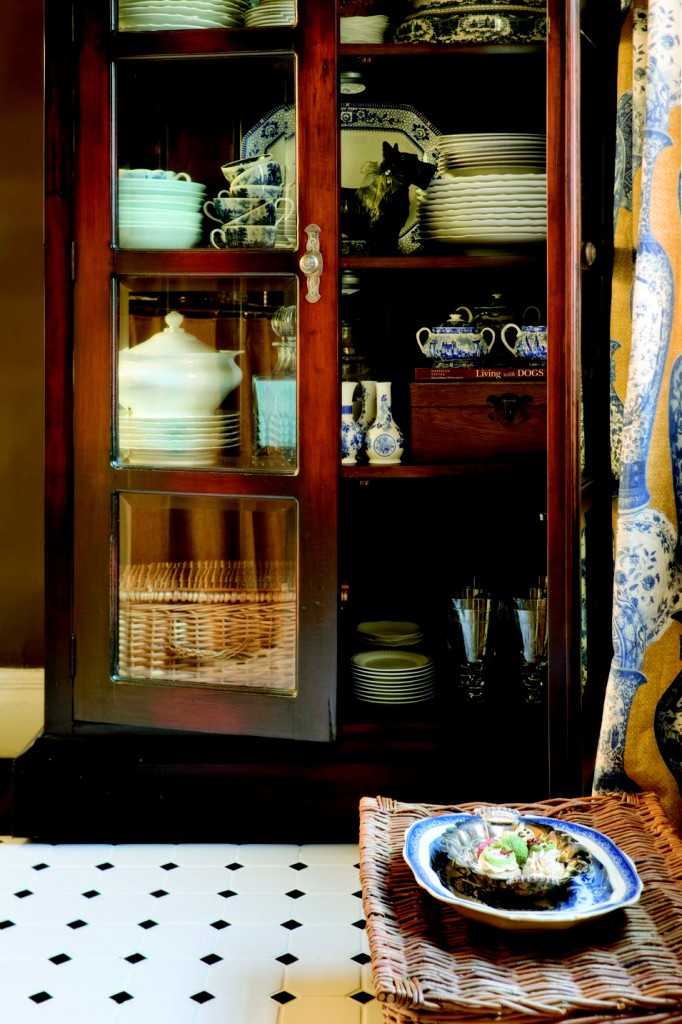 The displays around your house, whether they are in bookcases or on side tables, should reflect what you love. So why not add a dog accent or two? Look carefully at my friend's pantry, where she stores dishes and serving pieces, and you'll spy a little Scottie dog. On the shelf below, she cleverly used a book, Living with Dogs, as a riser. The two tiny touches were perfect. Any more, and it would be too much. As with any "theme" in your décor, moderation is the key to success.
These pooches are one of my favorite pieces at the store right now. When I spotted them at market, I envisioned a pair sitting on top of a buffet, the cornerstones of a beautiful fall display.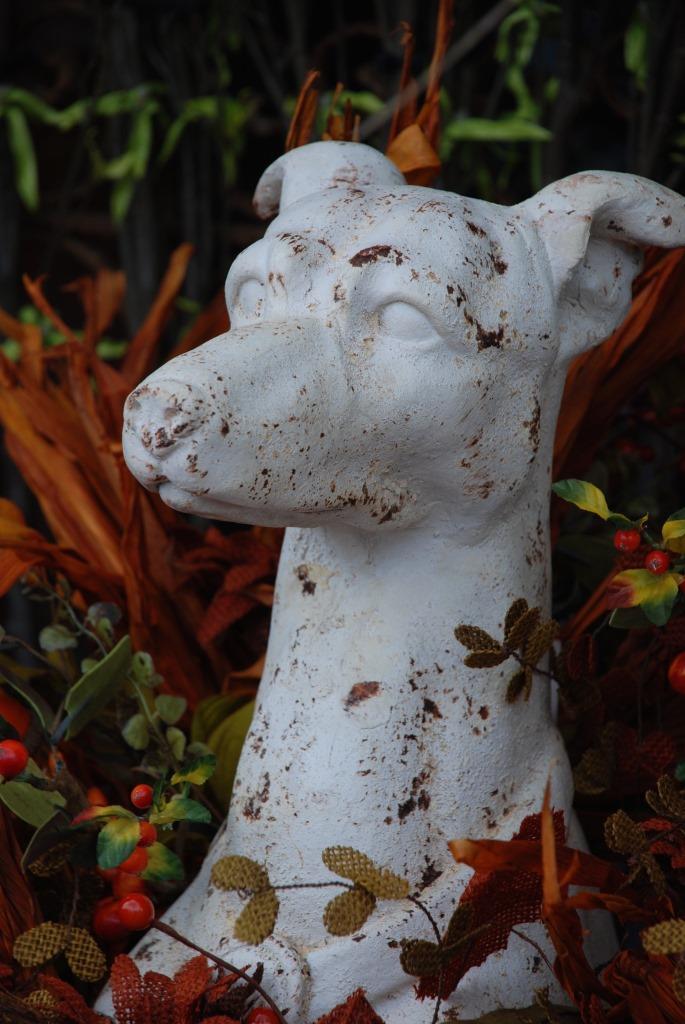 They look like concrete but are made of a lightweight material, easy to lift and safe for your furniture.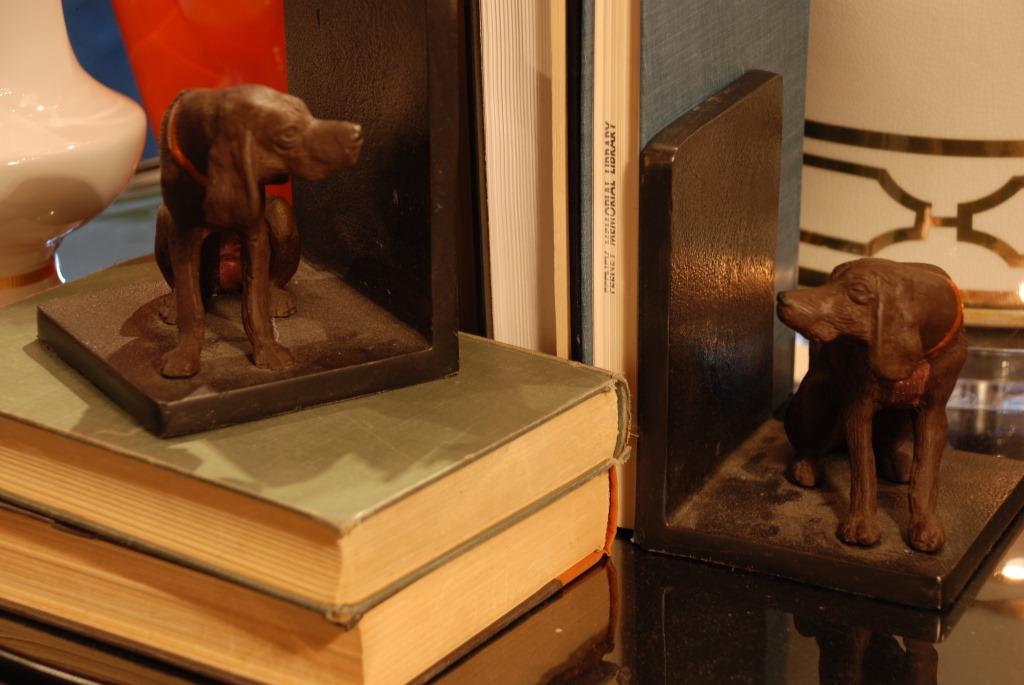 When you have as many books as I do, you are always on the lookout for great bookends. Aren't these playful pooches wonderful? I love how the dogs are peeking at each other from around the stack of books, as if they are ready to romp and play.
Dress the Table with Dog Dishes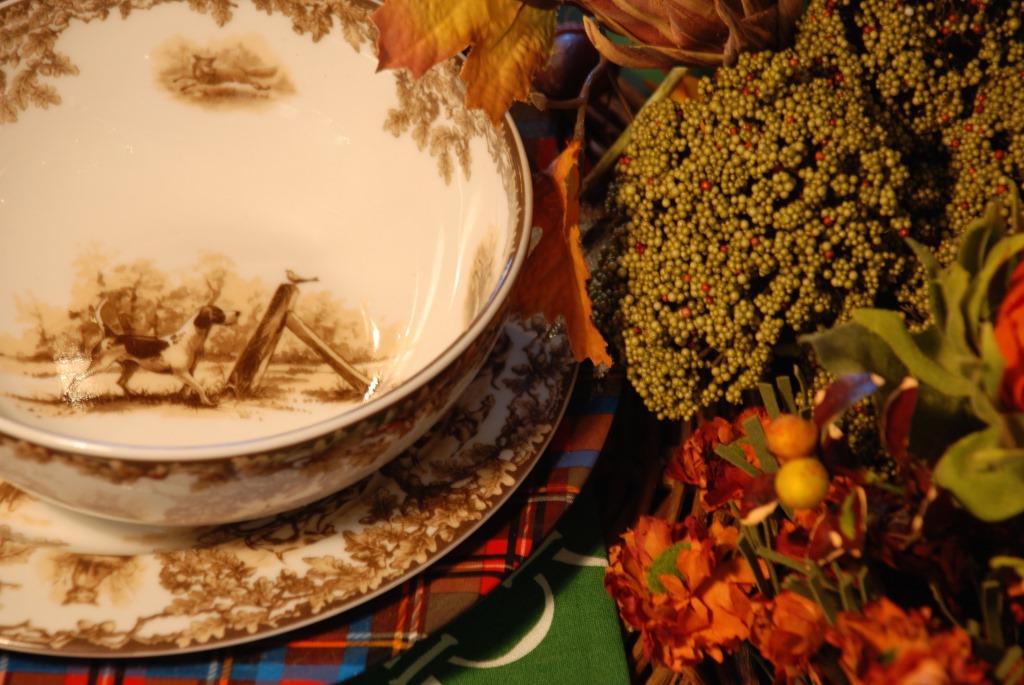 When Spode came out with a line of transferware dishes that depicted dogs, I fell in love. These richly colored pieces are especially lovely in the fall and winter, when you want warmer, deeper, earthy tones in your décor.
If a full set of dishes is more than you want, top your everyday dinner plates with a dog-themed salad plate. Or just add a serving piece or two to spice up the look of your table. I also love to hang plates like these on the wall – they make lovely little pieces of art.
Display Doggy Treats with Panache
We keep Lyric's food and water bowls out all the time, so I wanted them to be pretty, not an eyesore. These blue and white dishes have been a mainstay at my home, and they sell like hotcakes at Nell Hill's. They are heavy enough that they don't slide around when a Golden is gobbling kibble, and they clean up nicely.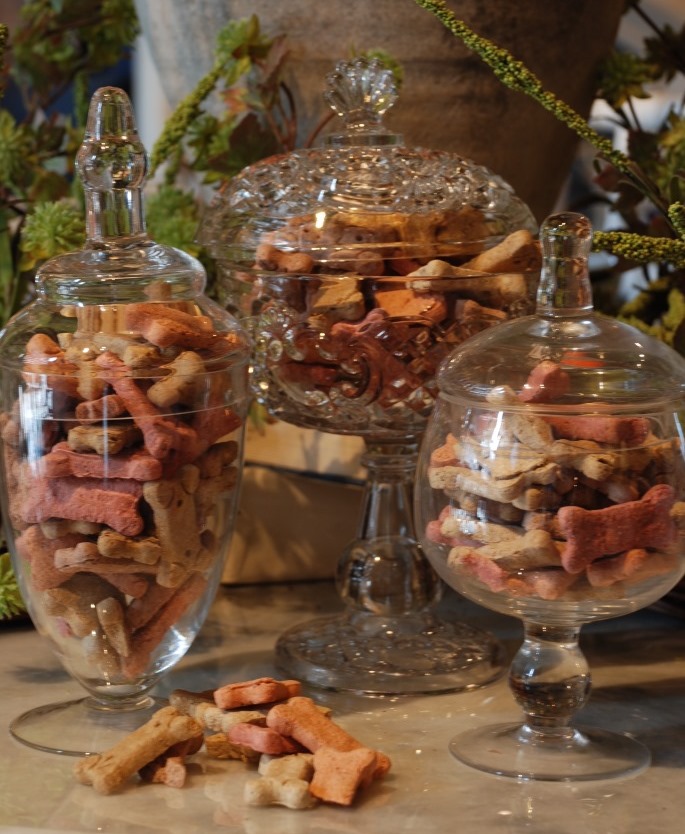 I keep Lyric's treats out on our kitchen counter in a pretty glass jar. It doesn't matter how far away she is in our house, if the lid to the jar jiggles even slightly, she bounds up expecting a dog biscuit. That's saying something, because she is the World's Laziest Dog. If I hit the jar by mistake when I'm cleaning the counter, she pesters me and pushes herself into my path until I break down and give her a Milkbone.
Do you have a pretty container in your china cabinet you can fill with dog food or treats? Apothecary jars are perfect, and so are lidded ginger jars. Or, toss the treats in a pretty bowl, like we did at Nell Hill's in this display.
Next Week … When I go to a party, I'm always drawn to the host's beautifully styled bars (read that however you want to!). I'll share a few tips for making your drink service stunning.