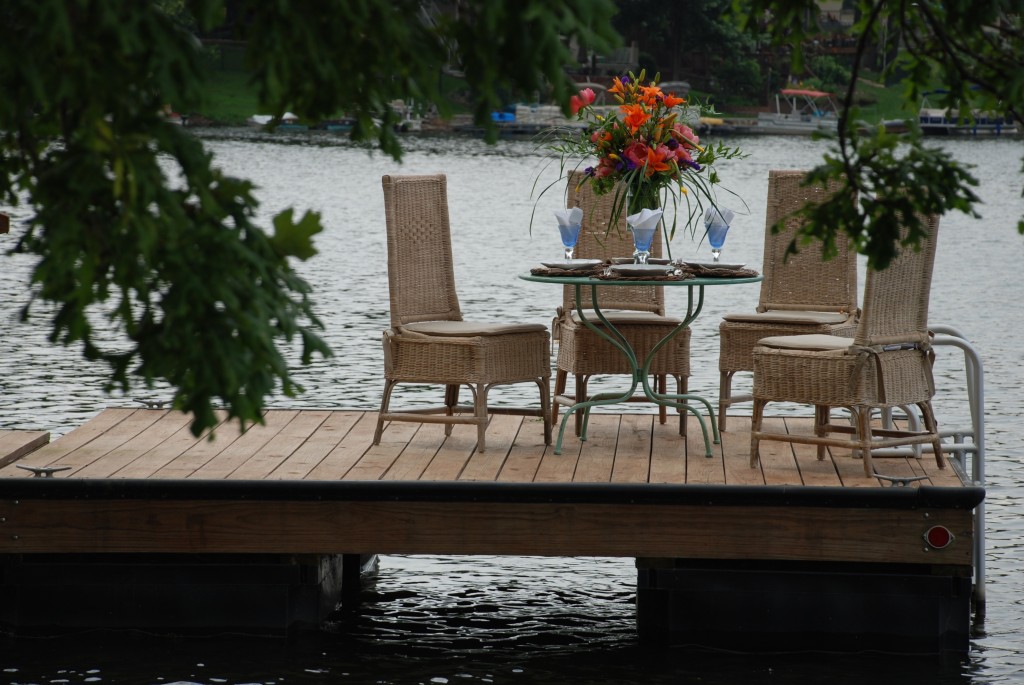 August: Dining Out, Lake Style
Since our cottage is so snug, Dan and I created several outdoor spaces at Innisfree where we could spend time relaxing or entertaining. 
A Hidden Garden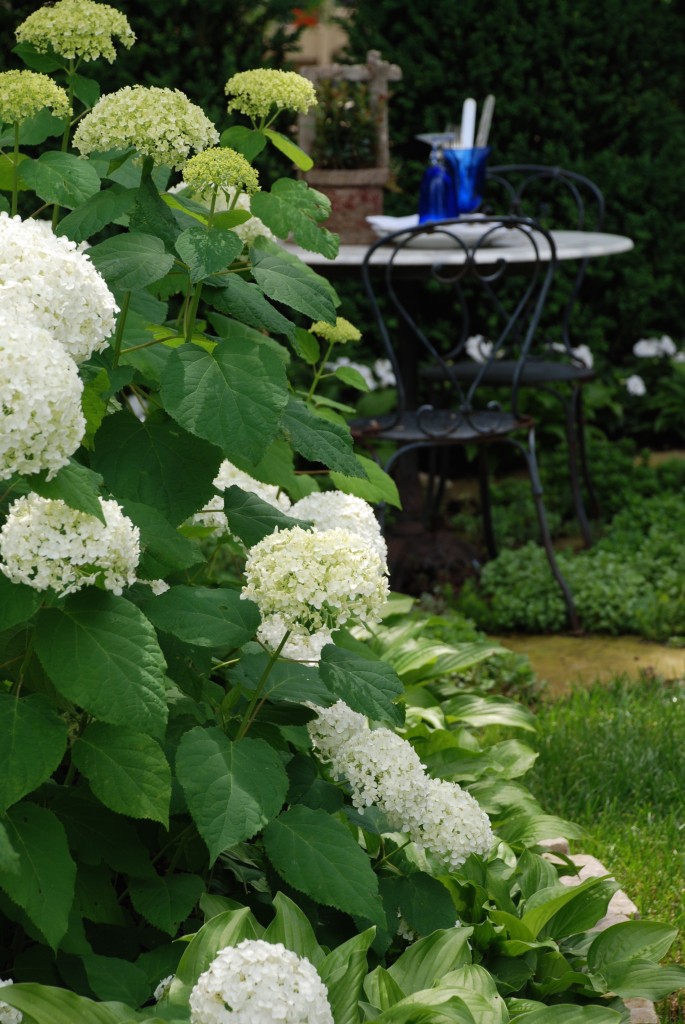 One magical place we enjoy a cool drink on a hot summer day is this little hidden garden on the side of our home. The hedge conceals our neighbor's house and makes the spot a cloistered respite.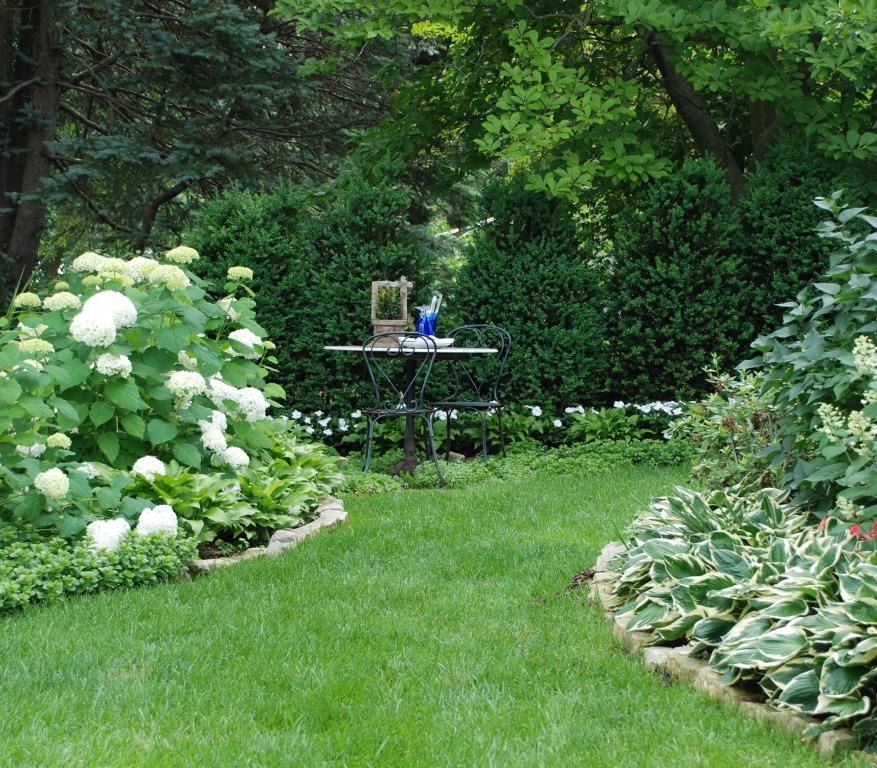 When we were planning our garden, we decided to use flagstones for the paths and patios. Our little table sits on a few stones to keep it steady.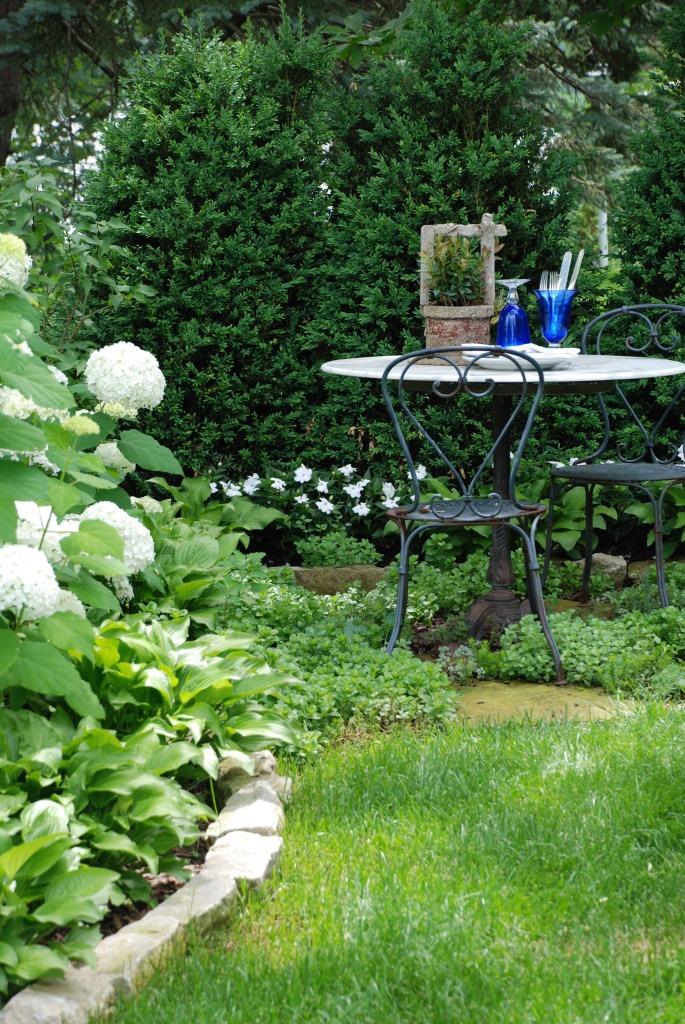 I'm crazy about hydrangeas and loved how they looked in the courtyard of my Atchison home. So I wanted to plant lots of them at Innisfree. The big flowers are somehow showy and simple, all at the same time. They are perfect snipped and tucked into little vases throughout the house.
Dinner on the Dock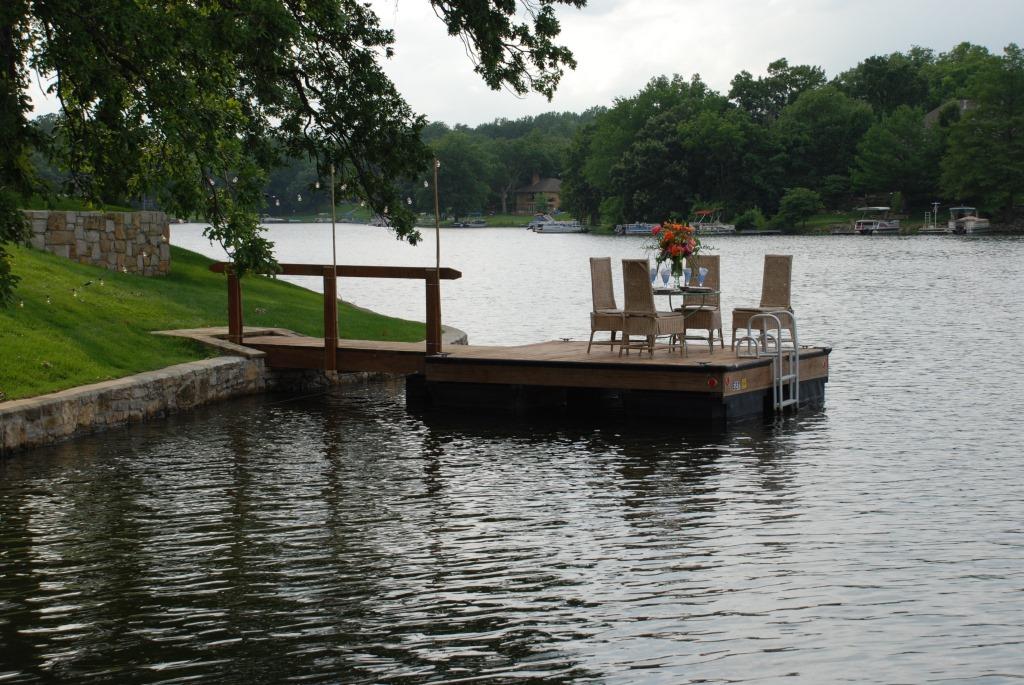 A few weeks ago my friend Tracy Torres, who owns the French Bee Bakery in Parkville and Lenexa, stopped by Nell Hill's to ask me a favor. She needed to take some publicity shots for the French Bee's advertising and wondered if I could help her stage some of the entrees, desserts and pastries she cooks with love at the bakery.  We started brainstorming, the sparks started flying, and our little photo-shoot grew into Dinner on the Dock at Innisfree.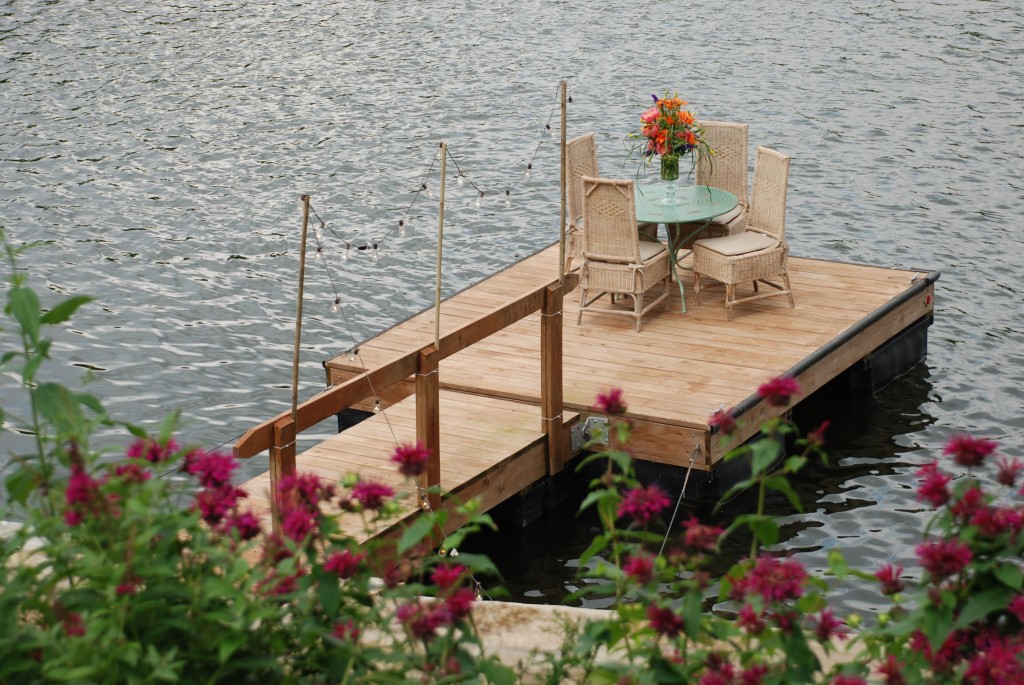 Bruce and LuAnn popped over from Nell Hill's to help us set the stage … I think they were lured in by the scent of Tracy's fresh-from-the-oven apple pie! Here's where we started, snuggling a table and chairs onto our teeny-tiny deck (our lake is so small, they won't let you build a dock any larger than this!).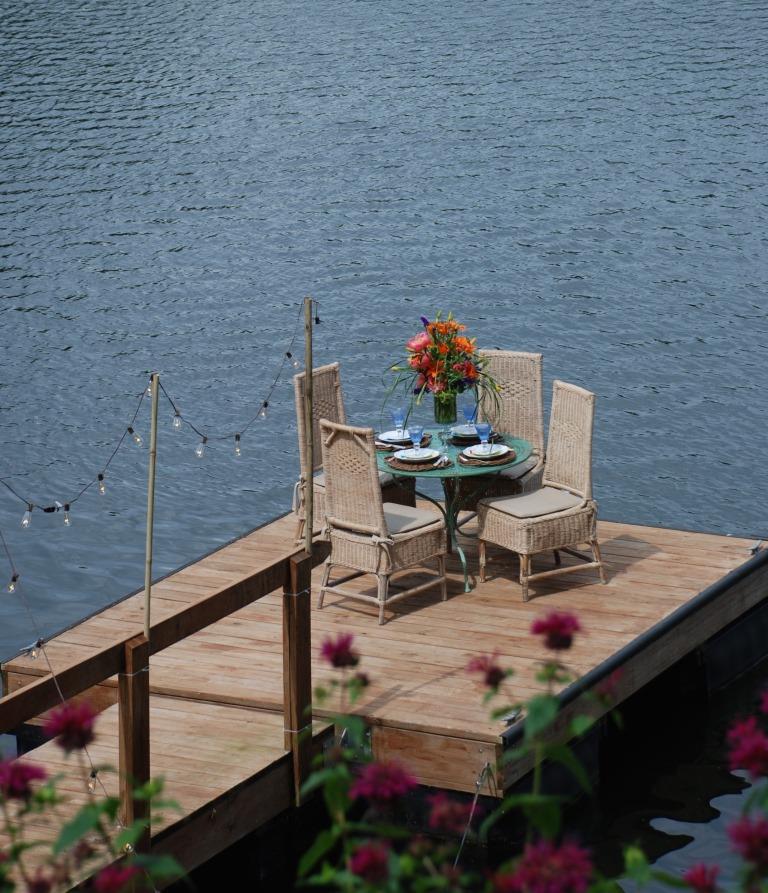 We dressed this fabulous vintage garden table with place settings that echoed our rustic outdoor room, yet added a touch of elegance: wicker chargers, china and blue stemware to match the water. Instead of fussing with a centerpiece, we just used this dramatic floral arrangement. Super simple.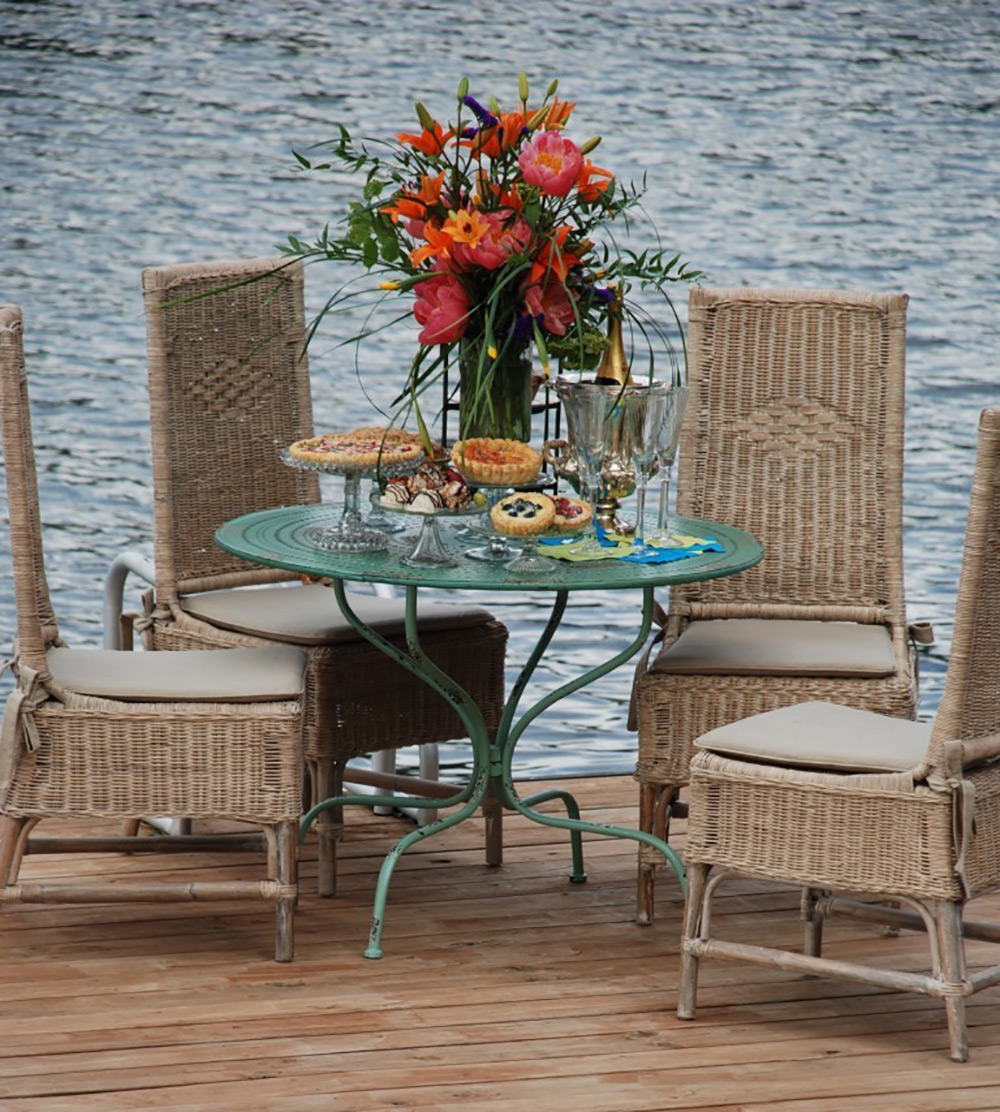 You'll notice no one is actually sitting at this table … Dan teased us that if we ate dinner here, we had better wear our bathing suits because one skootch of the chair, and someone was going in. That was enough to scare us away!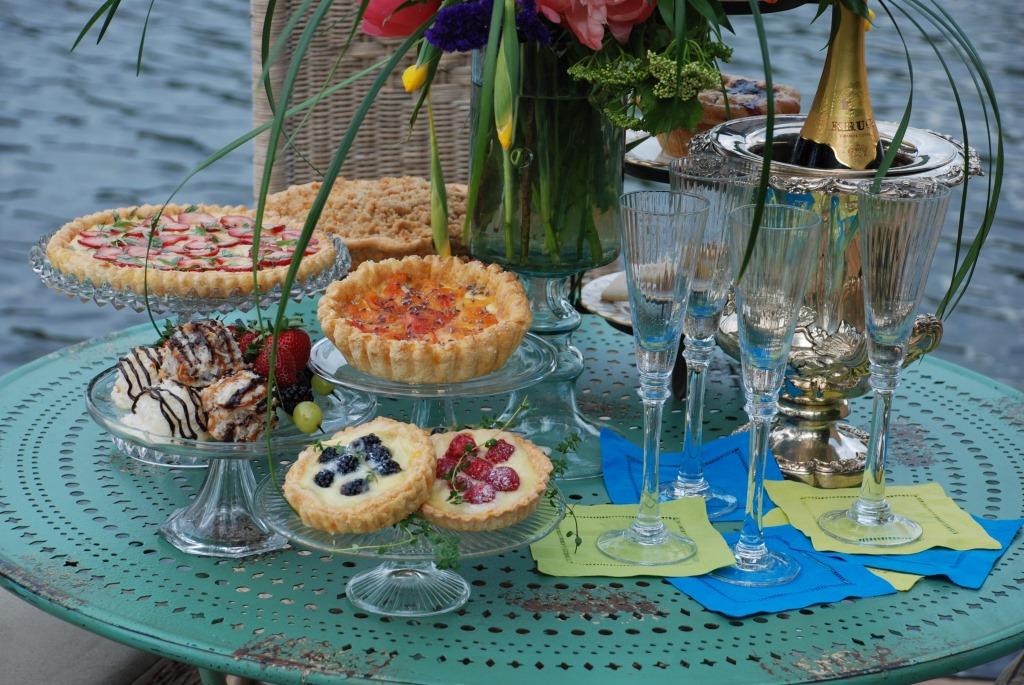 I wish this blog was scratch-and-sniff, because the aroma wafting off the quiche, apple pie and pastries was intoxicating!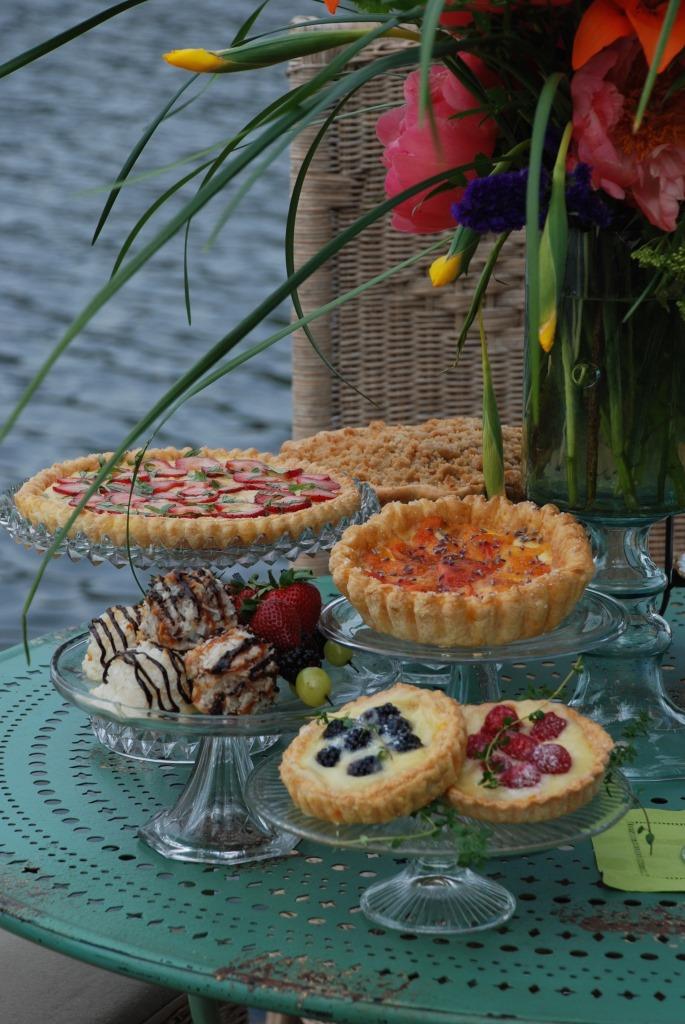 I resolved to lose weight when I got back from my food-fest in France. Tracy gave me a good excuse to cheat! We savored every bite, each one an explosion of flavor, after we were done shooting for Tracy's ad.
Breakfast and a Sunrise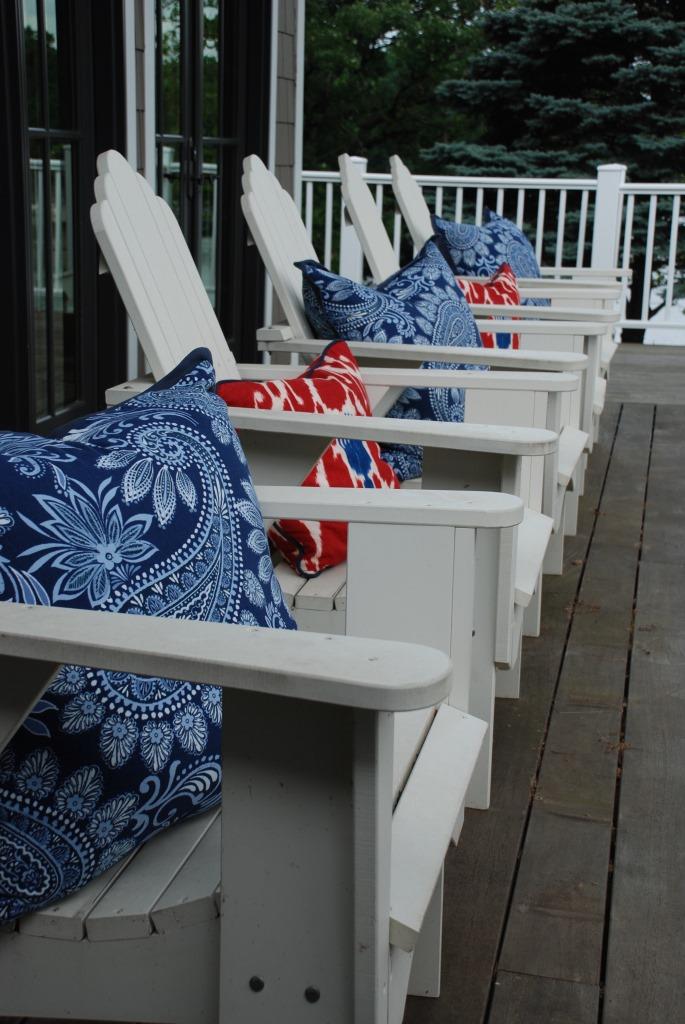 When the weather is fine, I open the French doors off our living room that lead to this little wood deck. It's where I enjoy my morning cup of coffee and watch the sun rise over the pond.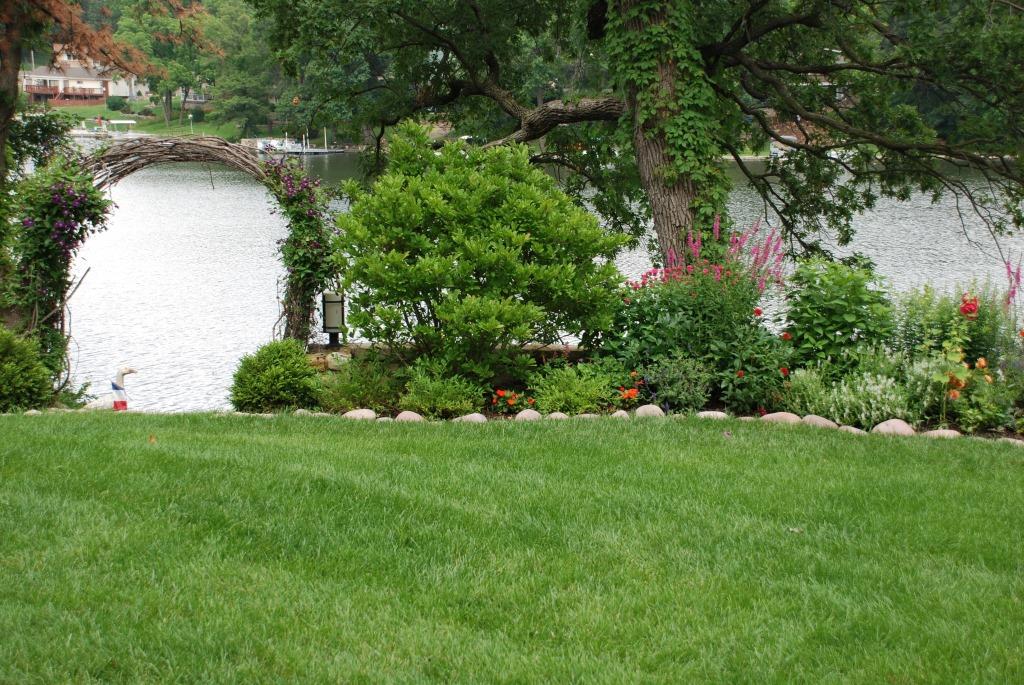 I've never lived near water before, and I am blown away by all the birds that gather here. We have a crane, owls and mallards. When you close your eyes and listen, it sounds like music! I also love to sit in the Adirondacks and read. On my summer reading list: Out of Africa. And, my favorite eye candy:  Veranda, Kansas City Spaces, Traditional Home, Elle Decor and Town & Country.
Our Outdoor Living Room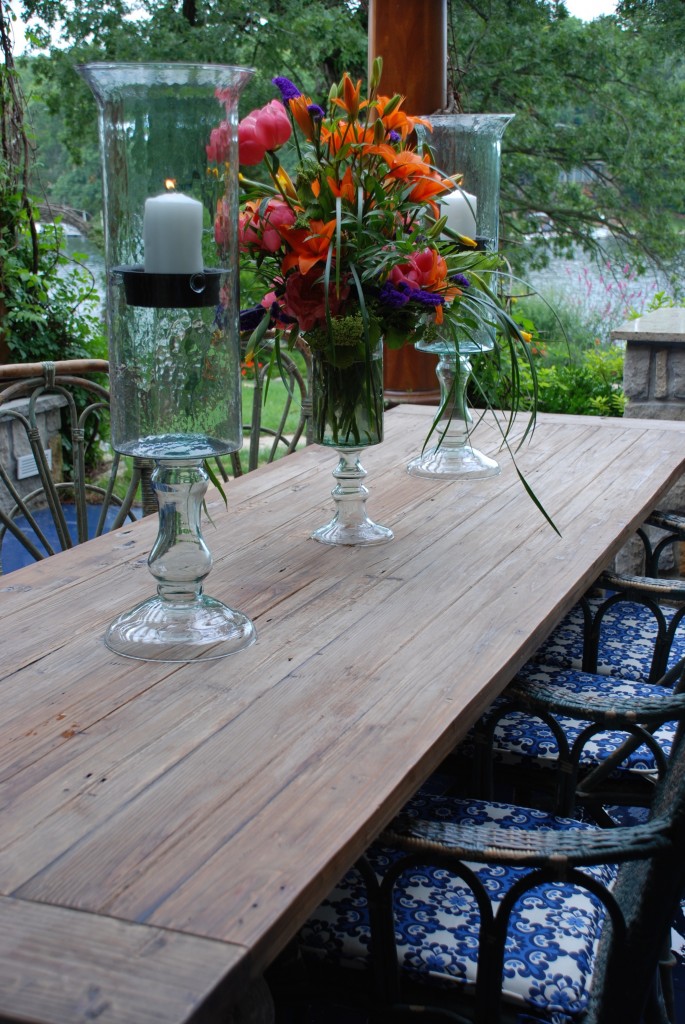 When we were dreaming up our outdoor spaces at Innisfree, we knew we wanted a larger area where we could hang out, eat dinner, entertain. We designed our patio with a sitting area, a built in grill and a dining spot, which all flow into one another. In the summer, it's all about cooking out on the grill.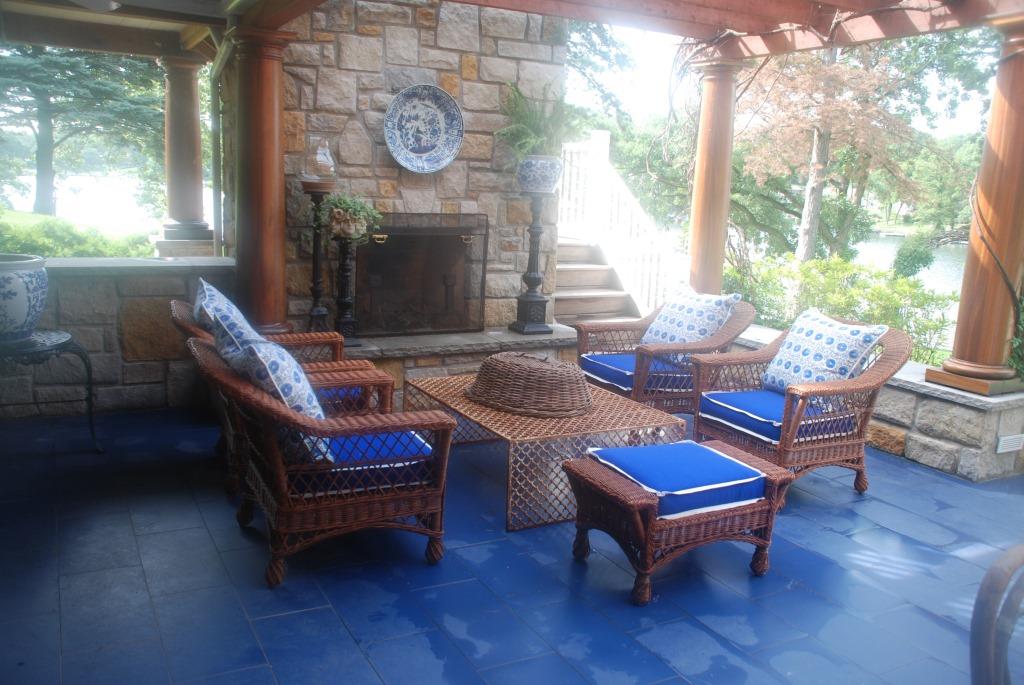 My wicker furniture isn't intended for outdoor use so I have to baby it a bit. Even though the cushions are covered in outdoor fabric that can handle the rain and sun, I still pull them in when it's stormy. I've learned that outdoor cushions last as long as 10 years if you take great care of them. If you leave them out year-round, expect to get two years use before they look worn.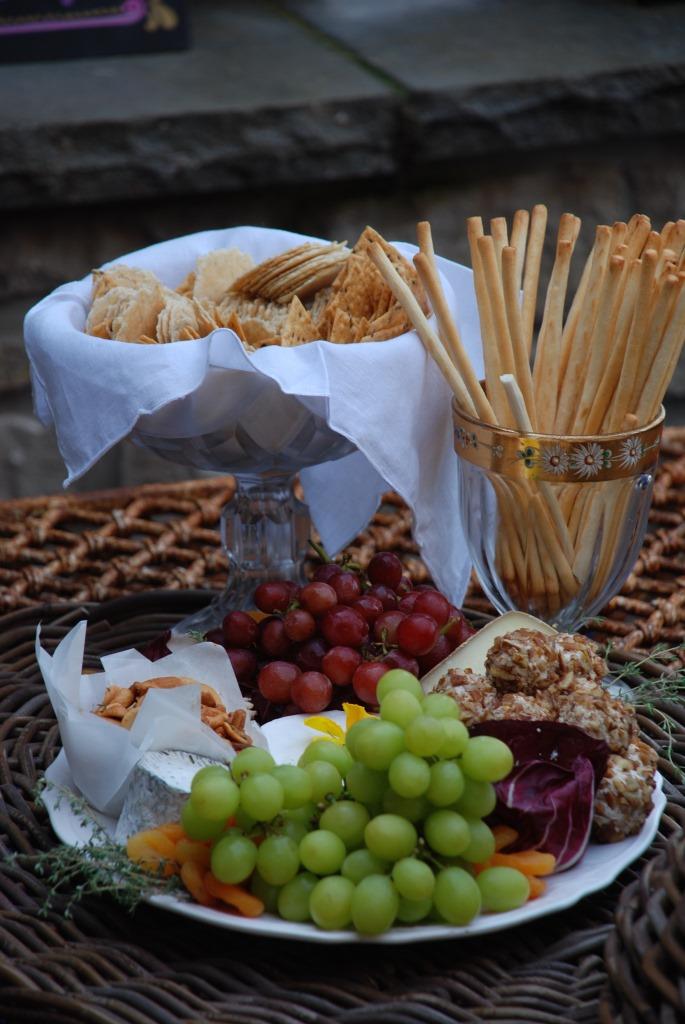 I picked this large metal coffee table for our seating area to provide extra spots to dine when we have a larger gathering. Even super simple snacks look lovely when displayed in pretty serving pieces, like this footed glass bowl holding crackers and vintage glass filled with breadsticks.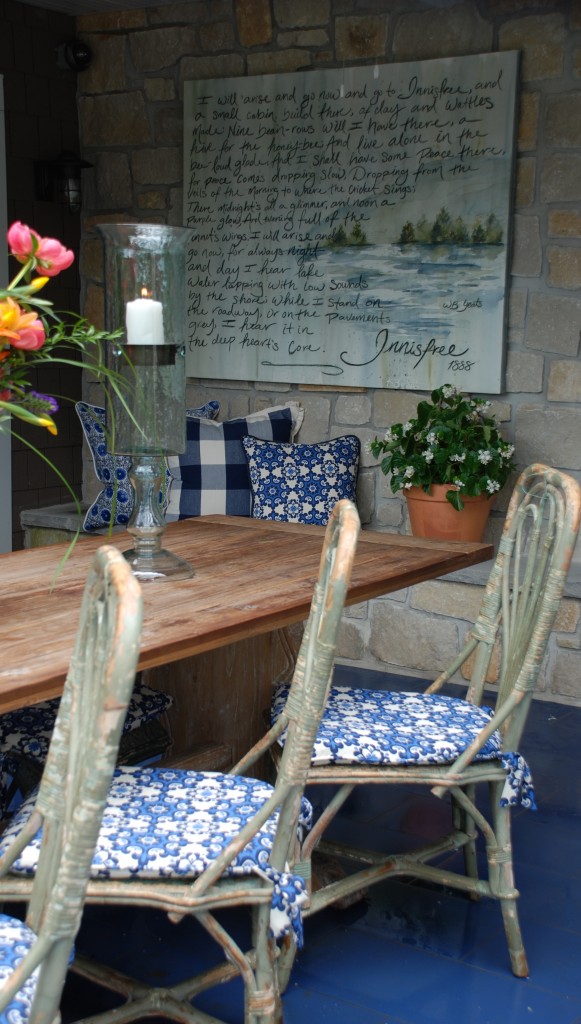 The Lake Isle of Innisfree by W.B. Yeats is Dan's favorite poem, and the inspiration for the name of our cottage, so I asked a friend to create this painting featuring the poem:
I will arise and go now, and go to Innisfree,

And a small cabin built there, of clay and wattles made:

Nine bean-rows will I have there, a hive for the honey-bee;

And live alone in the bee-loud glade.

And I shall have peace there, for peace comes dropping slow,

Dropping from the veils of the morning to where the cricket sings;

There midnight's all a glimmer, and noon a purple glow,

And evening full of the linnet's wings.

I will arise and go now, for always night and day

I hear lake water lapping with low sounds by the shore;

While I stand on the roadway, or on the pavements gray,

I hear it in the deep heart's core.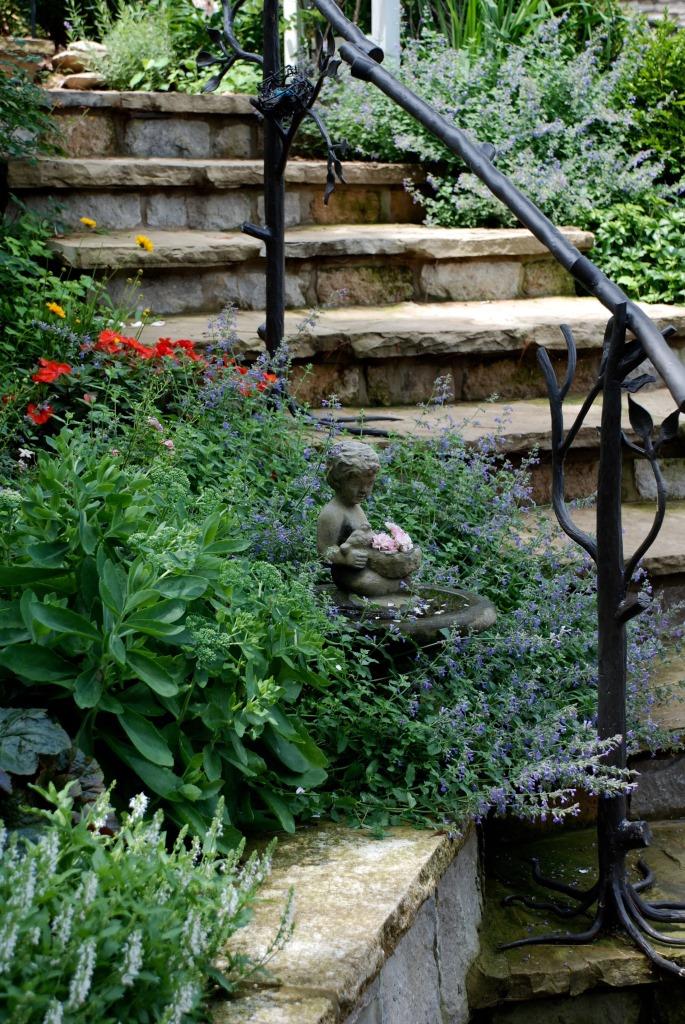 Thank you for spending this August day with me at Innisfree. I hope you, too, will enjoy your outdoor spaces during these magical last days of summer!
Next Week … We're in the Dog Days of Summer right now, but at Nell Hill's, we are so crazy about dogs, it's Dog Days year round. I'll share some ideas for celebrating your furry friend in your decor.