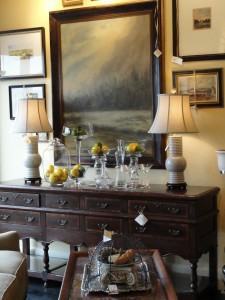 Chances are your buffet is one of the most attractive and underused pieces of furniture in your entire home. So why not invite this fetching yet functional dining room mainstay to the party? Dressed for show, your buffet is guaranteed to wow your guests, whether it's being used for food service during a dinner party or simply as a stage for a gorgeous standing display. Here are some tips for creating an eye-catching but simple summer look on your buffet.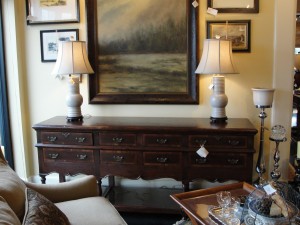 Nell Hill's visual directors Marsee and Becky picked this elegant buffet to use as a stage for our sleek summer display because it's such a great piece. Hefty and strong with nice, clean lines, it adds strength to the space but is so understated it won't draw attention away from the pieces we'll stage upon it.
When decorating your buffet at home, start by focusing on what's on the wall behind it. Make sure the scale of your artwork matches that of the buffet. That said, we picked a large oil painting to balance this weighty piece of furniture. Then, we hung similarly sized, but not matching, artwork on either side of the painting for a nice symmetrical look.
One of my favorite approaches when styling a buffet is to flank the display with a pair of matching lamps. Again, pick lamps that suit the scale of your buffet. For this hefty piece, a duo of skinny, skimpy lamps would never do. Instead, Becky and Marsee found these fetching transitional white pottery lamps. With their modern, organic curves, neutral color palette and traditional shades, these versatile lamps could fit with any décor and look lovely with our old-world buffet.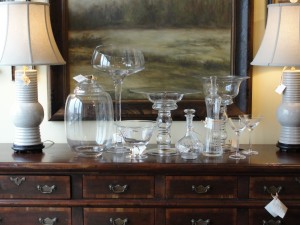 To create a light, summery look on our sample buffet, our visual team pulled together a delightful mix of clear glass pieces to use as the base of the display. I often decorate with clear glass in the summer because it's refreshingly cool, clean and sparkly.
The secret to creating a great display on your buffet (or any tabletop) is to pick accents that offer visual variety. Even though we used all the same types of pieces for this example – clear glass – we gave it a kick by mixing together pieces with a wide variety of heights and shapes.
Go on a scavenger hunt through your china hutch and cupboards for interesting glassware, like the decanters, martini glasses, lidded jars, footed bowls and pedestals we used in our sample display. Notice how Becky and Marsee arranged the pieces is an off-sided pyramid, with the tallest items in the back and middle and the smaller pieces on the edges and in the foreground.
If you want a simple look on your buffet or if you don't have a lot of time to decorate, stop here. I love the look of the bare glass. But if you would like to add a bit more intrigue, weave in some seasonal accents.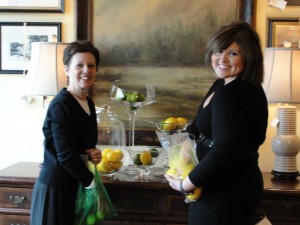 We really like to use fruits and veggies in our seasonal decorating at Nell Hill's. So Marsee (left) and Becky (right) bring out the bags of citrus to add a twist of color to our tableau. Not only do the lemons and limes scream summer, they also pick up the subtle greens and yellows in the painting behind the buffet.
If you're using real fresh fruit, check your display often so you can remove pieces that are starting to spoil. I learned this lesson the hard way at my home. Once, when I was decorating for fall, I put ripe red pears in the wall sconces in my living room and promptly forgot all about them. That is, until I was sitting with a friend in my living room and happened to glance up above her head where, to my horror, I saw that the pears had decomposed into a slimy mess. Now, I usually opt for fake fruit, which really confuses Dan. Once he breezed past a fruit bowl filled with lush green (fake) apples and grabbed one for a snack. Imagine his surprise when he bit into the piece of fake fruit!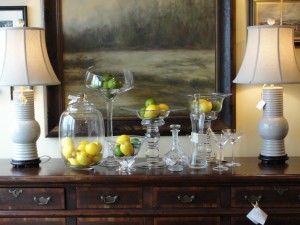 That's it! That's all it took to style this inventive display that really perks up the staid and stately buffet. You could opt to keep this look all summer long, then for fall, recreate it using heavier pieces. Or, you could leave the glass base up all year long and simply switch out the seasonal treasures you put in the containers. For fall, you could tuck in red apples or gourds. During the holidays, try Christmas tree ornaments. In spring, add a forced bulb or two to the footed bowls.
Then, when you entertain, remove the seasonal décor and use your glass pieces to serve your food with style. For a cocktail party, fill different containers with bar fixings, like sliced lemons or olives. If you're having a dinner party, use this display to show off dessert delicacies or appetizers.
A Few Variations …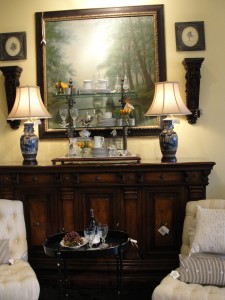 I also wanted to show you another way our visual team has styled buffets at Nell Hill's Briarcliff. We anchored this display with a matching pair of blue and white Asian ceramic lamps. Then, all we did was place a French dessert server in the center, filling it with dishware, a figurine and some bouquets of fresh flowers. You could also use this amazingly versatile shelf unit to display food when you entertain. I have a dessert server like this one on my kitchen island, and I have a blast styling and restyling it for the seasons. In fact, I love this piece so much that I had it reproduced as part of my Mary Carol Home Collection signature line. It's a great price and selling like hot cakes — check it out at Nell Hill's Online or at the stores.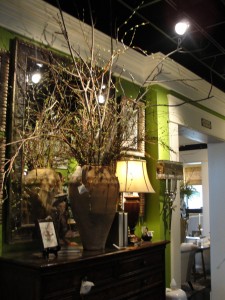 For yet a different look on your buffet, try using a large floral arrangement as the focal point. Here, we made a wild and wonderful arrangement in an olive oil vessel. We tucked in an intriguing accent lamp, some books and a figurine and called it good.
Next Week …
Are you ever baffled by how to style the high places in your home – above the kitchen cabinets, on top of your armoire or bookcases, or on that challenging ledge in your two-story entry? Next week I'll give you some simple solutions for making the high places the highlight of your décor. Come back and see me!