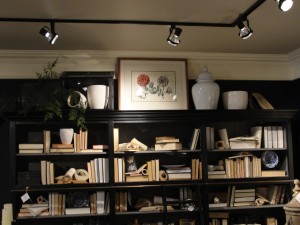 One important but often overlooked spot to accessorize in your home is the space up high –on a bookcase, above the kitchen cabinets or on a ledge. Putting just the right accents in these out-of-the-way areas lends visual interest to your décor, giving it a bit more warmth and charm. Here are some tips for adding some beauty up high.
Add Flair to the Top of Your Tall Furniture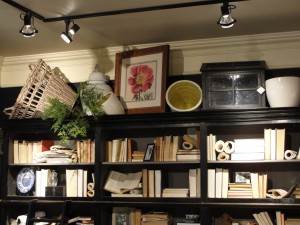 There is a world of decorating possibilities atop the big and tall pieces of furniture in your home, like bookcases, secretaries, hutches and armoires. Left alone, these pieces can feel cold and imposing. But softened with just the right accents, they feel "finished" and in harmony with the rest of the space. Plus, who could resist the chance to make a masterpiece out of this blank canvas? Not this girl!
At Nell Hill's Briarcliff, Theresa is our go-to gal when it comes to styling sensational displays on the tippy top of our tallest pieces. Today, I've asked her to share some of her secrets.
Step One: Put on Some Weight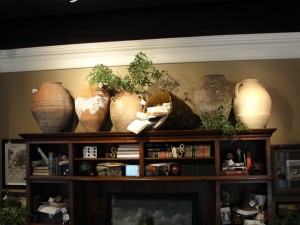 In this day and age when we're all trying to slim down our waistlines, there is one thing in your life you need to beef up: the displays on top of your biggest pieces of furniture. When you pick accents to put atop your tall furnishings, opt for those that are larger in scale because smaller accessories get lost when they are up high. A good rule of thumb is that the higher the display, the bigger the pieces need to be, Theresa suggests.
Right now at Nell Hill's, our visual team is using big beauties like olive oil vessels, blue and white ginger jars, boxes, baskets, white pottery and artwork as bases for up-high displays.
Step Two: Fill in with a Few Interesting Accents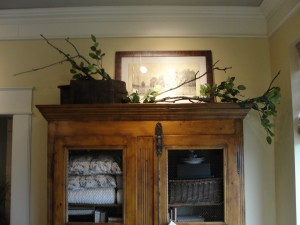 Once your core pieces are in place, it's time to fill in with a few carefully chosen accents. Remember, more is less when you're decorating up high, Theresa cautions. For instance, if you're using a large piece of artwork as the base of your display, you might add three or four additional pieces of art, all in different sizes, to finish off the look. Just place the largest piece of art in back, resting it on the top of the furniture, propped against the wall. Then layer the remaining pieces of art in front of the base, creating a visually interesting but not cluttered grouping.
Besides artwork, the visual team members at Nell Hill's are using lost of baskets, boxes and books to fill in the up-high displays.
Step Three: Invite Mother Nature to the Party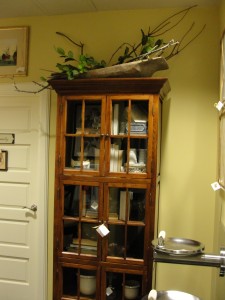 Another fun way to bring a touch of interest and whimsy to furniture tops is to brighten them with seasonal décor, Theresa suggests. Try this atop your tallest pieces: Let an assortment of real fallen branches and faux seasonal greens cascade out of an interesting container, like a wooden dough bowl or a large picking basket, like I always display on top of the secretary in my living room.
If you have olive oil vessels or ginger jars above your tall pieces, fill them with an assortment of fallen branches and faux greens. If you create a display out of several pieces of artwork, break up the straight lines and hard angles by letting a few branches and greens hang down a bit over the side of the furniture.
Fallen branches not your thing? Try using faux potted ferns to add a spot of natural color and texture.
Want a Few Ideas for the Other Tip-Top Spots in Your Home?
Get Cooking Above Your Kitchen Cabinets
After deciding what to make for dinner each night, the second hardest thing you'll do in your kitchen is to figure out how to decorate the space above your cabinets. My recipe for success is to pick just a few pieces to create a more powerful display overall. For instance, I've dotted a ledge in my kitchen with a monochromatic display of creamware dishes, like pitchers, bowls and platters. I love how simple and sleek it looks.
Above your cabinets, fashion a few groupings out of interesting objects that are similar in nature, such as a collection of pitchers, antique baskets, trays or lanterns. Be sure to leave plenty of open space between each cluster so you have enough negative space for the eye to rest.
A Decorating Edge for Your Ledge
Lots of newer homes have been built with two-story entries that feature open ledges for decorating. While it's fun to think about adding accents to your foyer, these lofty spaces can be a challenge to decorate. My advice is to perk them up with a few large, simple pieces you can leave up year-round.
This is another great spot for over-sized pottery, like ceramic urns, antique olive vessels or Asian ginger jars. Remember to opt for larger pieces than you think the space can handle because everything shrinks visually when placed in a high spot.
Another great solution is to place a sizable piece of artwork on the ledge, leaning it against the wall behind it. Then layer the display a bit by positioning some large pottery next to the painting.
Need something new to spark up your high places? We have some great pieces waiting for you at Nell Hill's Online and at all three stores. Come check it out and ask our visual team members to help you create a custom design that's perfect for your home!
Next Week …
We're crazy about kids at Nell Hill's! If you have a little one in your life, whether it's a wee babe, a spunky grade schooler or a teen, we have some tips for styling sensational rooms that will grow with them. Come back and find out how next week!