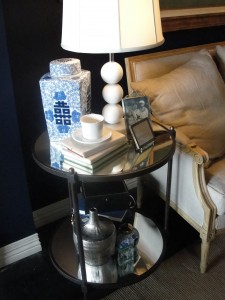 Whether they are proudly flanking a sofa or tucked up next to a chair in a quiet corner, side tables are a key component of a sensational seating arrangement. I think side tables are loads of fun to select because today you have so much freedom to pick out pieces that will truly inspire a room. Still, there are a lot of factors to consider when picking just the right side table for each spot in your home. Here are some tips to make your search easier and more rewarding. Scale is Supreme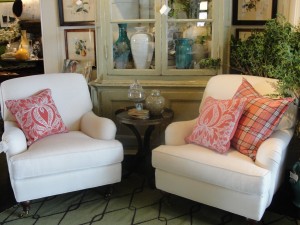 When I select side tables for my home or those of my friends and customers, I always look for pieces that have beautiful lines, lots of character and a top that's broad enough to hold a few treasures. But the most important factor, bar none, is the scale of the piece. It's essential that the table you pick match the scale of the furniture it will stand by.
Pair a sofa or chair that is large and beefy with side tables that have some visual weight to them as well. If you have a side table that is petite and leggy, you can give it more visual weight by placing something underneath it, like a large trunk basket or a garden stool.
When figuring the dimensions for the table, make sure the tabletop is about five inches above or below the arm of the chair or sofa it will stand next to so you can easily reach the tabletop when you're seated.
Add Pizazz by Mixing Styles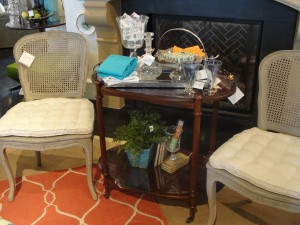 My favorite rooms are those that appear to have evolved slowly over time, becoming more unique and beautiful as the homeowner adds new treasures through the years. An easy way to give your room this layered look is by using different styled side tables. Once you make sure the scale of the tables match, the sky is the limit on what they look like.
Don't be afraid to put a traditional table on one end of a sofa and a more contemporary table on the other. If you don't feel comfortable crossing design classifications, pick dissimilar looking pieces from the same categories, such as two traditional tables that look completely different, like a small chest of drawers and a drop leaf table.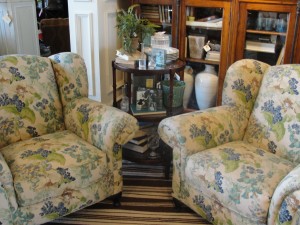 While I love end tables in all styles and finishes, from painted wood to bamboo to wrought iron, my favorite is the Pembroke table that's in my study right now. The Pembroke is a traditional wooden table that features two drop leafs, which means it's amazingly versatile. If you want the table to fit into a tight space, simply fold the leafs down. If you need more tabletop space for a big lamp or books, flip up one or both leafs.
Right now, I can't get enough of smaller-scaled tables that remind me of something you'd find in your grandmother's home. These delicate treasures give a room a timeless feel.
Delight in the Details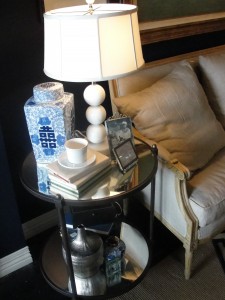 It's little details that make each side table truly unique and a wonderful addition to your well-furnished room. When you shop for side tables, look for interesting features that steal your heart. I fell for the table pictured above because each of the shelves is topped with a mirror.  Place a lovely accent lamp on one of these and watch it glow.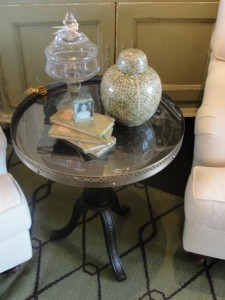 This sweet table is so simple and so stunning. The tabletop resembles a gallery tray, with its metal lip. I'll share a secret with you: This is one of our best "cheater" pieces at Nell Hill's because the table looks a lot more expensive than it actually is.
Dare to Do Something Different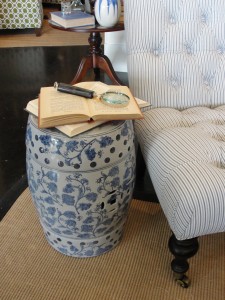 Sometimes I like to swim upstream when furnishing my home, using new pieces in unusual ways that rethink interior design rules. A great way to push the bounds and achieve dramatic results is to use something unconventional as a side table.
How about a patterned or solid colored ceramic Chinese garden stool? I love these little guys nestled under a drum table, peeking out about halfway, just the right distance to hold a drink or a book.
Or, make your own side table. Stack some strong trunk baskets on top of each other. How about a stone capital? Or maybe a garden urn topped with a piece of glass. Let your creativity go, and you'll come up with some fabulously functional and fun side tables that will give your room loads of personality.
Next Week … Whether it's marigold or citron, yellow is the hottest color of the season. Find out how to use this sunny, happy shade in your décor.