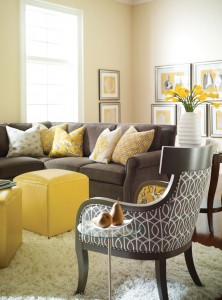 All we can talk about at Nell Hill's right now is color, color, color. And one of the hottest hues is wonderful, sunny yellow. From edgy citron to happy marigold to whisper soft pale yellow, the designers are showing yellow in a big way this season. If you'd like to add just a drop of yellow to your décor, or let the sun shine in and flood your rooms with this happy color, here are some tips for making room for yellow in your décor.
Yellow and Gray, All the Way!
In the mood for a complete room makeover? You can't go wrong with a palette of yellow and gray. At Nell Hill's, we've picked gray as our favorite new neutral. I added a velvety shade of deep gray to my custom paint line, Abbey Steps, and it has become one of our hottest sellers because it's dramatic yet soothing, classic yet hip. The secret to pulling off a gray-toned room without it feeling dreary is to mix together lots of shades of gray, then brighten it up with a pop of color, like yellow.
When working with a palette of yellow and gray, I'd suggest you take one of two paths. The first is to paint your walls a dark shade of gray, like Abbey Steps (all my paints, including this popular color, are available now at Nell Hill's Online!). To contrast the darker walls, paint the trim white or light cream.
Then fill the room with furnishings that reflect lighter tones of gray, creams or whites, and shades of yellow. For instance, you might cover your sofa in a pale gray linen fabric, then pop it up with an array of yellow accent pillows. If you love traditional furnishings, pick a timeless toile pattern for the pillows. If you are looking for something more contemporary, try one of today's sharp geometric prints. Or, have twice the fun and mix the toile and geometric pillows together.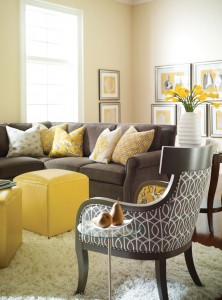 I really like to use contemporary fabrics when I decorate with yellow and gray because they are so clean and simple. Try covering an ottoman or side chair in a graphic pattern in charcoal gray and yellow or light gray and white. I love the chairs in the photo above because they artfully pair a bold yellow and gray toile fabric with a fresh gray and white chain pattern. At Nell Hill's we work with customers all the time to create custom upholstery looks like these. (Mark your calendar because between June 15 and July 15, all our special order upholstered furnishing will be 20 percent off! It's the ideal time to get that custom furniture you've been dying for, all at a great discount!)
A second approach is to paint your walls a soft gray or buttery yellow, then go with darker yellow and gray fabrics on your furnishings. Try upholstering your sofa in a charcoal mohair gray fabric or a menswear herringbone. Pick an area rug that features a graphic pattern, like the new flat weave rugs we're starting to carry at Nell Hill's.
Quiet Palette with Pops of Yellow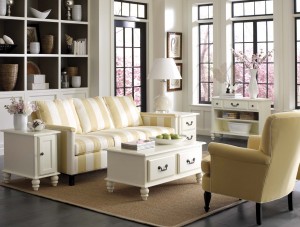 For years the decorating magazines, catalogs and designers treated us to lovely light palettes of whites and creams. If your home, like mine, centers around these light neutrals, consider tossing in a few pops of yellow to brighten things up a bit. Add an accent pillow or two in yellow. Upholster your sofa in a soft yellow stripe, floral or solid. Your room will still feel soothing and calm, but the little addition of yellow will also make it warmer and cozier.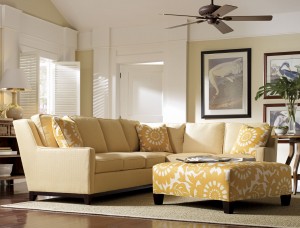 To add even more verve to the room, pick a smaller piece of furniture, like a coffee table ottoman or a side chair, and have it upholstered in a bright yellow fabric. In the photo above, the brilliant ottoman, covered in this contemporary yellow and white floral fabric, feels like the sun, with the whole room brightening in its orbit.
Bold Palette with Bright Yellow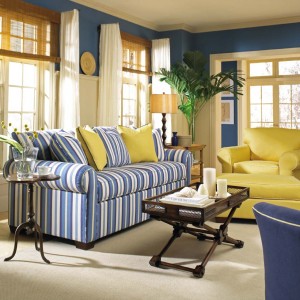 So many people are clamoring for color right now. If that includes you, consider making your color statement with yellow. Yellow looks smashing with so many tones, from orange and pink to blue and green, that you will have lots to choose from in your color soaked room.
In the room above, the classic color combination of blue and yellow feels fresh because the designers gave it a more contemporary twist. Try painting portions of your wall a bold shade of blue. Then, have some fun with your upholstered furnishings. Here, the brightly striped fabric on the sofa is balanced by the solid tones on the side chairs and the rest of the neutrals in the room: white curtain panels, flooring and trim.
Next Week … June is my favorite month in which to entertain outdoors. I'll share some ideas for making your outdoor events lovely.