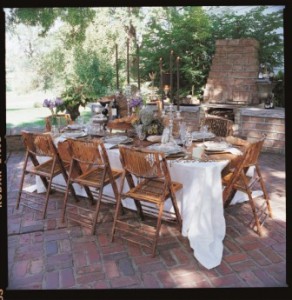 The arrival of warm weather puts me in the mood to throw a summer soiree. For me, there is no better place to stage a delightful dinner party in June than in your own backyard. This summer, why not take the party outside? It's easy to host a memorable al fresco event when you have the right tools on hand. Here is my list of must-have party props for outdoor summer entertaining.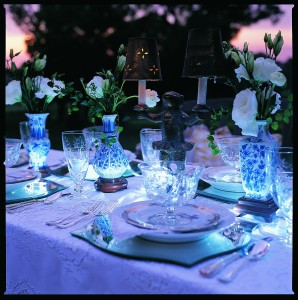 Chargers
Perhaps it's the way they anchor a place setting or elevate the entire look of a table, but I consider chargers an absolute essential, whether I'm entertaining casually or formally. I've used all manner of things for chargers, from clay plant saucers to antique silver trays to mirrors, like in the photo above. One of my perennial favorites is a simple rattan charger because they are loaded with texture yet are so neutral they look sensational on both formal and casual tables and in every season.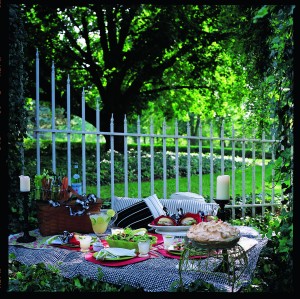 Linens
Instead of using full tablecloths, which are expensive and a hassle to clean and iron, I cheat and use a 52-inch square tablecloth turned on the diagonal at the center of my table. This smaller cloth size brings color to the table yet still allows the beautiful wood of the table to show. You'll also need a selection of cloth napkins. Start with a set of white cotton napkins you can bleach then slowly expand your collection with napkins in different colors and patterns.
If you're having an outdoor picnic, like the one pictured here, your choice of picnic blanket will set the scene for the meal. I love how this fresh black and white check reinvents the idea of the red and white picnic tablecloth.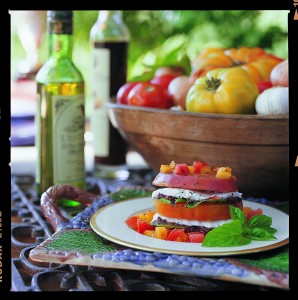 Dishes
If you don't have a set of plain white dishes, put this at the very top of your shopping list. White dishes work magic on the table because they look sensational all by themselves. Or you can completely change their look simply by pairing them with different accent plates, linens, accessories or stemware. For instance, in the summer zip up your white dishes by combining them with blue and white china salad plates and apple green table linens. In the fall, show your white dishes with russet napkins and brown transferware serving pieces. In winter, make them more elegant by adding in gold and silver accents, or make them whimsical by adding holiday themed dessert plates and napkins.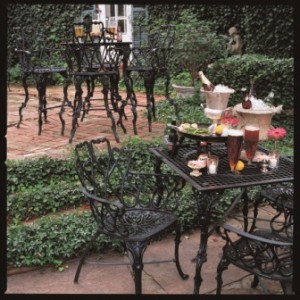 Stemware
If you have a smaller budget and limited storage space, invest in clear glass stemware that has strong, clean lines because it will look marvelous with everything. Then, if you want to add to your collection, try glasses that are colored amber, green or red, or embellished with gold filigree, or etched with a simple pattern like your monogram or a bee.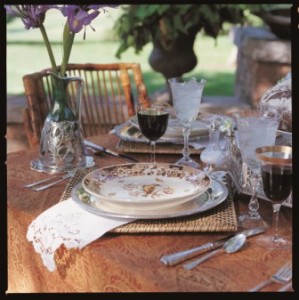 Flatware
Not lucky enough to inherit a set of sterling flatware? Consider investing in the next best thing: silver plate flatware. Instead of a matched set, why not collect a wonderful mishmash of different patterns from antique stores or flea markets?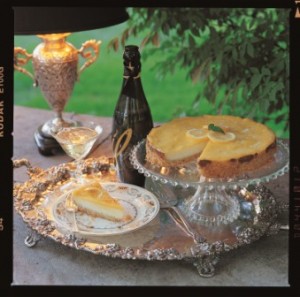 Serving Pieces
You'll need a good assortment of attractive and functional serving pieces. Whether you buy them new or scout for them at antique stores or flea markets, get several platters and trays, compotes and serving bowls, cake plates and three-tiered dessert stands. I also advise having an elegant water pitcher you can rest on a silver tray on the table. For something out of the ordinary, put new or antique saltcellars at each place setting.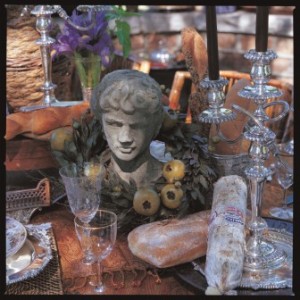 Centerpiece Cornerstones
Right now, I adore simple centerpiece treatments. And all you need to pull one together is an assortment of vases or containers. Try different sized plain white vases or blue and white china vases clustered at the center of the table, each holding a single flower. Cachepots and English footbaths are also ideal to use for centerpieces, filled with nothing more elaborate than a few ferns. Or, for a really dramatic look, use a garden statue as the base for your centerpiece, then add elegant silver candelabrum, like on the summer party table pictured above.
Next Week … Looking for a fun project to fill your long summer days? I'll share a few ways you can brighten your home with five yards of fabric.