Looking for a fun project to fill those long summer days? Give your home a new spark using tantalizing, terrific textiles. Here are three ways you can use five yards of fabric to give your home a great new look for the season.
1. Spice up Your Furniture with New Pillows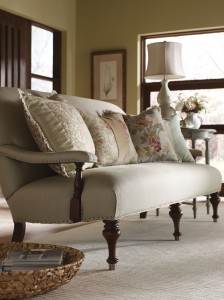 Sick and tired of your sofa? Freshen it up with new accent pillows. It takes just a few yards of fabric to recover your existing pillow forms and get a whole new look. Timeless fabrics like plaids, soft linen blends and florals are big right now, as are geometric patterns in all the hot new colors, like yellow, gray and coral. Don't confine yourself to just one pattern or pillow shape. Mix three to four patterns and several shapes to give your sofa lots of visual interest.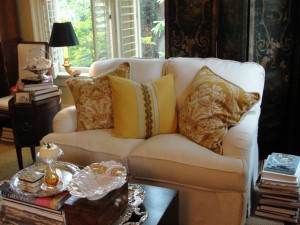 Try this look: Center a larger rectangle pillow on the back of the sofa. Then nestle square accent pillows against the sofa's arms. Be sure to make a few extra pillows to toss on side chairs to create continuity in the room. Or toss three square pillows across the back of a love seat to make it look cheery and cozy, like I've done on the love seat in my living room, pictured above.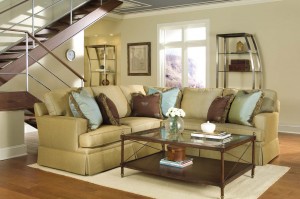 For a customized look, use a host of interesting trims on your new pillows. How about ribbon-covered buttons? Or brush fringe? I love mini flanges. One final bit of advice: Don't forget to put a zipper in each pillow cover so you can slip it off for laundering.
2. Add Drama to Your Table with Tremendous Linens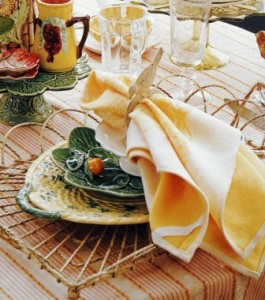 Give your table some kick by crafting one-of-a-kind table linens. Create a square table topper, then lay it on the diagonal at the center of your table. If you want more texture, crisscross two table runners. If you don't sew, no problem. Just iron the raw edges under and no one will be able to tell the difference.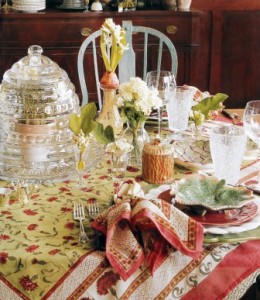 If you already have a tablecloth you love, make some zippy new napkins that bring out its colors or accent your dishes. Don't be afraid to introduce bold fabrics with large prints and startling colors. How about a black and white damask table topper paired with apple green napkins? Or, an Ikat pattern tablecloth with a bold solid napkin? For an extra special touch, have the napkins monogrammed.
3. Change a Chair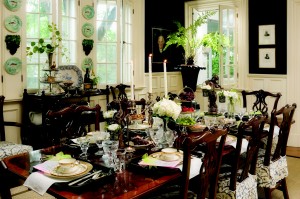 Have a side chair that's looking kind of shabby? Transform its look by making a slipcover for just the seat cushion. Or, change the appearance of your dining room chairs by either redoing the upholstery seat cushions or creating skirted slipcovers to rest over the existing seat. My dining room chairs are covered in black leather, but you'd never know it because I dress them up with fabric slipcovers. Right now, they are covered in a blue and white print that pulls out the blue in my dining room walls.
Here they are, redone for my Holiday Open House …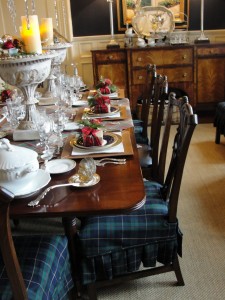 …And remade yet again for my fall open house …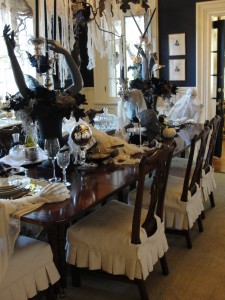 It's amazing to see what a difference it makes when you simply change the seat slipcovers, isn't it?
Next Week … A big trend in the design world is to infuse your interior décor with strong colors and bold patterns. I'll share some tips on how to decorate with today's hottest hues and textiles.