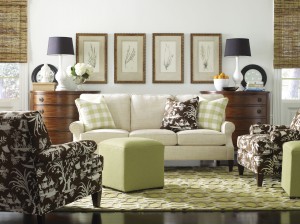 I am crazy about the designers' spunky use of vibrant color and bold pattern this season. We're seeing everything from upholstered furnishings to accents in exciting hues like coral, turquoise and marigold, bringing to life contemporary and geometric patterns that are as invigorating as sunshine.
If you're as drawn to these delicious colors and patterns as I am but aren't sure how to incorporate them into your decor, never fear. Weaving color and pattern into any style home is easy, if you know how. Here are eight tips for achieving this season's bold and beautiful look.
Tip 1: Have a Plan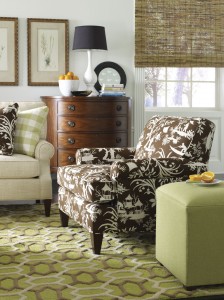 Rich, one of our talented designers at Nell Hill's, is a master at working with bold color and pattern, harnessing their power to energize a room without letting them get out of control ("So it looks like a rainbow blew up," as he says!). How does he walk the thin tightrope between exciting and overwhelming? He always has a plan when he designs a space.
Remember the color wheel you learned about in high school art class, where groups of colors are paired perfectly with one another? Pull it out and use it as your guide when creating a color palette for your room, Rich suggests. That way you'll end up with a space that is harmonious, not chaotic.
Tip 2: Balance Color with Neutrals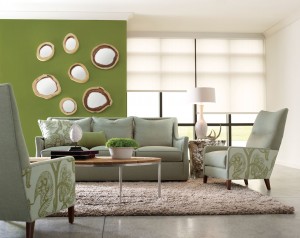 "If I'm going with really colorful upholstery, I go neutral on the walls," Rich shares. "If I go bold with the wall color, the upholstery is toned down. Then I bring in the wall color through accents, like accessories and pillows. You have to pick one or the other."
Rich just worked with one of our color-loving customers to design an interior that took my breath away when I saw it. In the client's family room, they painted the walls a warm shade of white to counterbalance the room's exciting color palette of navy, turquoise, aqua, salmon, green and yellow. The sofas were covered in a sedate but strong navy fabric then pepped up with white, yellow, salmon and aqua accent pillows. They wove in the colors using a mix of fabric types and an array of patterns, ranging from Chinese toile to Greek key patterns. The coffee table ottoman, covered in grass green burlap-like fabric, added yet another pop of color. The remaining colors in the palette were brought in through artwork and accents.
Tip 3: Start with a Tiny Splash of Color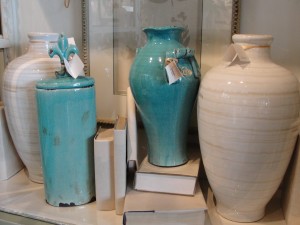 If the thought of bringing in bright color and bold pattern makes your palms sweat, try starting out with just a splash of color here and there in your decor. Even a tiny pop of magenta, turquoise or marigold, brought in through a few lovely and inexpensive accessories, can have a big impact in a room.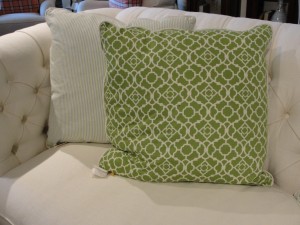 Put a turquoise, apple green or yellow vase, urn or cachepot on your fireplace mantel, on a sofa table or inside a bookcase. Toss a silk green pillow in a chain pattern on your side chairs. Start small and stay in your comfort zone. You'll be amazed by how these little additions punch up your room.
Tip 4: Pep Things up with Paint
An easy yet incredibly effective way to bring color into your home is to paint a room a vibrant hue, Rich suggests. Wall paint is relatively inexpensive, and if you end up regretting your decision, you can just cover the offending color with something a bit more sedate. In the house that Rich helped design, the owner was tired of the dated oak paneling in her family room. So, to "de-oak" the room, they covered the built-in bookcases and molding with a high gloss grass green lacquer. The effect was stunning!
Tip 5: Sample Color for a Season
Normally in the summer, I like to keep my décor light and simple, featuring lots of crisp navy, cream and white in my living room. But this year I'm going to spark things up a bit by adding in some of the coral, marigold and turquoise accents we're carrying at Nell Hill's, like our inexpensive  pottery pieces. I'm also zipping up my sofas by mixing readymade accent pillows in contemporary fabrics with my custom made traditional pillows. Try doing the same in your home this summer and see how you like living with the new colorful additions. Decorating with color and pattern just may become habit forming for you!
Tip 6: Experiment in a Less Visible Room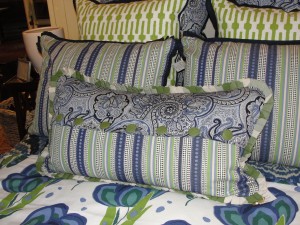 Instead of tackling one of the most visible rooms in your home, like the living room or kitchen, experiment with color in a room that's not in the public eye, such as a spare bedroom, where the stakes aren't as high.  Paint the walls a soft neutral then layer in lovely colors and interesting patterns through the bedding, like we did at Nell Hill's Briarcliff in this sensational custom bedding set.
Tip 7: Introduce a Piece of Colorful Furniture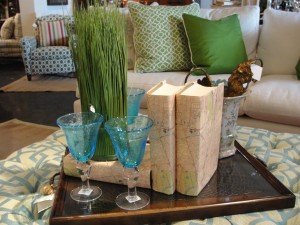 A fabulous way to work color and pattern into a room is to do so through a piece of upholstered furniture. Cover an upholstered ottoman or side chair in a fresh geometric fabric, making it the vibrant focal point for the furniture grouping. Right now we're loving traditional chairs, like wing backs, covered in reinvented botanical fabrics, a fresh twist on an old favorite that features large, playful images of flora and fauna.
Tip 8: Try a New Floor or Window Treatment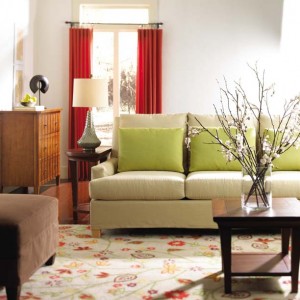 You can also bring in color and pattern through your window and floor treatments. I'm a huge fan of curtain panels that feature a relaxed pinch pleat, hemmed so they just break on the floor, like a man's trousers. But just because the design of a window treatment is simple doesn't mean the color or pattern of the fabric has to be. Crafting the panels out of a contemporary fabric will go a long way toward updating the look of the room.
I've never been afraid to mix a host of different colored and patterned areas rugs together in a room to create an interesting patchwork. Rich called on the power of colorful rugs when he helped our client design her color-soaked home. For instance, in the home's breakfast room, they featured a red, blue and green Oriental rug under the white farmhouse table.
Next Week … In May, I had the chance of a lifetime to slip away to France for three weeks with my husband, Dan.  I can't wait to share the inspiration I came home with after poking about the French countryside, visiting marvelously decorated homes and shops full of wonderful decorating treasures.