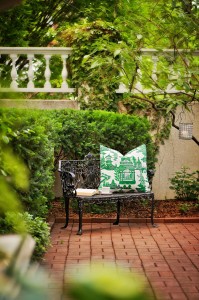 Decorating my home for my Spring Open House last week got me in the mood for summer! After a busy spring, I can't wait for the long, languid days of June and July, for lazy Sunday afternoons spent reading a good book on my screened porch, for Saturday evenings out on the patio, enjoying a great meal with dear friends. I hope you're ready to surrender to summer, too. Here are five tips to help you get the most out of this delicious season. 
Let the Sun Shine In
There is no better season to showcases today's hot hues than this summer. Everywhere you turn in the next few months, you'll see happy colors on display, whether it's in summer clothing, summer flower gardens or summer décor. Try adding just a pop of color here and there, and see what you think. That's what I did a few years ago in my living room. This warm but formal room is filled with antiques and traditional furnishings, all featuring neutral colors. My cream colored upholstered furniture is the perfect blank canvas for experimenting with color.
While the combination of apple green and navy has held my heart tightly for the past few years, I'm beginning to be equally as enchanted with coral. For my Spring Open House, I added a dab of coral to my décor by simply plopping matching coral pillows down on a pair of armless side chairs, and putting an interesting coral colored vase on the chest behind the chairs. I was startled by how much this corner of my living room brightened up just by these easy additions.
Try the same at your home. Work in a pillow or two in a new color (it's easy to do – just slipcover one of your existing pillows!), make a super simple table topper out of a yard of brightly colored fabric or lay down an inexpensive flat-weave area rug. You'll feel like you pulled back the drapes and let the sun shine in!
Find a Place to Dream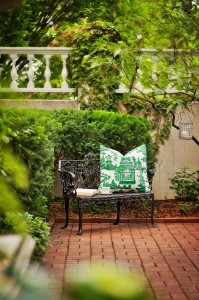 Summer is the season to slow your life down and take time to dream. There is something so energizing about taking time out to let your mind wander. How else can you hatch new plans? To dream big, you need a quiet spot that soothes your senses. At my home, one of those spots is a small iron bench that sits in a secluded corner of my courtyard garden. On more than one occasion I've found my husband hiding there, enjoying a cigar after dinner. And the cats love to nap on this bench in the afternoon sun.
It's easy to create a dreaming spot. First, find a quiet niche someplace out of the fray, whether it's indoors or out. Outfit your retreat with a comfortable seat. I added a plump pillow to our iron bench so it's easier to recline. Then, surround yourself with things you find beautiful, like pots of flowers or whimsical accents. I predict that this little oasis will becomes one of your favorite hideaways at home.
Offer a Warm Greeting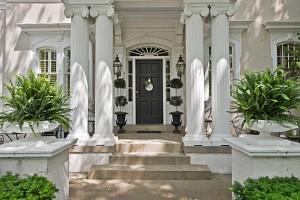 I really love homes that have a welcoming exterior. It doesn't have to be anything fancy, just a creative touch to the door or some plants on the stoop. It takes just minutes to decorate the entry of your home, yet it pays big dividends. This summer, I've spruced up my front door with an understated but romantic decoration. I found a simple light blue and white transferware plate in my stash of mismatched plates. I fastened a metal plate gripper around the plate so I could hang it from my door knocker with a soft, limp, cream colored silk ribbon. Then, I tucked in a few sprigs of white faux spring blooms. It looks fresh and light and so sweet.
I love planters full of live plants around my home in the summer, but I am not much of a gardener, so my front porch always features the same easy-care plantings. You'll find two-balled topiaries planted in matching black iron urns on either side of my door. The concrete urns built into my front porch railing always hold Kimberly Queen ferns. I am hooked on Kimberly Queen ferns because they are readily available, inexpensive and thrive despite the abuse they suffer from me. I often forget to water, but these beauties not only survive, they thrive.
Play a Little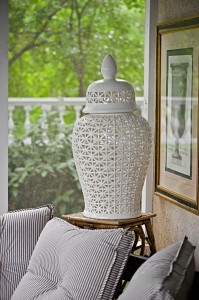 In summer, I like to add a few fresh touches to my regular décor. This year I'm doing so with fabulous cutout pottery, delightful pieces crafted in standard shapes, yet featuring a cutout design that allows light to shine through. I put one of these huge white cutout temple jars on a pillar in the corner of my screened porch. It brightens up the corner, adding some chic shine and interesting texture. Yet, the cutout pattern ensures the vase doesn't obstruct the view of the garden behind it. You can see the green of the trees right through the cutout pattern.
We have reams of these cutout pottery pieces in all shapes, sizes and colors at Nell Hill's right now, and they are flying out the door. They look dynamite all by themselves, like the jar on my porch, or grouped together in an interesting arrangement. I'd recommend clustering a group that features different shapes and sizes. You can also mix up the colors, if you want more pop. To add soft light to your summer evenings, try this trick: Insert a large battery operated pillar candle in the cutout pottery and watch the light dance through.
Get Fresh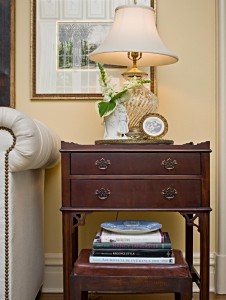 Whenever I entertain, I like to use as many fresh flowers as I can. It may be as simple as grabbing a bunch of sweetheart roses, cutting the stems short and creating a tight bouquet in a small vase or jar, then tucking it on a side table. Or it may be sweet talking one of my friends who can work wonders with flowers to create a few showy floral displays for my dining room table, entry or buffet. During the summer months, I only have to look outside my door for the flowers I need to make my year-round displays special. Snip off a single hydrangea bloom, a rose or geranium and place it in a small vase, an antique bottle, a celery jar or an a salt cellar. No matter what grows in your garden, whether it's showy blooms or soothing greens, bring them inside this summer. Don't have a garden? Don't let that stop you! Swing by a florist or the floral section of your grocery store and snatch a bouquet of seasonal blooms.
Next Week …Whether you're entertaining guests this summer or just making dinner for your family, it's fun to come up with attractive ways to present your food and beverage services. I'll have ideas, complete with photos, from my Spring Open House, next week.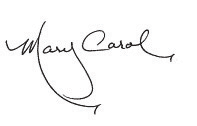 P.S. Don't miss a bit of Nell Hill's news – stay up to date on my favorite finds, new arrivals at the stores and all our special events by checking the Nell Hill's Facebook page every day. You don't have to have a Facebook page yourself to look in on the fun, but if you're already on Facebook, "like" us today!