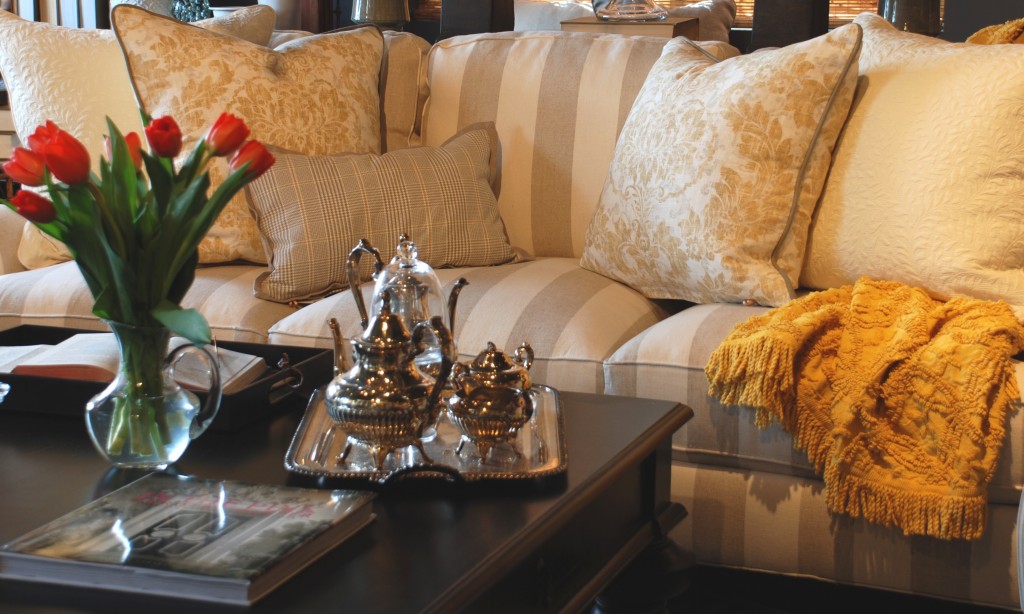 There are several spots in our homes where we "do life". Our sofas are one of them. This is where we melt in after a long day and read or watch TV (my guilty pleasure is old movies!). It's where we sit, face to face, with our girlfriends or family to talk about BIG stuff or just laugh until our sides hurt. It's where we invite guests to come in and share our lives.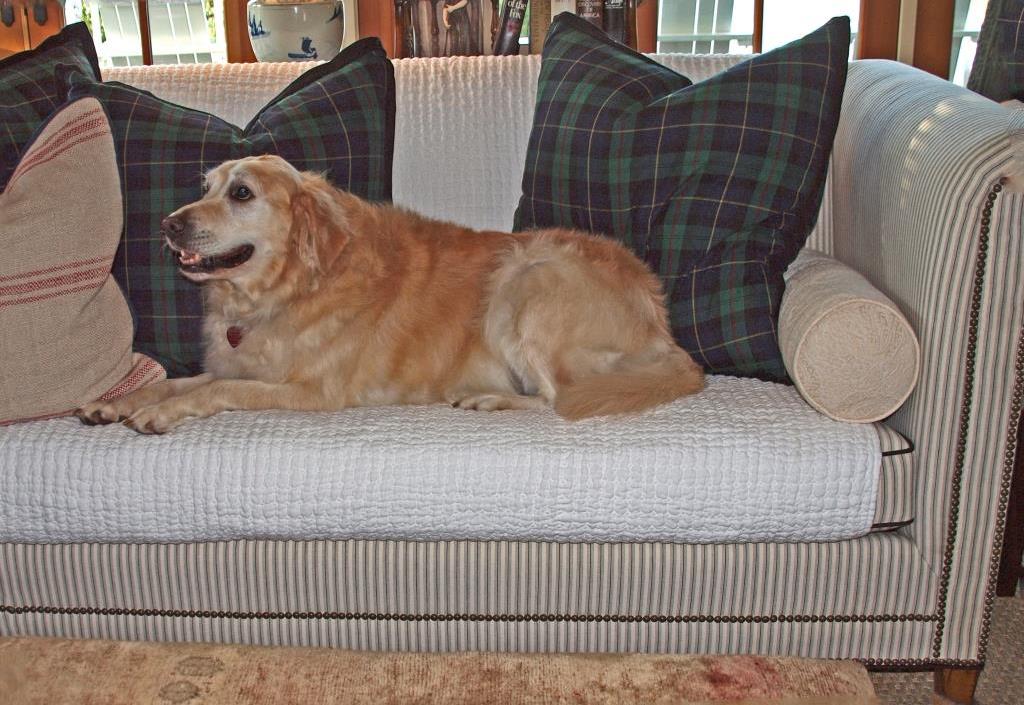 (And, it's where our pets sleep when we aren't looking! Our dog Lyric, caught in the act!)
Our sofas need to not only be welcoming and wonderful, they also have to look amazing, since they are often the focal point of the room. One of the most powerful, and simplest, ways to get a look that sends you over the moon is to finish your sofa with the right mix of accent pillows. It's the perfect way to give an old sofa new life, too. Kristen and Nichole, who head our fabric design team at Nell Hill's, played with pillows to create three distinct moods to inspire you.
Sophisticated … With a Splash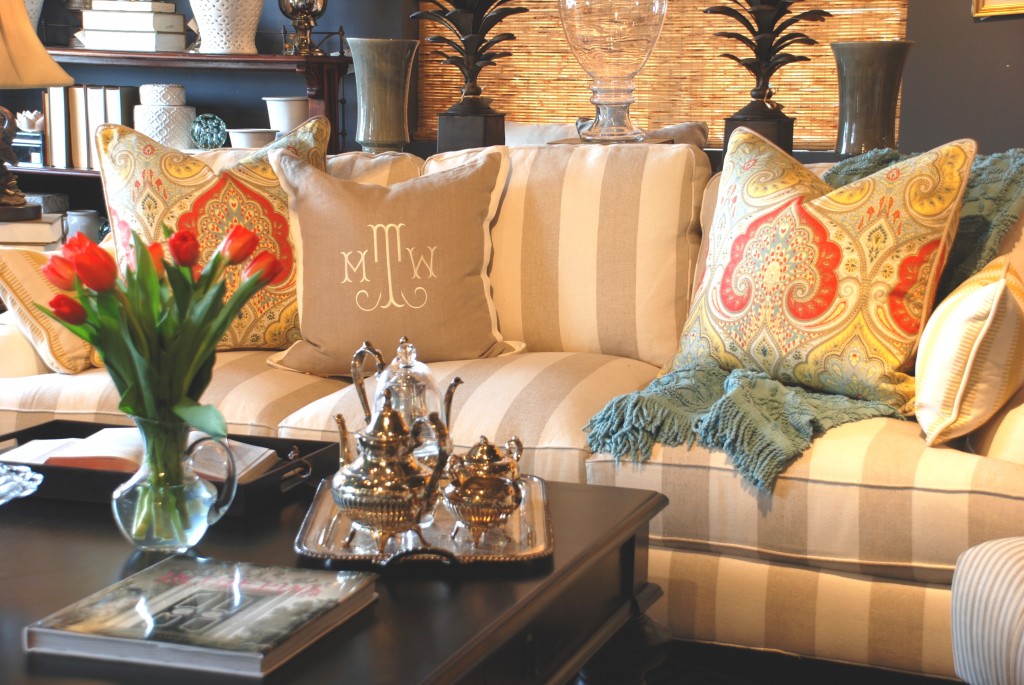 Kristen and Nichole picked this fun cream and tan sofa as our "blank slate" to show that even when your sofa has a pattern, you can still give it an entirely new personality just by changing your pillows.
Our designers used the sofa's muted color scheme as a jumping off point for this first look. They found a great inspiration fabric that allowed them to add new colors: a contemporary paisley that mixes up cream and tan with yellow, orange and blue.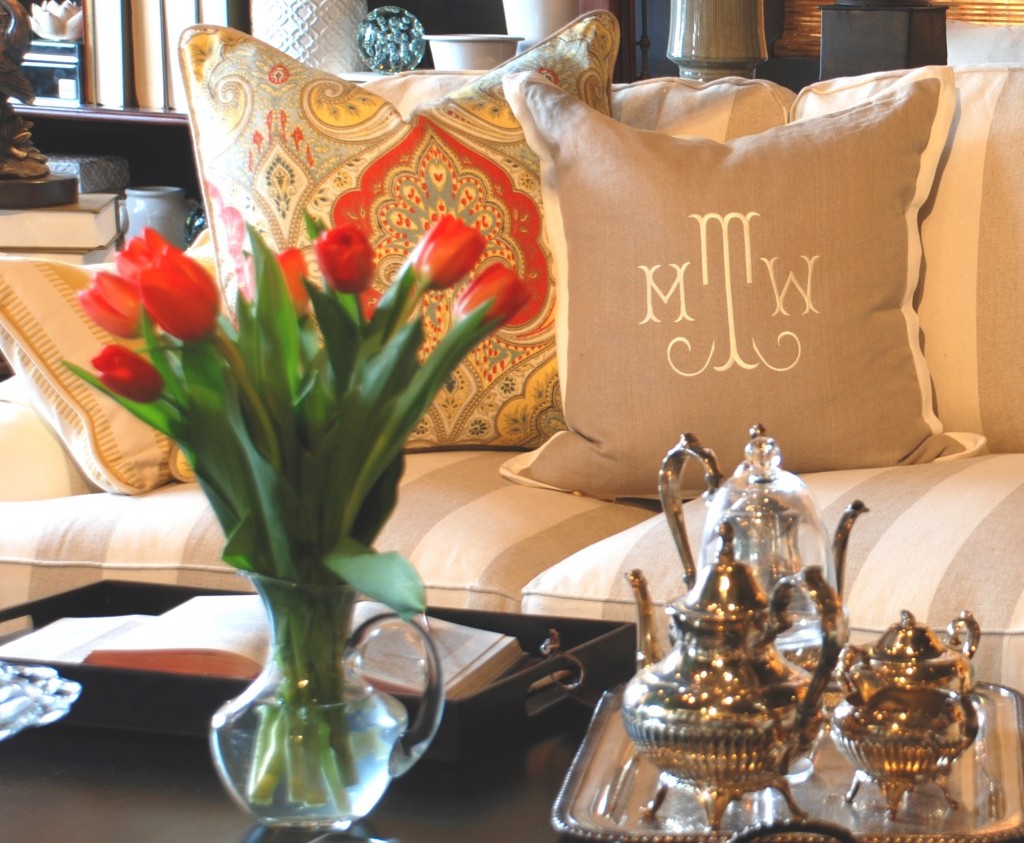 The pillow mix here is balanced, but asymmetrical. On each arm, they rested a lumbar pillow in a gold and cream stripe, corded in yellow. Our inspiration fabric pillows come next, propped in the corner where they are highly visible. The left side of our arrangement features a smaller square pillow in tan and cream, echoing the sofa's stripe, personalized with a monogram. Notice how the pillows are finished with different trims – this adds to the visual interest of the design.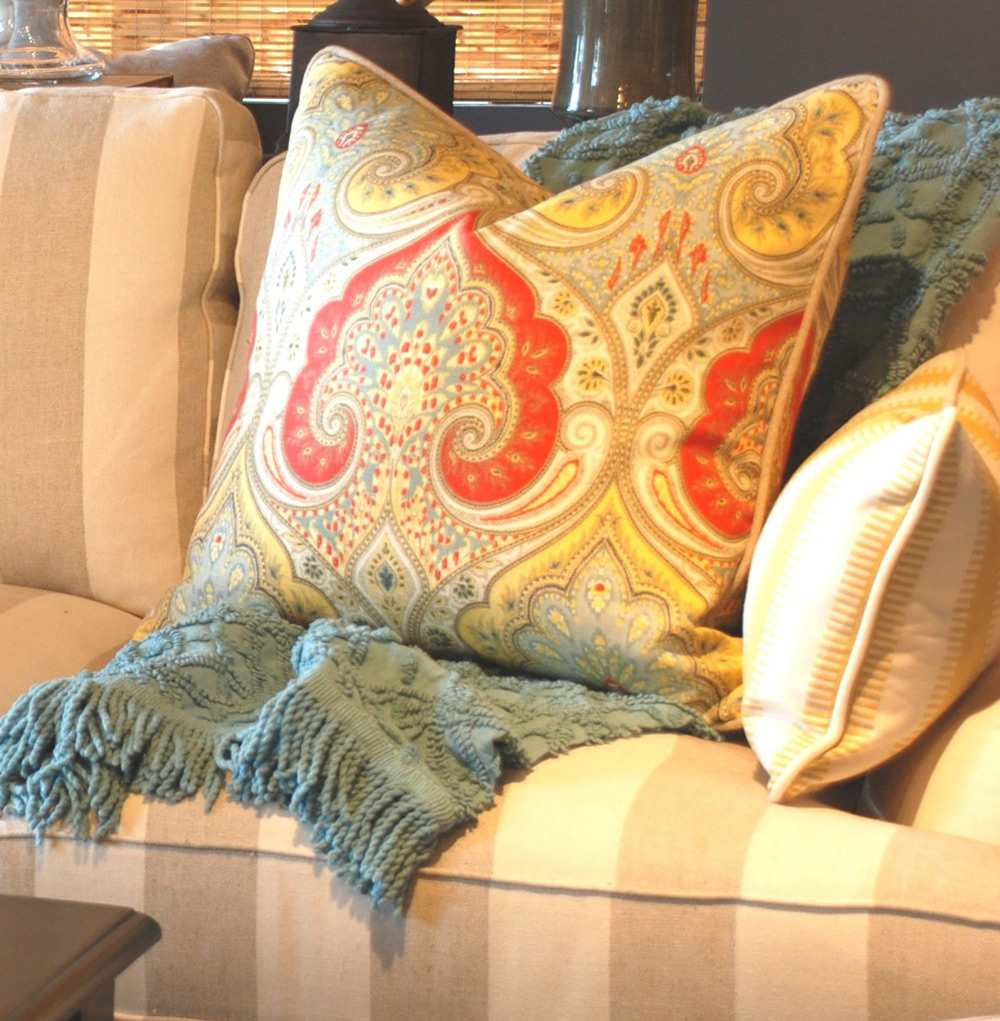 On the right side of the sofa, the designers draped a throw blanket that pulls out the blue in our inspiration fabric. Throws are an easy way to bring in an accent color and touchable texture.
Frolicking Fun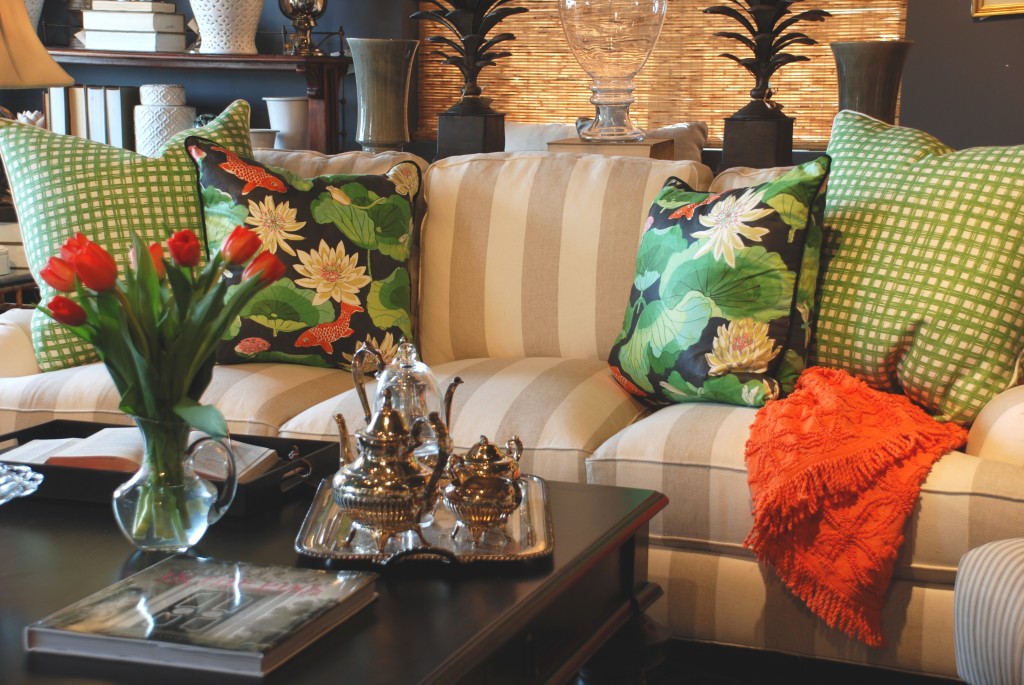 If you want to bring some of today's bright hues and exciting patterns into your décor, pillows are an ideal entry point. You get all the glorious energy, but none of the long-term commitment of upholstering furniture in a bold fabric. In this look, the stripes of the sofa add to the verve of this pillow play. But the palette of the pillow mix is completely different, illustrating that your pillow colors do not need to match the fabric on your sofa.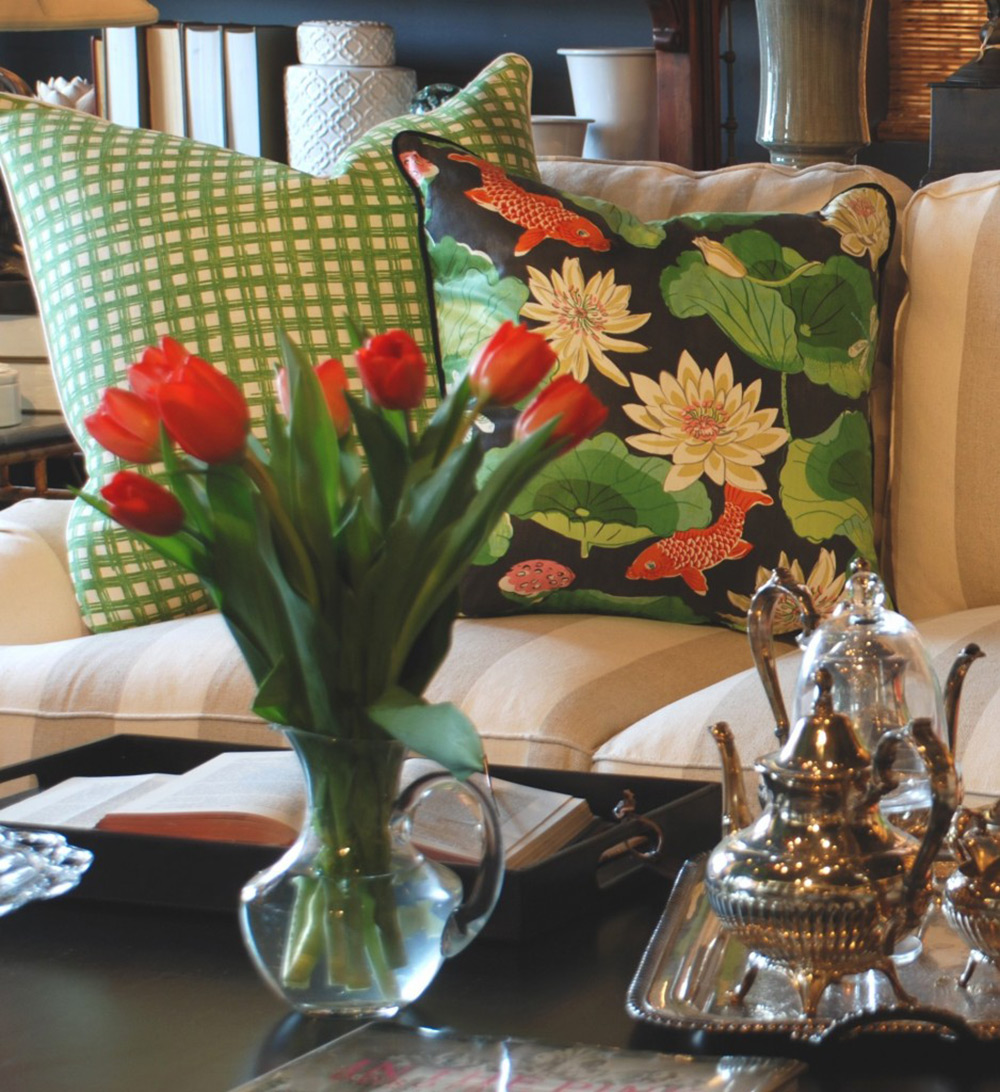 This pillow treatment is easy-peasy: two matched sets of square pillows. The larger pillow, in this re-invented green check, is the backdrop for the star of the show: this Asian inspired print featuring water lilies and koi fish. I'm crazy about this fabric and am using it on lots of beds and furniture at Nell Hill's this season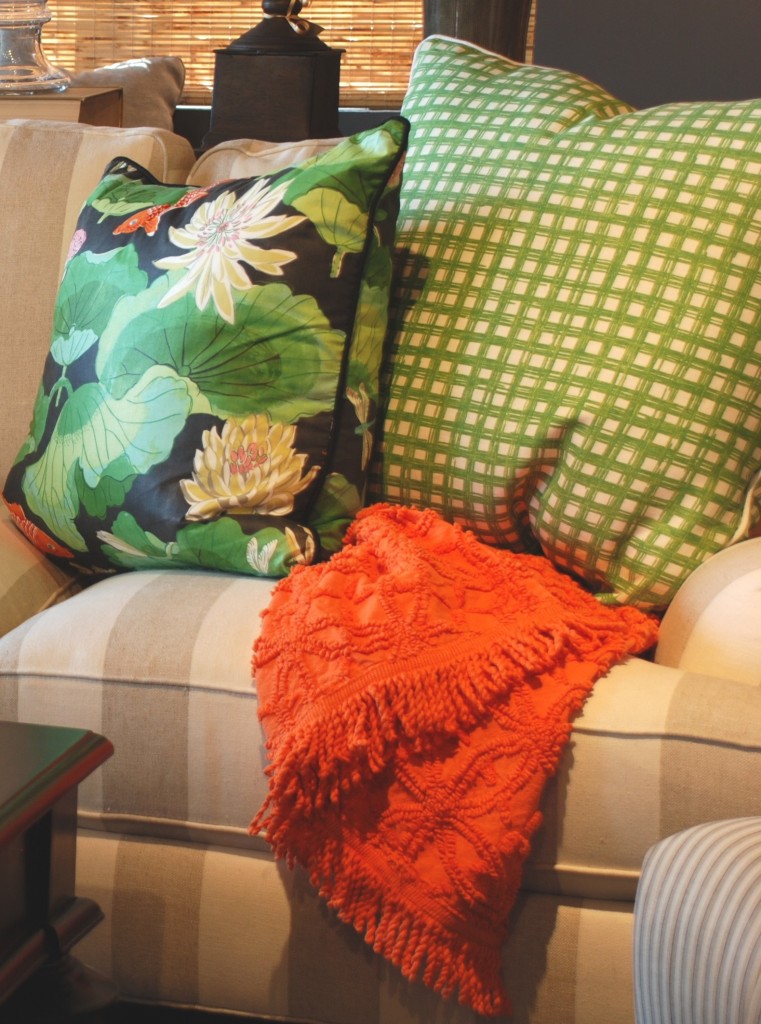 The designers teased out the touch of orange from the koi fish in our inspiration fabric and played it up with this irresistible throw blanket.
Restful and Refined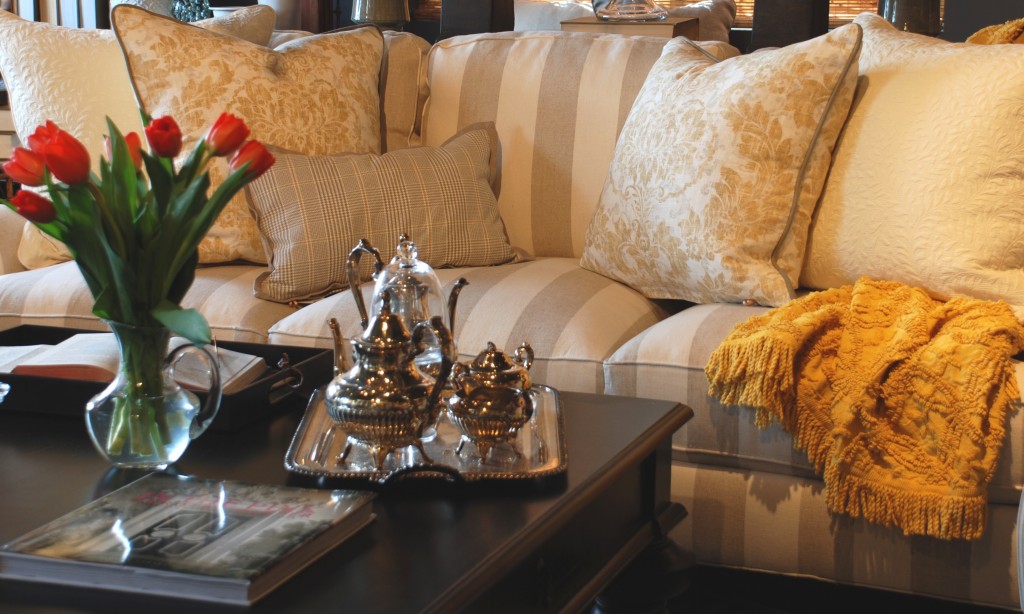 When I saw the peaceful tableau of pillows on this sofa, I just wanted to kick off my shoes and settle in. This sofa proves you don't have to pour on the color to make a dramatic statement. All you need is a fusion of textures and subtle shifts in tones.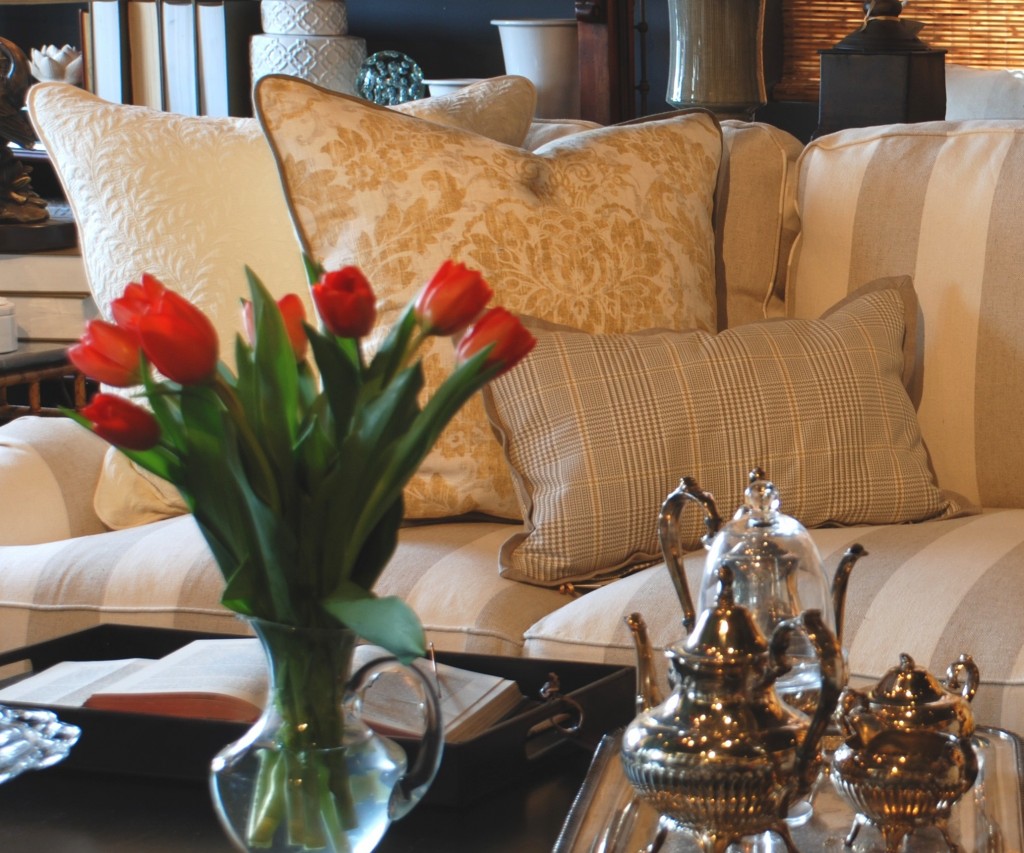 Like the other sofa treatments, Kristen and Nichole started with symmetry. A duo of square tone-on-tone cream pillows backs the gold and cream damask pillows. This wonderful menswear plaid rectangle adds a bit of interest. I'm crazy about menswear fabrics and love to mix them into furnishings and bedding ensembles.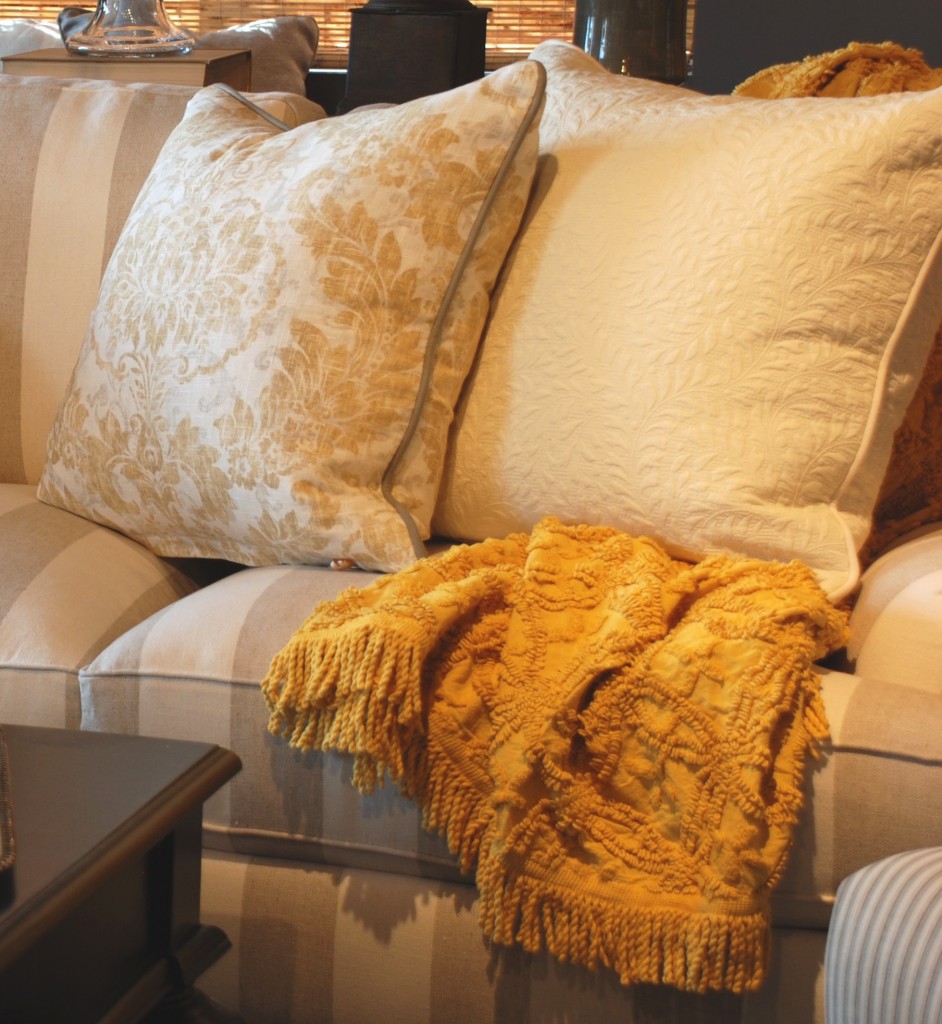 When designing your assortment of pillows, don't forget that mixing fabrics is just half the equation. You also need to vary the shapes and styles of pillows. When you do, experiment with pillow placement, like we have in these three examples. The designers finished off this dreamy sofa with a gold throw, which pulls out the gold in our damask pillows. Heaven!
Next Week… When I was in France, I learned that a wonderful meal isn't just about delicious food. It's also about the experience. So, I asked my friend, travel companion to Provence and gourmet chef Cheryl to share with you her secrets for turning a meal into a moment to treasure.