Every gourmet needs a groupie, someone who will give their culinary masterpieces the adulation they deserve, who will oohh and ahhh their way through each delicious mouthful.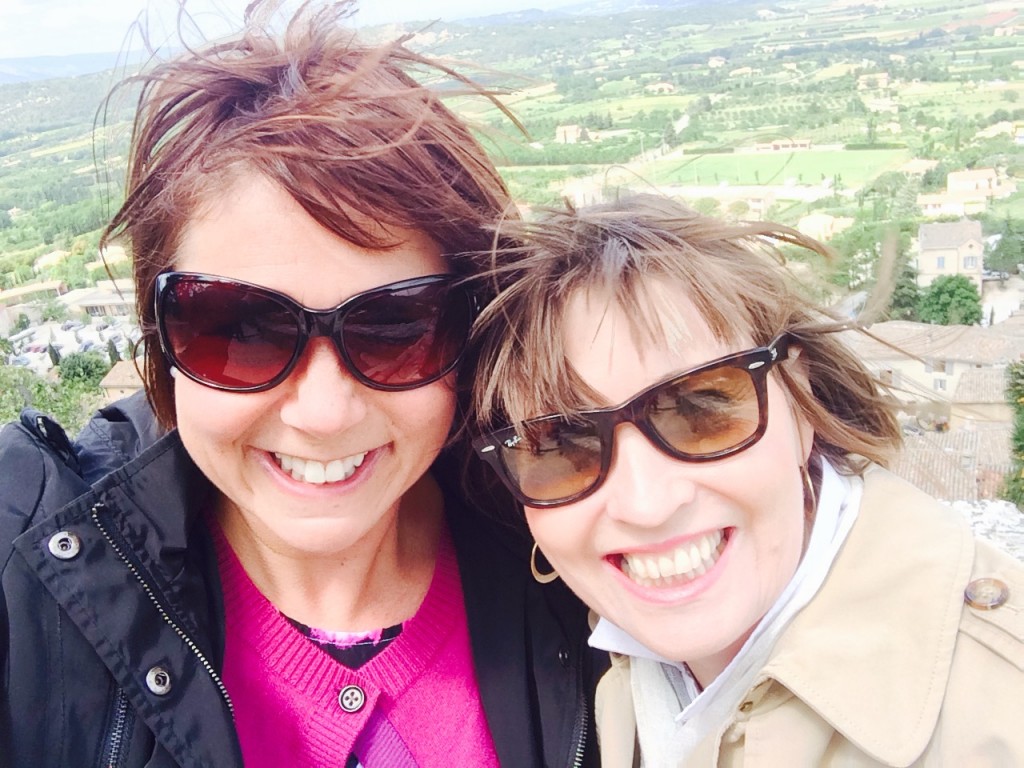 My friend Cheryl is my Top Chef, and while we were together in Provence, France, she lovingly prepared for us cuisine so marvelous it would bring tears to my eyes. As we spent many hours dining together, I learned that a wonderful meal isn't just about well-prepared food. It's also about the experience. So, I asked Cheryl to share with you her secrets for turning a meal into a moment to treasure:
1. Start with the best ingredients.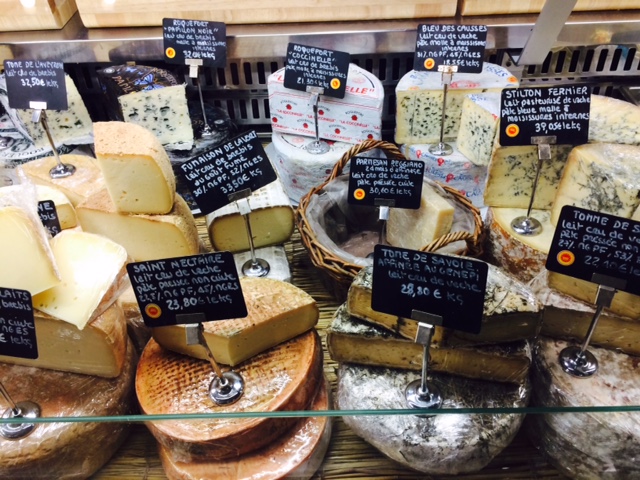 For Cheryl, a professional chef, our trip to France was like a holy pilgrimage. While everyone else was taking pictures of cathedrals, castles and countryside, Cheryl was cram-packing her phone's memory with photos of food. All the snapshots in this blog, in fact, are those she took.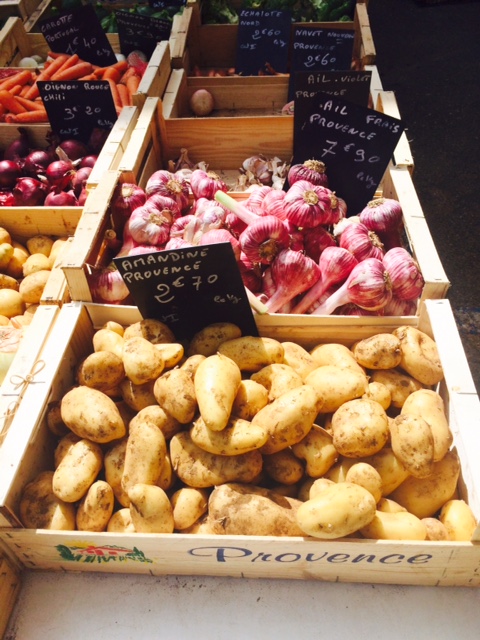 One of her favorite subjects was the fresh fruits, vegetables, cheeses and breads in the local markets in the country villages we visited.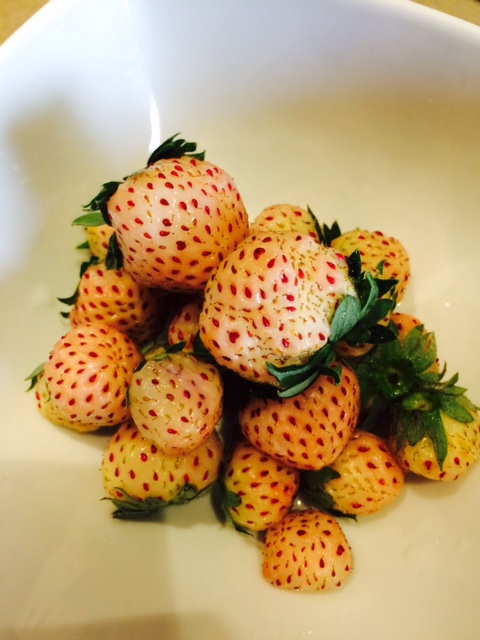 She couldn't help capturing their simple beauty because they are her first secret of a well-made meal: Use fresh, local ingredients. Cook what's in season, and prepare your food in a way that enhances, not masks, its flavor.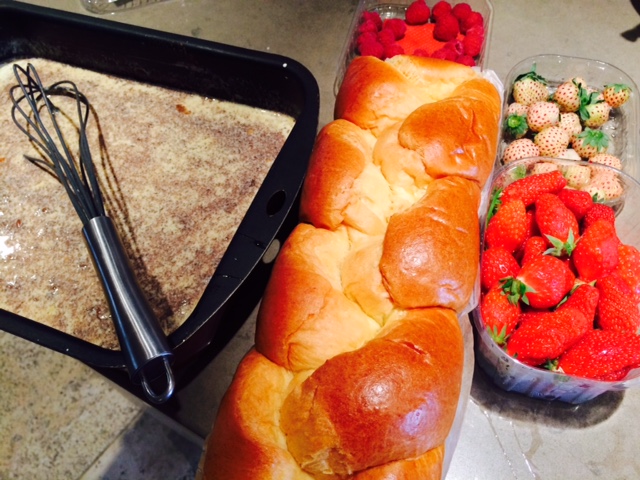 Every day, Cheryl would pick up choice ingredients at the market and come back to the villa, psyched to whip it into a meal for all of us. Here, she has the makings for French toast.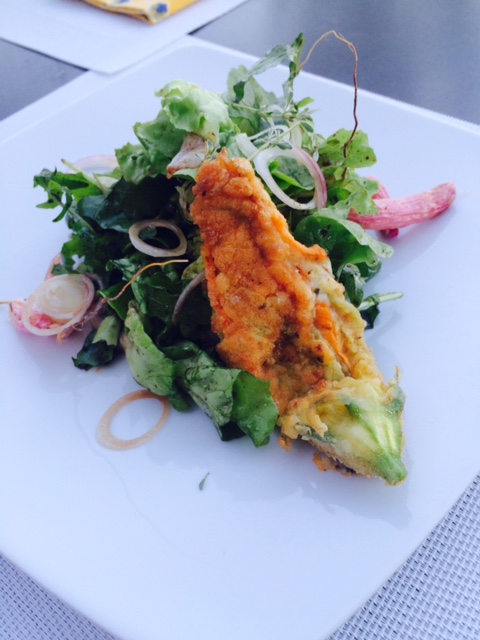 This lovely salad was one of my favorite things Cheryl made us. She discovered squash blossoms at the market that morning and decided to feature them in our dinner that night. She made the blossoms into a pouch filled with local cheeses, brushed them with an egg wash and flower, then lightly sautéed them. The blossoms added beauty and intense flavor to this salad of fresh greens.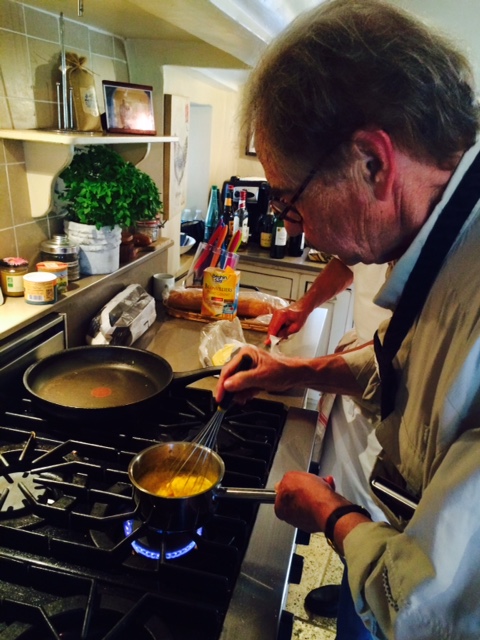 I can't boil water, so Dan is the chef in our family. Here, Cheryl has him mixing a lovely sauce for a meal.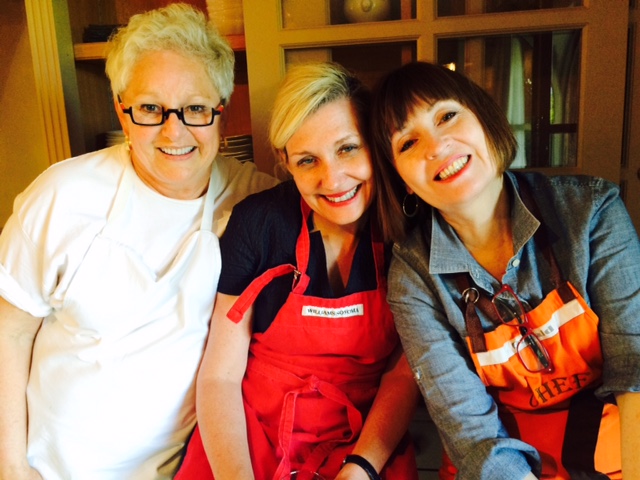 I wore an apron for show, because everyone knows my best contribution at meal time is to swoon over the cuisine!
Cheryl's Tips:
Whether you are planning a special event or just another weekday dinner, get fresh, local ingredients.
See what looks good at your farmer's market then plan your menu around it.
Shop every few days so your ingredients are always at their best.
Avoid processed or packaged foods.
If you can, get your bread at your local artisan bakery, cheese from a local cheesemaker, etc.
2. Let each course of your meal tell a story.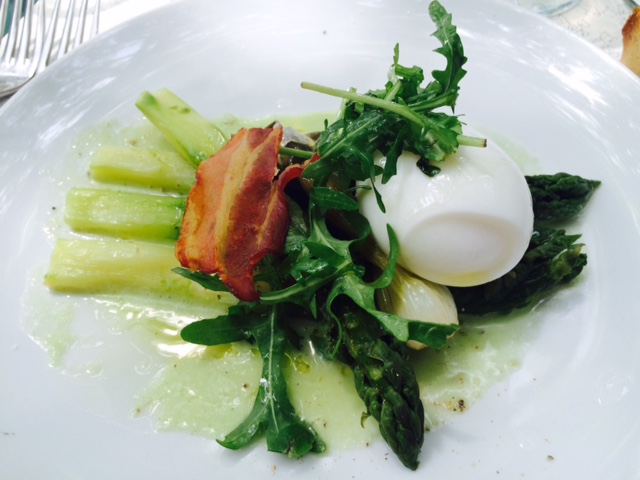 In my busy daily life, I often wolf down my meals, treating them more like an annoying interruption to my workday than a chance to be enriched, delighted, refilled. In France, we spent a LOT of time eating. And my attitude toward mealtime began to change.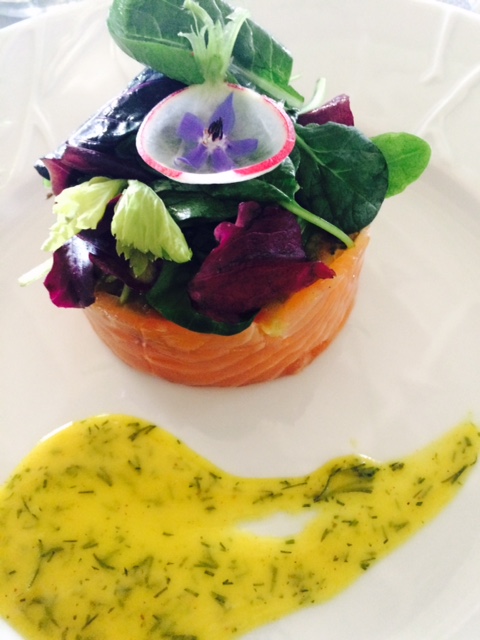 Each meal consisted of several small courses, sometimes a delicacy that was no more than a little taste. This experience was foreign to me, and taught me a wonderful new way to approach a meal.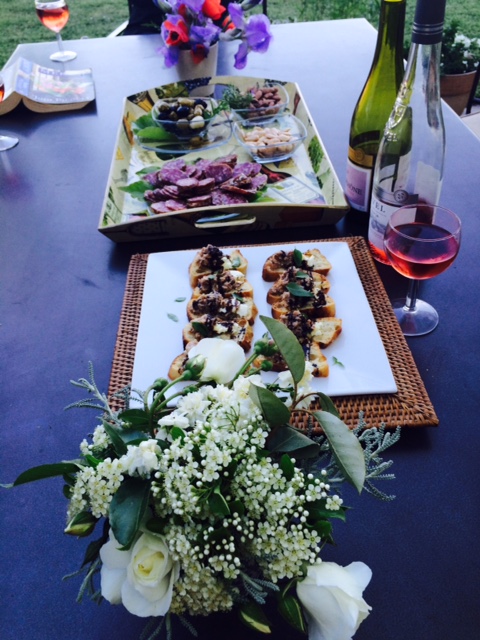 At one of our favorite restaurants, the chef sent out amuse bouche, "entertainment for your mouth." These little bites were no more than a taste, but they we divine and set the scene for the amazing meal to come.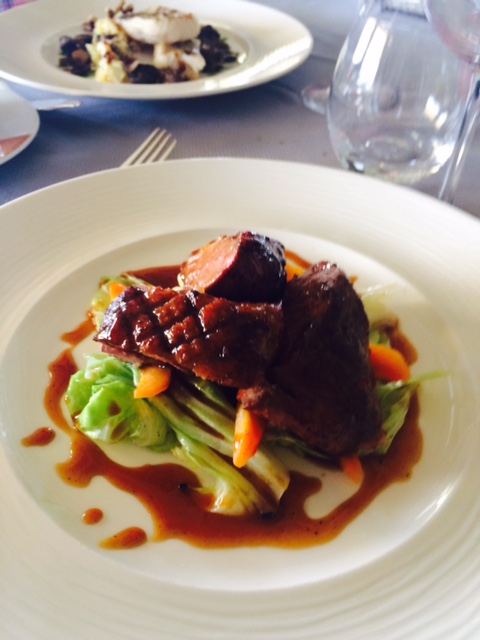 Then, each course was like a piece of art on a plate. The portions were small, but prepared perfectly, and presented sublimely.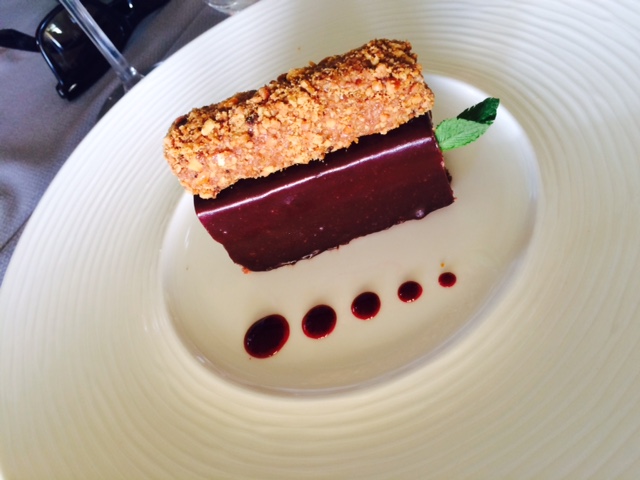 We noticed that despite the fact that much of French cooking uses fattening ingredients like butter and cheese, we did not see many people in France who were overweight. Perhaps this comes with small portions, savoring each bite, eating slowly. This is a big takeaway for me.
Cheryl's tips:
When you prepare your food, use ingredients that are visually appealing, like the squash blossoms on our salad.
Take time to create a beautiful presentation on the plate. Having a well presented plate is as important to the beauty of your table as a centerpiece, Cheryl said.
3. Make the table effortlessly beautiful.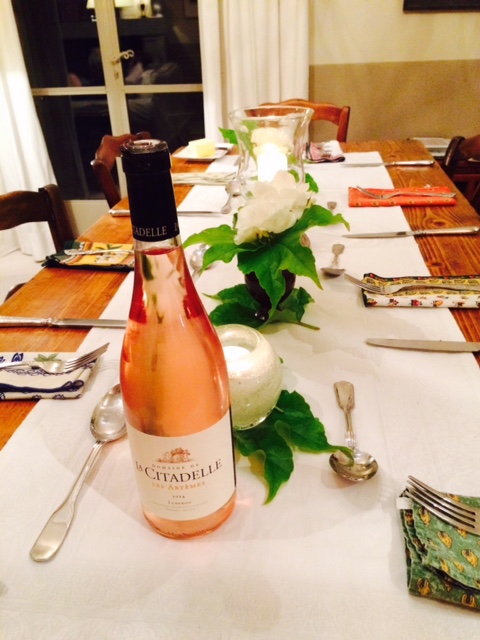 In the past, I have opted for big, showy tables when I entertained. I do love some drama at dinnertime! But in France, I fell in love with the simple beauty of a lightly set table.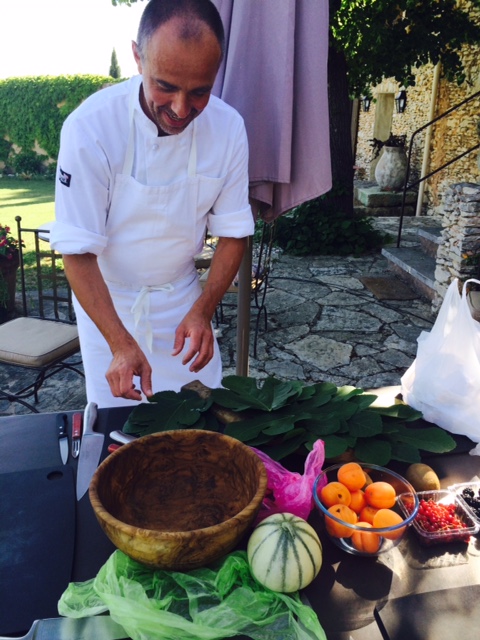 One night, we asked a local chef to come and prepare our meal. Chef Ron, pictured here, illustrated how easy it is to set a lovely table.
He wandered in the garden and snipped some roses and vines.
He twisted the vine lazily down the center of the table. He perched a single rose in a vase, then scattered petals willy-nilly around the table.
The final touch: the glow of an assortment of candles made this unassuming table transcendent.
Cheryl's Tips:
Always include a beautiful table treatment, but make it simple and unassuming, a lovely backdrop to the main event: sumptuous food.
Instead of a showy bouquet of flowers, snip blooms and leafs from your yard. My favorite is hosta leaves. But Cheryl loves to use twists of honeysuckle vines.
4. Take time for conversation.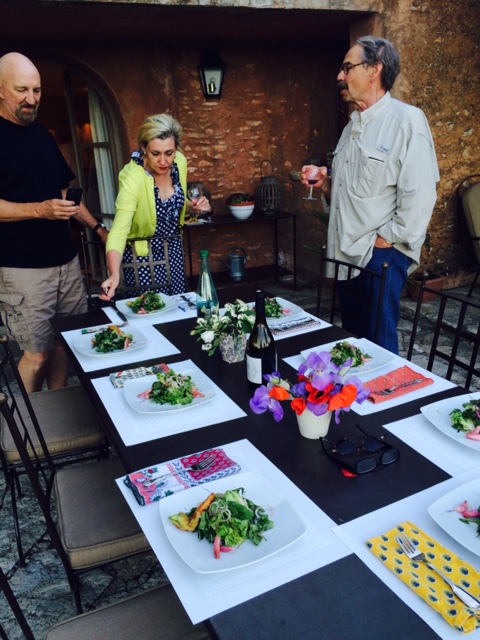 When you invite people into your home for a meal, you give them one of the greatest gifts possible. In our busy lives, taking the time to welcome folks into your home, set a magical table and prepare a home-made meal is a rare and wonderful event. Dan and I love to entertain for this very reason.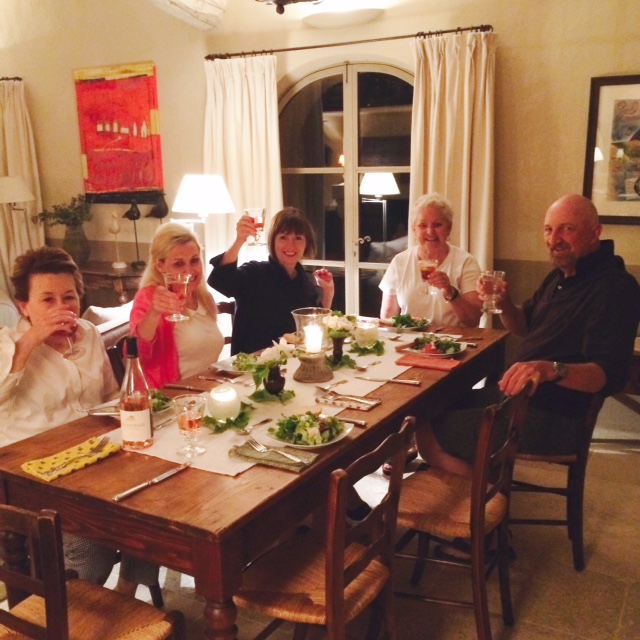 The meal is only the pretense for a chance to share life with others, to laugh until our sides hurt, to tell our stories, to knit ourselves together in one special moment. For me, that was one of the best takeaways from our long, leisurely meals in France: drinking in the people I love.
Cheryl's Tips:
When preparing your meal, don't get so caught up in the food prep and service that you don't fully enjoy your guests. Remember why you are doing this: to spend time with people you love.
Plan to linger long after the meal. If you are dining al fresco, dim the lights and stargaze. Have some throw blankets on hand if the night gets chilly.
To give everyone a reason to linger after the meal is done, promise a final treat to be served at the end of the evening, like Champagne and fine chocolates. You'll send everyone home with a smile on their faces!
Next Week … I love to help people turn their houses into homes, unique dwellings that reflect their personality. I'll take you into the home of a friend and share a few tips on how to make your home wonderfully yours.