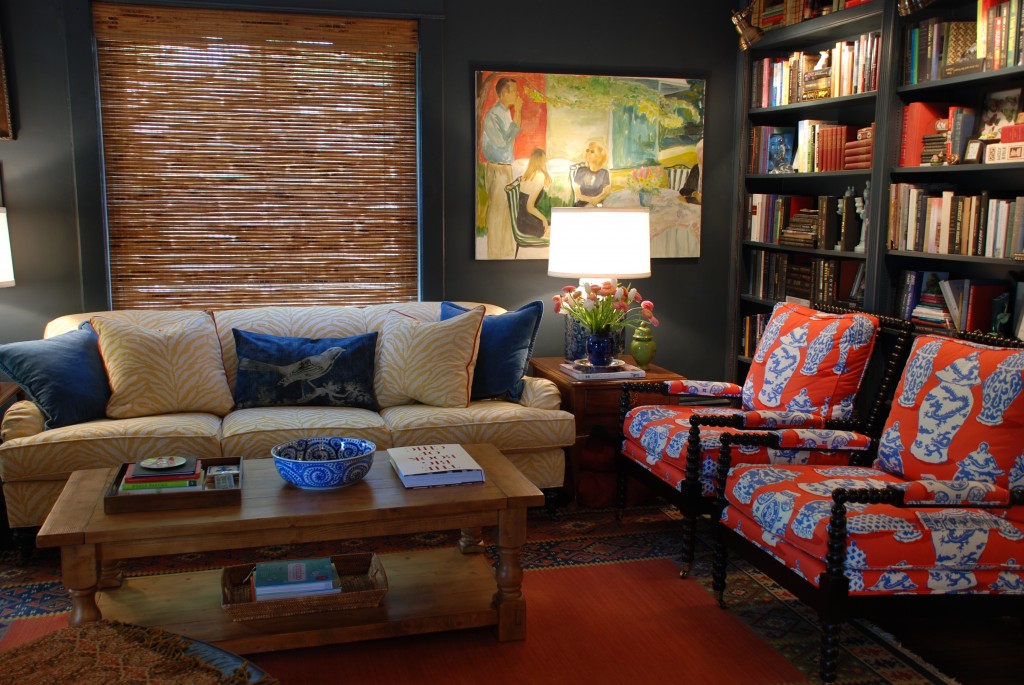 A favorite part of my job at Nell Hill's is helping customers turn their houses into homes, truly unique dwellings that reflect their personality. So when Ann arrived at Nell Hill's scouting for furnishings and inspiration to put her stamp on the historic home she and husband Wally had just bought, we were excited to help. I want to invite you into Ann and Wally's beautiful library because it is a great illustration of a Nell Hill's credo: Make your interior design personal. Here's how these homeowners did just that, and the results are stunning. Come on in …
Tip 1: Paint the Walls a Color You Love
Most of Ann's home is painted a bright and cheery white. But for her library, she wanted to go big in the drama department. So she painted every inch of this cozy space, from the walls to the trim, in Benjamin Moore's deep, dark, moody Lead Gray. The painters thought she was crazy, she said, and kept asking, "Are you sure you want everything painted gray?" But she has great color sense, and lots of confidence in her considerable decorating skills, so she stuck to her guns. I'm so glad she did, because the walls make this room feel like a present wrapped in beautiful paper.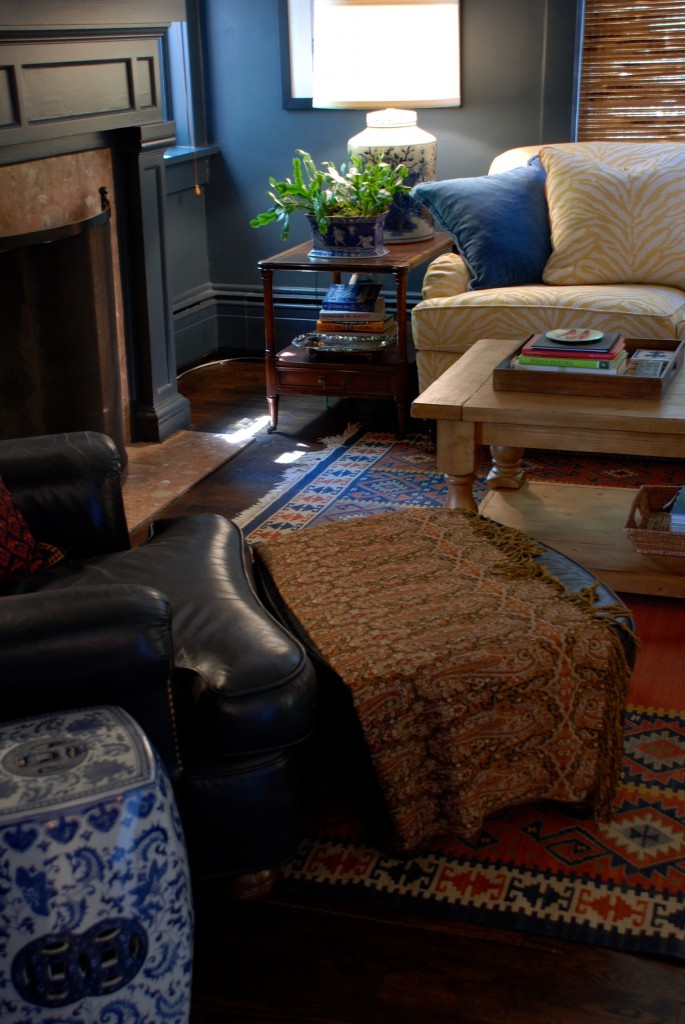 Picking a paint color can be really, really hard. A good way to zero in on the right hue for your room is to gather lots and lots of photos of rooms you love. You'll start to see a pattern in the wall color. When you find a color you like, paint test spots in different places in the room then watch them as the light changes through the day. If you like what you see, go for it!
Tip 2: Collect an Interesting Mix of Furnishings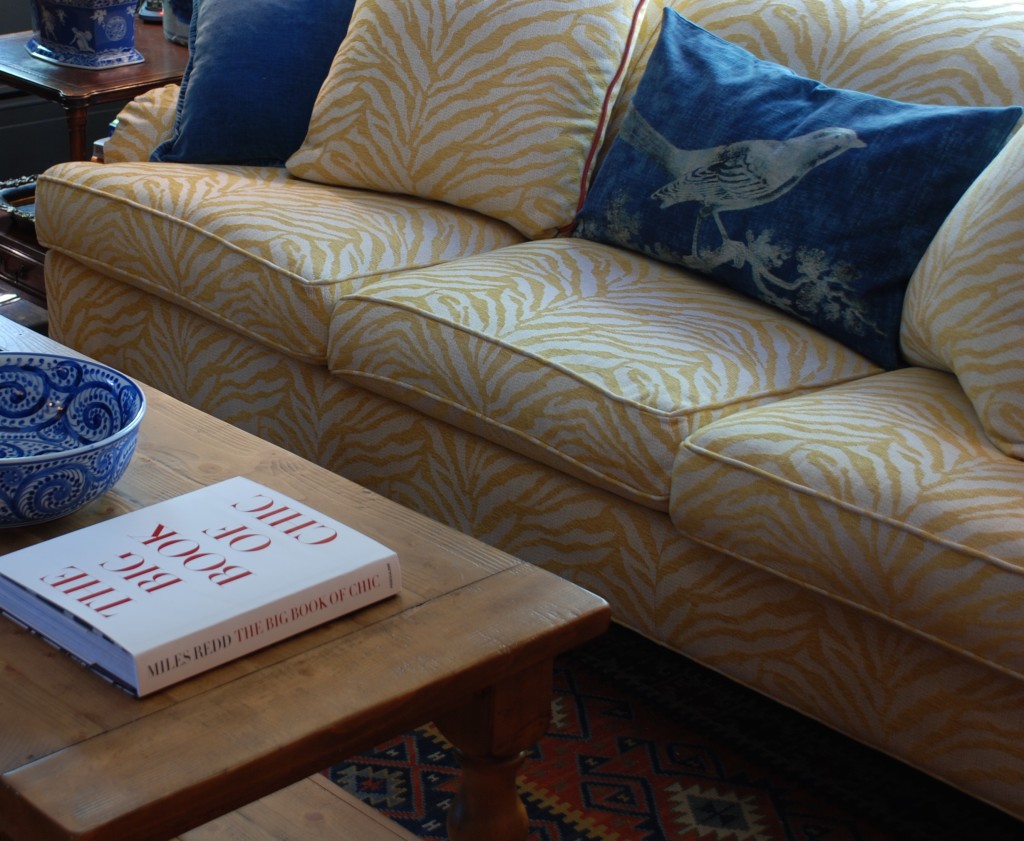 Some of you may recognize this wonderful sofa and set of spool chairs from Nell Hill's. Ann knew she wanted colorful furniture in her library, to pop against her gray walls. When she walked into Nell Hill's and saw this collection, it was love at first sight. The new upholstered pieces blended perfectly with the leather chair and accent tables she already owned. I really like how this space is filled with a wide assortment of furnishings, in a variety of styles and finishes. My favorite spaces look like they have evolved over time.
(Now through July 15, all upholstered furniture at Nell Hill's is 20% off! This wildly popular semi-annual sale is the perfect time to get the beautiful upholstered furniture you'll love for years to come.)
Tip 3: Weave in Your Treasures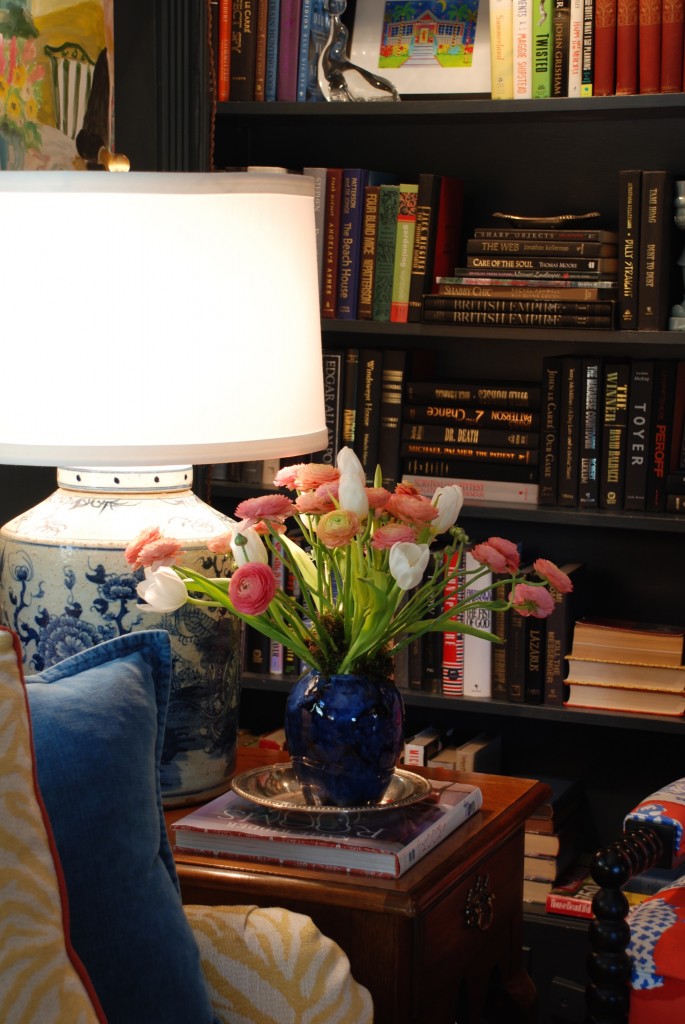 When Ann and Wally moved into their home, she had boxes and boxes of treasures she had received from family members or collected through the years. But she wasn't sure how, and if, she wanted the items used in her daily décor.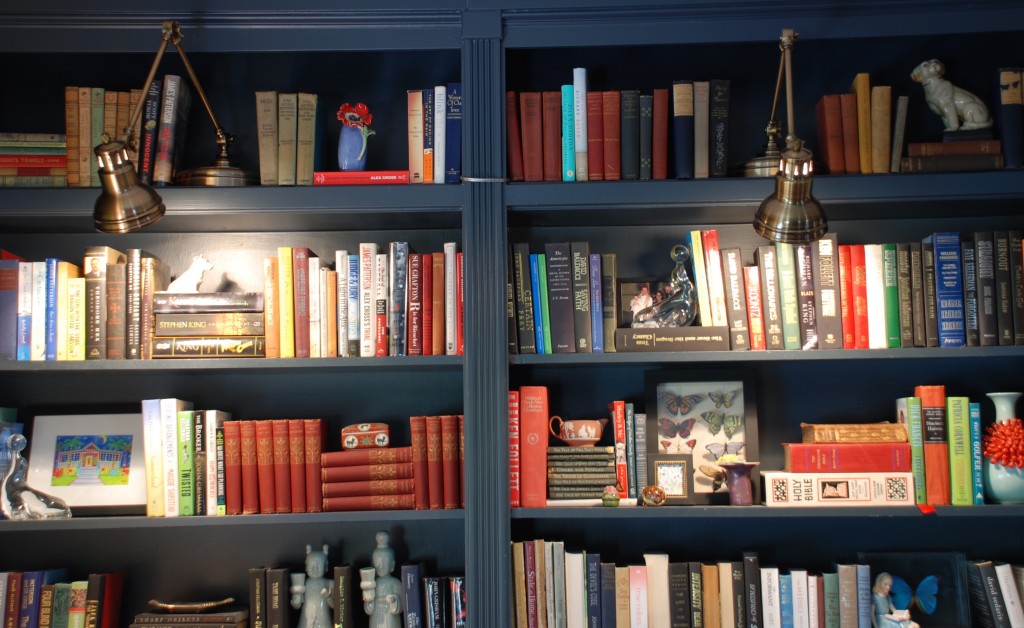 Enter Zakk, one of our associates at Nell Hill's, who works with customers on personalizing their décor. Zakk offered a fresh eye, killer design sense and some cheer-leading to Ann as she put her family's stamp on their home. "I probably would still have a lot of this stuff in boxes if it wasn't for Zakk," Ann laughs. Zakk helped Ann turn her walls of bookshelves into an arresting showcase, a stage for some of the accents she loves most.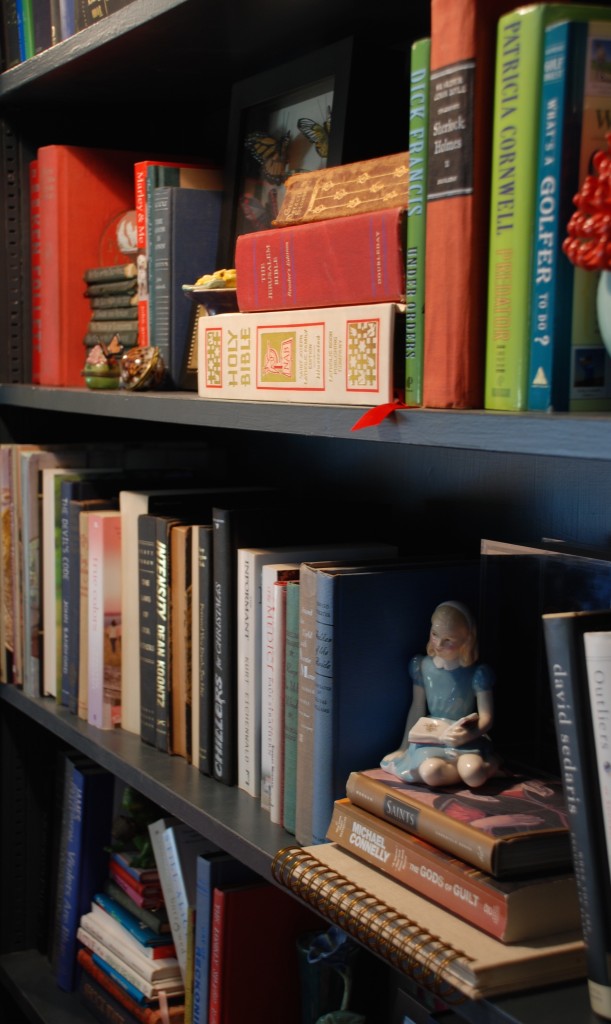 One of Zakk's tips: Work a few pieces of your collections into your displays. He discovered a box packed full of Royal Dalton figurines given to Ann by her grandmother, so he dotted them in here and there.
What can you weave into your displays to make your home more personal? Mementos from your childhood? Vacation souvenirs? Family heirlooms? These special touches tell your life's story and make your home truly unique.
Tip 4: Finish with Distinctive Artwork
A room isn't finished until its walls are filled with wonderful artwork. Art, whether it's paintings, photos or interesting objects like old trays or platters, pulls everything together and makes a space truly personal. Ann and Wally are lucky enough to have a number of family pieces, including original art painted by Wally's late sister, to add to the artwork they have collected through the years. This wonderful painting, done by Wally's aunt, is of Wally, Ann and other family members, gathered together for a wedding.
Next Week … I am starting a new monthly series for my blog I am so, so excited about it! Welcome to Innisfree: My Cottage by the Lake will feature my little lake home, how I decorate through the seasons, entertaining and special events. I can't wait to share this part of my home and life with you every month!