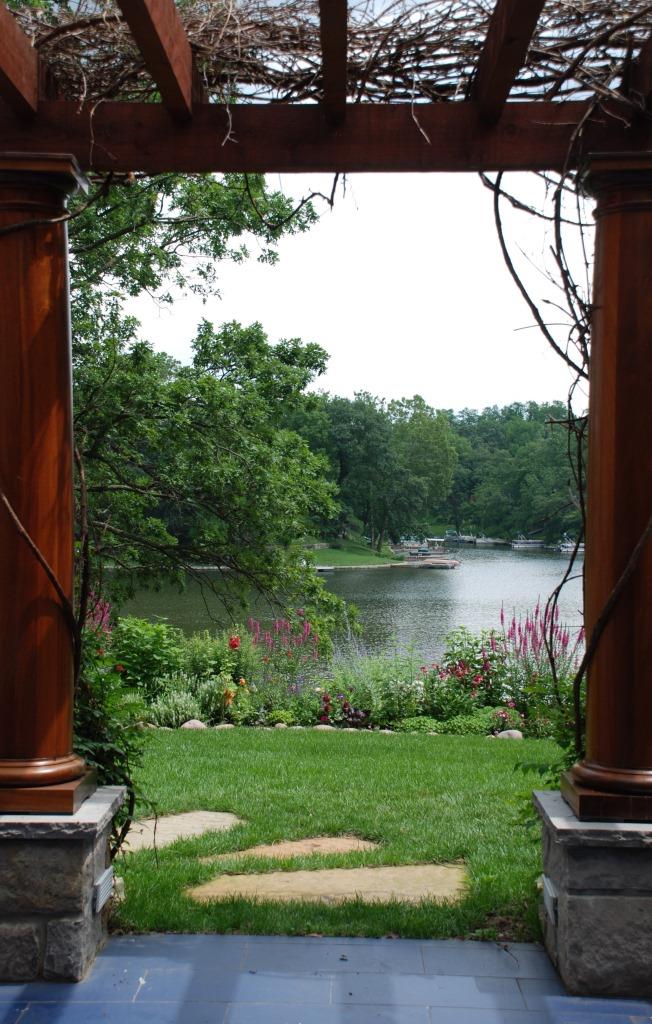 A New Kind of Open House
When we lived in our historic Greek Revival home in Atchison, I loved to have seasonal open houses, welcoming guests to tour my home and garden. Nell Hill's visitors have told us they miss the home tours and have asked if we will do them again at my new cottage on the lake.
Since my little nugget of a house is suited more for intimate gatherings, and my new neighbors would begin to hate us if we held an event of this kind in our sleepy community, I'm going to invite you into my home in a new way.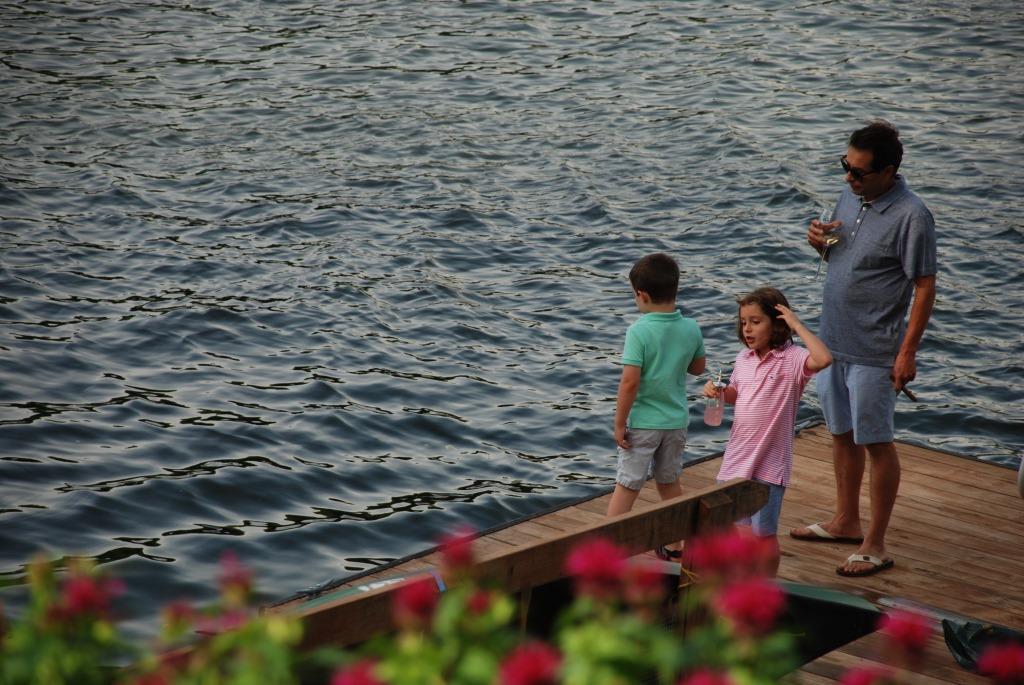 Once a month, join me in my cozy cottage, to linger for a while as we talk about decorating, entertaining, life. I've named this special feature "Welcome to Innisfree: My Cottage on the Lake," after our home, which we call Innisfree, inspired by Dan's favorite poem by W. B. Yeats, "The Lake Isle of Innisfree."  I hope you will join me, and share our quiet life on the pond in the coming year.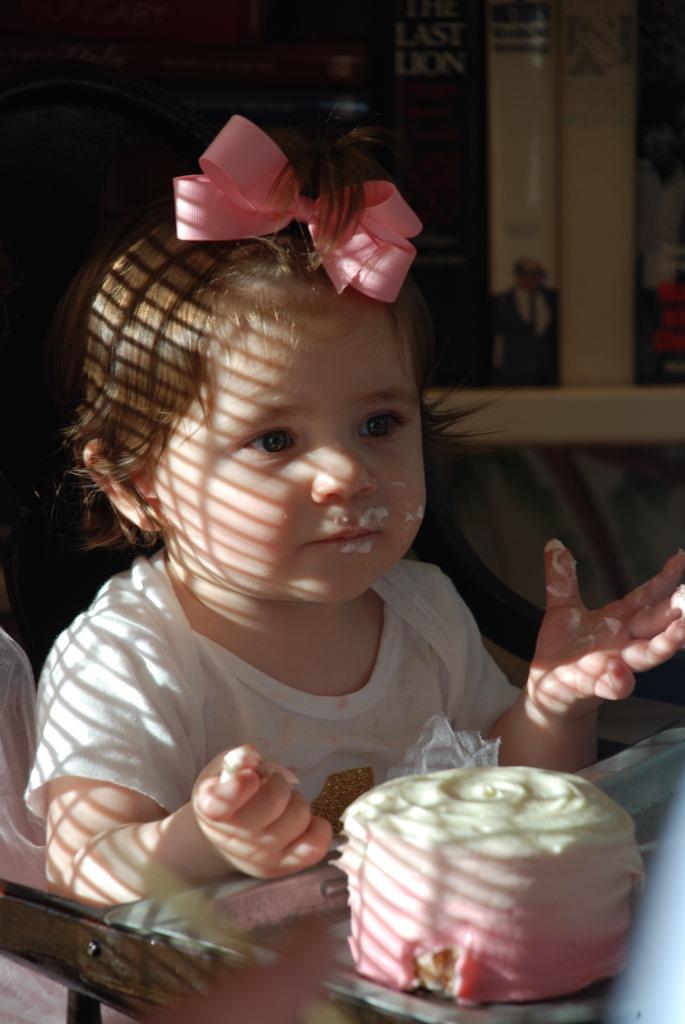 July: Maeve Turns 1!
Entertaining outdoors during the summer is lots of fun, so when our daughter Kelly asked if we would host our granddaughter Maeve's first birthday party, I said yes faster than a toddler can stick her hands into her birthday cake.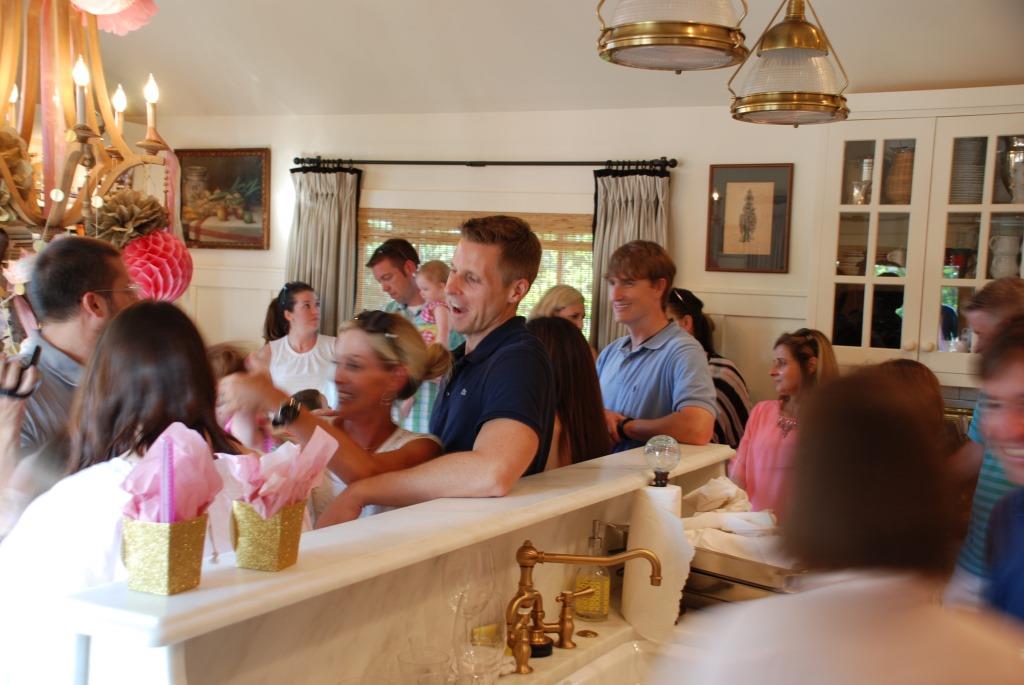 We really enjoy filling our home with friends and family. Kelly took care of the guest list, inviting a few of her and Britt's closest friends.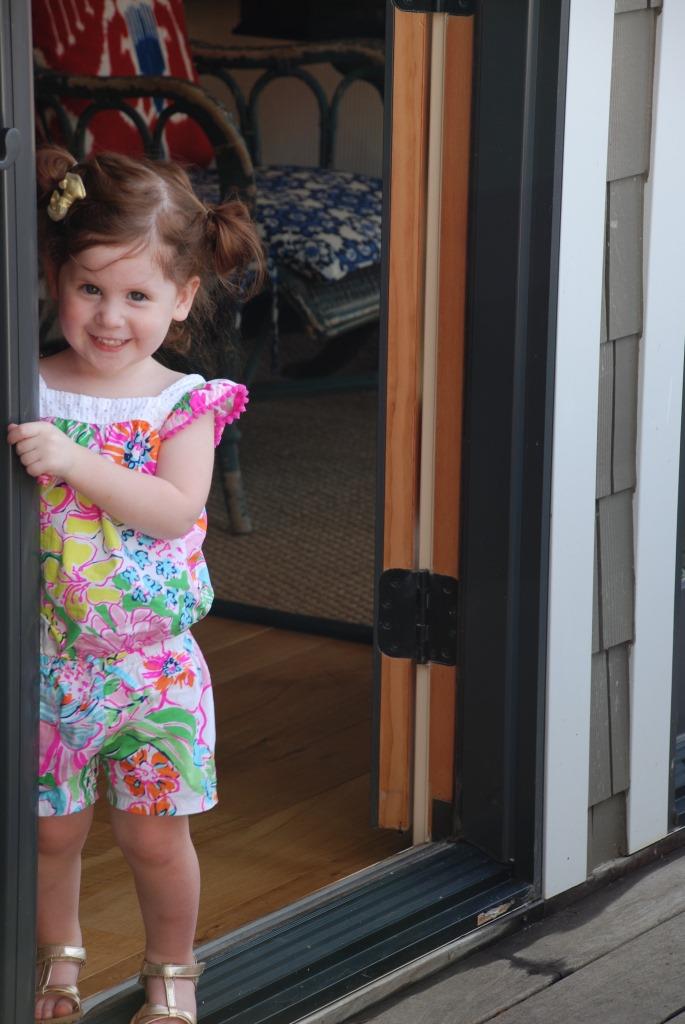 It was fun to have our home packed full of families, with kids running pell-mell throughout.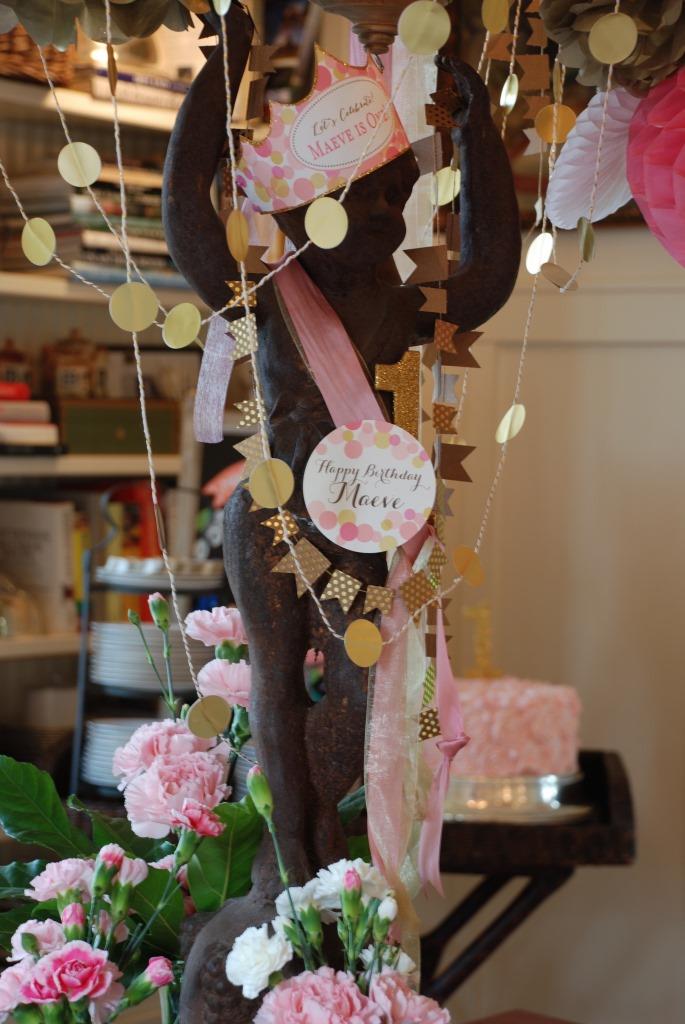 On my to-do list was decorating the home in Maeve's favorite color: pink, pink and more pink. My friend Rebecca created beautiful party goods, which we used to festoon the rusty garden statue I keep on my dining table.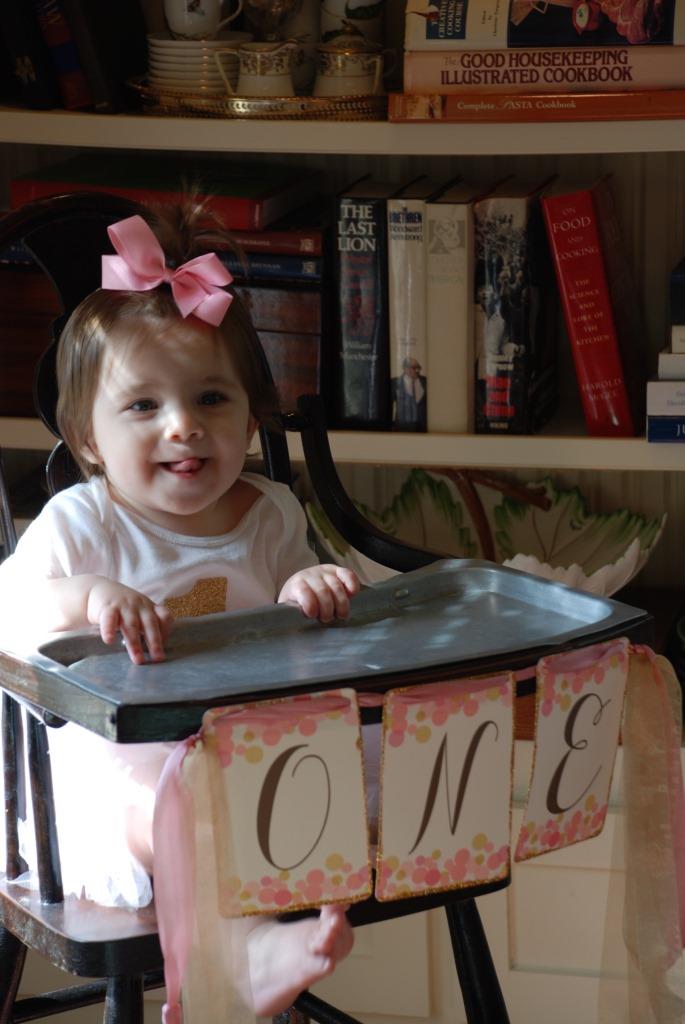 She designed personalized labels for the water bottles, a crown for the birthday girl and flag banners we used throughout the home. This one, hung on the front of the high chair that was Dan's when he was a baby, let everyone know just how old the guest of honor was. That's all we needed – just a few festive touches, here and there, and the decorating was done.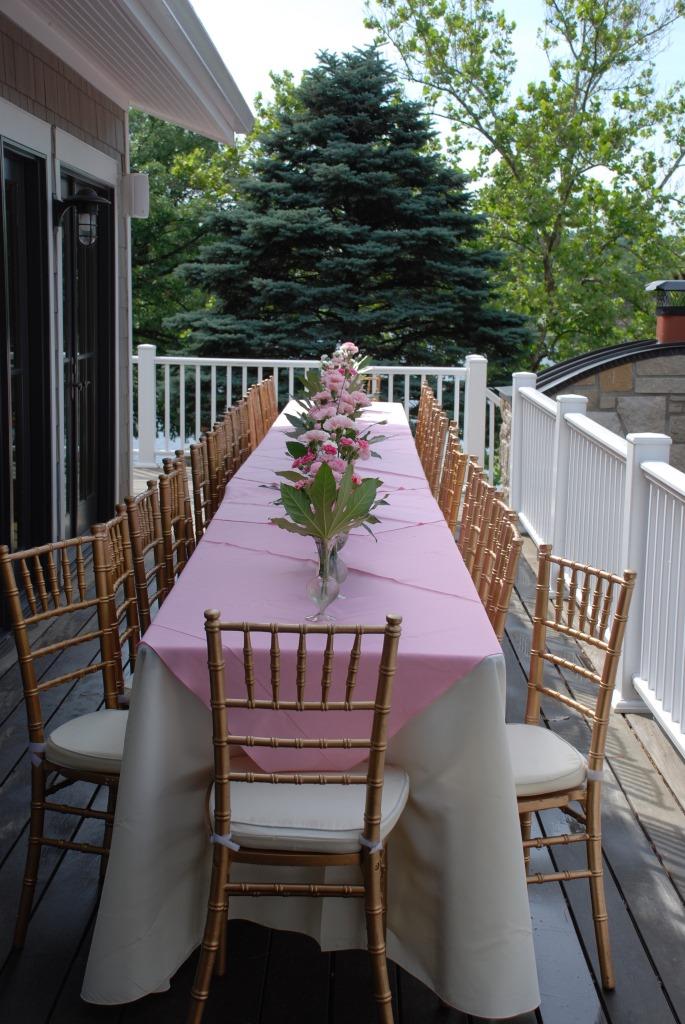 Since we don't have much room indoors any longer, Dan and I have had to change how we entertain. To make way for more folks, we throw open the French doors in the living room and dining room, so guests can spill out onto the deck. We moved the row of Adirondack chairs, which usually sit here, down by the lake to make way for a dining table, where the children could eat.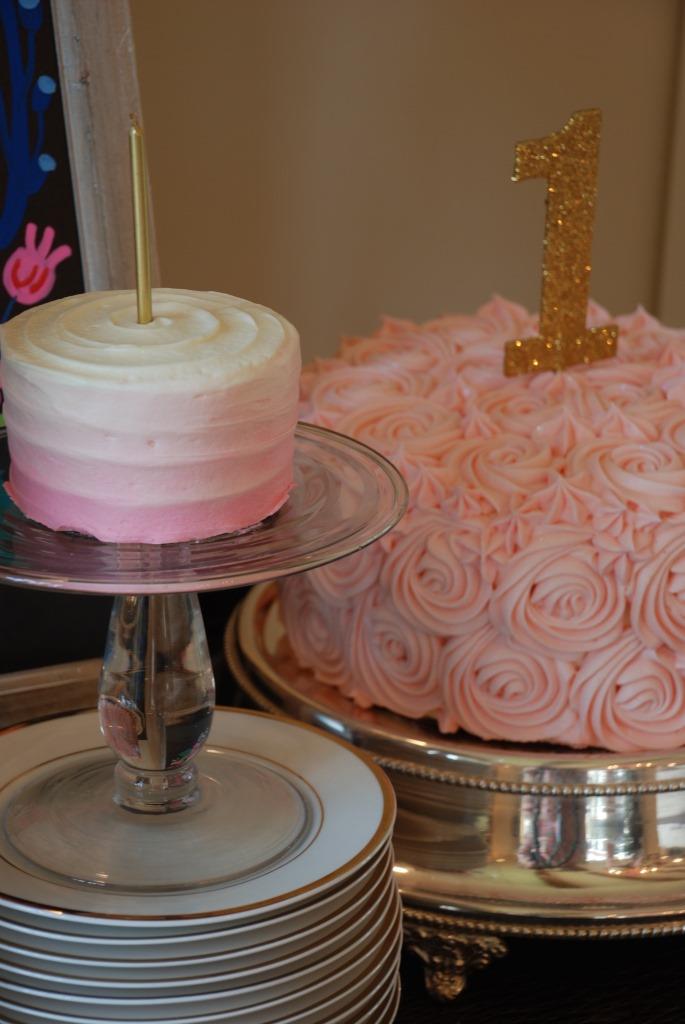 Dan and I were also in charge of food for the event. Since I hate to cook, that means pulling out my phone and calling a caterer! I ordered scrumptious food from Trezo Mare, one of my favorite restaurants next door to Nell Hill's Briarcliff, and from the French Bee Bakery, a sinfully good bakery owned by a dear friend.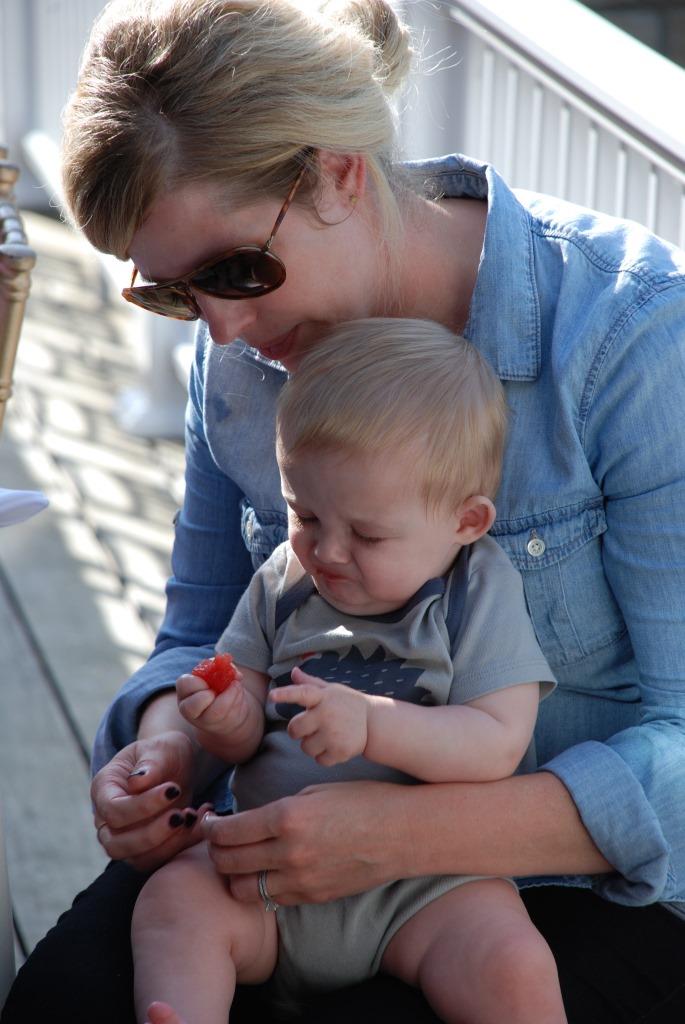 Nothing says summer like watermelon. But this little guy wasn't quite so sure he liked the taste!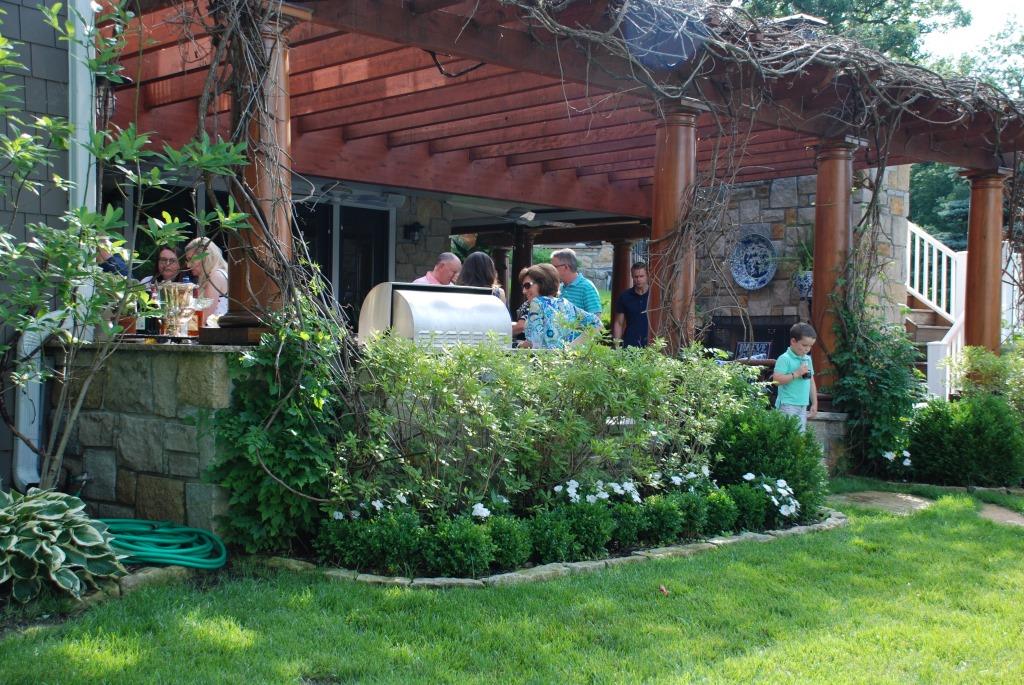 When Dan and I entertain in the warm months, we use our patio, equipped with a grill, fridge, storage and comfy seating. This is one of my absolute favorite spots in my new home, reminiscent of the treasured screened porch at my Atchison home.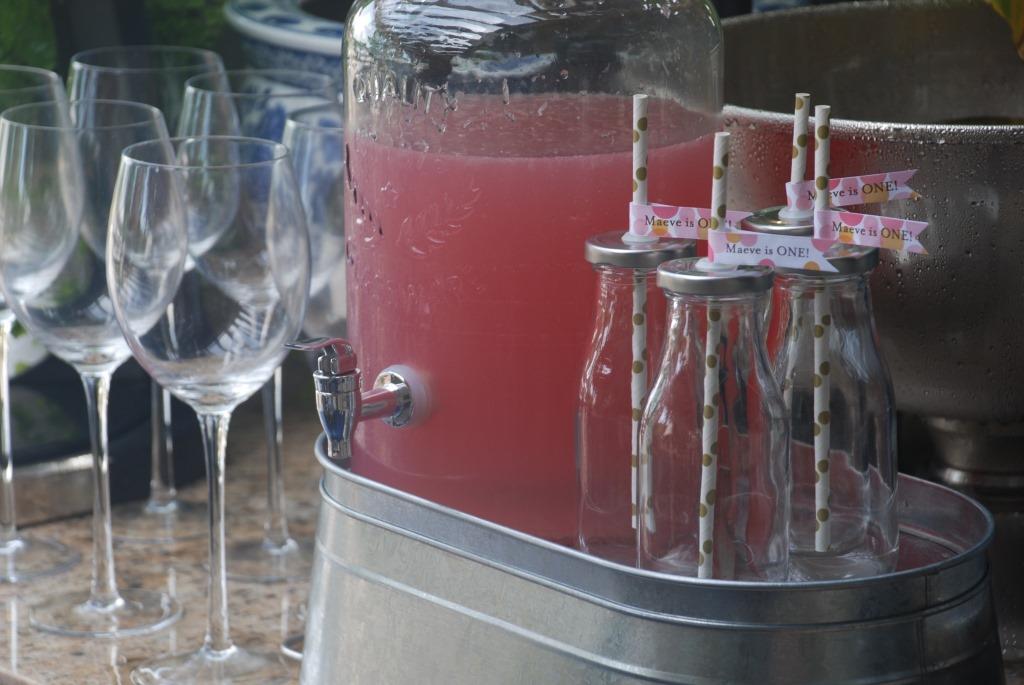 We set up a drinks service on the deck. This vintage looking urn from Nell Hill's had just the right vibe for our picnic on the lake.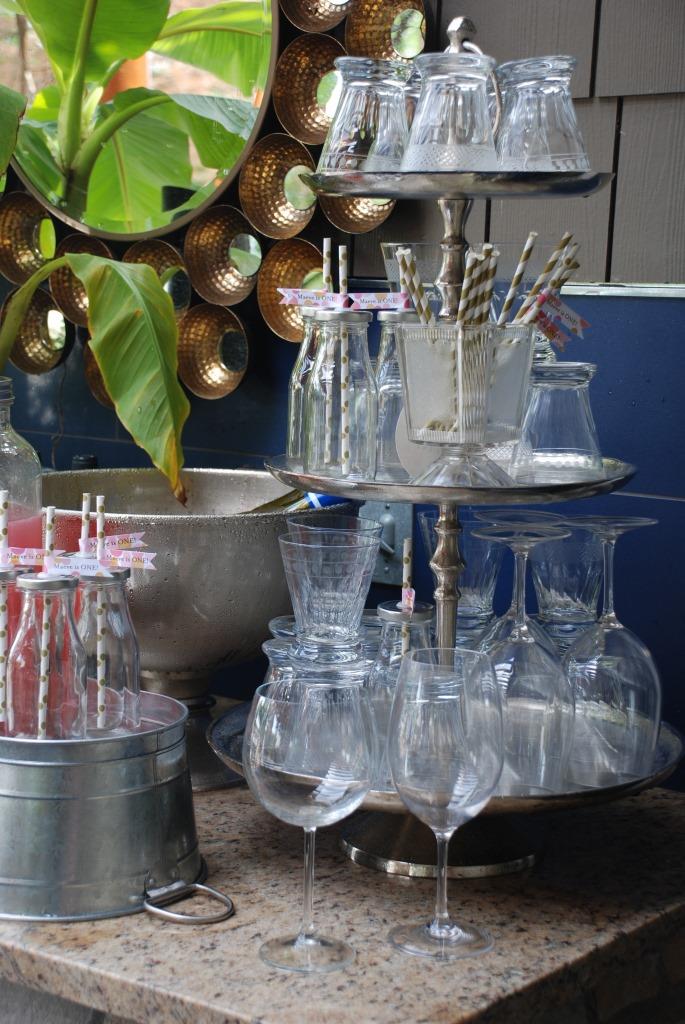 A trick to making your food and drink displays more dramatic is to use risers to add visual height. I use this tiered server over and again when I entertain because it's so versatile. Here, it's stacked full of glasses. But, somehow, it looks like a work of art.
Here's the same trick with the cake service. I own a lot of tiered servers because they are a cornerstone of my decorating.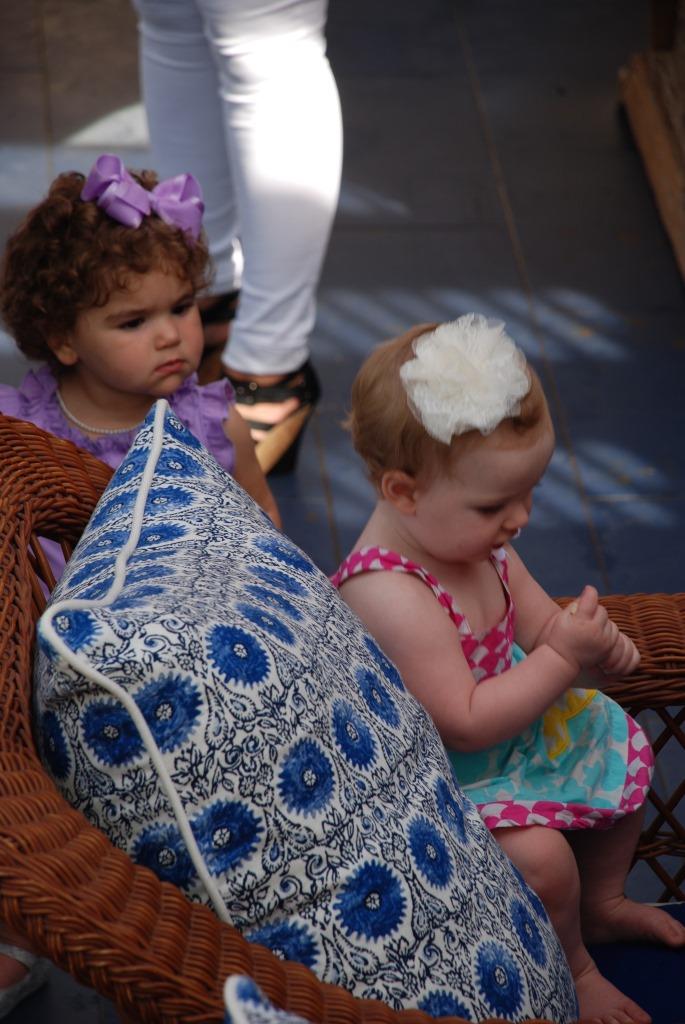 One of the beauties about entertaining on the patio is, messes don't matter. When we designed the patio, we picked a blue tile that can take anything little guys dish out.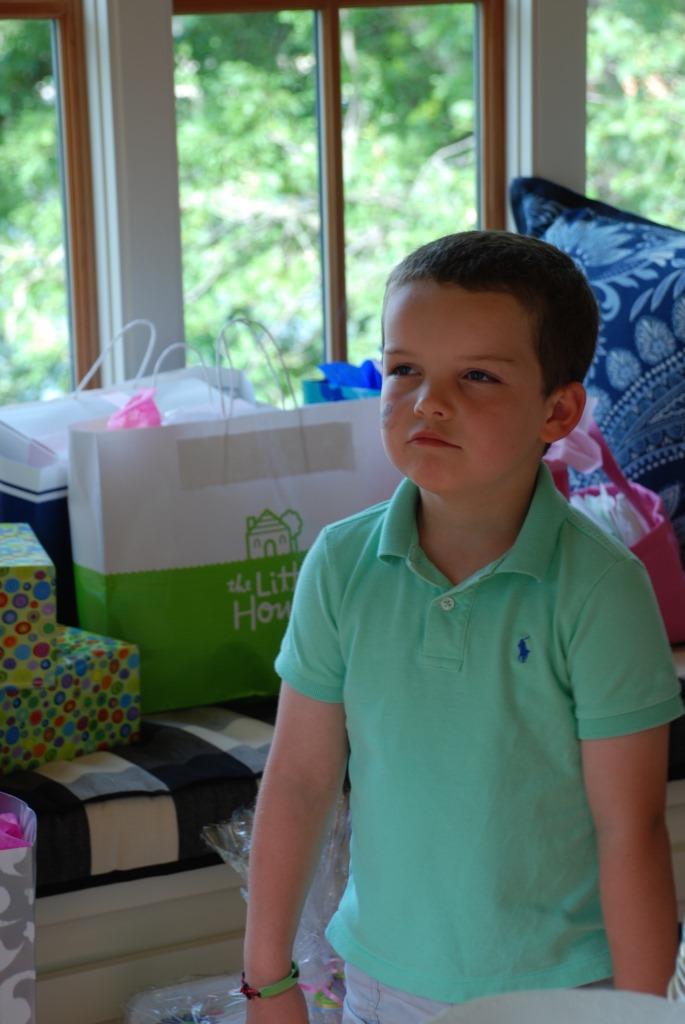 A kids' party can go south in a hurry if you don't have plenty of fun things to do …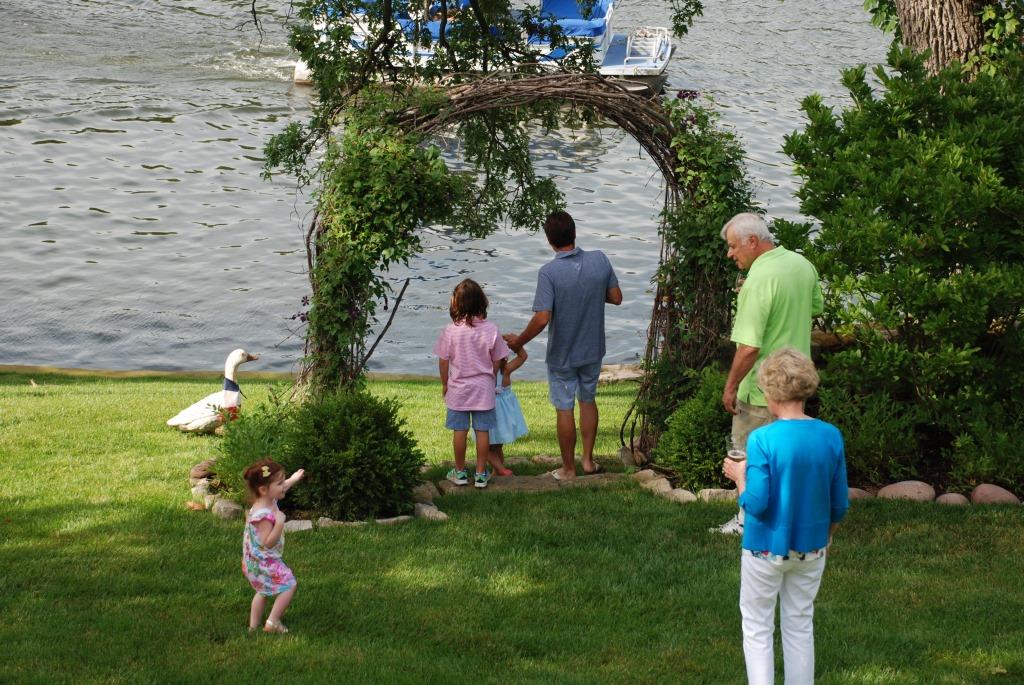 So we ushered the families down to the lake, to fish and to romp around in the grass.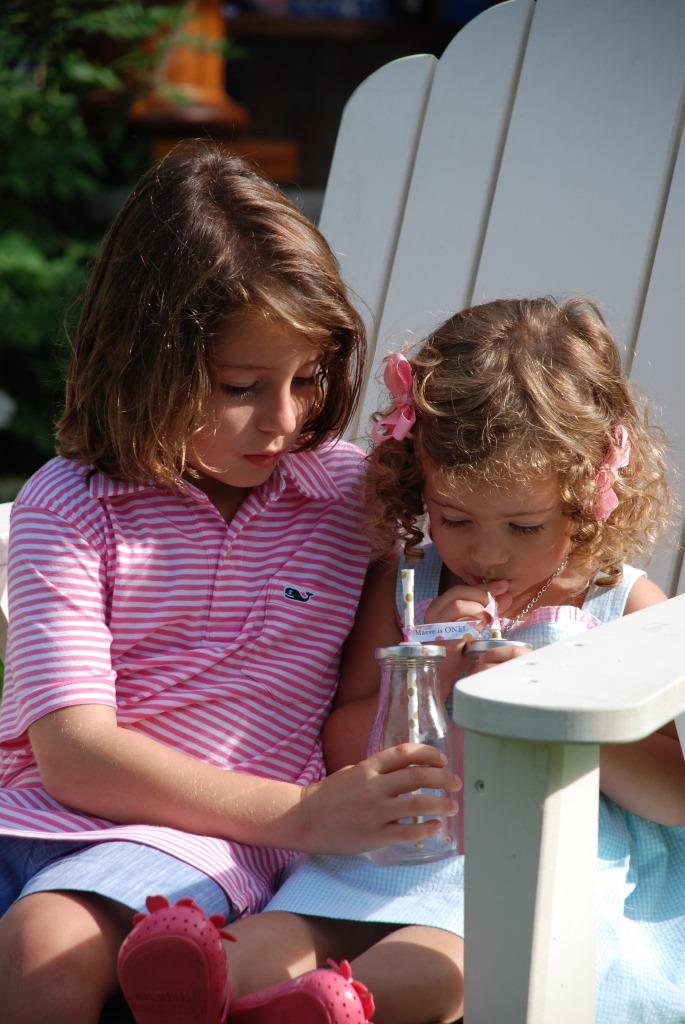 We served pink lemonade in cute portable bottles, complete with candy-striped straws I grabbed at Nell Hill's, so the guests could have some refreshments down by the pond.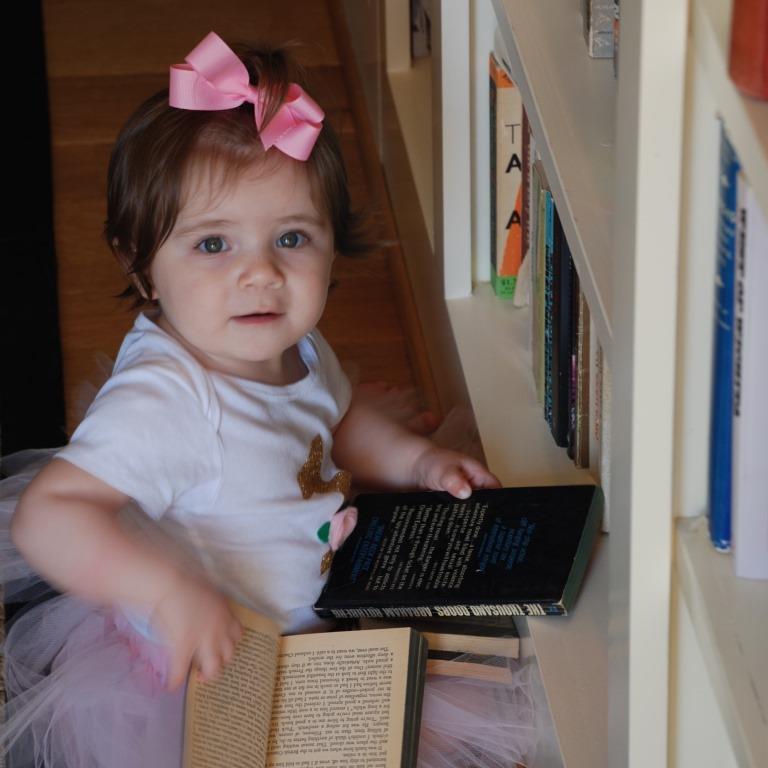 Maeve preferred to stay inside and do a little reading from her Grandpa Dan's library.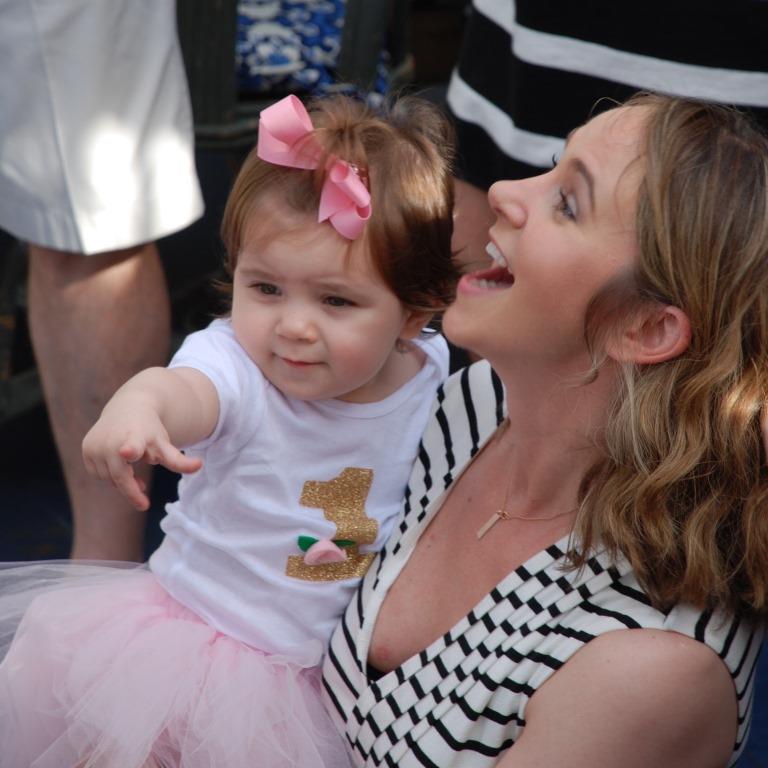 The best part of the day? Seeing the joy on the faces of the people I love. This picture of Kelly and Maeve is going into a frame, to be treasured forever.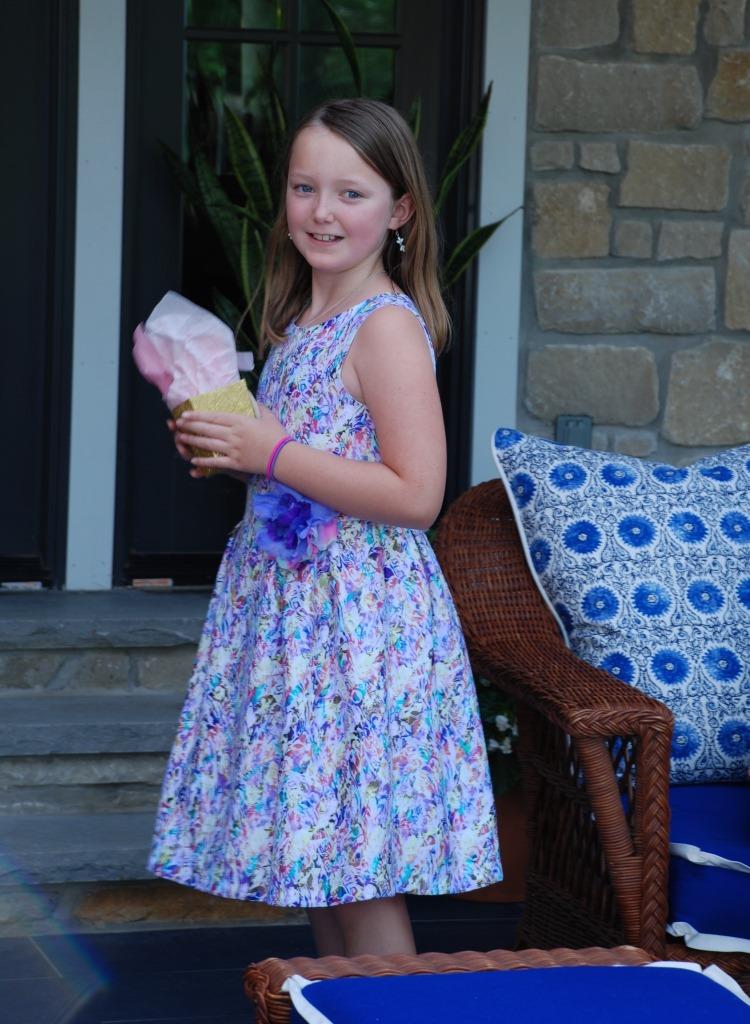 As the sun began to set, and our tired, sun-kissed guests said good bye. Each child received a party favor, a little treat to remember our sublime afternoon together, celebrating life at Innisfree, our cottage by the lake.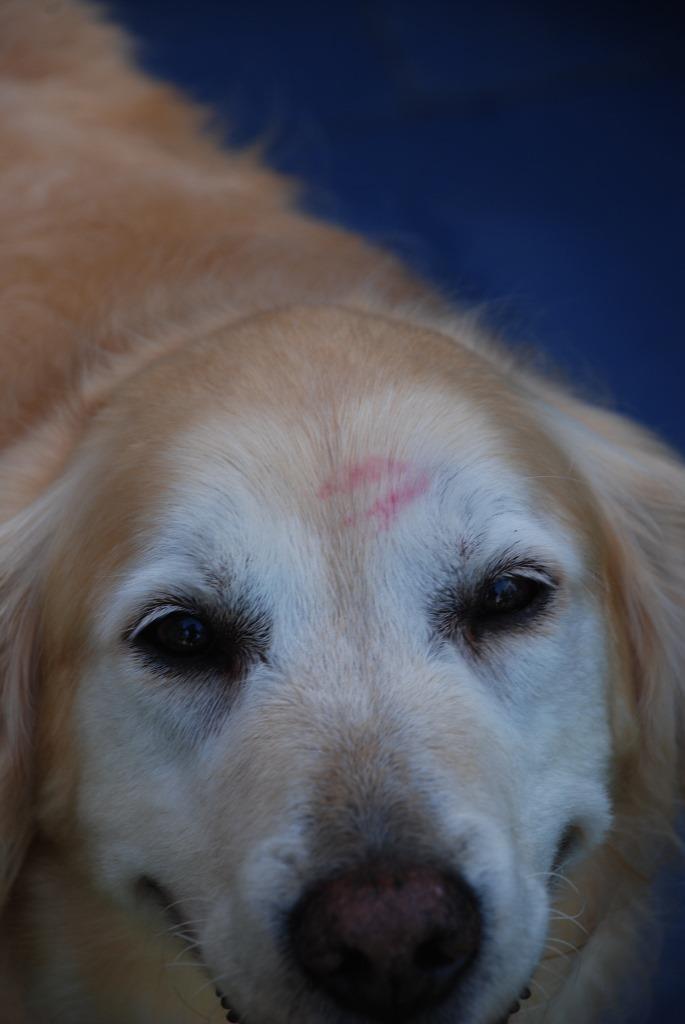 Thank you for joining us!
Next Week … Beautiful wood furniture is an essential part of a well decorated home. I'll share the three rules of decorating with wood that I always break!