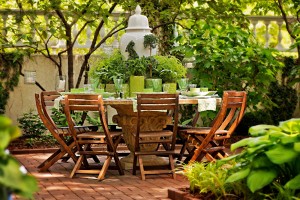 A dear friend of mine once told me, "As soon as I'm finished throwing a party, I'm already planning the next!" I agree, because I've found that filling your home with friends and family, eating and drinking and laughing until your sides hurt, can be addicting. Catch the fever this summer – open your doors to the joy of entertaining. Here are three gorgeous party themes we developed at Nell Hill's to inspire you. 
1. Theme One: Have a Ball!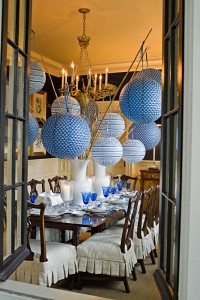 If you read last week's blog, you already know I'm crazy about paper lanterns. These inexpensive decorating tools pack lots of visual punch for very little effort (can it get any better than that?). I started experimenting with different ways to use the lanterns for parties a few months ago, when we decorated my home for my Spring Open House. At first, my plan was to hang them in my courtyard, but my sprinkler system is finicky, and if I turned it off for a few days so the paper lanterns wouldn't get drenched, the sprinklers wouldn't work right the rest of the summer. So I decided to bring the lanterns inside, where I knew they would be a totally unexpected visual element – my favorite kind!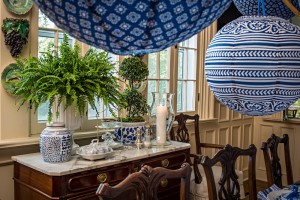 In my dining room, we hung a wide assortment of lanterns from bamboo poles that were inserted into huge temple urns. I found that the key to success is to use lots of lanterns – the more I worked in, the cuter the display became. As I experimented with how to hang the lanterns from the bamboo poles, I started out using fishing line so the lanterns would look like they were suspended in mid air. Turns out I wasn't so crazy about the effect, so I traded the fishing line for ribbons, and I got goosebumps.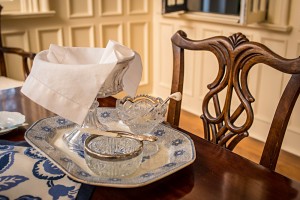 Since my dining room is painted Twilight Blue and I have lots of blue and white dishes and accents, I picked blue and white lanterns for my display. But you could use any color scheme for your home and it would look equally as fabulous. For a Fourth of July celebration, you could mix in some red. I'd also love this table with apple green, coral or orange, wouldn't you?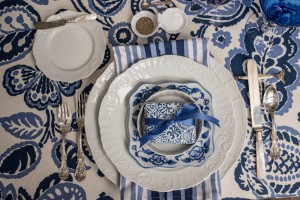 The place settings on my blue and white table feature one of my favorite entertaining work horses: white dishes. I love plain white dishes because you can remake them over and over again just by pairing them with different linens, accent dishes and table accessories. All it took to give this simple place setting lots of character was to top the tower of dishes with a blue and white dessert plate and a little gift, a surprise wrapped up in matching paper.
Beneath the dishes, this bright and breezy table topper is made out of outdoor fabric. We are expanding our line of this truly amazing, hard wearing, affordable fabric because we love it so much (and so do our customers). If the table topper gets dirty, it wipes up in a snap and launders like a dream.
2. Theme Two: Go Green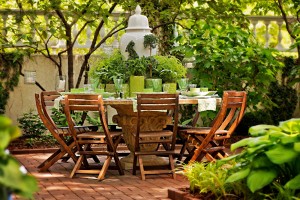 Every time I open my home for public tour, I have lots of fun coming up with new ways to dress up my courtyard, especially the massive concrete table that stands at the center. Such a big table calls for a really big treatment, so it always inspires me to new heights. For my Spring Open House this year, I wanted a show-stopper tablescape that could not be ruined by my sprinkler system. I decided to make a huge statement with color, so I took my cue from the shades of green in my garden and the white of my house and courtyard walls.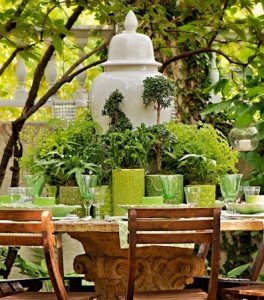 Since this table is too wide to foster good across-table discussion, I decided to fill the big, empty center with a lush centerpiece. The magic element that makes the entire tablescape shine, this centerpiece looks complicated but would be super easy for you to recreate – or modify – for your own summer party. Here's how. Start with a large-scale, visually bold accent that will serve as the hub of the centerpiece. We used a white temple jar, but you could try an urn, a birdbath, a garden statue – you name it. If your focal point is not tall enough to command attention, put in on top of a riser, like a concrete capital, plant stand, a stack of bricks or cake plate.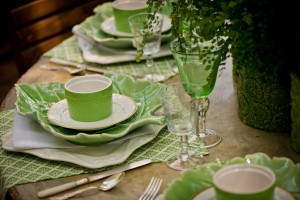 Next, amass a collection of similar, but not matching, items to cluster around your centerpiece hub. We used a mixture of live ferns and topiaries tucked into an array of green pots. I frequently look to fresh flowers when I want to create showy centerpieces, but I really liked using the ferns this time. As soon as my open house was over, I worked the ferns into displays all over my home, which gave me a lot of bang for the buck.
To modify this centerpiece, surround the central object with pieces from one of your collections, like an assortment of wooden boxes. If you're having a birthday party, you could print snapshots of your guest of honor and insert them into wire picture holders placed around some central focal point (maybe a tower of beautiful cupcakes?).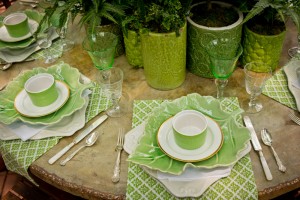 Since the centerpiece was so elaborate, I wanted the place settings to be simple. We started with a perky green and white placemat, positioned so the length of the mat trails down the side of the table. The white chargers are turned on end, just for fun, and are topped with these too-cute-for-words majolica leaf plates, ideal for salad. A gold rimmed bread plate layers in more color, and the place setting is finish off with playful ramekins to hold fresh fruit or mini soufflés.
3. Theme Three: Bring the Outside In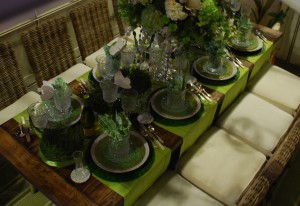 This spring, Nell Hill's had the privilege of participating in Dining by Design. As part of this benefit for DIFFA – KC (Design Industries Foundation Fighting AIDS), area designers created lavish tablescapes for a dinner party. I just had to show you the jaw-dropping table that Bruce, one of our designers, created for this event because I know it will fan your creative flame, just like it did mine.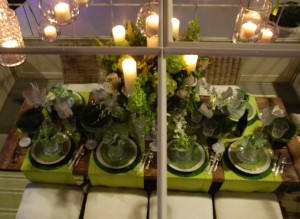 We have a collection of garden gazebos we use for displays at Nell Hill's, so Bruce decided to use one to make an enchanting "secret garden" dining room. To make the space feel like a garden at dusk, he suspended hurricane lanterns at differing heights from the ceiling of the gazebo, filling each lantern with a candle so they twinkled like stars.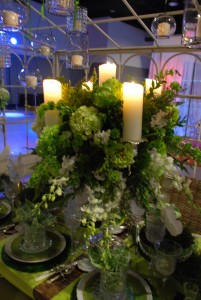 You can't have a garden without flowers, but Bruce didn't want to obstruct cross-table discussion by placing large floral arrangements along the table center. Instead, he came up with this ingenious solution: He placed a dramatic silver candelabrum at the table's center, then Theresa, our gifted floral designer, covered it with flowers, keeping the arrangement high enough for guests to see under.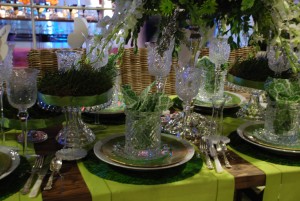 Everywhere you look on this delightful table, you're rewarded with yet another visual surprise. One is the live sod displayed on top of a crystal cake plate. Bruce's goal was to bring the garden inside, so he included the lawn, too! He cut pieces of sod into circles then hid the dirt and roots with grosgrain ribbon. Another special touch was the unique chargers made out of boxwood leaves. Nell Hill's customers love these adorable chargers because they give you an easy way to bring organic texture and bright color to your table top.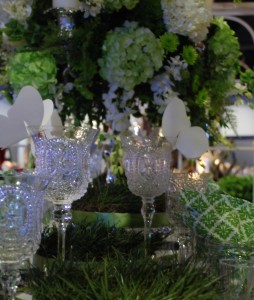 Bruce likes to put a bit of whimsy into his table displays, so for the place cards, he used cutout paper butterflies perched on the rims of the wine glasses. A magical final touch for a memorable table!
Next Week … Blue and white pottery is one of my favorite decorating building blocks and a key component of the Nell Hill's look. Find out how to use these timeless decorating pieces in your home decor.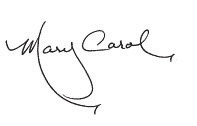 P.S. Don't miss a bit of Nell Hill's news – stay up to date on my favorite finds, new arrivals at the stores and all our special events by checking the Nell Hill's Facebook page every day. You don't have to have a Facebook page yourself to look in on the fun, but if you're already on Facebook, "like" us today!