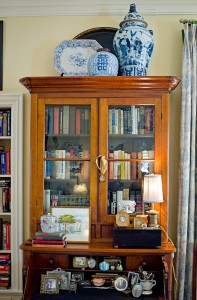 I've seen a lot of decorating trends come and go. But a handful of fashions are so beautiful they transcend time and look as sensational in homes today as they did in homes hundreds of years ago. One of my favorites? Blue and white pottery. Whether it's transferware platters hung as art on the wall or Asian ginger jars clustered in a tabletop display, blue and white pottery is a cornerstone of the Nell Hill's look. Here's how to use these timeless beauties to add style to your interior spaces.
Mass Several Pieces Together for Dramatic Appeal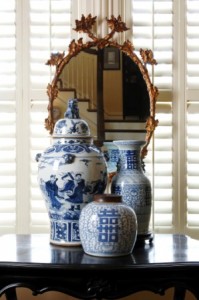 Since blue and white pottery comes in such a wide array of shapes and patterns, from Asian ginger jars to Delft blue cachepots, it's easy to pull together a small collection of dissimilar but complimentary pieces and create a powerful display. This trio of jars that stands on a table in my foyer steals the show because a group of similar objects massed together in a tight cluster packs a lot of punch.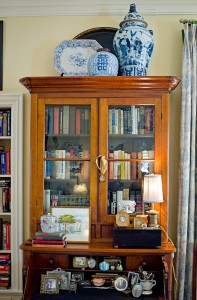 I recently pulled together this lovely display to fill the empty space above the secretary in my living room. Larger-scale blue and white pottery is an ideal choice for decorating high-up spaces, like on top of an armoire, because it is tall, beefy and bold enough to not get lost, yet sleek and simple enough to not appear cluttered.
Weave a Single Piece into a Display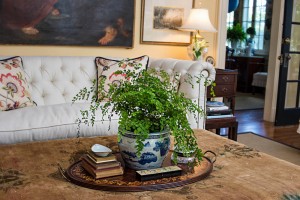 If you want to add a touch of subtle color and texture to a display, blue and white pottery is a perfect pick. With its sophisticated lines, it's a great addition to casual or formal tableaux in any style home. I love this little arrangement on the coffee table ottoman in my living room because it's simple yet full of visual interest. The blue and white cachepot, holding a live maidenhair fern, stands at the center of a lovely black tray. It could easily be featured by itself, but since I like to layer the accents in my designs, I framed the cachepot with a few of my favorite treasures: a stack of antique books topped with a white plate, a small pencil box and a crystal candy dish.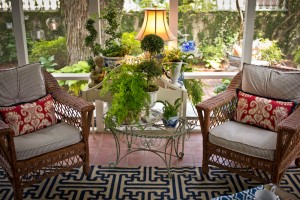 Another boon of using blue and white pottery in your décor is you don't have to spend much to get a great look. These little cachepots are a screaming bargain at Nell Hill's – you'll do a double take when you read the price tag. I like to mix these cheater pieces with finer English and Asian pottery in displays. Honestly, it's hard to tell which is which.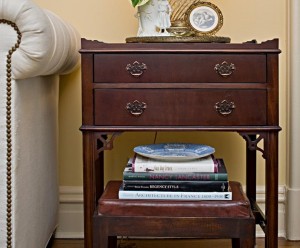 To give one of your existing displays a new look, tuck in a piece of blue and white pottery. Here, I placed a blue and white transferware plate on top of a stack of Dan's books. The plate isn't just attractive, it's functional. You could use it to hold your TV remote, reading glasses or a cup of coffee.
Decorate a Tablescape in Blue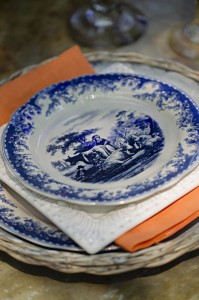 If you've ever visited my home, shopped at Nell Hill's or read my blog and syndicated column, you already know I'm crazy about blue and white dishes. I use my blue and white transferware constantly in my tablescapes because it looks sensational paired with just about any color, including red, green, orange and brown. You can easily reinvent this versatile pattern simply by switching out your table linens, table accents and supplemental dishes.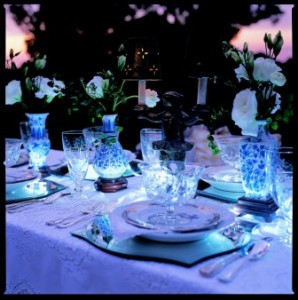 When you're dressing up your table for a dinner party, include a few blue and white Asian vases to add a sophisticated air to the setting. Create a bold display of temple jars at the table center. Or place a small phalanx of bud vases down the center of the table, each holding a few blooms. This photo, from my book Entertaining in Style, shows how magical your table can be dressed in blue and white.
Take Storage from Functional to Beautiful
We all have to store stuff in our homes, so why not make that storage as gorgeous as it is functional? Big blue and white Asian fishbowls are a perfect pick if you need to contain a lot of bulky items. In the photo above, firewood never look as beautiful as it does collected in this blue and white bowl. You can also use these big bowls in the bathroom to hold toilet paper or rolled up bath towels. When you entertain, fill one of the big bowls with ice to chill wine or water bottles. Use smaller cachepots to corral your kitchen utensils, to hold outgoing mail or your keys.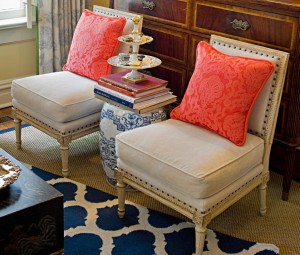 I'm crazy about ceramic garden stools because they provide a great opportunity to add another layer of color and pattern to the furniture groupings in your home. So when I found garden stools in an Asian motif, I had to nab a few for my own home. Don't you just love this chubby little guy nestled in between the armless chairs in my living room? Even though garden stools don't offer a ton of tabletop space, it's amazing how much you can fit on them when you get creative.
Next Week … Picking the right interior lighting is essential if you want your home to look its best. Next week I'll share three tips for picking and using the right lights in the right places.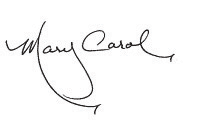 P.S. Don't miss a bit of Nell Hill's news – stay up to date on my favorite finds, new arrivals at the stores and all our special events by checking the Nell Hill's Facebook page every day. You don't have to have a Facebook page yourself to look in on the fun, but if you're already on Facebook, "like" us today!