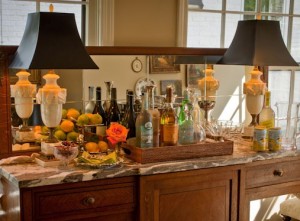 Whether it's a petite night light in your powder room or a grand chandelier in your entry, we demand a lot from the lighting in our homes. The right fixtures in the right places not only provide the illumination we need to carry on our lives, but they do so with beauty and grace, adding to the distinct style of our homes. Here are three tips for picking and using the right lights in the right places to make your home look its best.
1. Set a Mood with Accent Lights
While they don't add much in the way of illumination, accent lights are an essential part of a well-dressed room because these little lovelies set the mood, add warmth and usher in lots of character. I like to place accent lamps in areas that are already well lit, but could use an added little touch of sparkle and shine, like on an entry table, a dining room buffet, the counter in a powder room or in the kitchen.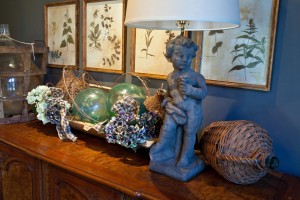 Since your accent lights won't be providing the main source of lighting in a room, you can focus simply on how they look, not how they perform. That means the sky is the limit! Since I like to work accent lights into existing displays, I often opt for lamps that look like artwork themselves. Check out the lamp in the photo above, which resembles a worn and weathered garden statue. In this one decorative piece, you pull together two of my favorite decorating tools: garden statues and accent lighting. What could be better?
Use Them as Welcome Lights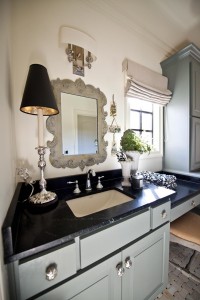 Accent lights make wonderful welcoming nightlights. When Dan and I are done cleaning up the kitchen after dinner, we turn off the overhead lights but leave a small accent light burning on the counter so when we pop back in to answer the phone or grab a glass of water, we are greeted in the darkness by a soft, warm glow. I also like to turn on an accent light in the main floor powder room when I entertain so guests can find their way.
Allow Them to Warm up a Seating Arrangement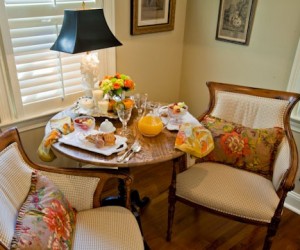 If you want a small seating arrangement to look inviting, add an accent light. Place one on the table in your breakfast nook to pull the grouping together and make it look finished. Try the same idea next to a chair in your entry or your bedroom.
2. Get Stuff Done with Functional Lighting
I love to set a mood in my home, but every once in a while, I need to get stuff done. That's where functional lighting shines. These hard-working lamps need to bathe our room in light and look beautiful while they do it.
Brighten Things up with Light Shades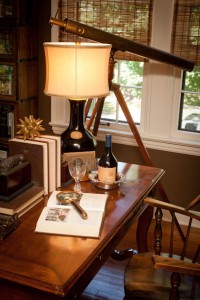 To help your functional lights do their jobs, fit them with light colored shades. While I love, love, love black shades, they restrict the light output of a lamp. So if you're picking a lamp for your office desk, in the main conversation area in your family room or by your bedside where you read, go with a light shade.
Go Big for Better Visual Impact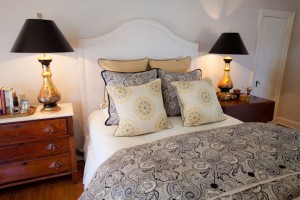 While small, delicate lamps are occasionally the right choice if you have a tiny table or small space, most often, a bigger lamp will look better on a standard sized table. The key to picking the right-sized lamp is to study the size and scale of the table on which it will sit, the size of the furnishings that surround it and the other accents that will be on the table. Then, opt for the largest lamp that will work in the setting.
Mix Your Styles to Add Interest to a Room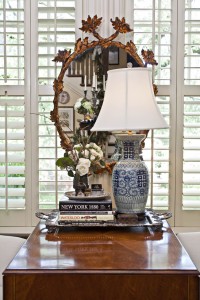 I love rooms that look like they have evolved over time. And one way to achieve this look is to use a dissimilar assortment of lamps in the space. Try bringing in lamps made from a variety of mediums, like metal, porcelain, glass and wood. Experiment with a mix of colors, shapes and sizes, too.
Use TLC with Your Hard-Working Lamps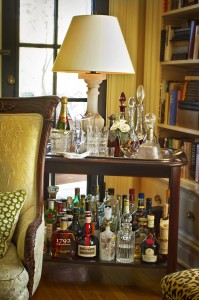 Lamps are an investment, so you'll want to treat them well so they will last for years. Make sure your lamp is fit with the right sized halo and shade. If you're not sure, take it to a lighting store and ask the pros. Check your lamp shades periodically to make sure they are holding up. If they are faded, dingy or out of style, replace them. (I've found that when you use higher wattage bulbs in your lamps, the shades need to be replaced more often.) Sometimes just updating the lamp shades can invigorate a room. Right now, drum shaped shades are all the rage, and they are selling like hotcakes at Nell Hill's.
3. Illuminate Rooms with Stylish Chandeliers
As a general rule, I'm not a huge fan of overhead lighting because I think it can be cold and harsh. But I have to confess, a gorgeous chandelier still makes me weak at the knees. Right now, the selection of chandeliers is better than I've ever seen, and I'm thrilled by what I'm seeing at market.
Upgrade for a Stunning Look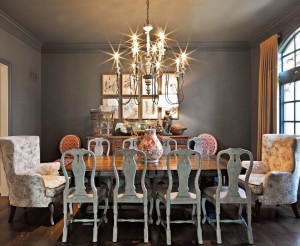 I love a bargain and always look for home furnishing that look more expensive than they really are. But these days, those are hard to find when it comes to lighting. At market I've noticed that the lights that are a bargain usually look cheap and low quality. So my advice is, don't skimp when it comes to lighting — spend the extra money and get a lamp or chandelier that will add to the style of your home, not detract from it.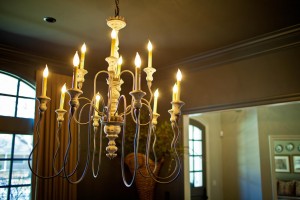 The trend now in overhead lighting is to go big. Lots of our customers at Nell Hill's want hefty, dramatic fixtures to hang over their kitchen islands or in their entries because these large-scaled pieces bring with them a lot of drama.
When I moved into my home, I loved the chandelier that was hanging in my dining room, but the scale was too small for me. So when I finally found a chandelier that was just right, I moved the existing dining room fixture to my den, and moved the den chandelier upstairs. You can try the same thing in your home if you opt to upsize a fixture.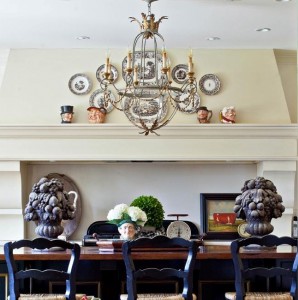 I have so much fun hearing all the interesting things my customers are doing in their homes – it's where I get by best ideas! Right now, I'm hearing from lots of you that you are using outdoor lanterns and light fixtures in your interior spaces because these fixtures are less expensive and bigger. Some folks are brightening their kitchen islands with one large or several smaller exterior lanterns. A friend of mine who has long, narrow hallways and high ceilings in her home has illuminated them with boxed lanterns.
You can also find beautiful chandeliers and lamps at antique stores or flea markets. Simply have them rewired, and you have a treasure. Or, if you're creative, you can make a lamp or light out of something unique, like an antique bird cage. Spray paint it a fun color and have it fitted with a bulb and chain and you have a novel light.
Next Week … I've heard some sad sofa stories through the years from friends and customers who purchased the wrong sofa and now are stuck. Next week I'll help you avoid the five mistakes people often make when selecting a sofa so when it's time for you to get a new sofa, you'll be able to pick one you'll love for years.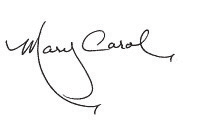 P.S. Don't miss a bit of Nell Hill's news – stay up to date on my favorite finds, new arrivals at the stores and all our special events by checking the Nell Hill's Facebook page every day. You don't have to have a Facebook page yourself to look in on the fun, but if you're already on Facebook, "like" us today!