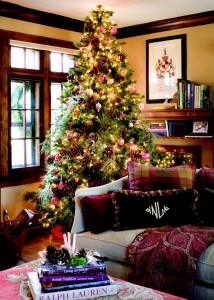 One of my favorite traditions during the holidays is to learn about other people's holiday traditions. I enjoy hearing about their childhood memories and how they have woven their holiday heritage into their own observances as adults. As I listen to the tales of Christmases past and present, I am always amazed by how many memories and traditions revolve around the Christmas tree. This special symbol is near and dear to our hearts and the star of the show when it comes to holiday decorating. This year, why not re-imagine your tree, blending old traditions with new ideas, to make it a fresh and glorious tribute to your family and your home. Here are a few tips to get you started.
Standout Stands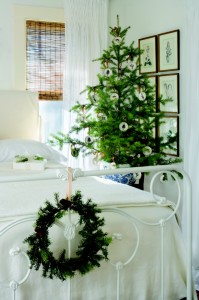 I swore off traditional Christmas tree stands the year my tree toppled over onto my dining room table, right in the middle of a dinner party. With the way I decorate trees, I needed a stand that could handle the weight of a million ornaments with grace and beauty. So now I always place my tree in a sturdy iron garden urn. Get creative and look about your home for unusual containers that will display your tree in style. How about a large and lovely blue and white Asian cachepot? A friend of mine placed her tabletop tree in a bright red metal ice bucket emblazoned with an old English family crest. I love how the splash of red popped in the navy room where the tree was displayed.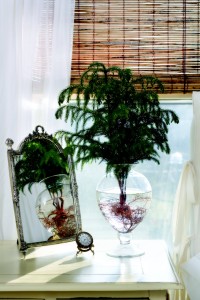 For a truly unusual presentation, get an evergreen tree sapling, take it out of the pot and rinse the soil off the roots. Then insert the tiny tree in a large glass vase, displaying it much as you would fresh flowers. When the snow melts in the spring, plant the tree in your yard. If you opt for a traditional tree stand, try covering it with something besides a tree skirt. Tablecloths are a wonderful option because they are easy to launder and they frame the tree in soft, luxurious folds of fabric.
Let There be Light!
Before you hang one ball on your tree, start with great lighting. In my opinion, the more sparkle and shine the better, so I load my tree up with lots of wattage. Plan to use 100 lights for each foot of your tree's height and make sure the strands of lights are evenly distributed top to bottom. If you want your tree to be even more radiant, you can even run lights up and down the trunk. Another great solution if you're short on time is to purchase a pre-lit tree. I've fallen in love with the convenience they provide.
Before you start hanging baubles, think about what you want your finished tree to look like and communicate to your guests. One approach is to make your Christmas tree a testament to you and your family, filled with ornaments that show guests what you hold dear. Festoon it with ornaments passed down through the years, framed family photos or a few small heirlooms hung from ribbons. A friend spiced up her Christmas tree with sprigs of broom corn harvested from her grandparents' farm. She and her children picked the corn, dried it, misted it with spray paint and tucked it in the branches of their tree. Or, maybe your tree could showcase some of your favorite collectibles, like old post cards or cream pitchers. You could also fill your tree with ornaments you've brought back from favorite vacations. Let your imagination go and see what you come up with!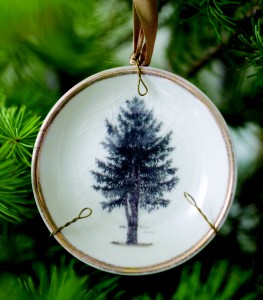 Another fun approach is to do a thematic tree that revolves around a color palette or a particular subject. In the past, I've decorated my trees with a nod to nature, covering them with huge pine cones and encircling them in honeysuckle vines. For a more opulent look, you could jazz up your tree with gold, silver and crystal ornaments. Or create a tree that's dramatic in its sheer simplicity. Pick one special ornament style or color and use it exclusively on your tree. A friend of mine created a stunning look simply by hanging small plate ornaments, which featured vintage drawings of evergreens, all over her tree. If you have little ones in your home, consider decorating a tree just for them, full of whimsical ornaments or ornaments they have made themselves. Several of my friends decorate artificial tabletop trees to put in their kids' bedrooms, where they serve as festive nightlights.
Hang with the Pros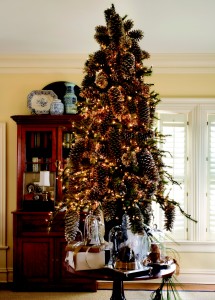 If possible, it's best to start with a beautifully shaped and spaced artificial or natural tree. But if your tree isn't perfect, no problem. We've taken some ugly ducklings and made them into beautiful swans at Nell Hill's. The key to transforming a mediocre tree into a showstopper is to supplement the branches with a number of picks. Your picks can be plain evergreen boughs; sprigs that sport berries, pinecones or even frost; or metallic sprays that will bring some sparkle and snap. Insert the picks  throughout the tree to fill in the branches and add more color, texture and interest. When the tree is to your liking, it's time to adorn! Gail, a visual artist at Nell Hill's, recommends starting at the top of the tree then working your way down. Hang the ornaments in diagonal lines that encircle the tree, top to bottom, to keep the eye flowing down and around so you can drink in the finished tree more fully. Start the process with your largest ornaments, burying some deep within the branches of the tree to give it more depth.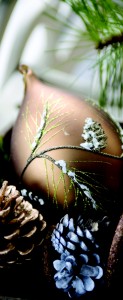 Gail likes to add strands of garland next, before she hangs the medium and small ornaments, so she can fill in any big holes. When the garland is to her liking, she hangs the medium sized ornaments, placing them midway inside the branches, following the top-to-bottom diagonal line started with the largest ornaments. She finishes off with the smallest ornaments, being sure to place them on the outside of the branches, where they are most visible.
Tree Trimming at Nell Hill's …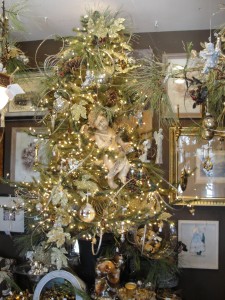 At Nell Hill's Atchison this year, we decorated our tree using this year's hottest holiday look: metallics. This year, platinum, soft gold, copper and silver are big, big, big.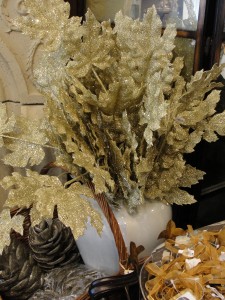 We fleshed out our spindly artificial tree with an assortment of metallic picks, like these wonderful gilded leaves.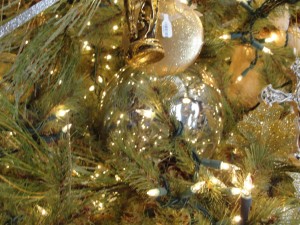 For our large and medium sized ornaments, we used an assortment of clear glass, soft gold and silver balls. We also tucked in some marvelous gold and silver glitter-covered wire lanterns that hold battery operated tea light candles.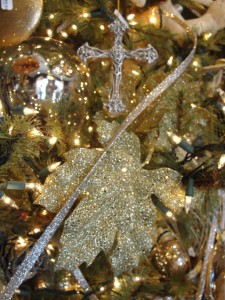 We wove a thread of gold ribbon garland around the tree in diagonal lines, starting from the top and working our way down.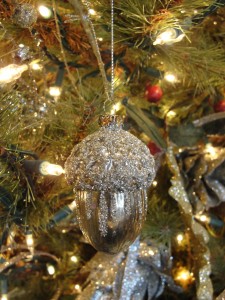 Tiny metallic ornaments, like gilded acorns, finished off the outer branches of our tree, which was resplendent in its gold, silver and bronze finery.
Next Week …Stumped by how to decorate your fireplace mantel this holiday season? Come back next week when I'll share some mantel treatments we love at Nell Hill's this season. You're sure to leave inspired!