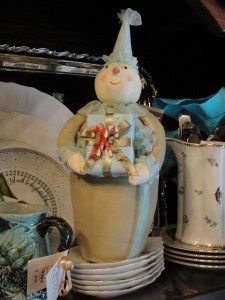 Do you have a special holiday decoration that holds lots of sentimental value for you? Maybe it's an ornament you got on a wonderful vacation, a snow globe your kids made in kindergarten, the plate that  holds cookies for Santa or a menorah that has been passed down for generations. Without this iconic piece of nostalgia, it just doesn't feel like the holidays, does it?
Not surprisingly, all of us here at Nell Hill's are crazy about holiday decorations, which is a good thing, since we are surrounded by them six months out of the year. It's fun to watch everyone turn into kids again as we unpack boxes of holiday decor. Each one of us can't help but fall in love with a treasure or two.
As you get ready to unpack your own boxes filled with sentimental holiday decorations, I thought it would be fun for a few members of the Nell Hill's Atchison team to share which new holiday decorations captured their hearts this holiday season.Mary Carol: Gilded Cherubs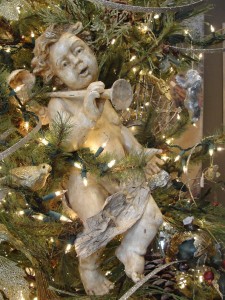 Alright, I admit it. Every year it's probably a toss up whether I'll end up on Santa's Naughty or Nice list. Even though I'm not an angel doesn't mean I can't be in love with these heavenly heralds. That's why I lost my heart to this gilded cherub when I spotted him at market. He's made from lightweight, durable resin but I think he looks like he just flew in from a cathedral in Italy. That must be because of the fine workmanship of his creator, Bethany Lowe, the Queen Bee of beautiful vintage ornaments. I decided to use this bold statement piece as the central focal point on my Christmas tree this year. Since my house is filled with a lot of religious art that Dan collected during his buying trips in Europe, this cherub will feel right at home.
Nancy: Nativity Scene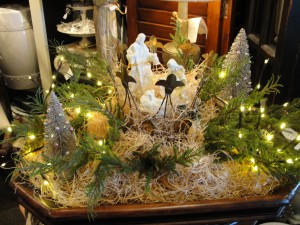 Nancy, who works with Nell Hill's customers on the floor, picked this simple but elegant nativity scene. Mary, Joseph and baby Jesus are constructed of resin in a finish that makes them look like aging sculptures. To make them a bit more elegant, they've been dusted with just a touch of glitter. Nancy likes how the set's small size makes it perfect to tuck in just about anywhere in your holiday décor, like on a bookshelf, your mantel, on an end table or in a centerpiece. At the store, we nestled the nativity set inside a beautiful metal crown. The crown is meant to be a tree topper, but it's so versatile it can be used in dozens of ways in your holiday décor. We used some pine boughs to serve as a stage for the nativity scene, and I think the result is elegant and reverent.
Gail: Garland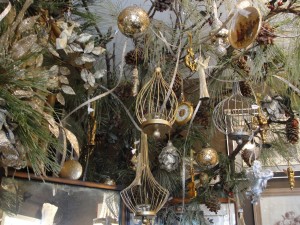 When you visit Nell Hill's Atchison, you'll be able to spot Gail in an instant – she's the one who is always up on a ladder, working magic with sticks, greenery and seasonal accents to create the complex arrangements that hang from the ceilings of the store. Since she's gaga over great greens, it's not surprising that the ritzy garland we got in this year has taken her captive. Gold, silver and bronze are big this holiday season, so Gail has had fun working shimmering picks into her displays. If you haven't yet, come see her holiday works of art. They will make you feel merry indeed!
Cheri: Wire Lanterns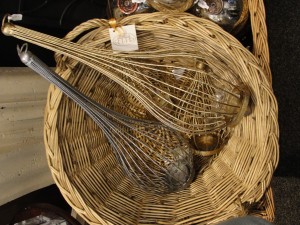 Cheri is one of the creative geniuses behind our visual displays. You'll see her creations all over the stores and in the pages of some of my home decorating books. So it's fun to see what this trendsetter is drawn to when we get in new merchandise. This holiday season, it's a set of gold and silver lanterns that can hold a battery operated votive candle. These unique ornaments are covered in glitter (we call glitter "Nell Hill's jewelry" because at the end of the day, we are all covered in it!). The gilded lanterns look amazing hung from the branches of a Christmas tree, from branches suspended over a doorway or clustered in a group over a dining table.
Judy: Felt Ornaments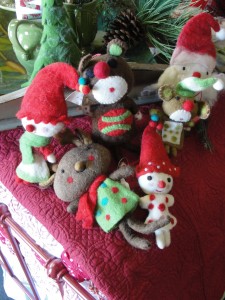 Judy, a member of our visual team who dresses up the tabletops on the second floor, is a talented seamstress who creates works of art at her sewing machine. So when we get in lovely pieces that are knit or sewn, she is the first one to dig into the box. This year, she's in heaven because we have lots of adorable decorations that look like Judy could have made them in her spare time (if she had any!). It was a hard choice, but in the end, she picked this too-cute-for-words set of felted ornaments because they look homespun. The cast of characters features all her favorites, like a church mouse, Santa, a reindeer and a snowman.
Pam: Pink Snowwoman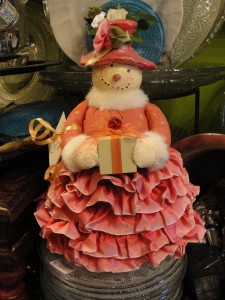 Pam loves boys–no one will dispute that. But after raising three rambunctious sons, she nearly screamed for joy when her four granddaughters were born. Now, she can't seem to keep her hands off of everything pink. (In fact, you may be able to spot her on the sales floor – she's likely the one dressed in pink!) With her new-found love for all things feminine, it's no wonder Pam is sweet on this fabric snowwoman, who is dressed in a pink cloak festooned with taffeta ribbons and faux fur trim. Pam could picture this cutie as part of a holiday display, maybe on a buffet or side table. She says she would position the snowwoman next to a glass pitcher filled with sparkly pink ornaments.
Kathleen: Country Church Ornament
If you've ever made a purchase at Nell Hill's Atchison, you've likely been helped by Kathleen, who is a wizard on the cash register. Her place at the register puts her in a unique position to survey everything that comes through the store, so it's easy for her to pick out her favorites. This year, it just took a second for her to spot her favorite piece of holiday décor. Kathleen's husband is the pastor of a little country church not far from Atchison, so when she saw this vintage looking ornament depicting an old-time country church, it pulled at her heartstrings. Her husband's church is more than 100 years old and looks just like the one in this snowy scene captured under a glass dome.
Virginia: Santa Making His Escape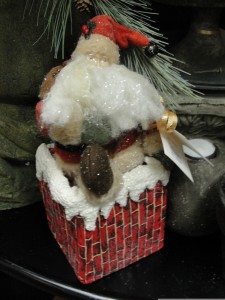 Just saying Virginia's name will put you in the holiday spirit because the classic file A Miracle on 34th Street has indelibly linked the name Virginia to the wonders of Santa. (You know the famous line: "Yes, Virginia, there is a Santa Claus."). Maybe Virginia's tight connection to Chris Kringle is the reason she fell for this fanciful decoration depicting Santa hoisting himself from some lucky child's chimney. Virginia, who works at the register, can't wait to take this guy home to delight her great-grandchildren, ages 5, 3 and 1, who are caught up in Santa mania.
Next Week … Get psyched because it's almost time to decorate your Christmas tree. Want yours to be a show stopper this year? Come back next week and we'll share some tricks of the trade for making your tree shine.