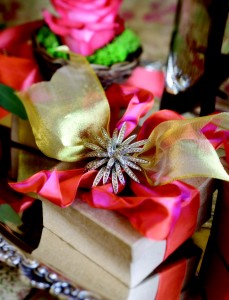 If you're like me, you absolutely love to shop. But even we shopaholics feel a bit of angst when we stare down our long holiday gift lists. There is so much pressure to pick a perfect, thoughtful gift that you're tempted to start your shopping marathon at the candy store, where you can draw on the power of chocolate for inspiration and reinforcement.
While I'm a huge fan of chocolate and its amazing powers, you might have an easier time with your holiday gift shopping if you instead arm yourself with a list of some of today's hottest gift items before you tackle the stores. Need some suggestions? Here are my favorite gift picks for this year:
Lanterns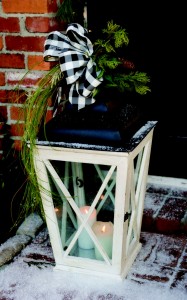 I often give lanterns as gifts because everyone loves them and can find a place to use them in their homes. And, because lanterns come is such a wide variety of shapes, sizes, styles and prices, it's easy to find just the right one for everyone on your list. The lantern itself will make a wonderful gift, or take it one step farther and fill it with home accents, like a pillar candle, holiday greens or Christmas tree ornaments.
Nell Hill's Books
Does anyone on your list like to decorate? Then you've got to get them an autographed copy of one – or all—of my books. Each one is filled with luscious photos and lots of great tips on how to make your home lovely and livable. The full line of Nell Hill's books is available at all the Nell Hill's stores and at Nell Hill's Online.
Ornaments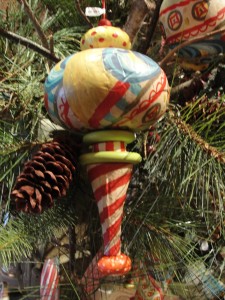 I think ornaments make sensational gifts because when you give one, you become a part of your loved one's holiday tradition. When they hang the ornament on the tree, place it under a cloche on a side table or work it into a stunning holiday centerpiece, they will think of you. You will have a blast shopping for ornaments this year because right now, everything goes. We are seeing it all this holiday season, from traditional red and green, to all kinds of metallics, to playful and whimsical.
Apothecary Jars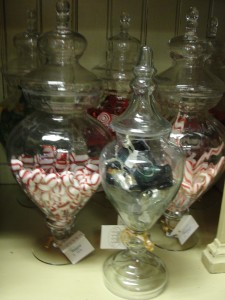 Apothecary jars are a bedrock of the Nell Hill's look, and that's because these graceful containers can be reinvented millions of ways in your seasonal and year-round decorating. Right now we're seeing apothecary jars in a wonderful variety of shapes and sizes, from tall and slender to short and fat. Give your loved ones a set of three jars in different heights so they have the base of a great display. Or, spoil them by filling an apothecary jar full of holiday candy, then dress it up with a lovely plaid bow.
Holiday Dishes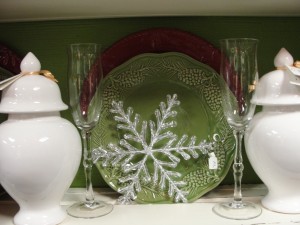 Have anyone on your list who loves to entertain? Treat them to some fun and festive holiday dishes to add sugar and spice to their table. You can start a collection for them by purchasing a few place settings. Or, you can select a few key serving pieces, like a platter, pitcher or bowl. At Nell Hill's this season, we are smitten with this wonderful earthenware set, which features a very subtle winter motif on the plate's edge. It is so neutral, it looks perfect paired with your everyday white dishes or with whimsical salad plates. Plus, the design is winter themed, so you could use it all winter long, not just during the holiday.
Festive Mugs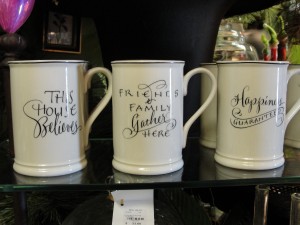 Treat the coffee or tea lover in your life to a fun new over-sized mug. I like this set because the mugs look so old fashioned, and they sport cheerful holiday sentiments, like "It's a wonderful life," and "This house believes." You could give a set or tuck one into a coffee-themed basket filled with fresh ground coffee, biscotti and chocolate-dipped stirring spoons.
Tea Light Holders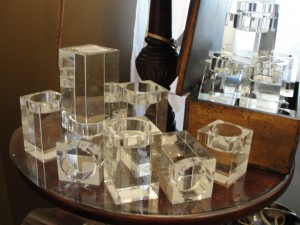 Candlesticks are another great pick for holiday gifts because everyone can use them somewhere in their home décor. At market this year, I fell hard for this edgy, contemporary line of glass block  tea light holders. They are stunning displayed in a mass, tossing glittering candlelight around the room.
Anything with Letters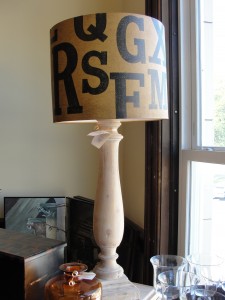 The ABC's are big, big, big this year. You'll find random letters and words decorating just about everything from lamp shades to pillows. I adore the look of these letter-clad accents because they are clean and contemporary and lend a bit of fresh air to your decorating.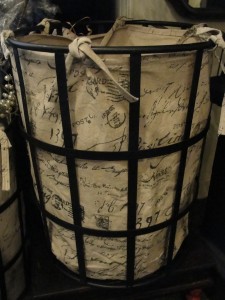 The romantic in me is also drawn to home décor items decorated with beautiful, flowing scrip, like this fabric lined metal basket. This would make a great gift for teens and young adults, who could use it to hold everything from laundry to magazines.
Anything with Frogs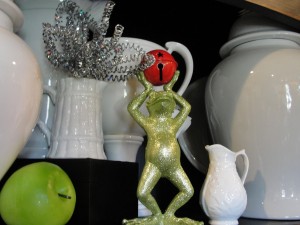 I am no princess, but right now, I am having a love affair with frogs. I can't seem to get enough of them at market, whether they are zany frog figurines doing yoga or sparkly holiday decorations, like the one picture here. Neither can my customers, because as soon as we unpack the frog figures, they hop out the door.
Tea towels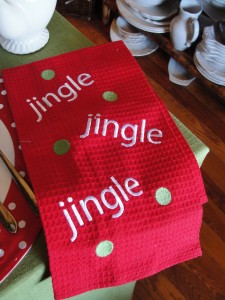 Everyone can use fresh tea towels to brighten up their kitchens. If you're looking for fun little gifts, maybe for your child's teachers, your coworkers or your neighbors, try a festive tea towel that features a cheery holiday motif.
Nell Hill's Gift Card
Sometimes the best gift you can give someone is the chance for them to pick out something they truly love. That's why Nell Hill's gift cards are one of our hottest sellers during the holidays. You can pick up a gift card at any of our locations, by phone or through Nell Hill's online, at www.nellhills.com.
Next Week … We shouldn't have favorites at Nell Hill's. But we can't help ourselves. When we start unpacking each new shipment of holiday goodies, each of us usually picks out a holiday decoration that is our absolute favorite. Next week, a few members of the Nell Hill's Atchison team will confess which holiday treasure is their favorite this year.