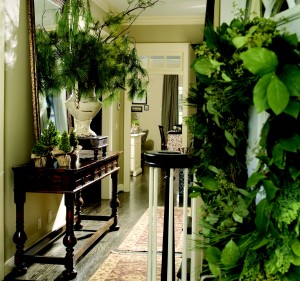 In the mood to try something new when you decorate your home for the holidays this year? A few years ago, I was too. So I started experimenting with creating wild and majestic floral displays in garden urns and large vases. I was blown away by how powerful these displays are, rivaling even the venerable Christmas tree for head-turning results. Plus, they can be super easy to create. What could be better? That's why decorating with wonderful winter bouquets has become a mainstay at Nell Hill's during the holiday season. Want to try one in your home this year? Here are some tips to get you started.Big and Beautiful
When people think of bouquets, they usually imagine small, tame arrangements. At Nell Hill's, we like to walk a bit on the wild side and create bouquets that are large, powerful and a bit edgy. This approach is especially effective during the holiday season, when more isn't less, it's definitely more.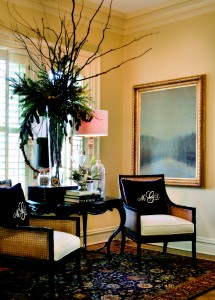 To give my foyer added drama for my holiday open house one year, I created a big, beautiful bouquet for the table that sits by my front window. I selected a tall, thin clear glass vase as my base. Then I filled it with some craggy fallen sticks that extended several feet from the top of the vase, which gave the arrangement the height it needed to hold its own in this lofty room. Next, I filled in with faux seasonal greenery, like pine boughs, cedar branches and picks loaded with pinecones, letting the branches drape down randomly over the sides of the vase. Since I was going for a more edited look that year, I stopped there. I love how it came out!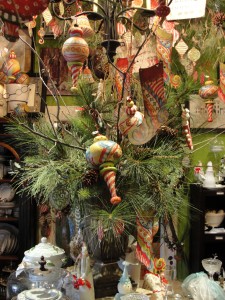 If you want a bit more pizazz in your holiday arrangements, start with a base like the one I did in my foyer, then bring on the baubles to give it more zip. The photo above is from a dining table display at Nell Hill's Atchison, and the goal for this one was to make it fun, fun, fun. Our visual team started with sticks and greenery then tied brightly colored ornaments to the sticks, letting them hang down over the table setting. How could you not feel as giddy as a child when you sat down to a table decorated with a centerpiece like this one?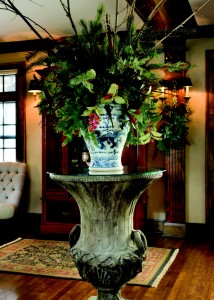 To add a touch of holiday elegance to the tabletop display in your entry or living room, use beautiful urns and vases made from transferware or blue and white pottery. Keep the arrangements refreshingly simple – just a few sprigs of fresh or faux mixed evergreens. Or, dress them up by adding carefully chosen accents, like pheasant feathers, fresh white lilies or red roses.
I also love to put holiday displays in containers that look like they have a history, like an olive vessel with an aged patina or a rustic urn. One season, when I decorated a designer show house for the holidays, I dressed up an entry table by filling a distressed white pottery urn with a loose and lanky mixture of pine branches. The look was wild and simple, which provided wonderful design contrast in this formal foyer.
Glitz and Glam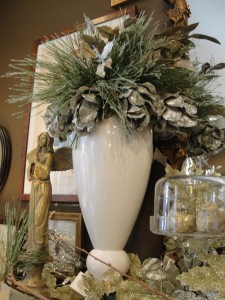 At Nell Hill's this year, we are in love with anything that shines. Metallics are bigger than ever for the holidays, and you can't go wrong with silver, gold and bronze. Chery, a member of our visual team at Nell Hill's Atchison, created some fabulous floral arrangements for the stores that sparkle and pop. In the simple but stunning arrangement pictured above, she started by making a wreath of sorts out of gilded faux flowers, letting them lop over the edges of the simple pottery jar she used as a vase. She finished off by filling in the center space with frosted faux pine and metallic picks. In seconds she created a striking display that would work wonderfully on your dining room table, buffet, mantel, side table – you name it.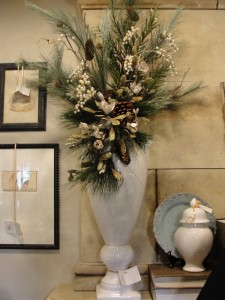 Using a similar jar as a base, Chery went for a bit more drama with this sensational bouquet. She mixed a variety of picks, from natural looking pine boughs to beaded jewels to fashion an inverted triangle shape that brings the eye up and out.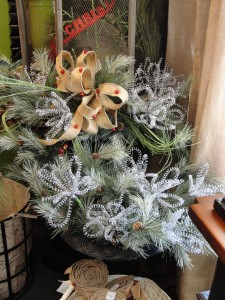 This year, we are using lots of metallic picks in our displays, like the ones pictured here. They look amazing paired with real or faux pine branches. I also like to tuck accent picks like these into the branches of my Christmas tree to give it a bit of shimmer and shine.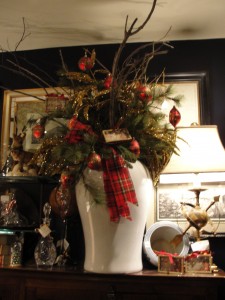 Chery went with a more rustic look for this holiday display. She used one of my favorite cream pottery vases as a base, then inserted fallen sticks, crisscrossing them at the bottom so they would hold together and not fall out. Notice how she went with shorter sticks for this bouquet because she was working in a room with a low ceiling. She filled in with very simple pine picks to give the display more fullness. Then, she had some fun threading in a red plaid ribbon and tying red plaid ornaments to the outer twigs of the branches. I like how she also added in a few gold picks to make it pop.
Take it Outside
Holiday floral displays aren't just for inside anymore. If you have garden urns, you can fill them with bold and beautiful bouquets that will bring your exterior holiday décor to a whole new level. Place a garden urn in a strategically significant spot, like next to your front door, at the entrance of your garden, on either side of your garage door or in a garden bed. I put mine at the entrance of my courtyard, against a blank wall. Next, find several long, fallen sticks in your yard and insert them into the urn, letting the sticks drop to the bottom so they won't blow out. If you want a glitzy look, spray paint the sticks silver or gold. Or leave them natural for a woodsier feel. Add a few boughs of faux or fresh evergreen branches for seasonal color. This is a great place to use the cuttings from the bottom of your Christmas tree or old evergreen picks you no longer want in your interior displays. Stop here if you want a more natural look or add a splash of color with holiday ribbon, pinecones or winter berries.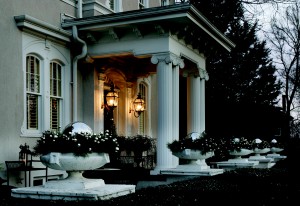 For a completely different look, place a wreath at the mouth of the urn, then fill in the center with an interesting focal point. It could be a gazing ball, a large lantern holding a battery operated candle, a garden figurine, a candelabrum or a moss ball. To give the display a bit of sparkle, use a pre-lit wreath. Or make the wreath look wilder and more natural by twisting in some honeysuckle vine.
Next Week … Stumped by what to get everyone on your holiday gift list this year? At my stores, I love to help people pick the perfect presents for their loved ones.  Next week I'll have my annual list of favorite holiday gift picks.