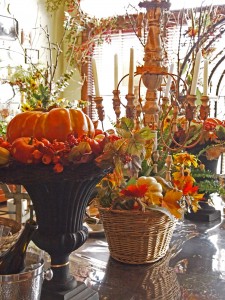 Raise your hand if you've ever bitten off more than you can chew at Thanksgiving. I'm not talking about that second helping of mashed potatoes or pumpkin pie. I mean spending hours decorating your home and table to create a festive Thanksgiving mood, then cooking up the perfect Norman Rockwell turkey feast for a house full of guests. As much as we enjoy celebrating the holiday with our loved ones, sometimes we work so hard on Thanksgiving that the thing we're most thankful for at the end of the long day is the chance to put up our poor aching feet.
I can't give you any time-saving tips on making a marvelous Thanksgiving meal, since my expertise in the kitchen doesn't extend beyond warming up carry-out in the microwave. But I can pass on a few pointers I've picked up through the years on how to create a beautiful Thanksgiving table in minutes, leaving you more time and energy for that second helping of pumpkin pie.
Stay Centered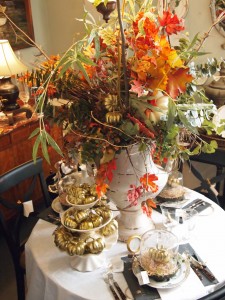 When it comes to decorating your table for Thanksgiving dinner, the key is to get the most visual impact with the least amount of work. So the first place you want to focus your decorating energy is on the centerpiece. The good news is you can create killer Thanksgiving centerpieces in a snap. I know, because I've done this myself on more occasions than I care to admit. Since the holiday season is my absolute busiest at Nell Hill's, I don't have lots of time the day before Black Friday to create elaborate table art for my family. The queen of the "photo finish," I am often tossing together my table as my guests are walking in the door.
One year, out of desperation, I grabbed a beautiful bowl from my china hutch and placed it at the center of my table then filled it with red pears I found in the fridge. To my amazement, my thrown-together display looked sensational — simple, but lovely. Emboldened, I tried this adrenaline-filled, last-minute centerpiece creation dash another year, and this time, placed a line of little lanterns holding candles down the center of the table. Bingo! It worked.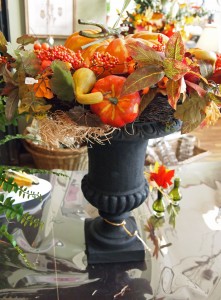 This year, if you know you're going to be tight on time and low on energy, plan to go simple but stunning for your centerpiece. Grab one of your garden urns, insert a few fall foliage picks and a handful of faux gourds, and you are good to go. Place a row of different glass compotes down the center of your table and fill them with fresh grapes. If you want to take it up a notch, insert pillar candles in the center of the compotes then fill in the space with fruits or nuts—anything you find in the produce aisle that looks lovely and your guests will enjoy nibbling.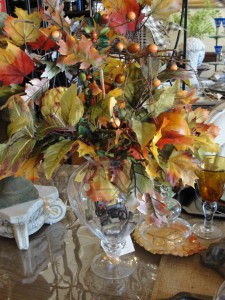 Or, pop into a florist and pick up a few inexpensive "cash and carry" bouquets of roses or assorted fall flowers. Trim the flowers so the stems are very short then arrange them in tiny, compact bouquets in five to seven cordial glasses. March them down the center of your table and you are done. Want something more rustic? Just fill a beautiful vase with branches of faux foliage.
If you have a bit more time to decorate this year and are in the mood to pour out your creative energy on a show-stealing centerpiece, fabulous! First let me give you a bit of advice I learned the hard way. Start by setting your table first so you know how much space you will have left over for your centerpiece. Far too often, I've worked my decorating magic creating an over-the- top display that left absolutely no room for anyone to actually eat at the table. Needless to say, this did not go over well with my hungry guests.
Cloche Encounters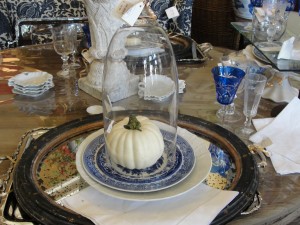 Another easy way to make your Thanksgiving table shine is to enlist the help of a decorating drama queen to punch up each place setting. This Thanksgiving, my decorating dynamo of choice is the never-fail, always amazing glass cloche. I have loved cloches for years and use them again and again when I decorate because I have found few decorating tools that can match their ability to make even the mundane seem regal. Put anything under a cloche, and it goes from ho-hum to majestic.
When we created the fall tabletop displays at Garrity's this year, we had fun seeing how many different looks we could come up with by using cloches and a few gourds. Here's a sampling of the looks we loved. I hope they will inspire you as you pull together place settings that are quick but memorable this Thanksgiving.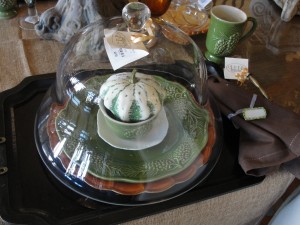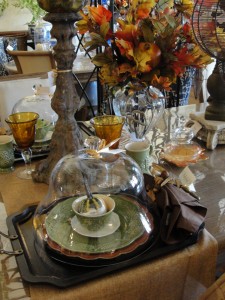 We started this lovely place setting with a black tray. I'm partial to using trays instead of place mats because I like how they group the elements of the place setting together, making one unit. We mixed up our dishes to give the table some fall color, using everyday white and holiday themed green plates. I love the little gourd nestled in the soup bowl. We finished off the look with brown linen napkins and amber glassware.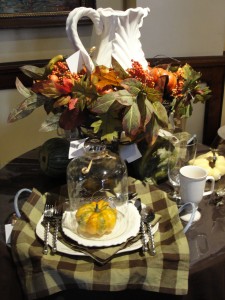 Talk about a simple centerpiece! Here, we put a fall wreath on top of a cake plate, then inserted a ceramic pitcher. The look is festive but took seconds to create. I really like the place setting treatment on this table because it instantly reinvents everyday white dishes, giving them a distinctive Thanksgiving feel, simply by the addition of a bold buffalo check napkin and a cloche covered gourd. We added to the farmhouse feel of this table by grounding each place setting on a wire tray.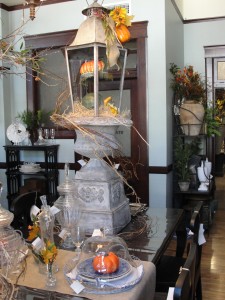 We went with a more elaborate centerpiece for this Thanksgiving table, but even as dramatic as this treatment is, it still took just minutes to create. We hoisted a garden urn and pedestal onto the table, topped it with a lantern that we tricked up with gourds. Then we pulled all the elements together with a few twists of honeysuckle vine. Easy, but effective, don't you think?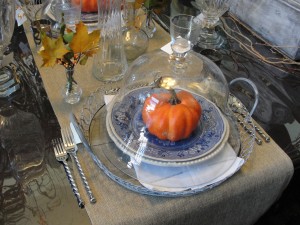 The accompanying place settings are equally as simple, but still so dramatic. We played up our formal/informal juxtaposition by starting the place setting with a rustic wire tray. Then we topped it with white stoneware and blue and white transferware plates. The orange pumpkin gives this serene setting a kick of color.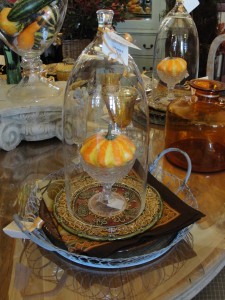 Another easy way to add loads of fall flavor to your Thanksgiving table is to invest in some fall-themed dishes. I'm partial to the earthy tones of this set. If you don't have the space for a full set of seasonal dishes, get just the salad plates then place them on top of your everyday dishes for an instant makeover. You can barely see the centerpiece in this photo, but it's another super easy treatment: Fill an apothecary jar with a tumble of assorted fall gourds and place it atop a riser, like this capital, for added stature.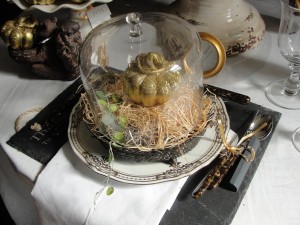 This inventive place setting is too sweet for words. We started with a truly unusual placemat – a decorative chalkboard. Then we broke up the black plane with a crisp white napkin. Right now I'm folding dinner napkins in a long, thin plane, resting the top portion on the dishes and allowing the bottom to hang down the side of the table. I think it adds a bit of visual interest and softens up the stack of hard surfaces just a bit. The show stealer of this place setting is the gilded pumpkin sitting on a bed of straw under a cloche.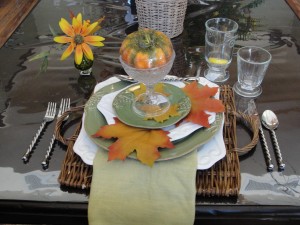 Cloches not your thing? This pretty fall setting is every bit as charming even though it's alfresco. We started with my favorite wicker trays, which are shockingly inexpensive on Nell Hill's Online right now. Then we layered everyday white dishes with a versatile set of holiday-themed plates. We topped it off with a sorbet cup holding a gourd, then tucked in a few fall leaves for fun. The little bouquet to the top left of the placesetting is a cute added touch and could be given as a gift to your guests.
Next Week … Looking for a powerful but unusual way to dress up your home for the holidays? One of our favorite tricks at Nell Hill's is to fill garden urns with seasonal color and charm. In next week's blog, I'll show you how.