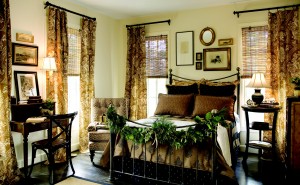 One of the best things about the holidays is the chance to fill your home with loved ones, whether for a few hours or a few days. If you're having overnight guests this holiday season, make a fuss over them so they know how much you love them. Here are a few tips to ensure your guests feel more at home (and maybe even a bit like visiting royalty).
Inviting Guest Room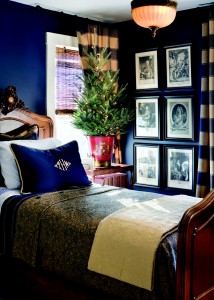 Be sure your guest quarters are decorated as beautifully as the rest of your home, so the room doesn't feel like an afterthought. Paint the walls a wonderful, warm color. Replace the standard light fixture with an interesting chandelier. Cover the windows in a treatment that adds interest and ensures privacy. When you pick furnishings for the guest room, be sure to include a generous sized night stand, a comfortable chair to rest in and a table or luggage stand to hold guests' suitcases. I have friends who have made their guest rooms even more lovely than their own bedrooms because they know this rarely-used space won't take the daily abuse their own bedroom will, so it's guaranteed to look great for years.
Creature Comforts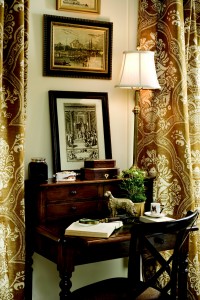 It's essential that your guest space be inviting. You want visitors to feel at home, not like intruders. One way to do this is to anticipate their needs and outfit the room to meet those needs. For instance, I have a small ladies' writing desk next to the bed in one of my guest rooms that I keep stocked with things guests might need during their stay, like a crystal pitcher filled with fresh water, a roll of stamps for their correspondence and a china cup holding pens. A friend of mine who takes the art of spoiling guests to a whole new level often puts together welcome baskets for her guests, filling them with things like an itinerary of activities, key phone numbers, services they might need while they are with you, a street map and pamphlets from interesting sites in your area, like art museums and shopping centers.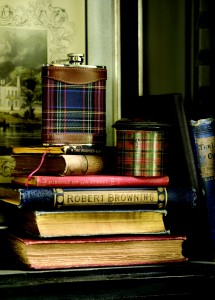 What do your guests love to do? Surprise them by spotlighting their interests and passions in your guest room. If your guests are avid readers, stack some great books on a tray by their bed. If they love to shop for clothes or decorate their homes, get the latest editions of your favorite fashion and decorating magazines.
A Feast of Love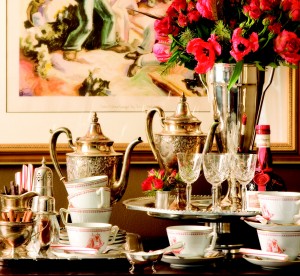 I'm a firm believer that everything in life is better with food. So I like to spoil my guests with yummy treats. When your visitors first arrive, revive them from their travels with a coffee bar. Dress up your dining room buffet, kitchen island or a console table in your foyer with carafes filled with steaming coffee and tea. Visit your local candy store to pick out some interesting confections, like peppermint sticks dipped in dark chocolate.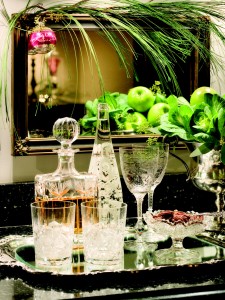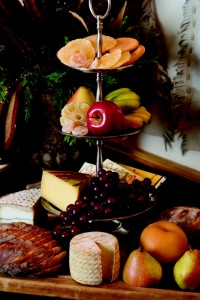 Spending the day touring can be absolutely exhausting. So while your guests are resting up from the day and getting ready for the night's festivities, surprise them with a tempting spread of appetizers and drinks, set up in their room or on a table just outside the door of the guest room.
Heartwarming Bedclothes
When I was growing up, every Christmas my sister and I received a pair of pajamas from some neighbors who had no children of their own. So giving pajamas has become a holiday tradition in our family. Every time Judy comes to visit me for Christmas, I can't wait to pick out a new pair of p.j.s and a robe for her.
I like to do the same thing with dear friends who come to visit. Once, I hit an incredible sale and stocked up on cute robes and slippers that I gave to friends who came to stay. In addition, I always have thick, white robes for guests to slip on before they head to the bathroom, which is off the main hallway upstairs. I hang the robes from decorative hooks on the back of the guest room closet doors so visitors see them immediately when they walk into the guest rooms. I think just the sight of the luxurious robes makes people feel welcomed and spoiled, as if you were eagerly awaiting their arrival and already anticipating their needs.
User-Friendly Guest Baths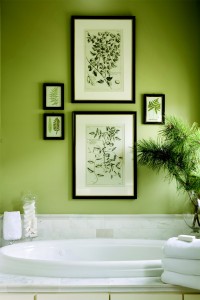 Another way I indulge my guests is to stock my guest bathroom with the toiletries I think they will need during their visit. On a bookshelf next to the sink, they will find an apothecary jar full of white washcloths. On a shelf below that, I have an old suitcase filled with items like a hair dryer and hygiene products. Next to the suitcase stands a stack of fluffy white towels. On a shelf above the toilet I have Q-tips in a silver-lidded jar and disposable razors in a silver cream pitcher.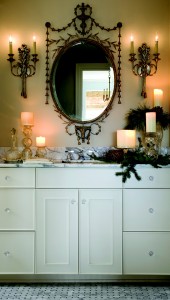 Once you have all the essentials your guests might need, from fresh soap and shampoo to toothbrushes and toothpaste, turn your attention to making your guest bath feel like an oasis. Dress up the counter top with pillar candles or scented votives. I also like to place garden statuary on bathroom counter tops, then add interest with seasonal greens.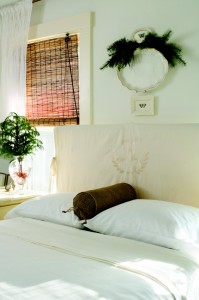 After a long day of visiting, your guests are going to be ready to jump into bed at night. So make sure your guest bed is inviting. Invest in a lovely bedding ensemble that includes soft, white sheets, fluffy duvets and sink-into pillows. I placed shams on one of my guest room beds that are embroidered with the greetings, "Good Morning" and "Good Night."
Make it Personal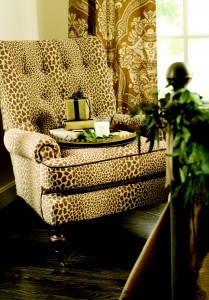 When I have guests in my home, I like to give them a little gift that celebrates our friendship. I often leave a small, beautifully wrapped present on their pillow or a chair next to their bed–a fun surprise just waiting to be discovered in a private moment. The gift may hold a small framed snapshot of us together. It may be a special accent for their home, like something I know they collect. Or it may be something that celebrates one of their hobbies, like a pot filled with forced bulbs for my gardener buddies.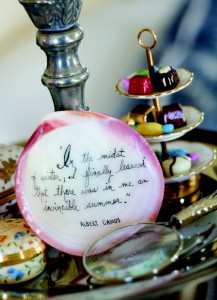 When my friend Charlene, the choc-o-haulic, comes to visit, I always leave her some sort of gift to satisfy her sweet tooth. It may be a dessert server holding gourmet chocolates or an apothecary jar filled with mini candy bars. Make the offering even sweeter by including a personal message or a warm greeting for your guests, like a little plaque with a heartwarming saying.
Make it Festive
Celebrate the season by adding bits of holiday cheer to your guest room décor.  How about placing a small, live evergreen in an elegant cachepot on a table in your guest room? It will delight your guests to have this fanciful fresh tree to brighten their room, and, when the weather warms up in the spring, you can plant the tree in your garden.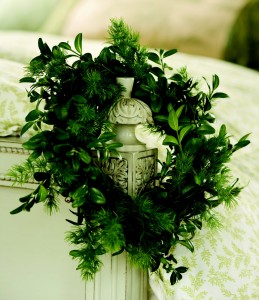 I like to dot my guest rooms with tiny touches that scream "happy holidays!"  Ring the bedpost with a holiday wreath. Rest a stocking stuffed with treats on your guest's pillow. Or, hang a row of stockings from the footboard, ready for Santa. Loop a bit of seasonal ribbon around the doorknob to hold a Christmas tree ornament or a small piece of artwork depicting an evergreen. Put a stack of vintage Christmas books on a side table. Or hang wreaths from the window sashes.
Next Week …We host our family's Thanksgiving dinner every year at our home. While Dan is busy in the kitchen, preparing our feast, I'm in the dining room, making our table a feast for the eyes. Next week, I'll pass on some tips for setting a memorable Thanksgiving table.