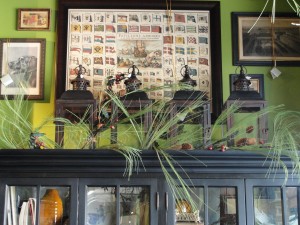 When early humans discovered fire, they not only stumbled upon a great way to grill up wooly mammoth burgers for dinner and keep the cave cozy at night, they also came up with one of my all time favorite decorating tools: candlelight. The older I get, the more convinced I am that everything—and everyone—looks better bathed in the soft, warm and forgiving glow of a candle.
Candles have been a mainstay of the Nell Hill's look for decades. And season after season, as we find new ways to use these oldies but goodies in our interior design, our passion for candles just burns brighter. Ready to bring more candlelight into your home? Here are some tips to light your fire.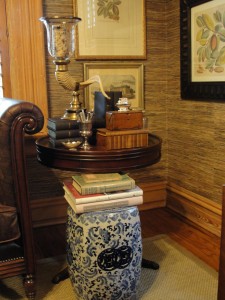 While I love to use candles in my year round decorating, I'm especially crazy about them during the holiday season and the cold, dark months of winter that follow. My current favorites? Clusters of votives and groupings of pillar candles.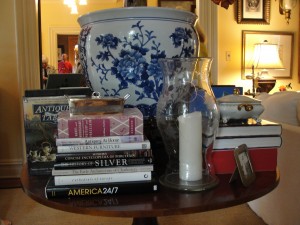 If you look closely at the candles burning in my home, you'll see that most of them aren't really burning at all. They are fakes — battery operated candles that look just like the real thing.  I used to turn up my nose at fake candles, but today's battery operated candles are so lifelike, complete with drips and flickering flames, that I've almost completely thrown over real candles for the cheaters. Any why not? You get all the beauty and none of the fire danger of real candles.
Selecting the shape, size and style is only the beginning of decorating with candles. I think the fun part is picking the candle holders that will add style to your displays. Here are a few of my favorites right now.
A Cadre of Candlesticks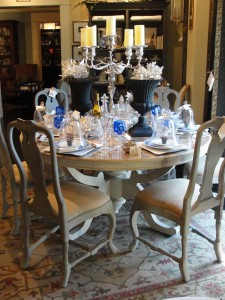 If you want to create a look of unsurpassed elegance on a dining table, look no further than silver candelabra. I use my trusty five-arm candelabras over and over again when I create tablescapes for dinner parties and for my open house tours. Sometimes I go with tradition and top them with tapers. But more often than not, I place something unusual on top of one or more of the candlesticks cups, like a little gourd, a Christmas tree ornament, a pomegranate or a pinecone. It's fun to catch people off guard and see them do a double-take as they drink in the unusual display.
It's also lots of fun to use these formal candelabras in unexpected places. A friend of mine has a gorgeous candelabrum on a stand next to the bathtub in her guest bathroom. I'm already a fan of soaking in a steaming hot tub, so the romantic candlestick is all the invitation I need to disappear until I turn into a prune.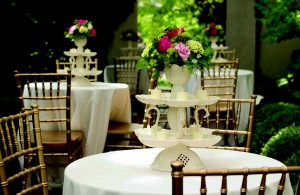 When our daughter got married at our home a few years back, she wanted the decorations to create an understated, elegant look that was also full of drama. What could help us achieve that tall order except candles?
To give our guests a warm welcome, we lit up our front walkway with two grand candelabras fitted with battery operated pillar candles. We added pools and pools of votives, clustered on each step leading up to the door. To lend sparkle to the trees in the front yard, we hung wreaths horizontally from the low boughs then covered them with faux votives. In the courtyard, we brightened the garden path with hundreds of hanging votives that were suspended from the branches of the trees and shrubs. Each table centerpiece featured a server holding votives. The effect was absolutely breathtaking.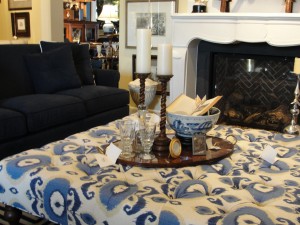 Another style of candle holder that is high on my list right now? Large, chunky pillar candlesticks. If you want your everyday displays to turn some heads, just add a few big pillars. This pair of turned wood candlesticks brings necessary vertical height to this display on a coffee table ottoman at Nell Hill's Briarcliff. Even though the sticks are the same height, we put different sized pillar candles on top to give us the height variation necessary to make the display interesting. Notice how we anchored the tableau on a wooden tray that matched the candlesticks so the candlesticks wouldn't look out of place in this blue-and-white display.
I have been using these sleek, contemporary silver candlesticks in lots of different ways this year. Sometimes they are part of a centerpiece, serving as a riser for an unexpected natural treasure, like a pumpkin, a potted fern or a bird's nest. I've grouped them in front of the hearth in the warm months, when the fireplace was not in use. Today, they are the head-turning focal point of this knockout coffee table display.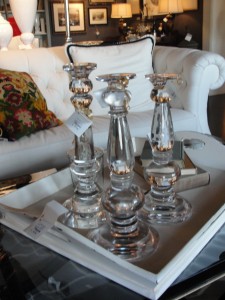 Boasting the same sleek lines as the tall silver candlesticks, these shorter glass pillar candlesticks are a great pick for mantels, coffee tables and side tables. They are like a wonderful blank canvas just screaming to be topped with something fabulous. For the holidays, I can just see them holding up large tree ornaments, surrounded by twists of faux pine greenery. Or, you could top them with flickering faux pillar candles then place them on a mirrored tray that would flash and sparkle with the candlelight.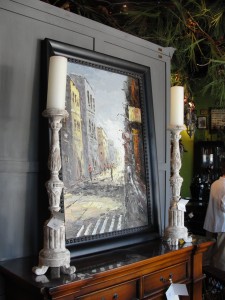 If you have a lovely piece of artwork you want to showcase above a console table, perhaps in your entry or in a hallway, try flanking it with a pair of tall, beefy pillar candlesticks like these. I think the tall candlesticks act almost like a frame, calling attention to the painting hung between them.
For the Love of Lanterns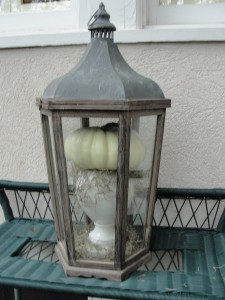 Lanterns are one of the best decorating work soldiers you'll ever find. And like candlesticks, they are a core ingredient of the Nell Hill's look, especially in the fall. And, like candlesticks, you can use them as they were originally intended, to hold a candle, or you can break with tradition, like I often do, and use them as mini display cases for seasonal decor. This rustic lantern graced my front porch during my fall open house. Instead of a candle, I used it to display a white pottery compote holding a gourd that matched the lantern's soft hues.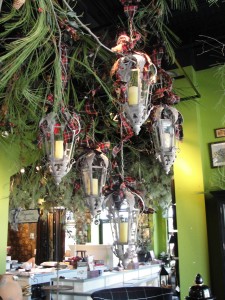 This holiday season at Nell Hill's, we are really into decorating with clusters of hanging lanterns. We've created groupings out of odd numbers of similar lanterns, then hung them together, all at different heights. Try doing the same at your home this year. How about hanging a grouping of three or five lanterns together from a tree branch in your back yard?  Or suspend them from the pot rack that hangs over your kitchen island. Groups of lanterns also look ideal hung over a kitchen table. The lanterns both ground the table and chairs and give the space loads of character. For added charm, hang the lanterns from seasonal ribbons or attractive chains trimmed with a bow.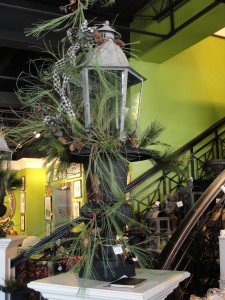 Want to dress up your front porch or entry for the holidays? Just place a lantern on top of your black iron garden urn, then have fun adding seasonal embellishments. Twist a strand of faux pine garland around the lantern and urn, so it trails slightly on the ground. Then tie a large bow on the handle of the lantern. Insert a big battery operated pillar candle inside the lantern and presto, your door looks amazing, and it only took a few minutes.
Next Week …There is nothing better during the holidays than to fill your home with family and friends. Next week, I'll give you some tips on how to spoil them rotten.