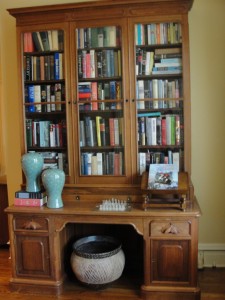 When I married Dan, I had no idea he came with so much baggage – volumes and volumes and volumes of books. To call him well-read is an understatement. I love that Dan is an avid reader, but figuring out what to do with the mountain of books he plows through every year is a decorating challenge. We have invested in our fair share of bookcases, and I've learned to be very inventive in how I style them so our house looks like a home, not a branch of the Atchison Public Library.
If you love books, too, and want to give your bookcases a new look that turns heads, here are some tips to get you started.
Beautiful Books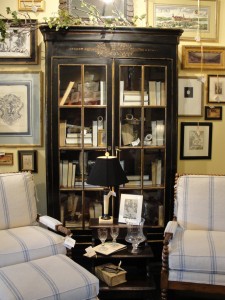 As you approach styling your bookcases, remember that first and foremost, it's all about the books. Your design has to revolve around your collection of books. A mistake I see people make is to fill their bookcases with accents, not books, so they end up look more like store displays than bookcases.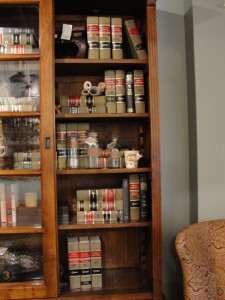 That said, I think you've got to be inventive in how you display the books in your bookshelf. One easy way to mix things up is to place some of the books in vertical stacks so you don't have rows and rows of books in a monotonous, straight line.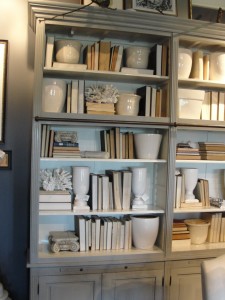 Another technique I'm crazy about right now is to build a monochromatic display with items that have different textures. To create this look in a bookcase at Nell Hill's Briarcliff, we simply flipped the books around so the pages faced out.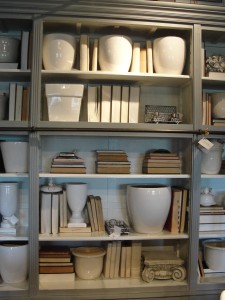 Then we repeated the creamy white color of the books' pages using a variety of accents, like white pottery, sea coral, capitals and silver serving pieces.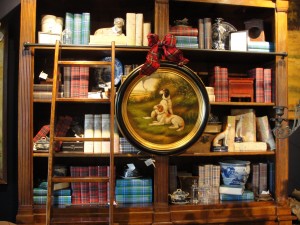 Remember back when your teachers made you cover your textbooks in those ugly book wrappers? We're taking that parochial look to a whole new level at Nell Hill's right now, and the overall effect will knock your socks off. I'm over the moon about tartan plaid this holiday season, so when I spotted this technique in a travel magazine, I knew I had to copy it at the stores this season.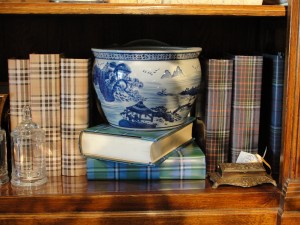 My inspiration photo showed books covered in tartan fabric, but that sounded way too hard to pull off, so instead we used a few different colors of tartan paper.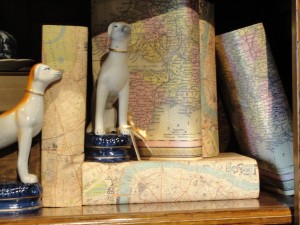 To break up the sea of plaid, we also covered some books in paper that featured vintage world maps. Now, I need to add a quick disclaimer here: This approach is definitely not for everyone. In fact, my husband would scream if I did this at home. He's touchy about his books, so if he found them covered with wrapping paper or turned backwards, he would not be a happy camper. But, it's a fun visual effect that's new and interesting, and it may be just the touch your bookcase needs to bring it out of its slumber.
Add in Interesting Accents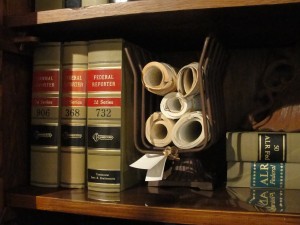 Perk up your display by adding a few well-chosen accents in the space between your books. But first, a note of caution: A big mistake people make when decorating their bookcases is to cram them full of lots of tiny objects, creating a look that is chaotic and overwhelming. For a more powerful display, limit yourself to just a few larger pieces, like a gorgeous cachepot, a garden bust or a sizable antique box.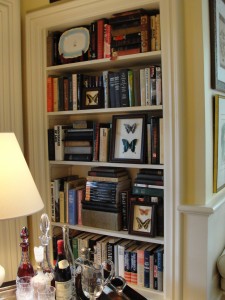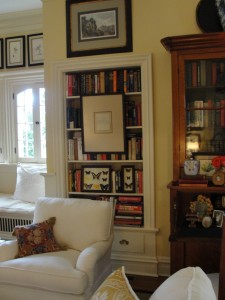 Another great look is to place artwork on the shelves of the bookshelf, intermingled with the books. In the built-in bookcases in my living room, I offset Dan's collection of books with a few of his favorite butterfly specimens. The artwork helps to break up the sea of spines, especially if it's as fetching as these beautiful butterflies.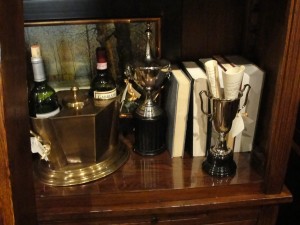 If you want to pull together several accents into one display, start with a vertical backdrop–prop a piece of art, a silver tray or china platter upright in an easel. Otherwise, dark bookcase shelves can become black holes into which your carefully constructed display disappears from view. Then, add two or three additional pieces in front of the backdrop, making sure each one is a different size and texture to give your display interest.
Bookcases are also a great place for seasonal displays. Freshen your year-round tableaus by adding a touch of seasonal foliage, berries or flowers–put a gourd on top of a candlestick, a fall flower under a cloche or a passel of hedge apples in a bowl.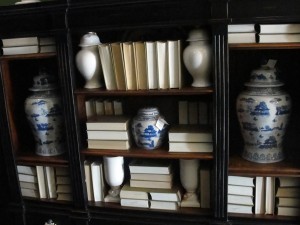 If you're working with a larger bookcase, be sure your display is well balanced from one side to the next. To do so, place objects that have the same visual weight opposite each other. For instance, if you put a large blue and white ceramic cachepot on the right side of the bookcase, you will need to place another – or something that carries the same visual weight, like a garden bust or large wooden box – on the left side.
Reach New Heights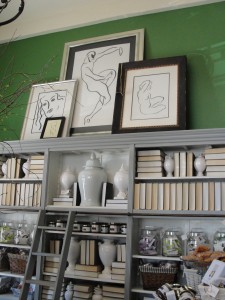 Don't forget to utilize the space on top of your bookcase when you're decorating. This perch is the perfect place for a dramatic display that you leave up year round or one that you can change up for each season.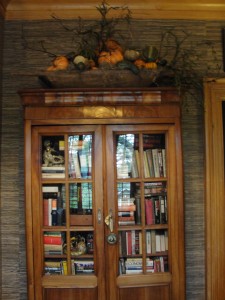 That's exactly what I like to do with the antique bibliotheca in my study. I keep a wooden dough bowl up there that extends from end to end, then fill it with seasonal greens, letting a few vines or branches cascade down the side or front. It's a subtle but interesting look that allows me to add just a hint of the season to this beloved room. Picking baskets work well too.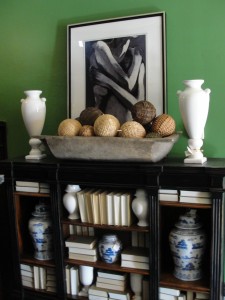 I really like to layer pieces of artwork above bookcases. Start with a larger piece of art leaning against the wall behind the bookcase. Then, add a few more pieces of art, in descending sizes, placing them off center so the eye moves from one to another.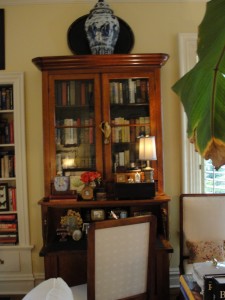 Urns, ginger jars and olive oil vessels also make ideal picks for displays on the top of bookcases. Remember, go big – when you put things up high, they seem to shrink visually, so you want pieces with heft that won't get lost.
Next Week … Everything—and everyone—looks better by candlelight, don't you think? I love to use warm candlelight in my home, especially during the fall and winter. Next week, I'll have some fun ideas of ways to work candles into your home décor.