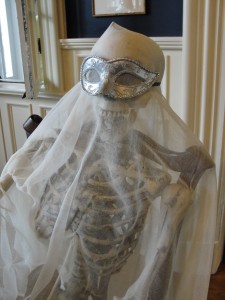 Throw a Bone Chilling Halloween Bash
Growing up in The Most Haunted Town in Kansas, I've heard my share of ghost stories. Whether it's the tale of the drowned woman who calls to men from her watery grave in the Missouri River or Molly, who lets out blood-curdling screams in the park at midnight, the spooks who call Atchison home are legendary. And, they scare the socks off me!
But even though I am the world's biggest chicken, I can't resist the fun of throwing a Halloween soiree at my historic home. That's why I picked a Murder Mystery Party theme for my fall open house this year. Why not join in the fun and throw a sensationally sinister dinner party of your own?  Here are some photos from my open house and decorating tips to inspire you to ghoulish greatness.
Set the Stage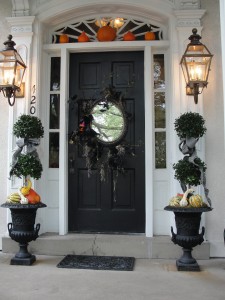 From the moment your guests approach your front door, let them know they are in for a spine-tingling good time. Line your walkway and flank your door with lanterns filled with flickering battery operated candles. Surround the lanterns with clusters of leering jack-o-lanterns or ghoulish green pumpkins, then snake a few ribbons of honeysuckle vine around the whole presentation to make it look a bit wilder.
Hang a piece of creepy artwork on your door, like a photocopy of a cadaver from an old anatomy textbook or an old clock face ominously stuck at midnight. One year, I decorated my front door with a bull's eye mirror that distorted the faces of guests when they looked into it. Finish with some gnarly sticks painted black and a few spiders.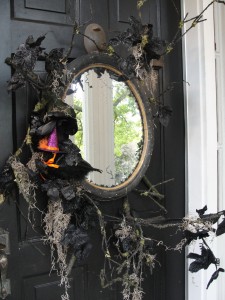 For my fall open house this year, I hung a large round mirror from my door knocker. I secured some twisting, turning dead sticks behind the mirror so they branched out around it. Next I tucked in some creepy faux black flowers that added just a bit of shimmer and sheen. I finished off the look by draping handfuls of Spanish moss over the fingers of sticks.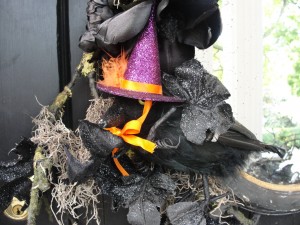 Because I'm basically a kid at heart, I had to break up the spooky scene with a bit of levity, so I added in a kooky black bird wearing a witch's hat.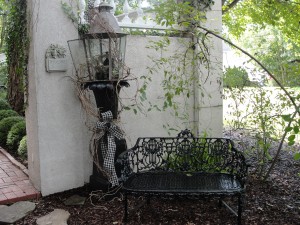 In addition to dressing up my front entrance for the fall open house, I also tricked up the gate of my courtyard just a bit. I topped a large black iron urn with an over-sized lantern, then looped it with a few twists of honeysuckle vine.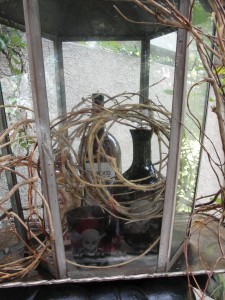 I placed some sinister props inside the lantern, like a skull and cross bones glass and fun bottles with Halloween themed novelty labels.
Frightful Foyer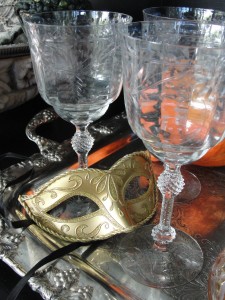 I love to serve drinks and appetizers in my foyer so guests have a chance to congregate before being ushered into the dining room. To turn your entry into a spooky reception area, set up a side table or butler's cart with crystal decanters holding spirits or a witches' brew in an elegant punch bowl. To shroud the room in a mysterious mist, add dry ice.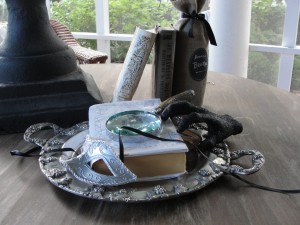 Fill tarnished silver trays with dark and sinister-looking appetizers, such as plumbs, blackberries, black grapes and figs. If you want to get really icky, put fake vermin like rubber bugs, snakes or a rat around the serving platter. How about a dismembered hand?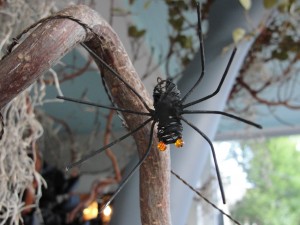 Whether or not you start your party in your foyer, make sure this all-important space reflects the spooky mood you created at your front door. For instance, work a lacy, pre-made spider web into the arms of your chandelier then suspend little wire spiders from fishing string. Create a macabre display on an entry table: Prop a skull atop a cake plate covered with a glass cloche then elevate the stand on a stack of classic tales of horror, like "Frankenstein." Add in a greenish gray pumpkin with a raven perched on top.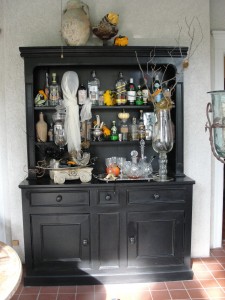 For my open house, I dressed up my screened porch for a Halloween party. I wove a little black magic into the displays in the hutch that stands guard on my porch year round.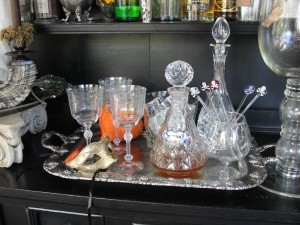 The bar service, with swizzle sticks marked with the skull and cross bones, will make you pause before mixing a drink.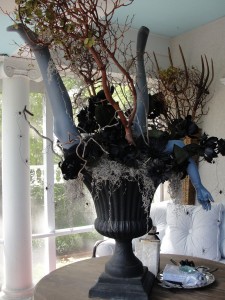 I created a very zany centerpiece on the table on my porch. For years, I've been on the look for old mannequins I could use for Halloween party props, and I finally snared some. So guess what is the focal point of the centerpiece? Dismembered mannequin arms and legs! Thanks to their sleek gray finish, the arms and legs sticking pell-mell out of the urn at my table's center give the "bouquet" a whimsical, not grotesque, look. The mannequins are mixed in with twisty, turning branches, Spanish moss and glittered faux black flowers.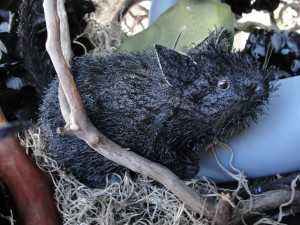 Again, I couldn't resist tucking in a little bit of fun, this time in the form of a puffy black rat.
Dreadful Dining Room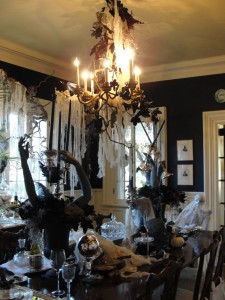 Bring out the silver, crystal and china and set the most opulent table you can imagine. Then, creep it up with a few terrifying touches.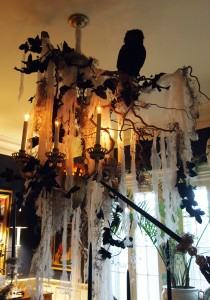 Cover your candelabra with webs made of cheesecloth or scrim. Roost bats or a black owl in your chandelier. Fill flower vases with blackened hydrangeas and carnations. Slip wart-covered rubber toads in the guests' water goblets. Let rubber bugs slither over the dinner plates.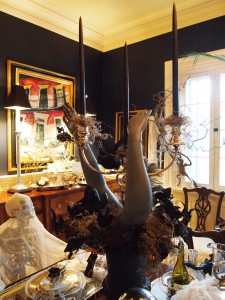 The goal is for your tablescape to tell the story of a stately dinner party that was mysteriously interrupted, and no one was left to tell the tale of unspeakable horror.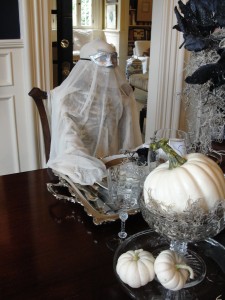 For my fall open house display, I seated full-sized skeletons in the host and hostess chairs then draped them with scrim so they looked like specters.
I continued my murder mystery theme to the buffet, where I set up the coffee service … drink only if you dare!
On the side table that nestles between the large windows in my dining room, I added a serving urn filled with white gourds and set up a spooky wine bar.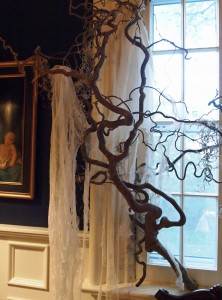 The windows were loads of fun to dress up. We attached some twisting twigs to the woodwork then dotted them with shreds of scrim and a dusting of Spanish moss.
Spooky Treats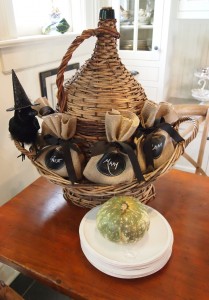 You simply can't have a Halloween dinner party without giving out goodies. Fill small fabric pouches from a craft store with wire spiders that guests can use to decorate their own homes. Hunt for classic tomes of terror at a used book store, like "Dracula" or the works of Edgar Allen Poe, then wrap the books in scrim tied up with Halloween ribbon. Fill pumpkin shaped soup bowls with candy corn. Or give everyone a Gothic picture frame they can use to hold snapshots taken during the party.
Next week … Do your bookcases look too empty … or over filled? Are the displays tired and outdated? Next week, I'll have tips for making your bookcase displays sensational. Come back and see me!