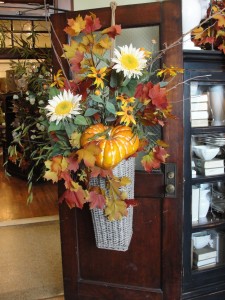 With each new season, I have a blast coming up with a new display for my front door. Depending upon how much time I have to devote to decorating, my concoctions have run the gamut from super simple treatments to those that are elaborate and involved. I've hung plates on my door, artwork, lanterns filled with thematic tableaus and a million kinds of wreaths. But the time I got the most comments on the appearance of my front door was the year I didn't hang anything! Friends and neighbors were so used to looking for my constantly changing door displays that when I didn't have time to reinvent the look of my door one season, they were sure that something dreadful must have happened to me. You wouldn't believe the number of calls I got from friends to see if I was OK.
This fall, treat visitors to a warm fall greeting by dressing up your door for the season. Here are three fun and quick looks to inspire you.
A Bountiful Bouquet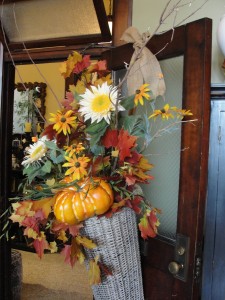 For today's blog, I asked Gail, a member of our talented visual team at Nell Hill's, to join me in creating three simple and fun fall looks for exterior doors. We had intended to dress up the front door of my home, but the day we had scheduled our blog photo session turned out to be so blisteringly hot, we wimped out and instead stayed in the wonderful air conditioned confines of Garrity's. So, as you look at each door treatment, use your imagination and picture it not on the interior door of a shop, but on the door of your own home.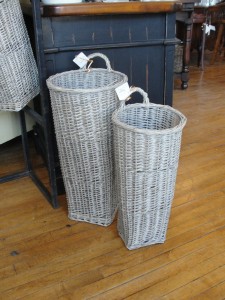 Nothing says welcome like a happy basket spilling over with the glorious colors of fall. So for our first look, Gail hung a simple flower basket on the door by a burlap ribbon. New this year, these white wicker baskets make fabulous year-round decorating tools. They are long, thin, lightweight, inexpensive and feature a handle at the top that makes them easy to hang from a door.  We're carrying the basket in three sizes, but I think the large size (28 inches high by 24.5 inches wide, and priced at just $19.75) and the medium size (24.75 inches high and 10.5 inches wide, priced at only $14.50) are the best sizes for door displays because they are large enough to make a statement that's visible from the street.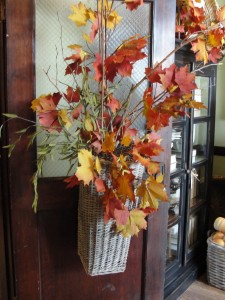 Gail hangs the basket a little lower on the door so that when she adds the bouquet, the floral arrangement will be right at eye level. My husband, Dan, goes nuts when I hammer nails willy-nilly in our home, so I have tried to come up with creative ways to hang things using as few nails as possible. One way to do this on your front door is to hang your display from your door knocker, securing it with a lovely seasonal ribbon. You can also use a door hook that secures over the top of your door.
If your front porch is not covered or if you get a lot of wind where you live, like we do in Kansas, you'll need to secure the basket so it doesn't bang around in a stiff fall breeze. Gail solved this problem by putting a weight in the bottom of the basket, which does a nice job of helping it hang straight, no matter what the weather.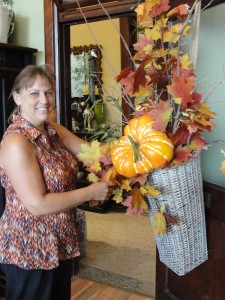 With the basket in place, Gail begins filling it with a bouquet of fall goodies. To create the signature Nell Hill's look, she uses a base of fallen sticks for the arrangement. She positions four twigs in the basket so they look like they've grown there naturally. Next, she fills in with a mix of fall foliage. She inserts one sprig of faux maple leaves at a time, being sure to keep the look light and airy, bending and twisting the artificial branches so they look lifelike. Then she adds some fall flowers, like sunflowers and black eyed Susans, and even a hefty fake pumpkin for added fun. I also adore bittersweet and honeysuckle vine in displays like these. When you pick out the fabulous fakes for your basket of flowers, be sure to select foliage, flowers, grasses, vines and berries that look sensational with the color of your door and with your home's exterior paint.
When Gail likes what she sees, she secures all the pieces with florist wire so the display won't get torn up by the wind.  Then she finishes it off with an adorable half bow treatment—my favorite these days. She makes a loop out of burlap ribbon, knots it and lets the two ends trail down.
Mirror, Mirror on the Wall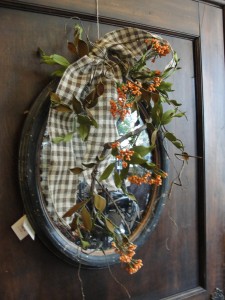 I really love to use mirrors on my front door, especially in the fall when Halloween trick-or-treaters will come knocking. I like it when the kids can see just how adorable they look as they wait for us to come to the door with our bowl of candy.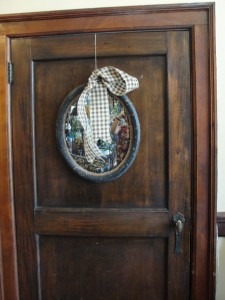 Gail selects a traditional oval mirror in a distressed painted finish. If your porch is uncovered, be sure to pick a mirror that can withstand wind and rain. I recommend you go for something waterproof and inexpensive. You'll also want to pick a mirror that is heavy enough not to be tossed about by the wind. And, consider putting a piece of felt on the mirror's back so it doesn't scuff your door.
Gail hammers in a small nail at the very top of the door's inside then ties a bit of twine to the nail. She brings the twine up over the door, where she ties it securely to the picture hanger on the back of the mirror. Twine is a great pick for your fall display because it's so rustic.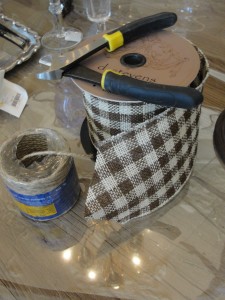 Next, Gail makes a simple loop bow out of one of the new ribbon styles we just got in for fall. This adorable burlap check ribbon looks great in a host of fall displays—you can loop it around wreaths, in and out of bouquets, on lantern handles or candlesticks, and around the base of fall topiaries in your garden. I can't decide which I like better, this cute new patterned burlap or my trusty gold standard—solid burlap ribbon. It's a tie: They both scream fall.
With the stage set, Gail starts to add pizazz to our door treatment by working in some fall leaves, berries and, of course, twigs. She lets the greens cascade down from the top left side of the mirror, securing the stems to the back of the mirror with florist wire. Her goal with this display is to add in a bit of color – orange through the berries and green through the faux foliage – but to keep the bouquet airy enough so as not to obscure the mirror underneath. I think she found just the right balance.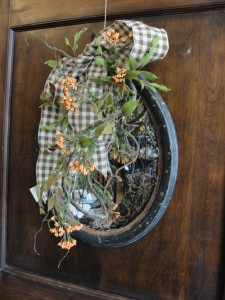 I'm crazy about this simple, tasteful treatment. It's streamlined enough to fit comfortably between an exterior door and a storm door. Yet it's substantial enough to turn heads as people drive by the front of your home.
If you don't have a mirror on hand, you could modify the look by using a piece of inexpensive artwork (oil so it's a bit more moisture-proof), a decorative plate or even a flat-backed lantern.
.
Chalk One up for Fall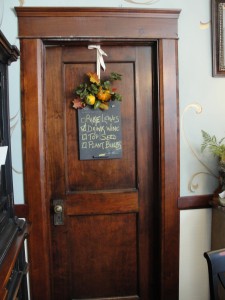 This door treatment is super easy to pull off and lots of fun to do. We start by hanging a decorative chalkboard from a small nail on the door (remember, you could also use a door hook or hang the chalkboard from a knocker). You can stop here or dress the chalkboard up a bit like we did. Gail scouted about Garrity's for some fake fall gourds, eucalyptus leaf picks and faux fall maple leaf branches. She plays around with the pieces until she comes up with a look she likes. She pulls out her trusty florist wire and secures the pieces of the bouquet to the top of the chalkboard (to keep the gourds in place, she pokes holes in the back and strings florist wire through them). Presto! She creates a super cute look in a matter of minutes.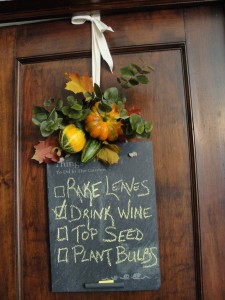 Since I can't resist having a bit of fun, I embellish the chalkboard with a message. The chalkboard we picked is printed with the phrase, "Things to do in the garden …." I add in a few options, like rake leaves, plant bulbs and seed. You can see which one I would choose: "drink wine". I love to sit with friends and family in my courtyard in the fall and enjoy a wonderful glass of wine!
This fall, be sure to take a few minutes to trick up your door for the season. Your friends, neighbors and passersby will be delighted you did. If you need a few more ideas or supplies for creating sensational fall door displays, be sure to visit us at Garrity's, where we have lots of fall foliage and gourds, at either Nell Hill's location or at Nell Hill's Online.
Next Week … Halloween is not just for kids any more. Be sure to come back next week when I'll share some frightfully fun ideas for throwing a simply sinister Halloween bash for you and your friends.