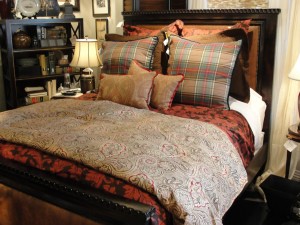 When you live in an old house that's full of drafts, like I do, you have to get creative if you want to stay warm in the winter. I like to head to bed early, bury myself in blankets and get lost in a good book.
Since we spend almost a third of our lives in bed, shouldn't our bedding be beautiful and inviting? This fall, don't just dream about making your bed into an oasis, take steps to make it a snugly cocoon that's also a feast for the eyes. It's fun and easy to freshen up your bedding ensemble, whether you want to add just a few small touches or create a whole new look.
Today, I asked Marla, Kathy and Macy, the Three Queens of Custom Bedding at Nell Hill's Briarcliff, to not only share some tips on how to make over your bed for fall, but to show us how. So, each one of them designed a bedding ensemble for us using this year's hottest fabrics, colors and patterns. You're going to love what they came up with!
Marla's Bed: Timeless Luxury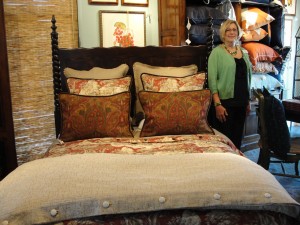 Marla loves timeless bedding that transcends trends and withstands the test of time. So when she went to our fabric room at Nell Hill's Briarcliff to pick the fabric for her bed, she couldn't resist a brand new toile we just got in that features images of deer. The toile became her inspiration fabric, which drove the look and feel of the entire bedding treatment. If you don't know where to start when creating a bedding ensemble, follow Marla's lead and pick one fabric that steals your heart and use it as the guide when picking out every other piece for your grouping.
When she works with toile, Marla likes to combine it with men's wear fabrics so the bed doesn't look too feminine. Her pick today? A tartan plaid, a windowpane plaid, a pinstripe, a paisley and some chocolate brown velvet tossed in for added richness.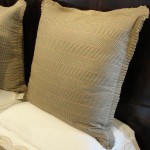 Marla starts her dream bed with a back row of Euro shams in a brown and red plaid. She finished this classic pillow with a 1-inch knife pleat, one of our signature looks at Nell Hill's, to give it a formal, tailored look.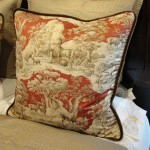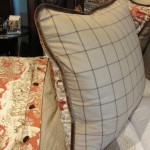 For her second layer of pillows, Marla again picks Euro shams, this time covering one side in her inspiration toile. She uses a wool windowpane in camel and brown on the back of the pillow, then cords the whole thing in brown velvet because she likes the formality and elegance it gives the toile.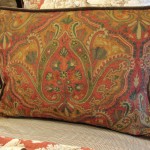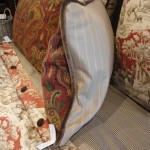 For the 20-inch by 26-inch accent pillows that make up the front layer of pillows, Marla brings in one of my favorite "splurge" fabrics – a yummy paisley crewel. She also makes these pillows reversible, covering the back with a wool pinstripe in camel and cream, then finishes them off with a brown velvet cord.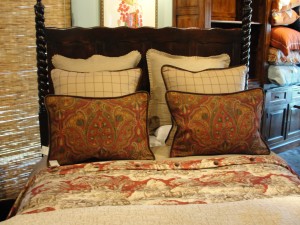 One of the beauties of doing custom bedding is that you can make your pieces reversible, like Marla did, so you can get lots of different looks with just one ensemble. Just by flipping over the second layer of pillows, Marla's bed takes on a whole new feel. It requires an initial investment, but in the long run custom bedding more than pays for itself because you get a look you love and that you can change often, so it never gets old.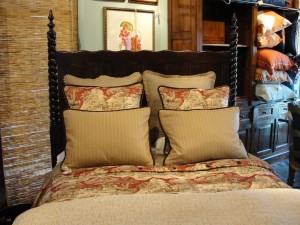 Simply by flipping the front two pillows, Marla's bed instantly goes from a winter look to one that's perfect for spring and summer. That's another perk about custom bedding – you can make one side dark and rich for fall and winter then make the other side light and bright for spring and summer.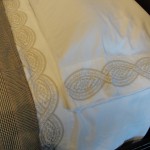 These lovely sateen cotton sheets, embellished with a chain pattern in faun brown, add a subtle but sensational bit of color and pattern to a fall bed.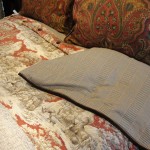 When you pull together your bedding ensemble, make sure the foundation piece makes your heart sing. Marla features her inspiration toile fabric on one side of this reversible duvet, then on the other, repeats the plaid from one of her Euro shams.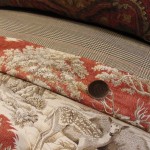 When you do custom bedding, take advantage of the opportunity to add in the special touches that will make your pieces all your own. Marla picks these cute velvet buttons, which match the velvet cording on the pillows.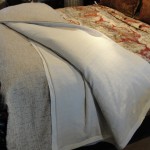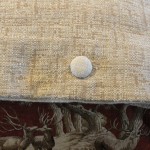 To make your bed look more luxurious, add a second duvet to the bottom. That's one of our secrets for making the custom beds at Nell Hill's look so luxurious. Your second duvet should harmonize with the bedding, yet also bring some contrast. For her sample bed, Marla fashioned a second duvet that's loaded with texture. One side features "raffia cream" and the other, "raffia natural" – identical fabrics in different colors. To remake this bed for summer, all she needs to do is remove the down comforters, put the cream duvet shell over the bed and the toile duvet shell at the foot of the bed.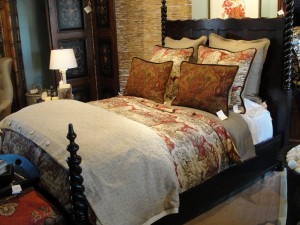 What makes this amazing bed work? Color repetition and a mix of patterns and textures.
What's the hottest look in bedding this fall? Marla votes for plaid. Tartan plaid is her favorite, whether it's used for pillows or duvets. For a classic look, pair plaid with other men's wear fabrics like paisley, stripes and hound's tooth checks. Her favorite colors for fall this year? Rust, brown and any shade of green–the very colors you see in fall.
Kathy's Bed: Pretty and Playful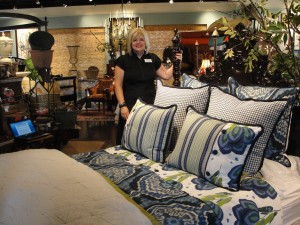 Kathy knew in an instant what fabric she wanted to use as her inspiration for this peppy bedding ensemble: ikat. This ancient pattern is all the rage today, especially with younger shoppers. "Several times a day people come in to Nell Hill's and say, 'Show me all your ikats,'" Kathy says.
She picked a classic ikat print in my favorite color—blue—to set the tone for this playful bed that's for the young and young at heart.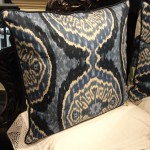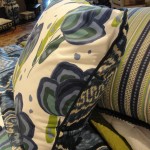 Kathy makes her custom bedding reversible so the bed can sport of number of different looks and work equally well in fall, winter, spring and summer. She starts her pillow layers with matching Euro shams made out of the blue ikat and  a whimsical floral that's so peppy, you can't look at it without smiling. The pillow is finished off with a simple navy cord.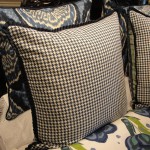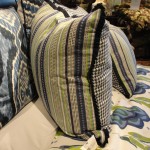 Because she loves timeless, traditional fabrics, Kathy brings a wonderful hound's tooth check into the next layer of pillows. But she backs it with a happy stripe in sea foam and periwinkle that's anything but staid. She finishes the pillow with a knife pleat in navy. This pillow is the key to making this bedding ensemble work for all four seasons. Place the check face front in the fall and winter, then flip it to the zany stripe in spring and summer when you're ready to lighten the mood.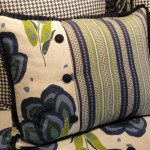 The matching accent pillows in Kathy's last layer tie together all the fabrics used in the bedding. At Nell Hill's, we like to do our accent pillows in this unusual off-set fashion, a look you don't see many other places, to give our beds a distinctive feel. Kathy finishes the pillow with adorable buttons covered in the same navy fabric she uses in the knife pleat trim on all the other pillows.
If you want to freshen the look of your bedding for fall, but are on a tight budget, just add a set of custom accent pillows like Kathy does. This one set of pillows will allow you to pull together several different fabrics that echo the colors and patterns in the rest of your bedding, giving your bed a fresh new look without much investment.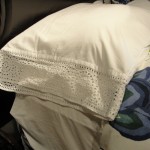 I admit it—I'm a sheet snob. I love white cotton sheets with as high a thread count as I can get, finished with stylish touches like embroidered lace and monograms. I'm crazy about the eyelet lace sheets Kathy uses on her bed because they are so romantic.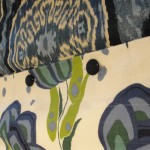 The reversible duvet, which serves as the foundation for this bed, brings together the ikat and floral fabrics, plus adds irresistible details like these fabric covered buttons.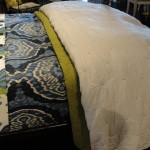 Again, be sure to break up the plane of your bed by folding a duvet or quilt at the bottom. Instead of going with another custom duvet here, Kathy used two ready-made blankets. One is a matelasse in spunky apple green and the other is a fluffy white comforter that finishes this feisty bed off with a bit of dreamy romance.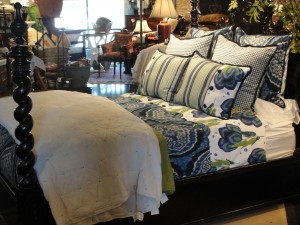 Kathy's irresistible bed is a great illustration of how you can infuse your bed with loads of personality by doing custom bedding, yet keep the overall cost down by making each piece reversible and picking affordable fabrics that will work for all four seasons.
Kathy's picks for fall? Anything and everything in blue! "Blue is great for every season," Kathy says. This year she's likes every hue of blue used in traditional patterns, like hound's tooth check and plaid, paired with bright accents, like hedge apple green.
Macy's Bed: Contemporary and Fresh
Macy's fun and feisty personality comes out through the eye-catching bedding she's fashioned for us today. Her goal was to create a bedding ensemble that was soft on the budget and that included contemporary pieces that would appeal to a wide age range. Did she ever pull it off with this cute comb in black, cream and apple green!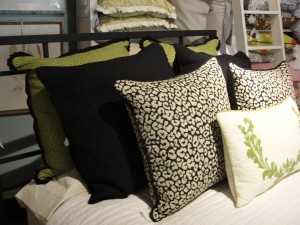 Macy starts with her inspiration piece, a set of custom Euros in a spunky geometric fabric in green, black and cream—the only fabric on the bed that includes all three of her colors. She finishes these custom pillows with a flat flange with pleated corners done in a black linen fabric.
Next, she layers in ready made Euros in a black matelasse fabric that features geometric stitching to give them a more contemporary feel. I love matelasse pillows and quilts because they launder easily and are a good value, which helps keep the overall cost of your bedding ensemble down. If you're on a budget, consider using less expensive matelasse pillows, like Macy does, to add color and texture to your ensemble. Then, use the money you save to create one or two killer custom pillows that will pull the entire look together.
For her third layer of pillows, Macy adds in an edgy animal print. "I love the animal print –that's my favorite part of the bed," Macy shares. These funky 24-inch-square pillows are edged in a black cord.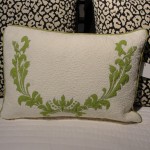 Macy finishes off her presentation of pillows with a pre-made accent pillow that measures 14 inches by 22 inches. She picks this cutie because it features her green and cream colors, plus the pattern coordinates with the damask quilt she's folded at the bottom of the bed. She also likes how the pillow, with its raised pattern and quilted front, adds some texture.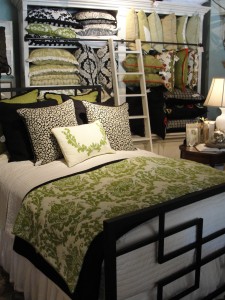 Because she's going for a contemporary feel for this bed, Macy keeps the blankets simple. She selects a plain cream quilt, then breaks it up by layering a black matelasse quilt and a green and cream damask matelasse quilt at the bottom. She lets just an edge of the black quilt peek out so it serves as a backdrop for the reversible damask quilt.
Macy is partial to using quilts on beds because you can layer them up when you're cold, then peel them back if you get hot in the night. She also appreciates how versatile quilts are. Switch them around, and the bed has an entirely new feel.
Macy's picks for fall this year? You guessed it: black, cream and anything green.
If you'd like help reinventing your bed this season, come see us at Nell Hill's Briarcliff! Marla,Kathy and Macy will work within your budget to create a few pieces or an entire ensemble that reflects your personality and brings even more style to your bedroom.
Next Week … Stumped by how to decorate your exterior door for fall? Come back next week—we'll have three fun looks to inspire you.