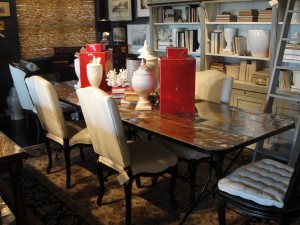 If you've ever been stuck at the dreaded "kids' table" at Thanksgiving or been seated at a rickety card table stuck in to expand the main table, you know how important it is to have a dining room table that can welcome the entire family. After years of stressing over how I was going to fit guests during holiday dinners, I finally decided to get a table that had enough room for us all. My only regret is that I didn't do this sooner.
If you are considering inviting a new dining room table to dinner this year, here are a few tips to help you select one that's as wonderful as the friends and family who will gather around it.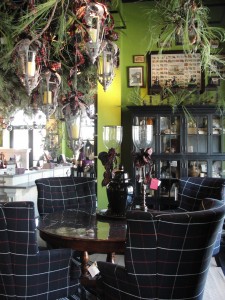 Focus on Function
First define what you need in a table. What shape is the room? How many people do you want to seat? Will you need space on the table for serving dishes, or do you prefer to prepare guests' plates in the kitchen or serve off of a buffet?
Is your dining room formal or casual? I picked a formal dining table with traditional lines for my home because it matches the overall style of my house. I love how classic furnishings give a dining room an air of majesty.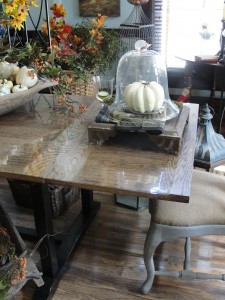 But at Nell Hill's, we're seeing a definite uptick in the number of people who prefer a more casual look in their dining room. Furniture makers are responding, offering an array of wonderful choices. We found a great selection of dining tables at market this year that combine the best of both worlds. They feature classic lines and quality workmanship, yet have a newer and fresher look. Some sport a weathered finish. Others use a stain technique that brings out the contrast in the wood grain.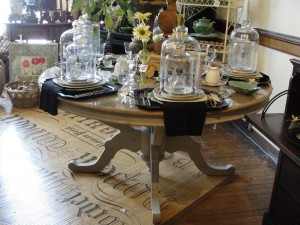 One of my favorite casual dining tables is pictured here. The pedestal base is carved in an unusual shape, giving it the feel of fine Swedish craftsmanship. And the top of the table is weathered wood that looks like it has a story to tell. I fell hard for this table at market because it resembles the French country treasures I always gravitate toward at antique stores, but it lists for a fraction of the price. (The table is 62 inches round and sells for $1,457. Quantities are limited, so if you're interested, call Nell Hill's and reserve one today.)
Start at the Top
Next, decide what shape will work best for your space and lifestyle. If you have a long, narrow room, or a large, open hearth room that adjoins your kitchen, you might like a rectangle top. If this is your everyday dining table, check into a table that offers several leaves so you can shrink the size down when it's just your family and expand it when company comes.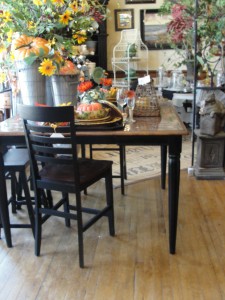 If you love lively dinner discussions, consider a round or square table so everyone can see each other. One great benefit of today's round and square tables is that they can expand without losing their shape, thanks to new technology in table leaves. In the past, when you added leaves to a round or square table, you ended up with an oval or rectangle. Now, leaves pop up and fit together like puzzle pieces, making the table larger but not longer.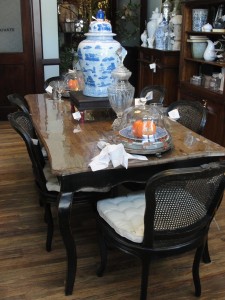 Look at the Legs
Look for table legs that work well for the size of gatherings you have typically. Lots of people opt for pedestal tables, where the tabletop is supported by pedestals fixed to the table's center, so no one gets stuck sitting by a cumbersome table leg.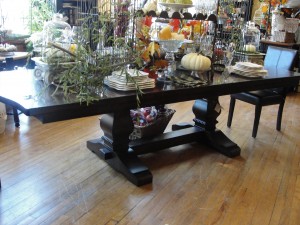 The trestle leg is also a very popular pick. As with a pedestal table, supports fit in the center of the table but then are connected by a horizontal stretcher. At once rustic and modern, the trestle table is a great pick if you want a beefier piece of furniture. I not only like the look of trestle tables, I appreciate how well they work when you're trying to seat a large group. You can easily slide in a number of chairs without anyone banging their knees on table legs.
My new dining room table features corner legs. I admit that this leg placement can be a challenge when you're seating large groups, but I adored the look of the table so much, I was willing to work around the legs.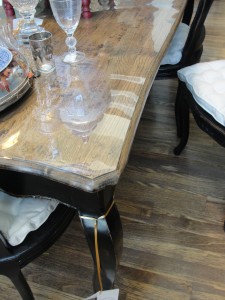 Delicious Details
Now comes the fun part: picking the material, style and finish that fit your dining room best. I'm crazy about solid wood dining tables, especially those with unique trim details like contrasting wood inlays. But perhaps a natural, painted or distressed finish would work best for your dining room. If you want to make a smaller dining room feel larger, you might consider a glass-topped table.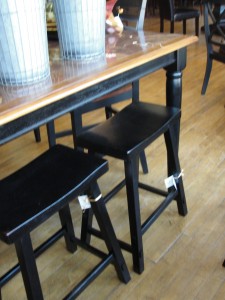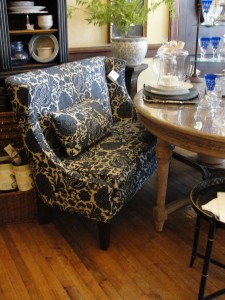 Pick a Seat
While I'm a big fan of matching dining sets, I also love to mix it up, wedding dissimilar chairs and tables. For instance, try surrounding your table with benches or stools, either with a high back or no back at all. For a luxurious look, use upholstered wingback chairs or a settee. If your style is casual, try wicker armchairs or armless banana leaf chairs. If you have large dinner parties, invest in some ballroom chairs that will allow you to squeeze in more friends.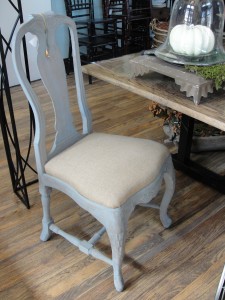 Right now, I'm over the moon about using casual French country chairs that feature a distressed painted finish. These fun loving chairs look great with either formal or casual dining tables. We ordered a wonderful variety at market this year, like the once pictured here with a distressed painted finished and tan-and-cream-check upholstered seat.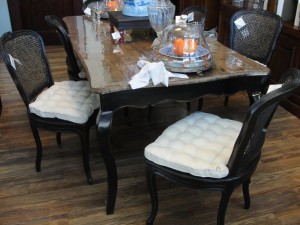 Another of my favorite market picks for this season? These adorable dining chairs featuring a cane back and seat, and removable cream seat cushions. They come in a weathered black or gray finish and are a great price.
Next Week … Want to add the cozy feel of fall to your bedding ensemble? Come back next weeks for tips of how to trick up your bed for autumn using this year's hottest colors and patterns.
See you then!