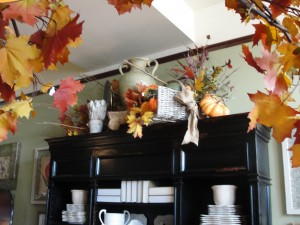 Normally, I do just about everything I can to get out of grocery shopping. Even an empty refrigerator can't induce me to go to the market—that's why God invented carry-out, right? But in the fall, I make an exception. I willingly hit the local food market, not to get stuff like milk and bread, but to prowl for seasonal decorating tools manufactured by Mother Nature herself.
My favorite? Gourds! These days you can find gourds in an array of colors, from buttery yellow and persimmon orange to ghostly white and eerie gray-green. And the sizes and shapes are just as interesting. I am wild about petite pumpkin-shaped gourds and any gourd that is twisted, gnarled and covered with knobby warts.
Here are a few ideas for using glorious gourds in your decorating this fall.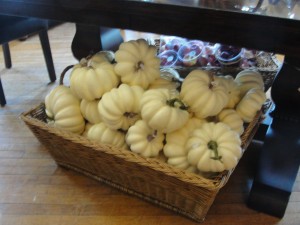 Monochromatic Masterpieces
Sometimes, the most dramatic displays are those that rely on variations in textures, not colors, to make a statement. This fall, try creating a display that weds together gourds and pumpkins with accents from the same color palette.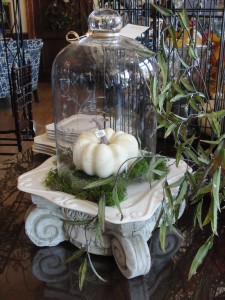 For instance, to bring a subdued but sophisticated fall touch to a side table, start with a weathered white capital riser. Blanket if with moss and place a pumpkin-shaped white gourd on top. Then finish off the look with a glass cloche.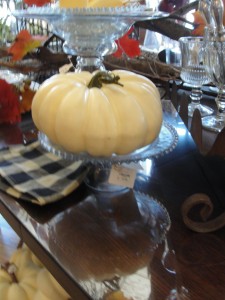 If you're having guests for dinner this fall, make it a "white pumpkin" affair. Start with a black and white damask or plaid tablecloth. Use silver trays as chargers below gold or silver-rimmed china. Place a black iron urn at the table's center filled with twigs, gold-misted grape leaves and clusters, and white gourds. Then create an interesting multi-level tableau with mercury glass candlesticks, clear glass cake plates and silver trophy cups, all topped with white gourds.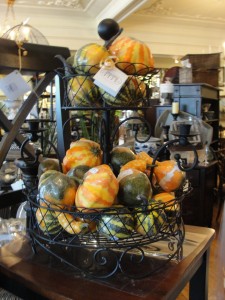 If you like color, and plenty of it, pool a mass of vibrant but similarly colored gourds in a simple container, like a small concrete urn or cachepot, and you have an instant eye-catcher to place on your coffee table, mantel or kitchen island. For a fall display at Garrity's we mounded several faux gourds on the shelves of one of my favorite two-tiered servers to create a simple centerpiece that would be ideal for a breakfast table.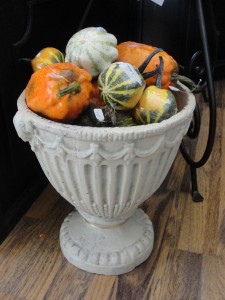 Mix it Up
I admire the way Mother Nature mixes colors willy-nilly.  You can do the same in your fall tableaux by tossing together a variety of gourds. Create a memorable display on a side table by filling a decorative wheelbarrow with a harvest of green, white, yellow, orange and red pumpkins. Or place a large pumpkin, garden statue or gazing ball in the center of a mini concrete birdbath and surround it with a passel of assorted gourds.
To add grace to your dining room buffet or a console table in your entry, put matching blue and white Asian ginger jars on each end. Fill them with a bouquet of fall foliage and gourds, resting additional gourds and pumpkins randomly at the base of each jar. Freshen up your mantel with an undulating phalanx of pumpkins and gourds of different sizes, shapes and colors. Give a few gourds added height atop candlesticks or votive cups.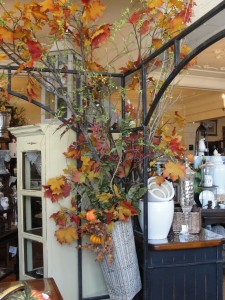 This year at Garrity's, we're creating lovely floral arrangements in inexpensive wicker baskets, then tucking in a few pumpkins here and there for added color and interest. Simple and inexpensive, these displays look fabulous in centerpieces or hung on doors or from garden gates.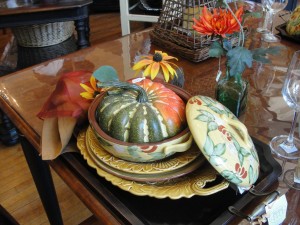 Sneak in a Surprise!
Gourds are so much fun that they just scream to be used in quirky, unexpected ways in your home décor. Once I hollowed out gourds to use as soup bowls at a fall fete in my garden. To keep the soup warm in the chilly autumn air, I served the gourd bowls on small concrete risers topped with glass cloches.
Hollow out a tall pumpkin and fill it with fresh veggies like asparagus spears or carrot sticks. Try the same trick with a short pumpkin, filling it with dip. Shave off the top of a squat pumpkin to make it level then use it to hold serving trays filled with seasonal fruits or cups of steaming cider. Place candles in small, hollowed-out gourds or use mini pumpkins as place card holders.
I also like to use faux pumpkins on my dining table to delight guests. How about resting a squat squash inside a soup tureen to be uncovered by an unsuspecting diner?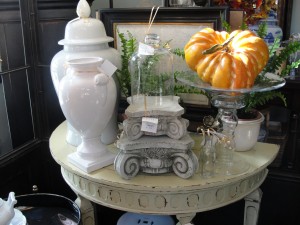 Quick Fixes
If you're busy this year and don't have a lot of time for seasonal decorating, just work a gourd or two into your everyday displays, and in a matter of minutes, your home will have a subtle fall ambiance. Place a gourd on top of a cake plate, candlestick or vase to brighten up a side table. Work one or two into a cluster of family photos. Or group different sized pumpkins around a planter you already have on your front porch.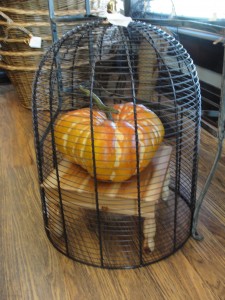 Or brighten up an empty corner by putting a faux pumpkin on a riser, then covering it with a wire cloche.
Next Week … The upcoming holiday season is a busy time for your dining room as you fill your calendar with dinner guests and parties. If you're thinking about getting a new dining room table or dining chairs this year, come back next week when I'll share some tips for picking a table and chairs you'll love.