If your life was a movie, what would it be? When Dan and I first bought our historic fixer upper, ours would have been The Money Pit. Remember that '80s comedy starting Tom Hanks and Shelley Long, about the couple who moves into their dream home only to watch the house begin to fall down around them? Let me tell you, it's not quite as funny when you're living it and paying all the repair bills!
No matter what your life story, how you decorate your home should reflect your unique personality and experiences. Through the years, as I've decorated my own nest, twig by twig, I've drawn decorating inspiration from a wide variety of areas. Here are three places to look for inspiration to tell your own story through your home décor: 
A Favorite Vacation Spot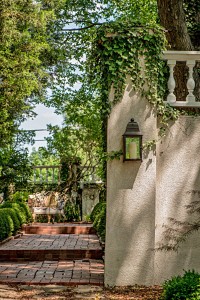 Unless you squeeze your eyes shut every time you travel, you can't help but be inspired by the places you visit and the things you experience there. I know I do. When Dan and I visited Charleston, S.C., years ago, we were both blown away by the beauty and intimacy of the walled gardens that adjoined the historic homes. Since the homes were built close together and have small yards, the home owners erected garden walls to give themselves a private outdoor paradise. As we were in the process of renovating our Money Pit, one of the things on our long list was doing something with our small yard. That trip inspired us to turn our unkempt weed patch into a walled courtyard. A year later, the walls were up and the garden begun. Now it's among my favorite places in my home – a little piece of Charleston I can enjoy every day.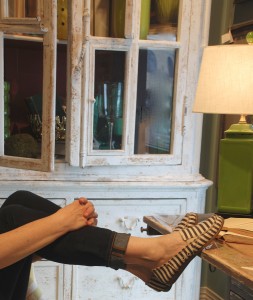 Key West, Fla., is another place where Dan and I like to escape when we can get away. There's something so relaxing about beach living, isn't there? I can't bring the Atlantic back with me to Kansas, but I can celebrate my favorite feelings of beach life in my décor. The photo above, taken at Nell Hill's Briarcliff, is a great example of how to thread in the icons of beach life, no matter if it's a historic home on the craggy coast of Maine, a cottage at Martha's Vineyard or a bungalow in southern Florida.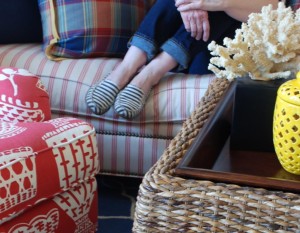 Whether you were inspired by a chateau you toured in France, a mountain vista you enjoyed during a hike in Colorado or even a hotel you stayed at during a business trip, the key to replicating the look and feel you fell in love with during your travels it to weave in the colors, patterns and textures of the place that stole your heart.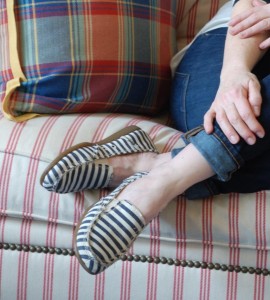 For example, if you live for ocean vistas, fill your palette with the colors of the sand, water, birds and flowers that made your heart swell with joy. Pull in natural elements that come from the sea, like coral, driftwood or a shell. Pick materials that mimic the style found in your favorite beach dwelling, like wicker or distressed painted wood.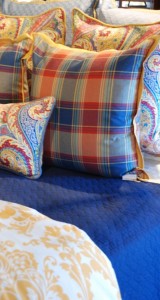 An easy way to bring in the colors, patterns and textures of your travels is through textiles. The bed above at Nell Hill's Briarcliff is filled with soft, relaxed patterns that feel like they are from a Nantucket cottage.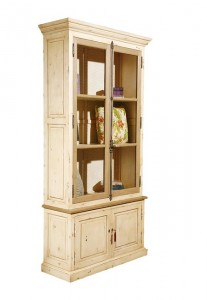 You can also add a piece of furniture or two that replicates the style from your vacation destination. Maybe it's a weathered wooden hutch, like the photo above. Or an Asian influenced chest. A French settee. Or a Moroccan table. I'm partial to interiors that mix pieces from different influences. I think the contrast in styles makes the room intriguing.
Sets from Favorite Movies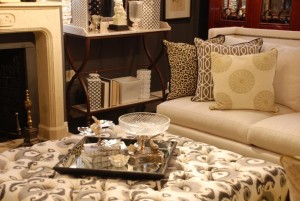 I am a sucker for old movies. When I'm lying in bed, channel surfing, I always stop at TNT, drawn in by the dramatic images of old black and white movies. One of the things that makes me such an easy mark for Hollywood classics is the sheer elegance of the homes depicted in the sets.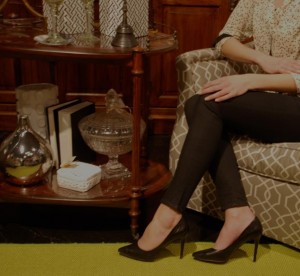 Frequently, we gravitate toward movies that speak to something inside of us, whether it's the plot that draws us in, or in my case, the set. After the movie Something's Gotta Give came out in 2003, customers flocked into Nell Hill's for furnishings and accents that helped them recreate the fabulous beach home Diane Keaton's character lived in, with is elegant whitewashed interiors. The same thing happened in 2006 when The Holiday was released. I could picture myself living happily ever after in the English cottage depicted in this story about two women who were unlucky in love swapping homes, one in California, the other in England.
Is there a pattern to the type of movie sets that draw you in? If so, include these classic images in your own décor. For example, if Hollywood glam makes your heart beat faster, invest in a few key pieces of elegant furniture.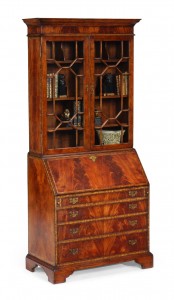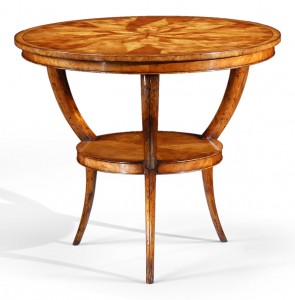 Maybe it's a secretary holding a display of picture frames. Or a butler's cart outfitted with an opulent bar. All you need is a piece or two, used as focal points in your room, to establish the theme you love in your Hollywood set.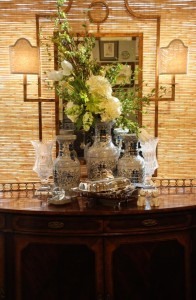 You don't have to buy new furniture to create the look of your favorite set. You can also do so through accessories pulled together in displays that mimic the ones you love. Look how glamorous this grouping of blue and white vases looks on top of this stunning buffet. The gilded mirror in the background, the crystal candlesticks and silver serving pieces are opulent and indulgent, like something you'd find in the home of your favorite starlet.
Your Current Life Stage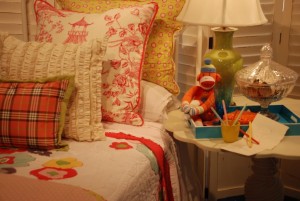 How you approach furnishing and accessorizing your rooms evolves with your life. For instance, when our daughter Kelly was a teenager, the only decorative element I needed was a stout door I could close so I didn't have to see the mounds of clothes, stacks of books and God-only-knows-what-else was piled on her floor. Now that she's grown and gone, I have had fun turning her old bedroom into a guest room. Same room, radically different look, all determined by our life stage.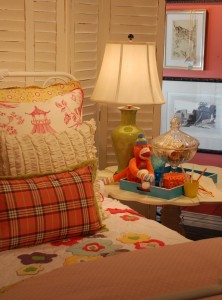 What stage of life are you in? Your décor should celebrate today. Are you the parent or grandparent of a young girl? If so, embrace this fun opportunity to make her room fit for a princess. I work with hundreds of customers every month at Nell Hill's, and my informal market research has shown me that many women have a little girl bottled up inside them who love pink. As we grow older, we can still indulge our penchant for pink by working it into more sophisticated settings, pairing pale pink with colors like soft gray or charcoal.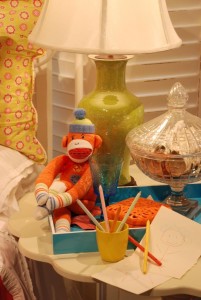 But when it comes to little girls, bubblegum pink it is! Don't fight it. Instead, enjoy the vibrancy of girl-approved brights like apple green, orange, marigold and purple.  Choose bedding that weaves together a rainbow of colors, brought to life in a mix of intriguing designs. Pick accessories that extend the fun, like this bright green lamp, aqua blue tray and playful stuffed animal.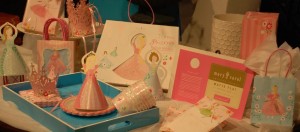 Fill in with accents that celebrate her royal highness, such as these adorable paper goods for the perfect princess parties.
Next Week … When furnishing your interior spaces, you want to pick pieces that will endure, like neutrals. Thankfully, neutral furnishings don't have to be boring. In fact, they can be downright exciting and fun. I'll show you a world of new possibilities in neutral décor.