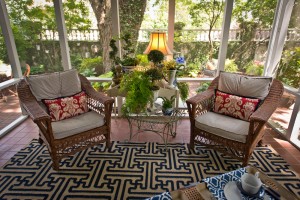 It happens every year. There's always an unseasonably warm day toward the end of winter when I lose my head.  Giddily, I tell myself that winter is over and it's time to get my porch ready for outdoor living.  I sweep the floor, uncover the furniture, pull the cushions from the basement and spend hours accessorizing my outdoor retreat. Then it snows.
Even though I know I'm starting too early, I just can't help myself. Having my screened porch ready for summer makes me so darn happy because this special outdoor room is one of my favorite spots in my home. This summer, turn your outdoor space into a retreat. Here are my six essentials for a perfect porch to get you started. 
1. Lots of Comfortable Seating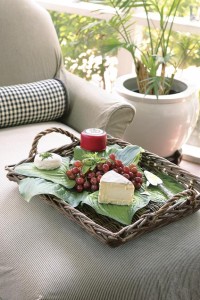 Comfort is king when it comes to my outdoor seating. I know I've hit the mark when I get home from work on warm summer evenings and find Dan zonked on the daybed, resting up before he makes dinner.
Before you put one chair, chaise, day bed or settee on your porch, make sure it's sink-into wonderful, so inviting you can hardly wait to kick your shoes off, tuck your feet up under you and settle in for a while.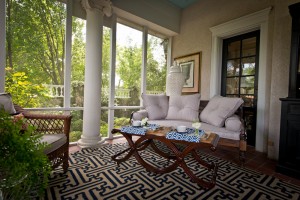 My porch is a size that is best suited for intimate gatherings. Instead of forcing it to accommodate more guests than it can really handle, I've opted to furnish it to seat four people very comfortably. Right now, in one corner I have an antique day bed that's big enough to hold one sleeping Dan and his two sleeping cats. Across from that stands two comfy wicker chairs. If we want to expand our party, we can easily pull out extra chairs from the house. Or, I can shuffle things around a bit and bring out a dining table for a candlelight meal.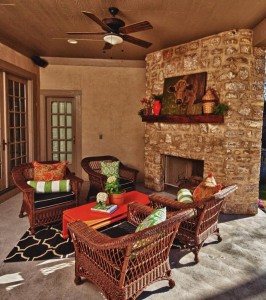 When you're contemplating what type of seating you want on your porch, decide how you will use it most often. If it's open air, do you want chaises where you can sun yourself? Do you need a sectional that will seat several guests? If you are the queen of the backyard barbecue, should you reserve plenty of space for a dining table? Once you've defined your priorities for the space, create a scale floor plan so you know how much furniture, and what sizes, will fit comfortably. I love how my friend Anne arranged the seating on her porch – it's a wonderful set up for a conversation with friends.
2. A Spot to Serve Food and Drinks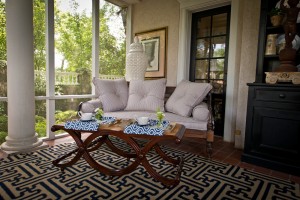 I rarely see porches that lack seating. But I often see porches that don't include a spot to serve food and drinks. Since imbibing in good food and drink is essential for finding bliss on your porch, be sure your outdoor room includes a great service piece. Years ago, I moved an inexpensive wooden hutch onto my porch, nestling it against the wall, protected from any rain that might blow in. Other than needing a fresh coat of paint every once in a while, that valiant hutch has handled the elements beautifully. Depending upon how I want to entertain, it can serve as a bar, a buffet or both. Best of all, it also gives me lots of lovely shelves I can dress up with seasonal decorations.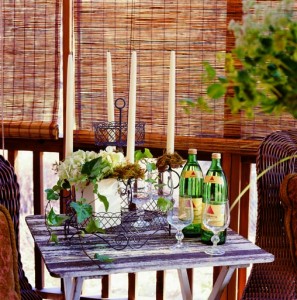 If you don't have room on your porch for a hutch or console table, use a generously sized end table like this one on my friend Jean's screened porch.
3. A Place to Dine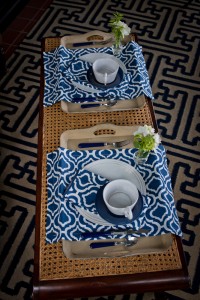 If I could, I would eat every meal of the day on my porch during spring, summer and fall. I've arranged my porch differently through the years, sometimes outfitting it with a dining table large enough for a dinner party. Right now, I'm crazy about dining on trays when it's just Dan and me for dinner. We can either place the trays on the coffee table or on our laps. I like how the absence of a table allows us more room to move around in the space.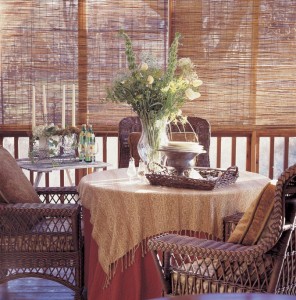 Another option is to pick an outdoor dining table and chairs like the one pictured above that doubles nicely as a conversation area. This is a divine spot to linger for hours after a great meal, sipping wine and watching the stars.
4. Cute Cushions to Give the Space Character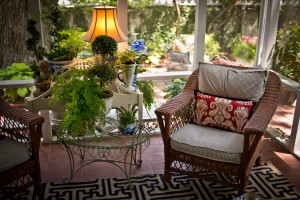 Once the bones of your outdoor room are in place, it's time to have fun giving them life with an assortment of cushions sporting cute summer fabrics. I've gone lots of different directions with my outdoor cushions in the past. Right now they are awash in traditional mattress ticking fabric and I love the simple, clean, peaceful look it creates. Ticking is a great neutral that gives you a bit of texture but also allows you lots of freedom to bring in a host of different colors and patterns through your accent pillows and accessories. I've paired it with apple green, navy, red and white, and love the look every single time.
While I have traditionally used "indoor" fabrics on my outdoor furniture because I much preferred the selection and how the finished product looks, now I can honestly say I love the outdoor fabrics just as much. The manufacturers have refined the fabric so that it is not only durable but also lovely. At Nell Hill's Briarcliff, we carry lots of stunning outdoor fabrics in solids, florals and stripes, and they all wear like iron.
5. Potted Plants to Celebrate Nature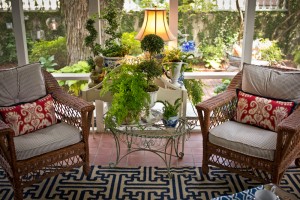 You've heard about how bad I am with plants, right? Still, I really, really like to have live plants on my porch during the summer. My favorites are ferns and ivy topiary, but since my kill rate is often high with these plants that actually need water, I'm starting to do a lot more with low-maintenance succulents. I sometimes put a huge potted palm into a blue and white Asian planter and nestle it behind my daybed or in the corner of the porch to bring in some drama. Other times I create a grouping of plants on the antique table that sits between the two side chairs, backs to the screened wall so they get plenty of sun. Not only are potted plants inexpensive, they are one of the most naturals accents you can place on a porch.
6. Seasonal Accents to Spice Things Up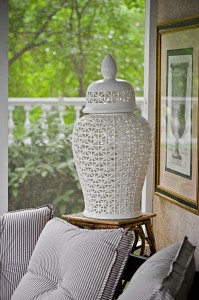 Cute accessories make the world go 'round, don't they? Just as with your interior spaces, your outdoor room isn't finished until you add the accents. I like to walk on the wild side and use indoor accents on my porch, like lamps, rugs, pottery, framed artwork, glass apothecary jars and hurricanes, and china. I can get away with this because my porch is sheltered. But if your porch is more exposed, pick your accents accordingly.
Your porch is an ideal place to weave in trendy and seasonal accents. Here are some of the killer pieces we just got in at Nell Hill's for summer outdoor living: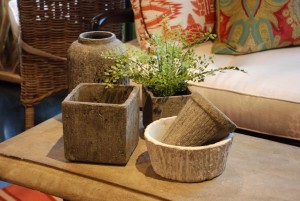 I really like these rough planters with their aged patina. Fill them with plants, work them into your summer place settings, incorporate them into a centerpiece – the sky is the limit.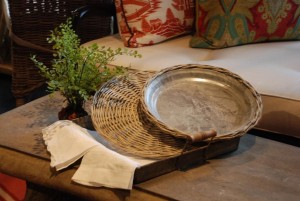 Get creative when making place settings for your outdoor dinner parties. Isn't this rustic metal tray wonderful? I love it with the wicker charger and delicate cloth napkins.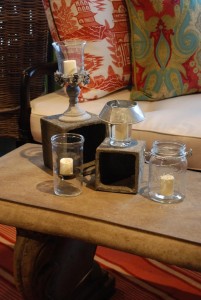 I use clusters of votive candles on my porch during the summer to add a bit more romance to the setting.  Here are a few of the many styles of candle holders we have in right now.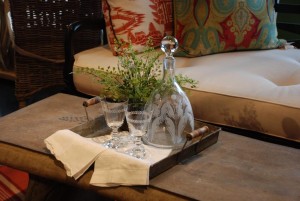 One of the hallmarks of the Nell Hill's look is mixing the rustic with the refined, pairing the unexpected. That's why I adore this delicate etched glass decanter and glasses for outdoor dining.
Next Week … When I go to movies, I spend more time analyzing the sets than I do the action. I am often inspired by how the pros stage the home interior scenes, making a perfect backdrop for the story being told. I'll show you how to dress your home so it tells the story of your life.