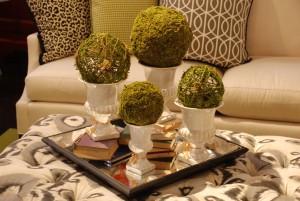 Those of us who love interior decorating are passionate about creating an environment in our homes that is warm and welcoming, fills our senses and reflects who we are. Even though my personal decorating style is ever evolving, there are a few cornerstones of the look I love, the distinctive touches that make up the "Nell Hill's style." Here are four simple tricks and techniques I use in my home to weave in my personality, making my home a reflection of all I love. I hope they will inspire you as you feather your nest, too. 
1. Tuck natural objects into displays.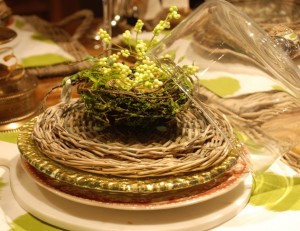 I am fed by the natural world. Now, don't get me wrong. I am not an outdoorsy girl. You won't find me backpacking into the mountains or kayaking down a river. But spending a quiet moment in my courtyard, watching the birds flit around the trees (and my pathetic cats trying unsuccessfully to stalk them) fills me with peace and inspiration. So I always weave pieces of the natural world into my year-round decorating. I like how this little nod to nature gives my décor an organic feel and keeps things from being too fussy.
One of my favorite icons is a bird's nest. I love how playful and unique each one is. So I use lots of faux and real nests in my own decorating. Sometimes you'll find them perched discreetly in the branches of a floral arrangement on my table, or on top of a candlestick on my mantel. In the photo above, we placed little faux nests under cloches on each place setting of a dining table decorated for spring entertaining.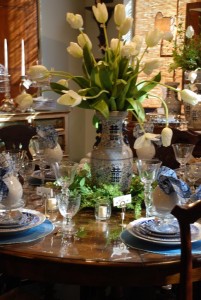 Another wonderful way to welcome Mother Nature into your décor is to use flowers in your decorating, especially this time of year when the garden is bursting with so many blooms ready to be snipped and tucked into a vase. I like this messy bouquet of faux tulips at Nell Hill's Briarcliff because it doesn't feel fixed and fussy. You could replicate the look with just about anything in your garden: branches of forsythia, dogwood or red buds, a compote holding a tight mound of hyacinths or hydrangeas, or a cluster of little vases that each contain a single daffodil.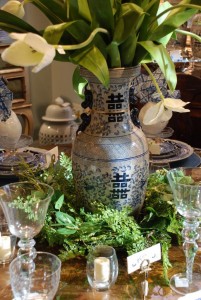 Weaving natural elements into your décor doesn't need to take much time. For this stunning centerpiece, we just ringed this lovely blue and white jar with a fern wreath. The wreath adds color and a bit of wild excitement to this very elegant tablescape. Love it!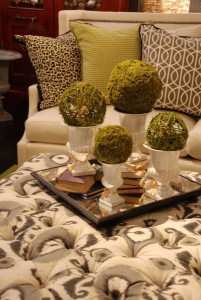 I am crazy about moss balls right now. These cuties are organic and earthy, yet structural, giving a tableau a pop of bright color and an injection of fun. Plus, they are fool-proof to use. Just toss a jumble into a cachepot and stick it on a table for a quick display. Or replicate the look above, crowning a cluster of little urns with an assortment of moss balls. Group them together on a tray, and you've got a killer display in minutes.
2. Add layers for visual interest.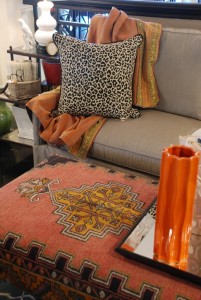 Another bedrock of the Nell Hill's look is filling your décor with lush layers. Simply put, that's coupling several decorative elements together to create one harmonious, intricate scene. The number of layers you employ is up to your personal preference. One place to bring in beautiful layers is on your sofa. Toss a summer quilt over the back or arm for added texture and pattern. Then, accessorize the sofa with an intriguing mix of pillows.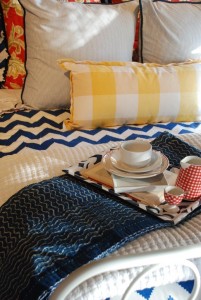 The most striking bedding ensembles are those that are rich with layers. Fresh white sheets covered with a duvet, capped by a contrasting quilt folded at the bottom is the foundation. The finish is an eye-catching assortment of pillows starting with a line of Euro shams at the back, fronted by standard pillows, then a sprinkling of special shapes, like neck rolls and lumbar pillows and squares. Each layer of bedding allows you another opportunity to give your bedroom a distinct look that reflects your unique personality.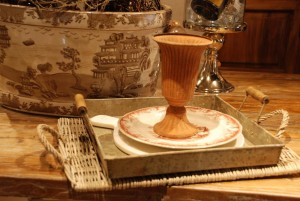 Another spot I like to layer up is my dining table. At Nell Hill's, individual place settings go way beyond a stack of dishes. We like to make each one a work of art by incorporating a blend of unique, and often unexpected, objects. Check out the place setting in the photo above, taken at Nell Hill's Briarcliff. We start with a wicker tray, one of our favorite "place mats" Layer two pulls in a very unusual tray – looks like something you'd find at a flea market – that corrals the dishes on top. Next we inserted a cheese board for a surprise. We also like to use cheese boards as chargers. Next comes a transferware plate, an unexpected touch of elegance paired with our more rustic accents. Everything is topped by a weathered urn, which could hold a napkin, fresh flowers or a little bird's nest.
3. Work in whimsy.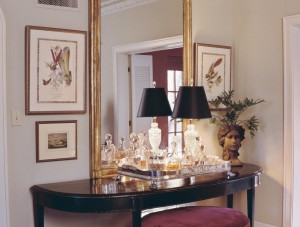 Sometimes, we just take ourselves a little too seriously, don't we? One way to lighten our mood, and the look of our home décor, is to tuck in whimsical objects that make us smile. This photo, from my book Feather Your Nest, shows a good friend of mine's wry sense of humor. The bar in her formal living room is very elegant, until you look a bit closer. The feet of the fancy silver tray holding the bar service are just that – feet! They look like little human digits, holding the tray aloft. What a hoot! I also get a kick out of the planter of the garden goddess, with plants growing out of her head, making one crazy hair-do. Some mornings, I swear my hair looks the same!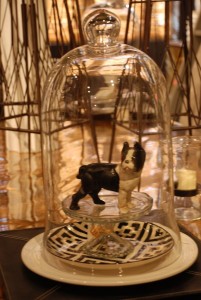 I really like to decorate with figurines, like this cute little dog statue. Depending upon their size, you can weave them into grand or petite displays, using them as the focal point or as a little surprise to reward the careful viewer. We added some mirth to this dining table display with this Boston terrier under glass.  Putting fanciful items under a cloche increases their star power. If you're not one for figurines, you could opt for a little potted succulent or a funny snapshot of a loved one in a little frame.
4. Find creative uses for decorative elements.
Another hallmark of the Nell Hill's look is to find new uses for everyday decorative items. One favorite plan of attack is to use your accents in unusual ways to solve daily decorating dilemmas, like how to keep your books from falling over in your bookcases. Since my home is filled to the brim with Dan's stacks and stacks of books, I've had plenty of practice finding items to use as interesting bookends, turning what could be an eyesore into a fetching display. In the photo above, we used a lamp and an architectural element to sandwich a stack of books. We clustered a few little cuties in the foreground, and presto, we have a layered display.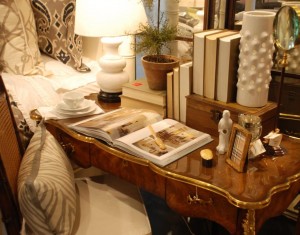 This bedside book stack has become a work of art, thanks to some out-of-the-box thinking on the part of the Nell Hill's visual design team. They ingeniously used a lovely wood box as both a bookend and a riser. On the left of the display, they turned some books on their side and into a riser for a topiary. The edgy white vase on the right not only hems in the books, it balances the white lamp on the table to create a visual frame to the entire masterpiece. Genius!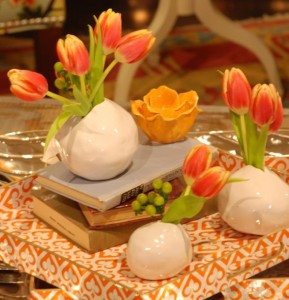 How about this fun approach for incorporating a stack of books into a display? We used a playful tray as a base of this coffee table decoration. Instead of featuring the books as a focal point, they simply provided structure and texture for the stars of the show, these delightful vases holding tulips from the garden.
Next Week … As soon as the weather gets above freezing, I'm ready to reclaim by screened porch, one of my favorite rooms in my home. I'll have tips for making your outdoor rooms beautiful additions to your home.