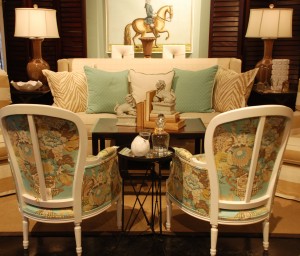 I love it all when it comes to home décor styles. But years ago, I figured out that a traditional look works best for my own home. I really like surrounding myself with classic furnishings and accents that have stood the test of time, yet I don't want my home décor to feel like it's stuck in a time warp, a museum to a bygone era. The key to keeping your traditional home interesting, not stale, is to update it regularly with pieces that give your classic styling an exciting new lease on life. Here are five tricks for making your traditional décor fresh. 
1. Mix Up Matching Furniture Groupings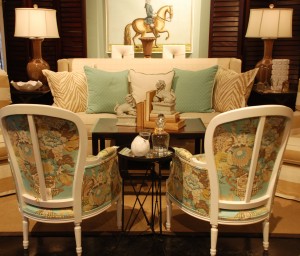 Symmetry is a hallmark of a traditional look. But that doesn't mean your décor has to be matchy-matchy, filled with furniture groupings consisting of pieces from sets. Give your décor a bit of a shake up by interjecting a new piece or two that looks a little different from the others in the room. For example, if all your wood is stained, how about adding a piece that is painted? If your sofa and chairs are covered in similar fabrics, reupholster the sofa or the chairs in a contrasting textile. Want to take it a step farther? Try this popular style technique: Upholster the front and back of a chair in different but harmonious fabrics. It's such an edgy look – makes me smile every time I see it.
Check out what we've done in the furniture grouping in the photo above, taken at Nell Hill's Briarcliff.  It's a decidedly traditional seating arrangement, but with a new spin. Notice how we blended our wood furnishings, mixing the traditional wood on the side tables and coffee table with the painted wood in the chairs. The side chairs are upholstered in a fabric that is deeply rooted in tradition, yet is reinterpreted through bolder color strokes and cleaner graphic elements. (We also used a few more tricks to update this room that I'll talk about in a minute.)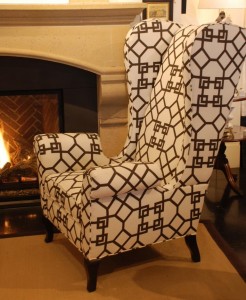 Today's designers are giving yesterday's best furnishings a new life by reimagining their silhouettes and upholstery treatment. These innovative pieces draw from classic influences, yet are exciting reinterpretations. This wing back chair at Nell Hill's Briarcliff is a perfect example. It pays tribute to all that is wonderful about traditional style, yet, with its edgy lines and funky fabric, is fully in the present.
2. Interject Bolder Art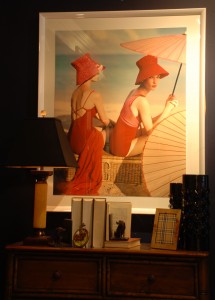 If you've been reading my blog for a while, you know how much I believe in the power of artwork to completely change the look of a room. Adding a piece or two of new art will help you make great strides toward freshening up your traditional décor. Stop and really take a hard look at your existing artwork. Is the subject matter or style dated? Are the mats faded and the frame nicked and scuffed? Most importantly, do you still love it? Often, we just grow tired of looking at the same pictures year after year, but don't ever think to change it out for something new.
The hot new look in traditional artwork is bigger and bolder, like the wonderful picture above from Nell Hill's Briarcliff. We have this large and lovely piece hanging in a very traditional furniture grouping, and it just brings the energy level of the room up a notch. Similarly, in my own bedroom I've added a collage of female nudes. The room is very traditional, but the mix of classic and contemporary thematic artwork is really intriguing. I like how the interjection of the modern art gives the space a fresher feel.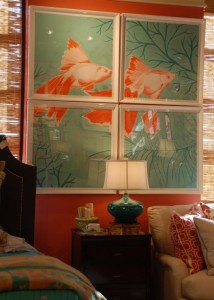 Another trick for making your artwork displays more modern is to hang the pieces very close together. This grouping of four paintings that work together to create one whole image illustrates how individual pieces pull together with one voice to make a big statement. You can do the same with any artwork in your home, even if it doesn't "go" together. Just hang the frames an inch or so from one another to create a powerful presentation.
3. Update Your Color Palette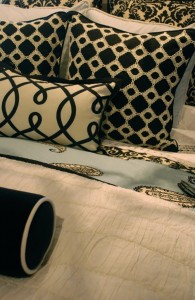 While some of the hues in a traditional color palette will never go out of style, like the black and white fabrics above, others definitely have a limited lifespan. If your home is saturated with the colors that were big 20 or 30 years ago, it will instantly look dated, even if you have fresh furnishing and accents in the spaces. The only way to combat getting stuck in the past is to tweak your color palette.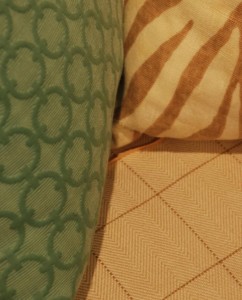 The collection of fabrics in the photo above is a wonderfully classic combination with a fresh new feel. If you need help discerning how best to transition your color palette, our design team at Nell Hill's can help. They are masters at taking your from what you have to where you want to be. We offer free in-store design services, so just bring in your photos and we'll help you create your dream!
4. Add a Few Transitional Accents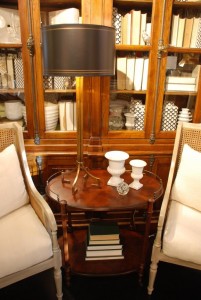 One of the easiest and least expensive ways to keep your traditional décor new is to weave in a few transitional accents. In the roomscapes at Nell Hill's, we freely mix the most traditional of accents, like looking glasses and crystal water vases and silver candlesticks, with pieces that are very contemporary, like a bright orange ceramic vase. In the photo above, taken at Nell Hill's Briarcliff, we brought this lovely traditional setting forward in time just by strategically placing a few lidded jars on the shelves of the bookcase in the background.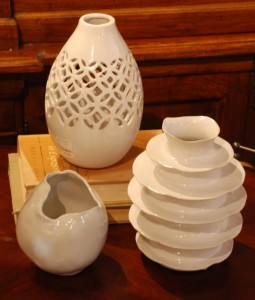 Accents like these white pottery pieces, with their sleek lines and contemporary vibe, still look classic enough to use in traditional décor. They are different enough from the norm that they will catch viewers by surprise, yet not so different that they feel out of place surrounded by antiques.
5. Update Your Lamps and Shades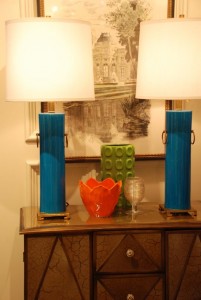 Dated lamps can bring down the style IQ of a room in a flash. A decade ago, the home décor market was glutted with lots of cheap lamps that have not stood the test of time. It's time to let these unremarkable light pieces go and replace them with lamps that will make a huge style statement in your room. Get a load of this fabulous pair of blue lamps in the photo above, from Nell Hill's Briarcliff. The lines and details are decidedly traditional, but thanks to the spark of bright blue in the ceramic base and the bright white drum shade, they provide an arresting addition to a room. See how wonderfully they go with the ultra-traditional table and artwork in this space?
Next Week … I'll share a few of the decorating tricks we use at Nell Hill's to make our tabletop tableaux distinctive.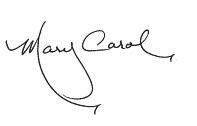 PS This week starts our month-long tribute to dining tabletop displays. Come visit both Nell Hill's stores for a feast for the eyes: Dining table after dining table dressed up with centerpieces and place settings so inventive, you'll want to pull together a party just so you can set a great table!