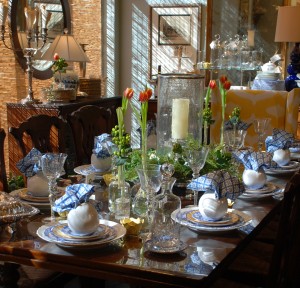 Every day is so darn precious. I know that sounds like a strange way to begin a blog about creating cute tablescapes for your spring entertaining. But the older I get, the more I believe that we have to be very deliberate about making time in our busy schedules to celebrate life's amazing moments and the people we hold most dear.
In my family, those Kodak moments happen around the dining table, where we linger for hours after a good meal, laughing until our sides hurt. There is something magical about eating together, isn't there? In this day of hustle and bustle, where we often grab dinner from a drive-through window, it fills our hearts to pause for a moment and enjoy a meal in someone's home.
This spring, connect with people you love over a meal in your home. To inspire you, we're throwing a Spring Tabletop Event for the entire month of April. We're filling gallery after gallery at both Nell Hill's stores with dining tables dressed for dinner. You'll find lots of new ideas to inspire you to create a table that delights your guests. Here are four tablescapes to get you started.  
Table 1: Beautiful Blooms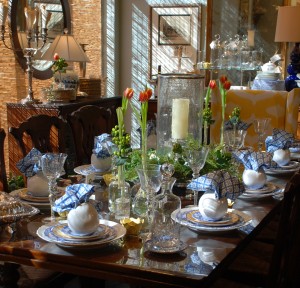 This delightful tablescape is bursting with charm. It's fresh and light, yet infused with enough layers to make it intriguing. You'll want to hover for a few minutes to study it in depth so you don't miss one little nugget. Blue, white and yellow just sing when they are brought together, especially in spring.  To start this treatment, we decided to soften up this very formal table and very formal glass hurricane by weaving in fanciful accessories. I love this wild fern wreath encircling the hurricane. Talk about a visually dramatic but crazy-easy-to-produce centerpiece treatment!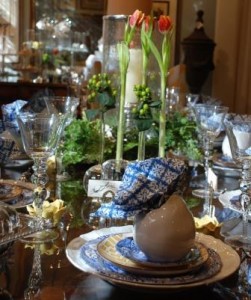 At Nell Hill's we really like to intertwine timeless classics with today's hottest looks. Check out how fabulous this blue and white transferware china looks with this bohemian yellow salad plate sliced in. When I look at this table, the first thing I see is this burst of marigold, and it makes me smile. When I create place settings, I like to make them tall and dramatic with a stack of interesting dishes and a surprise topper. Here, we decorated the summit with intriguing ceramic vases, which serve as unusual napkin holders. These little vases also look sensational holding a few flowers, like three daylilies.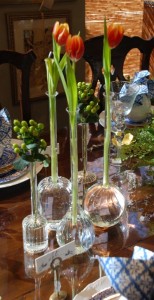 These simple yet elegant vases are all the rage at Nell Hill's this spring – they go out the door by the bagful. No wonder – we're practically giving them away. For me, it's not just the ridiculously low price that makes these little guys a gotta-have. It's the fact that they have a tall neck and small mouth. All you need to do is insert one spring flower in each, and you are done. Spare vases like these are good to have on hand so you can throw together a great centerpiece in a jiffy.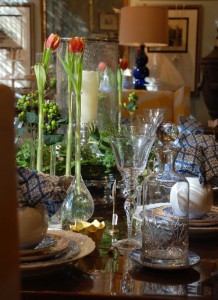 Pretty stemware is a wonderful addition to your table. So as not to distract from the simplicity of the table, we went with clear glass. But blue goblets would also be lovely.  Check out the little yellow flower shaped votive holders tucked in by each place setting. When I decorate tables, I like to weave in little surprises. These votive cups, little sunbursts of color, could hold a candle or be used as salt cellars.
Table 2: Fun and Fresh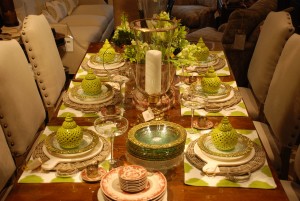 You cannot miss with green and white on your tabletop, especially in spring. It's fresh, fun, infused with energy and excitement. On this table, we went for a contemporary feel bursting with pep, then shook things up just a bit by working in a few organic elements, like these wicker chargers.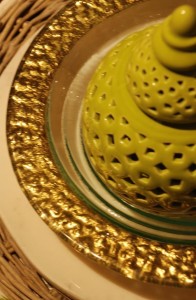 Get ready – gold is back! This surprising glass plate edged in gold adds a bit of glam to our hip place setting. To top off this relatively simple stack of plates we picked these funky little lidded pots. We have these in a variety of colors at Nell Hill's, and each is cuter than the next. You could put a battery operated candle inside for a dramatic presentation. Or, insert some candy for guests to enjoy after the meal.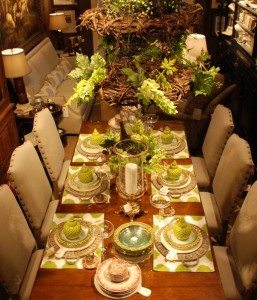 To create shock and awe in a dining room, I often dress up the chandelier with greens and trimmings. Or, if there is no light fixture, you can also suspend decorative elements over the table, like these spring wreaths. Wow!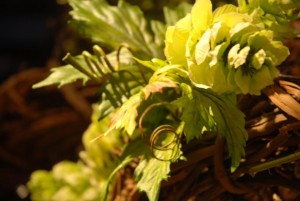 Here's a close up of some of the faux florals we threaded into the wreath. Be careful when you use fake spring flowers – some of them can look really cheap and cheesy. Hold out for those that look so real you have to touch them to be sure.
Table 3: Tradition Revisited
I have friends who are lucky enough to have inherited china from their mothers and grandmothers, lovely old patterns with intricate designs. But they are stymied by how to use these vintage pieces, with their old-fashioned look, to create a more contemporary design on their tabletop. We took up that challenge on this romantic table that has the charm of yesteryear and the energy of today.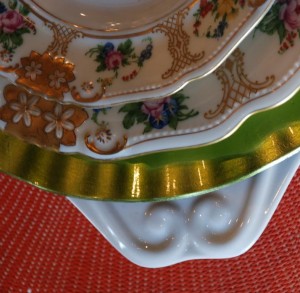 Our first step toward giving this floral china pattern a newer vibe was to pair it with some of today's hottest colors: apple green and coral. We scored with our stack of chargers, which not only gave us loads of saturated color, they also brought in interesting finishes and shapes. This square white plate is a favorite of mine because you can reinvent it over and again on your tablescapes. This zippy green charger is melamine and super inexpensive. It's a fun addition for spring and summer entertaining.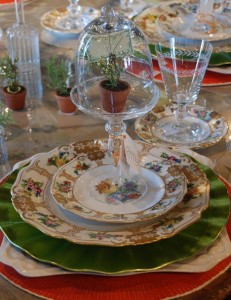 Cloche-covered risers are drama queens. Perch one on top of a place setting and, presto, the scene becomes magical. We put a fun little faux plant under the bell jar on this table. But you could also use them to hold a decorated cupcake for dessert. I really enjoy using place cards when I entertain because I think it makes my guests feel extra special to see their names beautifully inscribed on a card. I can see little place cards tied to the top of these cloches. The risers could even be a gift for each guest to take with them to remember your time together.
Table 4: Cosmopolitan Garden Party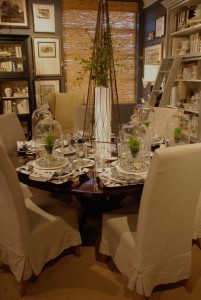 Here's a more sophisticated take on a garden themed table. Sleek, contemporary and stylish, it has a decidedly cosmopolitan feel. Check out the centerpiece – another treatment that is super simple to create yet will knock guests' socks off because it is so darn bold. We took a metal trellis and placed it over a tall white vase holding faux greens. Done.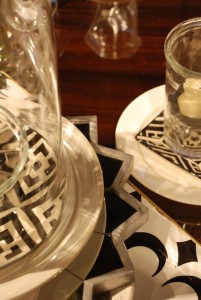 The place settings on this table echo strong structural lines, bold black and white patterns that complement one another and create layers of intrigue.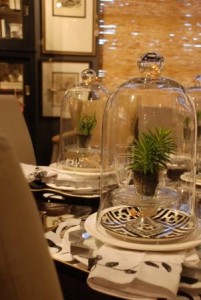 To  finish off with a bit of whimsy, we placed faux succulent plants on glass risers, then enshrined them under a cloche. The little pop of green is a nice contrast with the black and white palette.
Next Week … I'll share some secrets for keeping your traditional home decor exciting and new.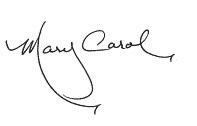 P.S.  Hope to see you at both Nell Hill's stores for the Spring Tabletop Event!