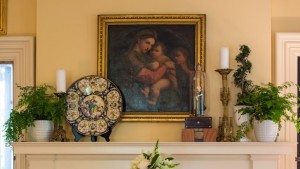 Want to freshen up your décor for spring? Do a quick makeover on your mantel. Whether you want to completely redo your mantel display for the new season or just add a seasonal tweak here and there, it takes just minutes to remake this little stage. But, the payoffs are huge. Every time you walk by your mantel, you'll get a bounce in your step and a spark in your heart – winter is over, and spring is here! Here are different mantel looks we created at Nell Hill's to inspire you.
Fresh and Fanciful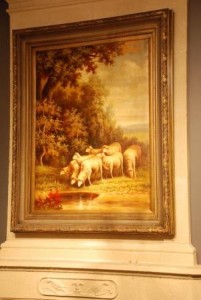 Great mantels start with great artwork as a backdrop. We picked this lovely pastoral oil painting of sheep grazing because it evokes such a feeling of peace and renewal, a welcomed breath of fresh air in the chaos of daily life.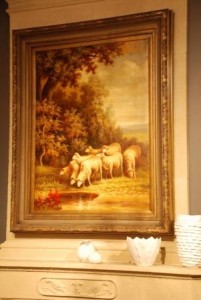 Every good mantel display needs structure. So we pulled from our ample stock of interesting white pottery for some pieces to build around. All the pottery we used is white, but each piece is very different from the others, some contemporary, some traditional, some tall, some tiny. When we design mantels, we create them to flow visually from a high point to a low point. Sometimes the high spot is at the center of the mantel, and the elements in the display descend from this central spot. This time, we built the display on just one corner, making our high spot the outer boundary of the mantel, carrying the line down to the center of the mantel.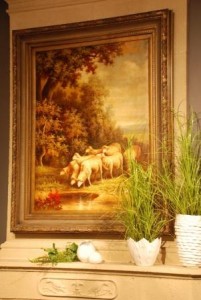 Bring on the greens! Good greens are a great addition to a mantel display no matter what the season, whether they are picks, garlands or potted plants. I'm intrigued by these new plants we got in at Nell Hill's because they look like they could be growing up around a fence post in a meadow. They are wild and unkempt and bursting with life, just like this season of re-awakenings. They come in simple pots, which look great by themselves, or you can place them in a decorative cachepot, like we did here. Measuring in at 25" tall, they offer great height.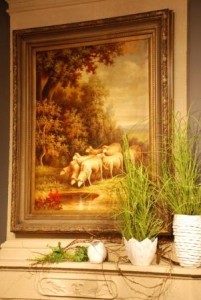 I've long been a fan of bare, wild honeysuckle vine, and it's a go-to tool for my fall and winter decorating. But it also looks sensational in this spring display. If you want, you could stop here for a multi-layered look that will take you up to summer, or even until fall. Or, you could tuck in a little surprise or two …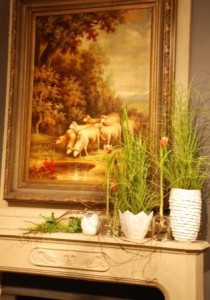 Sometimes you need a full, fat bouquet of flowers to knock it out of the park. Other times, just a single bud or two is the most powerful because of its simplicity. So subtle you barely notice them, these small glass vases holding a fresh tulip bud ready to burst open are the perfect finishing touch to this energy-giving spring mantel.
Powerful Pottery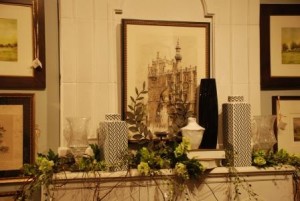 At once contemporary and traditional, this multi-leveled, richly layered display is so arresting, it's hard to look away. Step one was to find some great pieces to serve as the framework for the display. These tall, thin, contemporary black and white pots looked perfect with our more traditional black and white artwork. Our theme was set: a monochromatic arrangement that wedded the trendy with the tried-and-true. We started tucking in a few classic pieces, like this metal wreath candleholder, to create a visual pyramid with our decorative elements, slightly off centered to keep things interesting. I like how its circular arches contrast with the perpendicular lines of the pots. Old books used as risers provided touchable texture, one of my favorite tricks.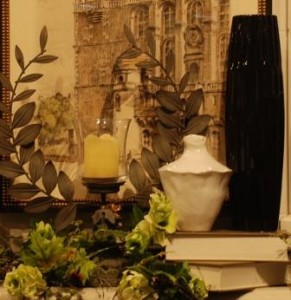 We finished out this arresting display by weaving a mixture of spring vines and flowers through the decorative pieces. If you're not a fan of faux greens, you could easily leave them out. This close up shot gives a good glimpse of how these diverse elements work together to make this three-dimensional mantel art work.
Saturated Color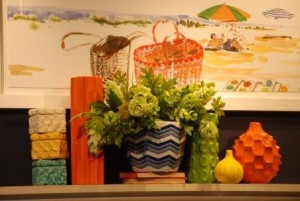 We are crazy for color right now at Nell Hill's, so we just had to share this spunky mantel that makes you want to dance for joy. When you use a piece of artwork as zippy as this for your backdrop, you need a mantel display equally as vibrant. We didn't need to look far at Nell Hill's to find a crazy cute assortment of inexpensive pottery—the store is filled with our best selection yet. The focal point of our mantel look is this awesome pot, which features the extremely popular chevron stripe. We filled it full of floral picks, but it would also look great holding a maidenhair fern or ivy topiary. Next we brought in an assortment of funky pots, vases and boxes in all kinds of colors, shapes and textures. Since the pottery is so inexpensive, you can go out of your comfort zone a little and get colors and finishes you wouldn't normally choose. It's a great way to add a pop of new color and explore new decorating styles.
A Peek at My Mantel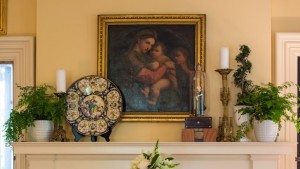 I couldn't resist the chance to show you how I dressed up my mantel last year for my Spring Open House. I've approached my mantel displays all different ways through the years, sometimes clearing the deck and creating completely new looks, sometimes just adding a slight modification with each new season. Right now I have a few items on my mantel that I dearly love and I want to keep them out year round. So, as each new season comes, I move these keepers around a bit and add in a few seasonal splashes. I really like to use live and faux house plants in my spring decorating, so all I did was place three different plants into three different white pots. Done!
Next Week …This spring, gather your loved ones around your dining table to celebrate life. I'll have a few beautiful tablescapes to inspire you.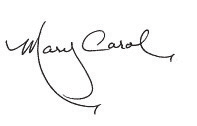 P.S. Join us for our annual Spring Tabletop Event at Nell Hill's. For the entire month of April, we're filling gallery after gallery at both Nell Hill's locations with beautiful tablescapes dressed for spring and summer entertaining.