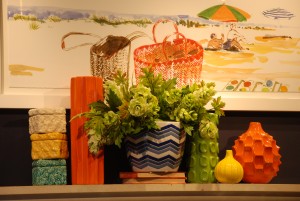 I know I'm impatient. But as soon as my holiday décor is boxed up and stored away in my scary cave of a basement, I'm ready for spring to start. I can't control Mother Nature, getting her to snap to it outdoors, so I create spring indoors at Nell Hill's, beginning in January. By the time spring officially start on March 20 I know exactly how I want to decorate my home to celebrate this season of fresh new beginnings. This year, I've zeroed in on five gotta-have tools that I'm going to use to create sensational spring displays inside my home and out. 
1. Fern Wreaths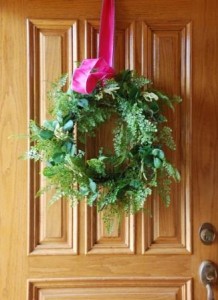 Ferns are woodsy and wonderful and lush and a bit lascivious, and they are one of my favorite tools to decorate with this spring. Since I am the Angel of Death when it comes to house plants, I buy fakes to tuck into existing displays on my mantel or in bookcases.
This year, I'm going to expand my tribute to ferns and use them in my exterior decorating, too.  There is no easier way to do so than with a simple fern wreath. Wreaths are among the very best quick-and-dirty decorating tools you'll find because they give you a big look with almost no effort. And this lovely ring of fern fronds is so neutral it will look great everywhere you put it, no matter the style or color scheme of your home.
Outside, hang a wreath from your front door and, snap, it's decorated. Place it atop those empty urns by your front door or that bird bath in your garden then fill in the center with moss balls or a silver gazing ball. Presto: You have a lovely, lively, fresh display in seconds.
Inside, place a wreath at the center of your dining table, then insert a hurricane or lantern holding a pillar candle. Cute and easy, fun and fresh! And, best yet, done in seconds.
2. Colorful Ribbons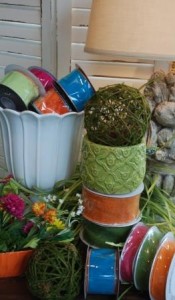 I've never considered myself a very foo-foo girl, but when it comes to decorating, I am crazy about ribbons because they are such powerful decorating tools. Decorative ribbons give you a chance to instantly infuse your décor with seasonal colors, patterns and iconic images. That's why at Nell Hill's you'll always find bowls and urns and baskets filled with spools of seasonal ribbon for sale.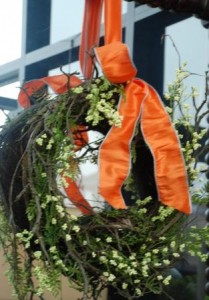 We have a great assortment of brightly colored spring ribbon in right now at Nell Hill's, and we are having a blast using it in all sorts of displays around the store. In the photo above, we suspended a simple spring wreath over a mirror using a length of tangerine silk ribbon. Notice how much energy this simple strand of ribbon brings to this soft and sweet wreath?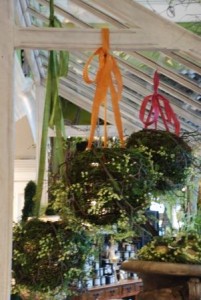 Want to give your guests thrills and chills? Hang things from your ceiling. It's unexpected and daring and super easy to do with a few spools of spring ribbon. Use a mix of colored ribbons to tie up some moss balls or faux spring birds' nests and hang them at different lengths from the arms of a chandelier. Or, arrange some fallen branches in an urn and hang the balls from the sticks. If you really want to go for it, secure branches or garland around your interior doorways or from your ceiling and dangle delightful things from the branches using spring ribbon.
3. Trellises
Bring the garden in by using a few trellises in your interior displays. We are featuring these garden favorites in lots of our spring displays at Nell Hill's this season. Here's a fast-and-easy look I love: Take one of your garden urns or a large cachepot, then wedge in a small wire trellis, letting it rest on the bottom so it's secure. Then, weave in a few natural-looking vines. Or, toss an assortment of moss balls into the center of the trellis. Want something even simpler? Replicate the display we have above: Place a wreath on top of an urn and insert the trellis in its center. Done! These simple but dramatic displays are great for your front porch, next to your fireplace or on top of a buffet.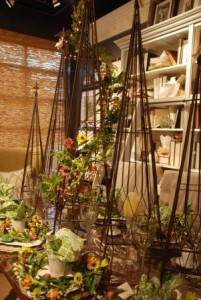 If you're entertaining this spring and want a table that's to-die-for, use some trellises in your centerpiece. Trellises are a fabulous pick for tabletops because they give you the dramatic height you need to make a statement yet they don't take over because they are thin and airy and see through. I also love them for displays on sideboards and as the centerpiece for a buffet service set up on your dining table. Once the weather warms us, you can transfer them to your garden and plant a climbing vine at their base.
4. Pottery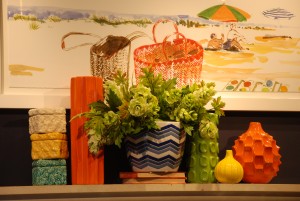 Designers keep coming up with new looks for accent pottery, and I keep falling in love with them, over and over again. Check out the different textures, shapes and hues in the photo above, taken at Nell Hill's Briarcliff. These pieces are so interchangeable you can mix and match them in millions of different ways throughout your home, giving your spaces a constant facelift.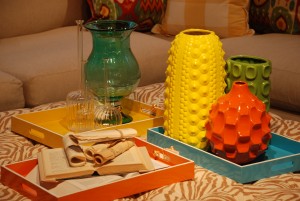 Pottery is also super affordable, with most of the pieces we carry costing less than $35. So, if you want to give your home a B12 shot, you can do so on a budget by getting a trio of colorful pots. Look how great these guys look clustered together on this perky tray. They would also look amazing at the center or your kitchen table, on a corner of your mantel, on the vanity in your powder room … you name it.
When you create a display using several pieces of pottery, don't treat your accent lamp like an outsider. Instead, try building the display around the lamp, like we did here. This tangerine lamp gives some visual height to this simple but electrifying bedside table arrangement. Have any majolica plates or platters? Prop them in an easel and work them in with your bright pottery.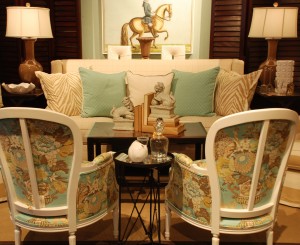 I have loved white pottery since the beginning of time and have collections of it in my kitchen displays. To me, white and cream plates, vases, pitchers and risers scream spring and blend seamlessly with every décor. Notice how the white pottery tucked into this furniture grouping gives the scene a modern twist without demanding all the attention.
5. Fabrics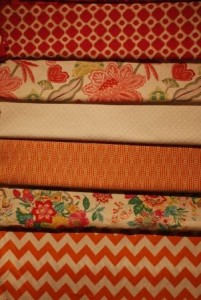 A couple of yards of killer fabric can take you a lot of places. And this spring, our new fabric room is packed full of decorator fabric by the yard that will help you celebrate spring like never before. One of my favorite places to use spring fabric is on my dining table. Get a yard or two of  spring stripe, floral or check. Then, stitch (or iron, if you're like me and don't sew) a quick hem to create a table runner or a table square that can serve as the base of your centerpiece.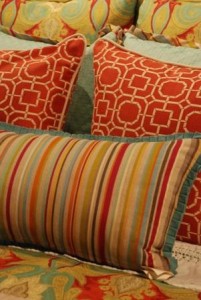 Remake the look of your living room sofa or bedding with a few new accent pillows in peppy spring trellis, chevron or floral patterns. It's a little splash that will make all the difference in your room.
Next Week … Ready to decorate for spring? Next week I'll share a few fun, fresh and easy looks for your mantel.
P.S. There are still a few days left in our Wood Furniture Sale! Until March 15, all wood furniture is 20% off.