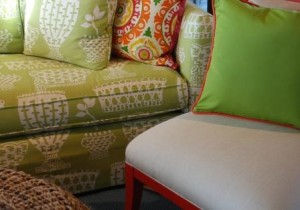 Spring is just around the corner, and one of the best ways to celebrate this season of new beginnings is to mix some of today's fresh new fabrics into your home decor. Here are my top picks: 
Walk on the Wild Side with Animal Prints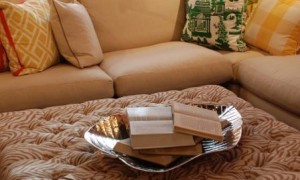 Animal prints are still thriving in the jungle of home decorating fabrics. Designers keep reinventing these wonderfully textured patterns so they are still fresh and vibrant, a perfect way to give your living spaces a bit of unbridled energy.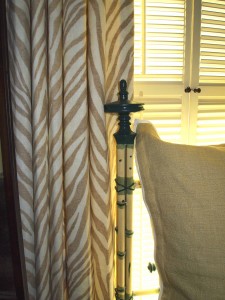 The look this spring in animal prints is more muted, subdued, tone on tone, like a soft camel and cream zebra print pattern done in washed linen. I picked this fabric for the new drapery panels in my bedroom. I never thought I'd want an animal print pattern for my drapes, because when I redo my window treatments, they stay in place for decades, so I shy away from anything trendy or too busy. But this pattern is so understated it looks more like an irregular stripe to me. I'm loving it in my room!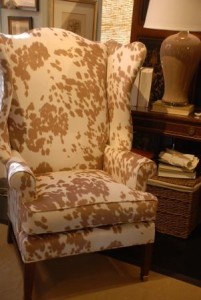 You don't have to be from Texas to fall hard for this darling mock cow hide chair. The fabric is called moo-la-la and feels as irresistible as it looks.  I also love the look of a faux cow hide rug layered on top of a larger sisal rug. I often layer area rugs, especially in the colder months. The huge sisal on the bottom gives you coverage, and the smaller rug on top brings in a shot of color, pattern and even more texture.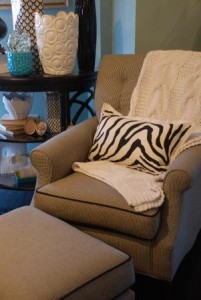 When you decorate with animal prints, be careful not to go overboard. Often, just a pillow or two is all you need to mix things up a bit.
Chevron Makes My Heart Beat Faster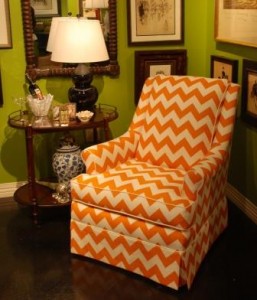 Chevron pulses with youthful energy. Perhaps that's why it's so popular with Nell Hill's customers in their 20s and 30s. It's fun to see their faces light up when they walk in the stores and see fireball chairs like the one pictured here, at Nell Hill's Briarcliff.
If you're closer to my age, chances are when you see chevrons you are reminded of the flame stitch patterns that were so popular back in the day. Believe me, today's chevrons are not like those kooky patterns in your mom's living room. Done in turquoise, coral and emerald, they look brand new. I love a chevron mixed in with more traditional fabrics in pillow arrangements, whether on a sofa or bed, to give the overall look more zip.
Lovely Lattices Look So Hip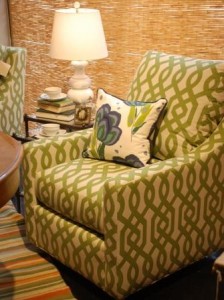 Today's designers have given yesterday's lattice patterns a new modern vibe, and I love, love, love it. Even though the new look in lattice motifs is big and bold, this reinterpreted classic is really pretty quiet, so it works well mixed in with fabrics that are stronger, brighter and busier. My favorite way to use lattice fabrics right now is on side chairs, like the one pictured above from Nell Hill's Briarcliff, or in drapery panels. They create an interesting backdrop for a host of fun decorative treatments in a room.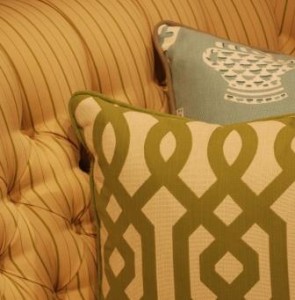 Lattices are also ideal for layering, whether you're pulling together an interesting grouping of accent pillows on a sofa or creating a bedding ensemble that is as perky as a cup of morning coffee. In the above photo, we had a pillow made in the same bold green lattice that is featured in the top photo, and we paired it with a very quiet, traditional stripe on this chair. The lattice jolts the timeless furniture into life and makes for a very intriguing grouping. If you have traditional furniture, like I do, consider tossing in a lattice pillow or two to give your groupings a breath of fresh air.
Florals that Are Fresh and Fun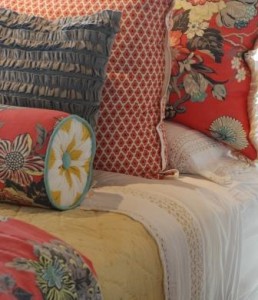 When you hear "floral" do you picture your grandma's parlor, or those heavy Waverly patterns that were so big in the '70s and '80s? Erase that image from your mind, because this season's flower-inspired patterns tell a brand new story.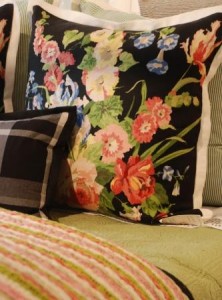 Florals today are robust, not finicky, featuring bigger graphic patterns and more open space instead of the heavily layered images of old.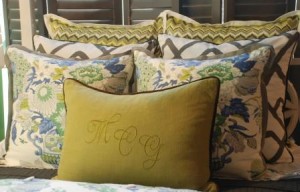 This floral looks amazing mixed in with my other favorites for spring, like chevron, bright solids and lattices.
Solids So Sensational They Steal the Show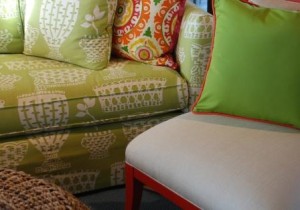 People who love pattern and color usually want to steer clear of solids. But you need to mix in solid fabrics to give your overall display balance and harmony. Otherwise, there is too much going on and the visual impact is overwhelming.
Just because you're using a solid doesn't mean it has to be boring. At Nell Hill's, we're covering traditional or reinterpreted furniture silhouettes in sensational solids, like yellow leather chairs or turquoise ottomans. Talk about a statement piece! Or, mix vibrant solids into a bouquet of patterns to offer a color shot while also taming the overall look. Maybe a hot pink pillow with orange welting?
Ticking so Cute It Will Tickle You Pink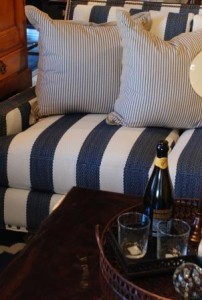 I have been crazy in love with simple, sedate ticking for years, and my affection shows no signs of stopping. If you're like me, and you like a quieter palette in your furnishings for spring, you can't beat a soothing, crisp ticking pattern. When you cover your upholstered furnishings in a gray and cream or black and white ticking, you get a slightly textured neutral that gives you a great blank canvass for pillows in any color or pattern imaginable. Or, weave in a pillow made out of ticking to help mute a bigger-than-life pattern, like we did on the fabulous blue and white striped sofa above.
Bold Buffalo Checks Are Arresting
My love also runs deep for buffalo plaid. This self-confident fabric comes in lots of color-ways, like yellow and cream. I really like black and cream for spring, spiced up with a colorful pillow.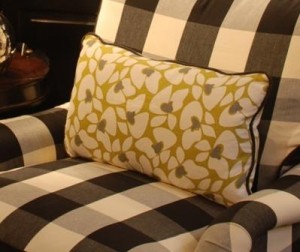 Here's the same chair, different pillow, with an equally great end result. It shows you how even when you use a strong pattern like a buffalo check, it can be a versatile backdrop for catchy accent pillows in a host of different looks.  Play it down or dress it up – the sky is the limit.
Next Week … It's time to start decorating for spring! I'll share my must-have tools for creating fresh and interesting displays for this fabulous season.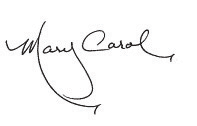 P.S. Our wood furniture sale is going on now through March 15. Get the beautiful bookcases, hutches and tables you love at Nell Hill's for 20% off!