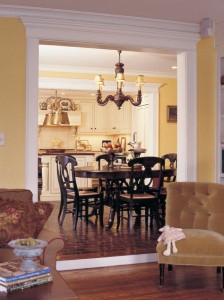 If you have kids in your home, from toddlers to teenagers, I have fabulous news for you: You don't have to wait until they leave home to infuse your home with high style. There are lots of kid-friendly ways to make your home beautiful, despite the wear and tear that a family can bring.
I may not have children in my home anymore, but I have Dan. And some days, I swear he is harder on my home than three kids. He's like a tornado barreling through, breaking things in his path, leaving piles of debris everywhere. He doesn't mean to be a one-man wrecking crew, so I can't get mad. I just have to embrace him and plan décor that is Dan-proof. Whether you share your home with toddlers, teenagers or a middle-aged man, here are five tips for making your home look sensational and family friendly:  
1. Dress Your Walls in Great Art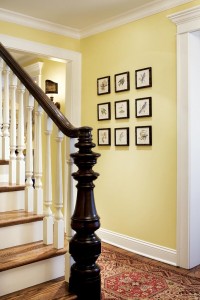 If your kids are not at a stage of life where you can place accessories on your coffee table or end tables, never fear. Finish off your room by dressing your walls in imaginative artwork. Think of your art as accessories that hang, instead of sit on a tabletop. When it's up on a wall, it's safe from little hands, and unless it gets hit by a flying basketball, it won't break. Start by getting your furniture placed exactly where you want it. Then, fill in the open wall space with art that expresses your family's unique spirit. What do you love? Tell people through your artwork. It will not only become the focal point of your room, it will give people insight into what makes your family special.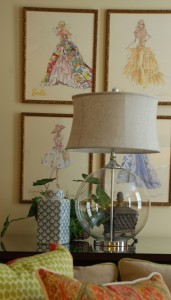 Don't be afraid to have fun with your art, opting for pieces your kids will like as much as you do. Weave in exciting colors, patterns and subject matter. I'm crazy about these vintage Barbie prints.
2. Use an Ottoman as a Coffee Table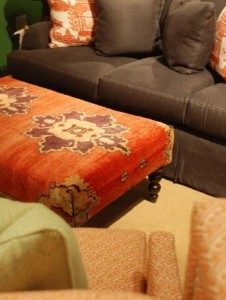 Coffee table ottomans are one of the greatest things to happen to family homes. They are so attractive and perfect for little people. I can't tell you how many moms have shared with me that their babies learned to walk by scooting around the big ottoman they got at Nell Hill's. Makes my heart melt! Others tell me their pre-schoolers like to curl up on top of the comfy ottomans, pop in their thumb, and rest for a few minutes from their play. Now that is a family friendly piece of furniture if there ever was one!
One great feature of a coffee table ottoman is that if your kids accidentally decorate it with markers, or spill their grape juice on it, or just love it until it's a bit threadbare (real, like the Skin Horse in "The Velveteen Rabbit"), it can easily be recovered using just a few yards of fabric.
Another plus is that these ottomans look great with absolutely no decorations on top of them. Pick fabric that sports a fun pattern or arresting color, and you're good to go. Some ottomans are tall enough for you to slide a storage basket filled with toys underneath, giving you a bonus storage space. Don't want the basket to show? Pick an ottoman with a skirt.
3. Select Beautiful but Forgiving Fabrics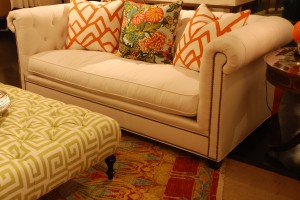 When young moms (or people with pets) used to ask me to help them select fabrics for their upholstered furnishings, I always teased that we needed to pick something the color of dirt. But now, the sky is the limit when it comes to kid-friendly upholstered furniture, thanks to the revolution in outdoor fabrics.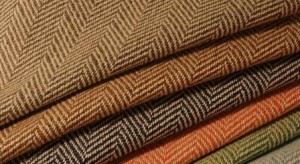 Today's outdoor fabrics are absolutely gorgeous, not at all the stiff and shiny and unattractive stuff we used to put on the chaise lounge on the patio. We have outdoor fabrics in just about every color, pattern and style you can imagine at Nell Hill's Briarcliff, and we sell the heck out of it to folks who want indoor furnishing that look sensational and hold up under life's inevitable messes. If a chocolate bar melts on the sofa, or a bottle leaks on the chair, just clean it up with a wet rag.
If outdoor fabric isn't for you, here's a recommendation I make to young moms that may sound crazy: Put white fabrics on your furniture. I know, it may show dirt easier. But, you can often clean up that little dribble of juice or pencil mark using a stain stick. Still doesn't sound appealing to you? Then go for fabric that camouflages dirt.
4. Dress up Your Windows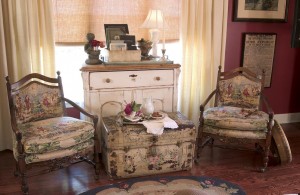 If you have to keep a fairly Spartan interior décor to accommodate your active little ones, chances are your spaces could use a little warmth and depth. One easy way to cozy up your room is by dressing your windows with fabric panels. While there are always exceptions to the rules, most kids leave drapes alone. But still, select fabric that can handle the occasional jelly smudge. In the photo above, we added a second layer to warm up this window even more: bamboo shades. I really like the texture and tone of these organic pieces. (When you install blinds, be sure to check and follow all safety recommendations provided by the manufacturer!)
5. Put Your Pretties up High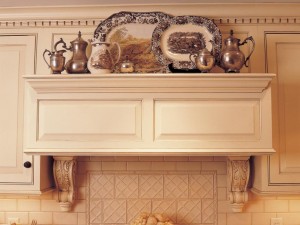 Miraculously, some kids seem to never bother child-safe accents that are displayed on tables or other spots within their reach. But in my experience, most kids like to investigate, so if you want to use accents in your interior décor – especially those that are breakable – they must be displayed where the kids can't reach so the children run absolutely no risk of harming themselves.  I like the solution one young mom came up with in the photo above, showcasing her collection of old silver pitchers and transferware plates on a high-up shelf over her stove, well out of reach of climbers.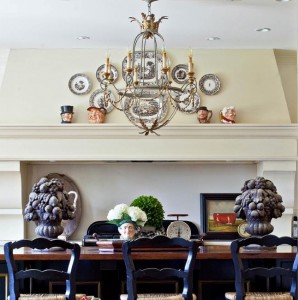 If you love to decorate with breakables like plates and platters, take a tip from this mom: Mount the plates on the wall, above your kitchen cabinets or stove, where they can't accidentally be knocked down by a flying Nerf ball.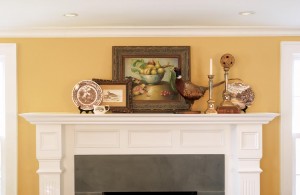 Another great place to decorate when your kids are very little is your fireplace mantel. Usually the mantel is the focal point of the room, so if you are able to dress it up, no one will notice or care if your side tables are undecorated.
Next Week … I've picked my 7 favorite patterns for spring decorating. Come see these fresh new looks and find out how to use them in your home décor.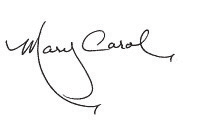 P.S. Come save 20% on all wood furniture at Nell Hill's during our Wood Furniture Sale going on now through March 15.