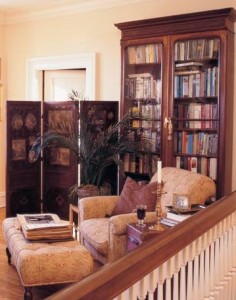 I have a color-outside-the-lines personality. Maybe that's why I really enjoy being a decorating myth-buster, debunking long-held design edicts that can stifle our creativity as we make our interior spaces lovely and livable. Here's a misconception I want to shatter: Big cabinets don't work in small spaces. False! Big cabinets work in every sized room, from a cavernous gallery with a ceiling that reaches up to the heavens down to a tiny little nook that's as cozy as a Hobbit hole.
And, my, oh my, do they elevate the look of every room lucky enough to have one. Big cabinets more than carry their weight when it comes to decorating payoffs.  They give a room instant depth and visual interest. Depending upon your goals for your space, big cabinets can serve as an exciting backdrop to a furniture grouping or step up and star as a room's focal point. They provide a perfect place to store, stash or display just about anything you want, from a big screen TV to favorite accents to pretty storage baskets filled with stuff.
If you haven't fallen under their magic yet, here are five spots you might want to place a big, beefy cabinet in your home to elevate the look of your decor: 
Doing Dishes in Your Dining Room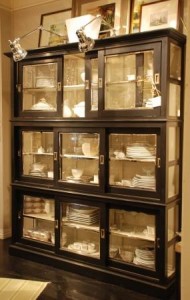 Forget that tiny curio cabinet in the corner of your dining room. Trade up for a truly large cabinet that can hold all your dishes and serving pieces, and make a huge style statement while doing so. While I love traditional china hutches in dining rooms, I also urge Nell Hill's customers to mix it up a bit by trying different types of large cabinets. One of my favorite options is to instead use a large bookcase, then fill it full of dishes and other lovelies.
The photo above, taken at Nell Hill's Briarcliff, is a cleaner, fresher take on the china cabinet. The black wood cabinet covered with glass is edgy but still traditional, making it a perfect pick for someone who likes a transitional look, blending the best of old and new. Look how we secured pharmacy lamps to the top of the cabinet to provide lighting. Different, but fun!
If your big, beefy cabinet doesn't reach the ceiling, take advantage of that empty space on top and fill it with a montage of framed artwork, like we did here. Find art in a variety of sizes and simply layer it up, overlapping and mixing to create movement and depth. Lovely!
A Study that Gets an A+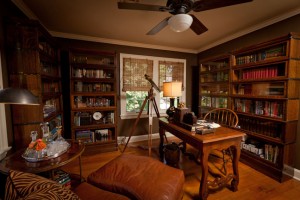 Most of us have studies that are cozy and warm, little cocoons where we can read or catch up on work. Accenting your study with a wall of beautiful bookcases will knock this room out of the ballpark. The photo above is of my friend's home office, an upstairs bedroom she converted into a work hideaway. It's a small room, but this bank of bookcases actually makes it look larger, debunking that myth that bookcases don't work in small rooms. At first blush, you would never guess this many bookcases could squish into this space. But here's the amazing thing about big cabinets: They may be tall (some that we sell reach as high as 14 feet), and wide enough to cover the entire wall, but they are usually thin, just 14 to 18 inches deep, so they don't hog precious floor space.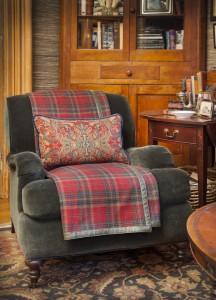 When I designed the study in my home, I knew bookcases would be a key feature. Dan has more books than the Library of Congress, so you will find bookcases in every single room in my home – no lie! I love a mix-and-match look when it comes to furnishings, so I picked cabinets that are different from one another. One is a tall antique bibliotheca that serves as a focal point. The other is a monstrous corner cabinet, tucked behind the chair, where it provides a nice backdrop to the room.
Lots of folks have TVs in their studies or dens. Large cabinets with multiple shelves and openings provide a perfect home for flat screens. Put the TV in one, then fill the others with a variety of accents, like books and pottery. That way, the TV feels more like one of several decorative elements in the cabinet, not the sole focal point.
A Lovely Layer in Your Living Room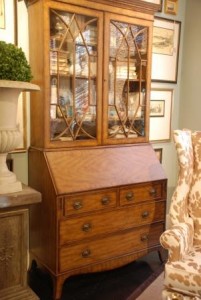 When you're picking out a large cabinet to add to your living room, the sky is the limit. You could showcase an antique armoire with mirrored doors. Cover an entire wall with bookcases. Use a tall secretary to break a larger room into two different conversation areas, like I have done in my living room. Put matching cases on either side of your fireplace mantel. Or stick a taller, thinner cabinet in a smaller space between doorways. Large cabinets will help anchor the room and provide bonus storage. Fill the drawers and concealed cabinets with linens and extra dishes. Tuck attractive baskets and boxes into exposed shelves, then fill the receptacles with items you want close by but don't use every day, like photos.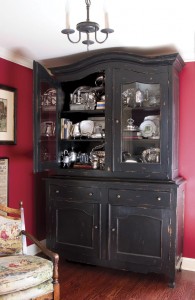 At Nell Hill's, we're encouraging our customers to rethink cabinets they already own, then feature them in a new room in their home. With a can of paint and new hardware, you can completely change the look of a tired or out-of -style piece, giving it a new lease on life. I just worked with a customer who had an old maple bookcase she was tired of, but felt guilty getting rid of. So I urged her to paint the entire bookcase black then rub the edges with gold paint. It looked sensational and found a new home in her sun room.
Adding Beauty to Your Bed and Bath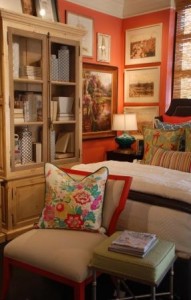 Many newer homes feature huge closets with lots of built-in storage for clothes, so people aren't putting dressers in their bedrooms as often. Unfortunately, these rooms are now missing the visual weight that dressers provided. A great solution is to feature a large cabinet in your bedroom. Try a bookcase, then fill it with photos of your family. Or a hutch, using the bottom portion to hold out-of-season clothing or extra bed linens and the top to hold books and decorative accents.
I just worked with a Nell Hill's customer who was redoing her guest room and found the perfect way to include her mother's old secretary. She had a pair of twin beds in the room, so she placed the secretary between them, opening the desk up to serve as a night stand. The secretary added the visual height the room needed and gave her a chance to use a piece that is special to her.
If your bathroom is large enough, consider finishing it off with a large cabinet. I just helped another customer design her large master bath. The space was big and open and needed something to ground it. So we placed a large cabinet against an open wall, filling it with towels and pretty glass containers holding things like bath salts. She's over the moon about the finished product and has declared her bathroom one of her favorite spots in her home.
Get Cooking in Y our Kitchen
A trend I'm loving in kitchen design is to add large, free-standing cabinets to the floor plan. While your built-in cabinets will hold the lion share of your everyday kitchen items, from food and spices to dishes and pans, it's really fun to bring in a contrasting cabinet to use for more eye-catching kitchen items, like pretty soup tureens, platters and pitchers. Check out the photo above. This kitchen features lots of creamy white cabinetry, so this crazy cute red chest really stands out, giving the space a bit of cayenne pepper.
Next Week … If you have small children in your home and are afraid to decorate, you've got to read next week's blog. I'll show you how to achieve high design that's also kid-friendly.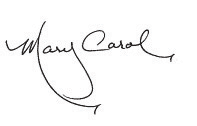 P.S. If you're in the market for a large cabinet like the ones I talked about today, you're in luck – right now they are 20% off at Nell Hill's. During our Wood Furniture Sale, everything made of wood, from tables to cabinets to chests, is on sale. The sale lasts until March 15, so hurry in!