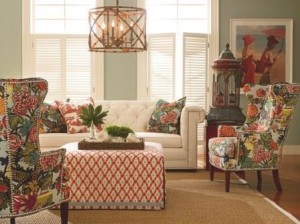 My favorite part of going to the home furnishings markets is previewing the hottest trends in interior decorating. One of my favorite trend-makers to watch is Holly Blalock, a visionary who has the uncanny ability to mix color, pattern and texture in a way that makes interior design not only accessible, but darn fun. I caught up with Holly, who is the vice president of merchandise and marketing for one of my favorite furniture makers, CR Laine, and asked her to share the hottest trends in home interior design for 2013.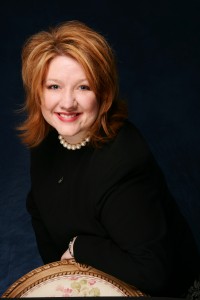 Be sure to come see Holly at Nell Hill's Briarcliff on Feb. 22 for what will be THE Nell Hill's event of the winter: Unique Style from Your Heart. There will be food and libations and a gift for everyone who attends this free event that benefits the American Heart Association's Go Red for Women. Holly will give a fun and lively presentation at 11 am, 1 pm and 3 pm on how to find your decorating style and bring it to life in your home. No tickets or reservations required – just drop in and join the party!  
Here are Holly's favorite looks for 2013:
1. Fifty Shades of Green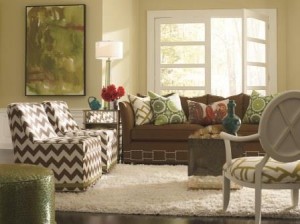 For years, I've been a big advocate of mixing together all different shades of green in your décor, just as Mother Nature does outside. So I was thrilled when Pantone chose emerald green as the color of the year for 2013. So was Holly, who had already begun building an exciting new design look that tossed together every kind of green imaginable to create an invigorating space.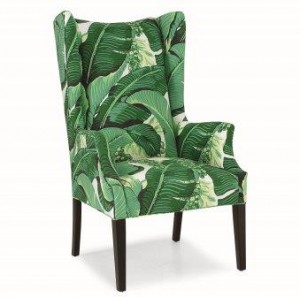 Forget matchy-matchy with this look – it's an everything goes palette that layers together emerald, spruce, jade, lemon grass, avocado, you name it, in one big verdant jumble.
If you're new to decorating with green, try introducing it in small doses. Start with one piece of furniture that has just touches of green, like this CR Laine sofa with its whisper soft pattern. Or, work a few green accents into your decor.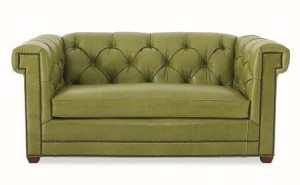 If you know you love green, go for it. Add a cornerstone piece to your room that makes a statement, like this bold green sofa from CR Laine.
If you swoon over saturated color, raise the roof by bringing in pillows in a rainbow of greens and other brights. If you prefer a space with a softer vibe, balance your eye-catching statement piece with neutrals in your pillows, wall color and accents.
2. It's Only Natural
The immensely popular trend toward natural, neutral décor will be as strong as ever in 2013, but with a few exciting new twists, Holly says.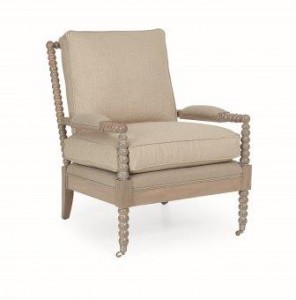 First, look for relaxed, natural fabrics in tones like cream and oatmeal to be shown on furniture frames that boast a structured silhouette. In a surprising juxtaposition, you'll find angular frames slip covered in washed linens in the softest of tones.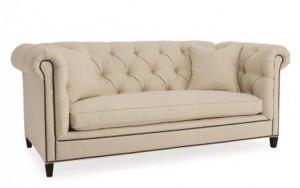 Soft color palettes of dove gray and ivory provide the perfect canvass for a host of interesting trim details. This year's furnishings are finished with great imagination. You'll see lots and lots of tufting on sofas, chairs and ottomans, one of my all-time favorite looks.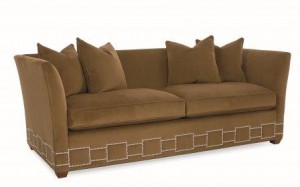 You'll also see furniture accented with patterns made of nail-head trim. Across the design world, silver and pewter finishes are giving way to gold and brass, so look for a resurgence of warmer metallic tones in today's nail-head trim.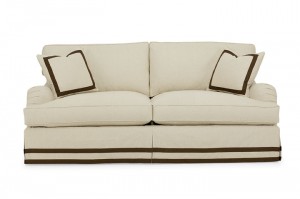 Contrasting tape trim is also a hallmark of today's natural designs. The white sofa above, punctuated with chocolate brown tape, is edgy and clean, a great foundational piece for a beautiful room. I could picture this amazing sofa in  my own home.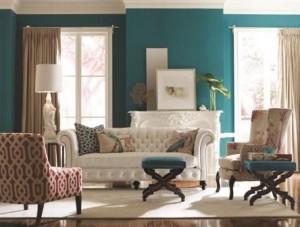 Even people who love neutrals are gravitating toward color, Holly says. So she's introduced a new color palette that blends perfectly with neutrals: Stormy Situation. The new approach pulls together colors that look like the sky right before a storm, a moody blend of gray, green and blue.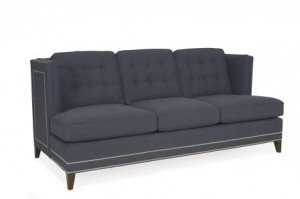 This arresting sofa brings in the delightful detailing of nail-head trim, plus the deep gray blue of the sky at dusk. It would be an ideal addition to a room filled with neutrals, adding a flash of dramatic color without being overpowering.
3. Palm Beach Blitz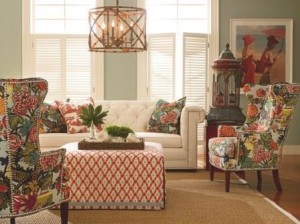 If you love color, you're going to be dancing for joy when you see the exciting designs coming out now that celebrate a truly perky palette of yellow, coral, orange and turquoise. Holly has helped create a quirky look with strong influences from the 1940s and a nod to iconic images from Asia. Check out the fabulous ottoman in the photo above. Holly calls this CR Laine piece the next wave in storage ottomans because the skirt conceals an empty space big enough to hold a bin or basket packed with dog toys, throw blankets or kids' books.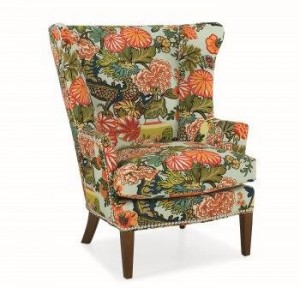 The Palm Beach Blitz story includes bright fabrics that celebrate the Orient. This chair is covered in a fabric that is hand screened in 17 colors in London. It's positively decadent, with its rich, saturated tones.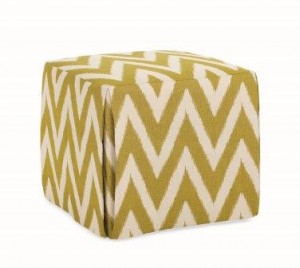 Chevron patterns in a wonderful array of fiery bright colors will be huge in 2013.  I think the distinctive zigzag of this lively pattern adds lots of energy to a space.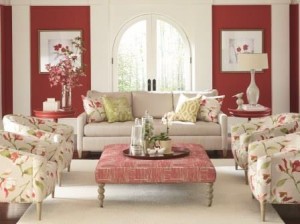 The beauty of today's colorful designs is that there is no "right" answer: You are free to pick the amount and intensity of color to suit your personal taste. Here's an approach Holly loves: Start with a creamy tufted sofa featuring nail-head trim. Then, add a pair of tall winged back chairs covered in rich tones. Finish off with accessories that rev up or soften your color statement, as you see fit.
4. Painted Wood Trim and Bold Fabrics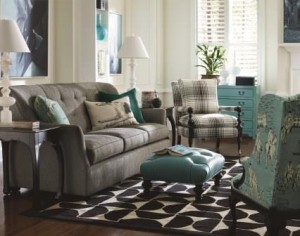 Wood trimmed furniture just got a whole lot funkier! I've been a fan of painted wood furniture for a long time, especially in classic colors like white, cream and black. But now designers are popping the top off paint cans in colors that will make you feel like dancing.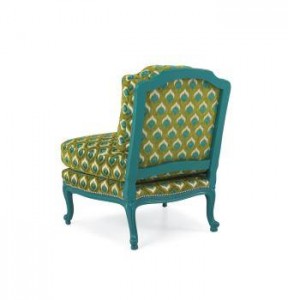 Designers are spinning the color wheel and turning out singular combinations that make traditional exposed wood silhouettes outrageously fun. Pretty as a peacock, this zippy chair from CR Laine pulls together a tumble of cool-toned colors then trims them up with nail heads to create a traditional but edgy finish.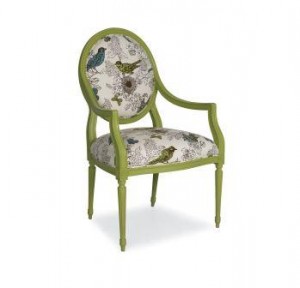 Designers are re-envisioning traditional fabric themes, like this cute bird print, and storied colors, like celery, to create a brand new story. Even though it has classic lines and timeless styling, this chair is anything but old and stuffy thanks to the energizing pairing of kicky paint and provocative fabric.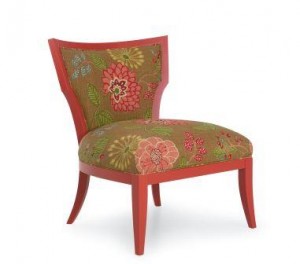 Holly says this year's fabrics will be on a larger scale and have lots of open space. For example, look for floral prints to feature bigger, cleaner artwork with motifs surrounded by visual openness, instead of the densely layered patterns of old. The secret to this fresh feel is fewer details in the design, she says.
5. Ivy League Prep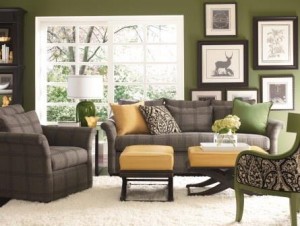 Preppy is back, but this time, it's so much more fun! Designers are blending today's bold color palettes, painted wood furniture and sock-it-to-me patterns to create spaces that are so energizing, you'll want to take up lacrosse or polo. Menswear fabrics anchor this look, but they are bigger, bolder, cleaner, cooler. Wide rugby stripes, leather, plaids, chevrons all get on famously together in collected layers, Holly says.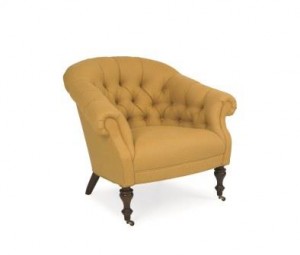 Today's preppy look builds in lots of color surprises, like sunny yellow furnishings and accents. I never thought there would be a day when I would carry a yellow leather chair at Nell Hill's, but Holly and other daring designers have wowed me with their vision of the marriage of traditional and trendy.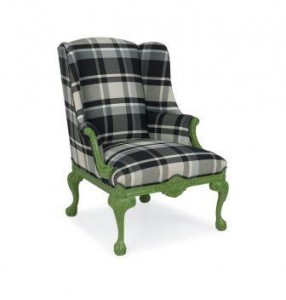 We are crazy about plaid at Nell Hill's, so I was a gonner when I saw this inventive interpretation.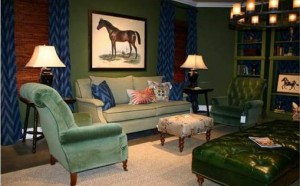 I love this room created by the CR Laine gang. Blue, green and brown dominate in a combination of geometric prints and saturated solids.
Next Week … Need a centerpiece idea you can keep in place until spring? I'll have two easy-to-create looks.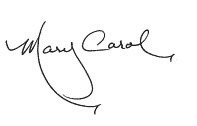 P.S. Come hear more from Holly at our Unique Style from Your Heart event on Feb. 22 at Nell Hill's Briarcliff!